Caribbean Sailing Vacations and Luxury Motor Yacht Charters
Capture the magic of the Caribbean from the deck of your own private charter yacht on one of our exclusive yacht charter vacation holidays! Clear blue water, warm tropical breezes, lush green island palms, and white sand beaches await you on one of our Caribbean yacht charters. Private charter yachts are the perfect venue for a romantic honeymoon vacation, a perfect Caribbean beach wedding, an all inclusive family vacation, or a corporate team building event - where you decide what islands, dive sites and beaches you want to see. We offer charter yachts to fit any budget or life style - from a private luxury mega yacht charter with a large crew, to a small sailing yacht charter with a Captain or Captain and chef only. Step away from the mainstream - explore, dream, and discover the Virgin Islands today on your own exclusive yacht charter vacation.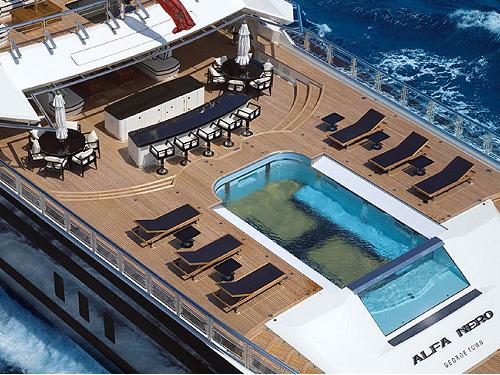 FEATURED YACHT:

Alfa Nero
The world of luxury mega yacht charters is dominated by variations on a common theme. Recently, The Maltese Falcon rocked the world of sailing mega yacht charters with its innovative rig and styling and an interior that was far removed from the traditional sailing mega yacht charter ambiance. Oceanco's new 82-meter (269-foot) exclusive yacht charter Mega Yacht Alfa Nero does for motor yacht charters what The Maltese Falcon did for sailing yacht charters, shifting the paradigm in motor yacht design...
If you are looking for the ultimate dream vacation, then you should consider a Holiday Yacht Charter. These vacations are truly an experience that you and your party will remember for a lifetime.
A caribbean charter yacht vacation is the most unique and personalized vacation you can imagine! The professional crew members of your yacht will be your captain, chef & tour guide. (both above and below the water) and more! Generally, yachts are broken down into three categories: Luxury Motor yachts, Sailing yachts, and Multihull sailing yachts (Catamarans and Trimarans). You can view all these types in our yacht search. Many of the yachts offer SCUBA diving - from instructing those who have never tried it, to offering experienced divers the dive trip of a lifetime. There are also yachts that specialize in sailing instruction for those who want to experience the thrill of commanding an ocean going sailing vessel.