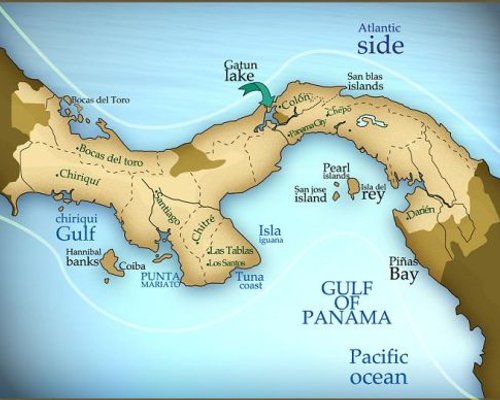 Panama
Are you looking for a new sailing or diving destination, somewhere beautiful, exciting and yes, even exotic? After chartering crewed sailing charters for a number of years in the British and U.S. Virgin Islands, we wanted to find such a place, somewhere away from everything.
Yacht Charter Vacation in Panama
Our search lead us to Panama and the "Islas de Las Perlas or "Pearl Islands" off Panama's southern coastline. A short forty miles from Panama City in the Gulf of Panama we found an archipelago with beautiful white sand beaches lined with palm trees and lush rain forests, with crystalline waters in an area that has become an ecotourism destination. Islas de Las Perlas is made up of more than 220 islands and islets, only 90 of which are named.
The Pearl Islands have been home to three seasons of the popular CBS television "Survivor" series. If you watched the series, you have an idea of the amazing beauty of the Islands. Obviously CBS recognized the Pearl Islands as an ideal location for their widely viewed reality shows, as we did as an ideal sailing and diving charter destination. Let us take you to the very islands, Isla Chapera and Isla Mogo Mogo, where the series were filmed!
The larger islands are covered with untouched rain forests that are teeming with wildlife. When we are sailing offshore, you may be privileged to see dolphins playing off our bow, or whales breaching.

Whale Watching

Fishing
The Pearl Islands first became known in 1513, after Vasco Nunez De Balboa Rocky Shoreline discovered the "South Sea" or Pacific Ocean. Balboa and his party soon set off to explore some of the nearby islands. They discovered islands so rich in pearls that the Indians they found there covered their clothing with them. Even their boats and oars were encrusted with gleaming pearls. Balboa claimed the islands for the King of Spain, naming them Islas de Las Perlas or Pearl Islands. Balboa took pearls and other treasure and reported back to the King, so the archipelago was soon fraught with pirates and marauders searching for treasure. It was a perfect pirate haven, partly because of the rich pearl beds, but also because of the beautiful secluded bays and hidden coves. Later, a commercial pearl industry thrived, only to be destroyed in 1938 by a severe red tide.
Many of the world's finest, most valuable pearls have come from the waters Palm Trees surrounding the Pearl Islands. One of the most famous is La Peregrina, a thirty-one carat pear shaped pearl the size of a pigeon's egg, which was discovered in the mid 16th century. It was originally presented to King Phillip of Spain, who then presented it to his wife Queen Mary I, or Mary Tudor. Over the centuries that followed, La Peregrina (which means "The Wanderer") has had many royal owners, such as the Bonapartes of France and the British Marquis of Abercorn. The late actor Richard Burton purchased the valuable pearl in 1969 as a birthday gift for his wife Elizabeth Taylor. Many anecdotes recount the strange journey "La Peregrina" has taken through the years. It seems it has been lost and found again under strange circumstances several times. Elizabeth Taylor lost the precious pearl one time, only to find it again after a frenzied search - in her dog's mouth!
The three main islands of the Archipelago de Las Perlas are Isla Contadora, Isla Del Rey, and Isla San Jose. Isla Contadora is the most developed and most visited of the islands at this time. It is only 1.2 square kilometers in size, but it has twelve beautiful beaches. There are two resort hotels and several delightful villas available for rent. There are other islands such as Isla Viveros and Isla Saboga where new five star developments are being projected, and in some cases are already under construction. Yet there are still many uninhabited islands with their untouched rain forests to explore. Even the pearl beds have started to recover, and pearls are once again being found in small numbers.