Charter Yacht ALIZÉ Guest Reviews
Guests aboard catamaran ALIZÉ in late November, 2022, wrote:
Dear Carlos and Maribel, Many thanks for your wonderful hospitality. This was such a unique way to spend our Thanksgiving vacation. Aaron and I were so excited to share our love of sailing with our daughters and we appreciate all of your efforts to make their first experience so enjoyable. We had amazing weather, beautiful vistas, lovely passages, lots of laughs, and made a lifetime of memories. Not to mention all of the amazing meals. Maribel, we will miss your cooking when we get home. Thank you again for a unforgettable vacation. We wish you both fair winds and following seas. Fondly, Aaron, Lynn, Livi, Morgen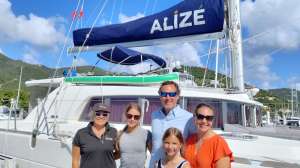 Mid-November guests in the BVI aboard ALIZÉ wrote:
Carlos and Maribel, Thank you for a fantastic week in paradise! We had so much fun and enjoyed plenty of relaxation. Thank you for going above and beyond to make us feel comfortable and welcome- particularly me, someone completely unfamiliar with all things boating. Maribel, every meal was a work of art! Thank you for catering to our different eating styles and for cooking beautiful, delicious meals! We have never had such good food on a vacation and we have been to some wonderful places! The ALIZE is lovely and clean and very well cared for. We couldn't have enjoyed our time more! Brandy and Richard Virginia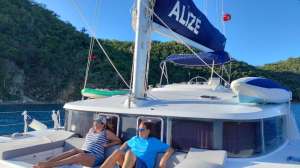 Guests aboard ALIZÉ in early November, 2022, wrote:
Dear Carlos and Maribel, Thank you so much for a wonderful vacation! We had such a great time and enjoyed everything about our time getting to know you both and the time spent on ALIZE. Our trip was made even more special by Maribel's fabulous cuisine. Delicious, delectable and perfection. Thank you both so very much! Cheers! Linda, Victor, Karen, Gary, Kathy, Brian.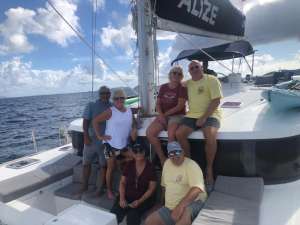 Guests aboard catamaran ALIZÉ in late July, 2022, wrote:
We had a blast! The food was amazing, the boat is awesome and the different places we went to were the Best! We will be back many times with family and friends. This was by far the best vacation ever, and we have been to a ton of places. Carlos and Maribel are the best. True pros and their love for the business shows. Loved it! Cary and Andrew California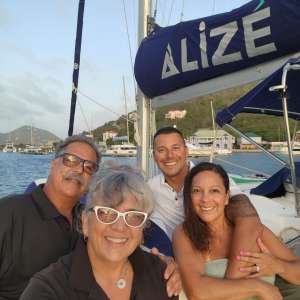 July, 2022, guests aboard catamaran ALIZÉ wrote:
Carlos and Maribel! Third time…and somehow each time we are with you we find new adventures, new stories, new memories that we will cherish for a lifetime. You are special friends who we speak of often as we talk about our best times. Favorite places and people that we miss and enjoy the most. You have been so kind to our family, and we respect you both greatly for who you are and what you do. Visiting you is always much more than a vacation to us. Thank you for another experience perfect in every way, again. Your friend, Jeff Dudan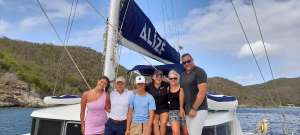 Repeat guests for Carlos and Maribel on ALIZÉ in the BVI in early June, 2022, wrote:
Dear Carlos and Maribel, Words could never express the memories we have made on your beautiful ALIZE! Losing complete awareness of time, I have felt pure freedom and for a brief moment I have been "one with the sea". Thank you from the bottom of my heart! Let's sail away again very soon. Love. Colleen. Carlos and Maribel, What a perfect week we have had on the ALIZE! It was so worth the long wait because of Covid! We are so thankful that we could join you for the third time! It gave us such comfort for our weary souls. And a trip with you has always been about comfort! The most delicious and beautifully presented meals, the great moorings, awesome snorkeling, and the laughter, made for the most joyful experience! We are so appreciative for all the heart and soul that you put into making it so!! Much love- Until next time, Anne. Carlos and Maribel, Words cannot express how much this trip meant to all of us. It was a long two years wait! I thought it was never going to happen! Y'all are the most wonderful Chef and Captain team and most importantly, wonderful people. The BVI are beautiful , but the trip would not be the same without both of you onboard! Everything was absolutely the best. I hope all your future cruises are great, but remember: we are the best! Love, Nancy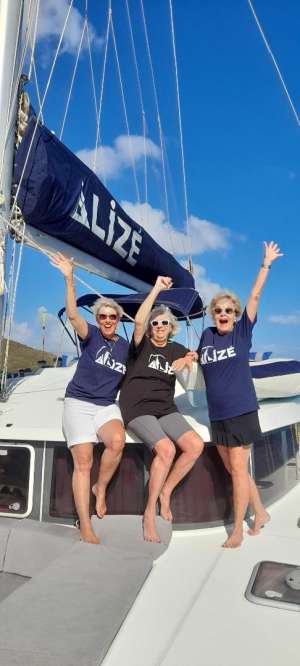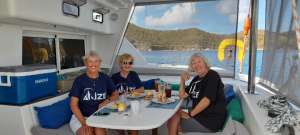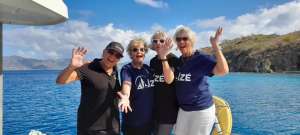 Mid-May, 2022, guests aboard ALIZÉ wrote:
Carlos and Maribel, What a wonderful week we had! I only wish the rest of the family could have made it. Each day was an incredible experience and so different than the day before. From the early morning coffee to Maribel's incredible cooking and the beautiful sights. Who could have asked for more? You both run an amazing catamaran. So clean, friendly and fully stocked. Thanks for an amazing week! Chris, Mikey and Johannes. Sweden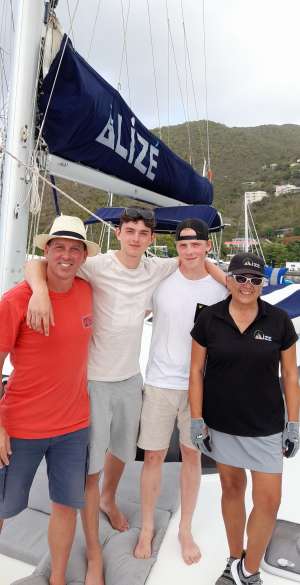 Guests in the BVI aboard catamaran ALIZÉ in early May, 2022 said:
Carlos and Maribel: Words can't express how awesome this trip was!! More amazing than we ever expected. Would not change a thing. The BVI is absolutely beautiful and both of you made it even better. You two have a especially special way that made this trip the best ever! Trip of a lifetime! We will be back! Randy and Diann Maribel and Carlos, You guys were THE BEST!! Couldn't imagine the experience you gave us as we sailed around the BVI until we saw all the stops. We were having fine dining every meal; THANKS Maribel. You are the BEST Chef ever!! You guys changed our vacation into a trip of a lifetime... Dwayne and Leigh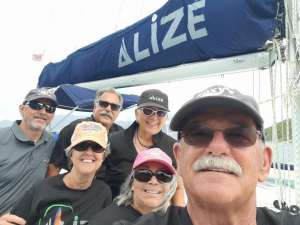 Mid-April, 2022, guests aboard ALIZÉ in the BVI wrote:
Carlos and Maribel: ...the best Captain and Chef team we could have asked for! Thank you for sharing ALIZE, your experiences, stories and the beauty of the BVIs. ...you are a remarkable team. The meals were creative and delicious... We had a fabulous trip! Enjoyed all the different places where we anchored. Big thumbs up for your sense of humor and of course, many compliments to the Chef!! Carollyne and Rick, Tom and Susan and Christie and Marshall.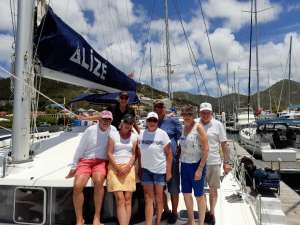 Early April 2022 guests on ALIZÉ said:
Carlos and Maribel, We feel so fortunate to not only have sailed the BVI , but to do it on ALIZE, profited by your experience and hospitality! We greatly appreciate your experience in offering charters for years prior to our arrival. The things we had planned in our heads did not compare to your suggestions. Plus, as a worry-wart, Becky was never nervous for one second, knowing we were in great hands. The food...Oh the food! Maribel, you spoiled us with meals we have never seen, much less tasted. They not only were delicious, but beautiful also. We were delighted to have this as a culinary vacation.! Thank you for opening your home to us . We are so grateful. May calm seas, blue skies and favorable winds define your remaining years. Becky and Chris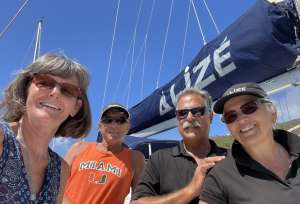 Late March, 2022 charterers aboard catamaran ALIZÉ said:
Dear Carlos and Maribel, You're living the dream, and for a week you took us to that dream. Such an unforgettable week of sailing the islands, excursions, amazing food, and fun. You two provided a safe and outstanding vacation for the six of us and we will always remember it. Maribel, your skills are beyond words. We enjoyed everything about your cooking. your first mate skills as well, you provided such a safe environment. Carlos, you're the perfect skipper. Always calm and knowledgeable. So glad to have you at the helm. Dan and Kathy, Brian and Sue, Dave and Carole Wisconsin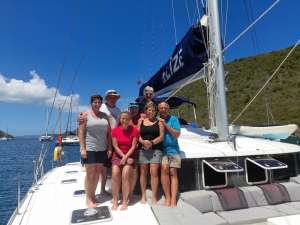 Carlos & Maribel's past guests from a decade ago, with ALIZE last week in the BVI
Maribel and Carlos, It's hard to believe it took us ten years to experience again the the best vacation of our lives. Thank you for making us feel so cared for. Your attention to detail is unsurpassed! We were blown away by the beautiful anchorages, gourmet meals and amazing company. It is obvious that you both love what you do and pour your hearts and souls into it. we are forever changed by our time spent with you and look forward to seeing you again. Hopefully there will be a time when you can be our guests in Punta Gorda! Much love and thanks, Mike, Kelly, Ella and Marina" Carlos and Maribel, You both will always hold a very special place in my heart. Ten years later, and this trip has still held up to all my expectations and more. This trip would not be nearly as amazing as it is without you two. A huge goal of mine is to come on this trip a third time with my kids. I'm so sad that this week is already over, but I've made memories to last me a lifetime. Love you both with my whole heart. Love, Ella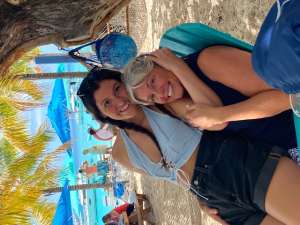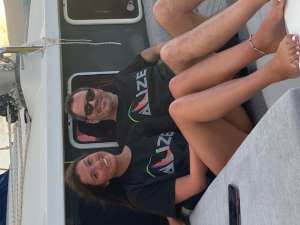 Late January 22 guests aboard ALIZÉ wrote:
Carlos and Maribel, Thank you so much for giving us a trip of a lifetime. We enjoyed the snorkeling, with all the special destinations that you took us to and kayaking and also the paddle board. We have beautiful photos that will last us forever, remembering our special time together as great friends. Ben had the time of his life catching those fish-Thank you Carlos for all your help. I don't have enough words to say how delicious Maribel's food was!!! We all loved it! I know how much love was put into her daily preparations. We also appreciate all your hard work to make an unforgettable trip for all of us. Hope to see you again soon. Monty and Leah; Craig and Michelle, Ben and Terri.
Early December, 2021, guests aboard ALIZE said:
Carlos and Maribel, This last week has been near perfection! Trip of a lifetime due to your professionalism and fun personalities. We felt safe and were treated like family...and Maribel, your food was beyond good! We were definitely spoiled! Loved sailing and exploring the beaches we stopped at. Anytime in this beautiful water is my happy place and the memories we take home we will cherish forever. Hope to see you again in the future! Karen and Gary Illinois. Carlos and Maribel, Thank you for the wonderful week in paradise! We've never been on a trip quite like it; blue skies, blue water, day after day. Sailing on and sleeping on the boat has been awesome. You two have definitely been a bonus to the trip. We thank you for being such wonderful hosts. You served awesome food and drinks everyday. You both have been so gracious, kind and generous hosts- Everyday! Hope the rest of your charters go smoothly and bring you some smiles. Hope to see you again! Tim and Luanne Illinois. Dear Carlos and Maribel, WOW! Our expectations were extremely high coming into this vacation. You exceeded them all. You are the dynamic duo. Carlos- organized, careful and a fantastic Captain. Extremely knowledgeable. Enjoyed our public health and Covid discussions. Maribel- incredible Chef, 1st. rate cabin cleaner. Thanks for all the cooking prep. and being able to serve everything at the perfect temperature. Also, teaching me how to bake bread. The entire trip was amazing. I feel we came as guests and left as friends that God prearranged! All the best. Warren and Lynn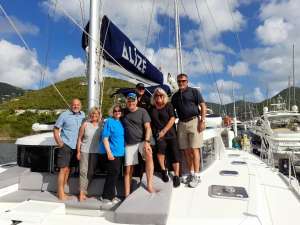 Kicking off the new season, Early November, 2021, guests aboard Alizé wrote:
Thank you for the best week EVER! Dean and I had never cruised on a catamaran. You two have exceeded our expectations. Maribel, best gourmet food ever! Carlos, your expertise and guidance throughout the islands was amazing! We'll be back! Dean and Kathy Thank you so much for an amazing trip. We couldn't have asked for a better boat or crew. Wish you guys all the best and hope to see you again soon. Jeremiah and Hanna "Thank you for such a fantastic week aboard the ALIZE. Everything was just perfect. Can't wait to return and sail with you both again. Ron and Judy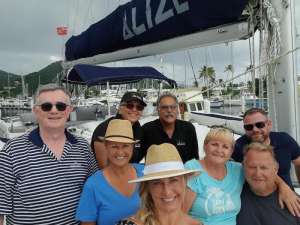 Late July, 2021, guests in the BVI wrote:
Maribel and Carlos, Thank you so much for this wonderful week. You are both true masters of your respective crafts! Your careful attention to detail and your patient, streamlined process for everything, is magical to observe !! The care you both take in making sure your guests have the most amazing experience, catered to their exact interests, does not go unnoticed and is greatly appreciated!! Thank you again for welcoming us into your beautiful home! The Colemans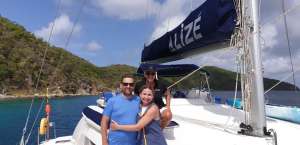 Mid-August, 2021, guests in the BVI aboard ALIZE wrote:
Carlos and Maribel, Thank you for a trip we will never forget! We came for the sun, the sand and the sailing. We will return for the food and friendship! We appreciate your professionalism and expertise in all aspects of a Virgin Islands vacation. We swam with turtles and nurse sharks and thousands of beautiful fish. The biggest surprise and delight of the trip was Maribel's culinary creativity and talents! Your passion for what you do for your guests, and your sense of humor while doing it, makes all the difference! Tim, Kathy, Danni and Mic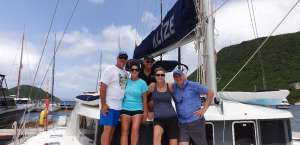 The Moore family aboard catamaran ALIZE wrote of their July charter in the BVI:
Carlos and Maribel, Wow... what an amazing vacation! Thank you for welcoming us into your beautiful home and for coordinating such an incredible experience for us. From sailing to snorkeling, from each location to every extraordinary meal, we had the best time. Scott loved being on a boat again and paddle-boarding for the first time. For us sisters, it was great to simply be together here, especially sitting up top with both of you while we sailed. If anyone needs lessons about using the dinghy ladder, Claire is always available. Thank you again for everything- ha sido una semana inolvidable! We hope we can sail again with you soon. Scott, Claire and Mary. P.S.: Thank you for the fabulous painkillers!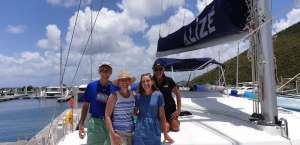 Early July '21 guests aboard catamaran ALIZÉ wrote:
Carlos and Maribel, This will be a trip that our family remembers forever. Our favorite parts were: snorkeling, watching the amazing sunsets, and everyone of Maribel's meals. Even though hurricane Elsa had it's own plans for our vacation, we still had a wonderful time *The fish that we saw were gorgeous! And we saw many other amazing creatures! I am very thankful that I got to come and have an amazing week with y'all! I hope we get to sail with you again next Christmas! Jensen Family July 2021 * written by Lila (10 y/o)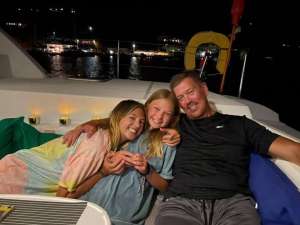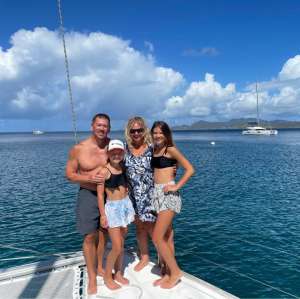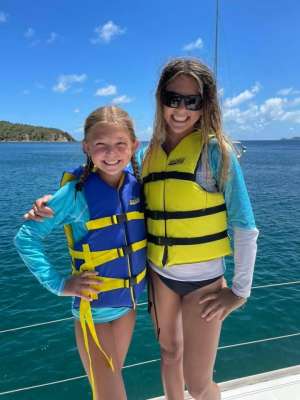 Late June, 2021, guests on catamaran ALIZE wrote
Dear Carlos and Maribel, For so many reasons over this past year we thought this trip was not going to happen. We are so thrilled that it did!! We loved being onboard ALIZE. Your insights on the islands, activities and itinerary were invaluable. Our time aboard ALIZE will be remembered for the evening sunsets & breezes, "Caribbean showers", great conversation, a lot of fun activities, wonderful cocktails and THE FOOD!! We have always felt that our travel has given us many gifts... The people we meet along the way are definitely one of those gifts- we will remember fondly our time spent with both of you! We hope to join you again on a future sailing adventure. The Cahouets Kate, Dave, Maggie & Emma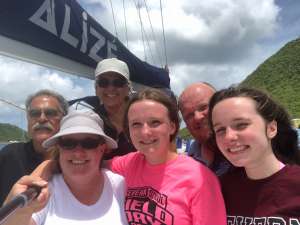 Early June, 2021, guess aboard ALIZÉ said:
Carlos and Maribel, We will never be able to thank you enough for your generous hospitality and for sharing your home with us. This has been an AMAZING adventure and we have enjoyed sharing it with you! The memories (and laughs) from this trip will be with us always. Maribel, you are amazing!! Your cooking, stories, and 😀 love for what you do shows in all you do. Carlos, our captain, we have loved everything you recommended and enjoyed our time with you. Be safe. Be well and may we all see each other again! Gretchen and David. Carlos and Maribel, Thank you so much for sharing a piece of your lives with us! The views, experiences and the conversations will be those that will be looked back upon for years to come. Maribel, you are a very special woman, you do it all with such grace and a smile. Carlos, you are a teacher- pointing out not only destinations and experiences but imparting wisdom along the way. Thank you for being a part of our group's 50th celebration (not mine, I'm the baby 😊),you will be remembered fondly always! Brandi and Doug
Mid April guests in the BVI aboard catamaran ALIZE wrote:
We loved every minute we spent on ALIZE. Carlos is the most patient, calm and kind person. He showed the kids how to use all the water toys on board and they had so much fun! Maribel is the best chef you can have on a charter. She treated us to some exquisite deserts, succulent steaks and the freshest salads. The bar on cooking was set very high. Thank you so much Carlos and Maribel for an awesome week on board the ALIZE! We hope to be back soon! Elena B. Carlos and Maribel, we had a great time on the ALIZE. Maribel cooked amazing food and you guys made us feel right at home. This trip was probably the best one I ever had, thanks to both of you. I really hope that we will be able to go on this boat again with you. Thanks! Ana B. (age 10)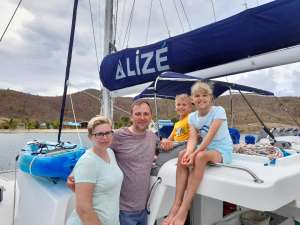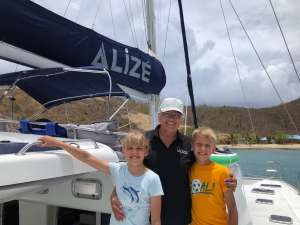 Late March guests aboard Alizè said:
Dear Maribel and Carlos, As you found out, even though Carlos suspected it, I was hesitant to come to the BVI since I had never done anything like this before and was nervous about how I would fit in. Your gracious hospitality and reassuring calmness put me right at ease and truly this was a wonderful experience that I would like to do again. Probably my most fond memory will be getting to know the both of you, hearing of some of your grand adventures and traveling insights. Thank you for making our "mid-pandemic" charter the best it could be. The service was top notch, the food was five stars and outstanding and the company most enjoyable. Con toda mi gratitud y deseo por las mejores bendiciones de Dios!! Holly W. Dear Maribel and Carlos, What a marvelous trip this has been! I really had no idea what to expect. This trip was planned as a celebration of my 50th birthday and I wasn't in the loop, so to speak. Add to that all the ever changing Covid regulations and I was not enthusiastic. That being said... Once I was on the ALIZE, in your capable hands, I was at HOME. The anxiety and apprehension...GONE!! I was completely relaxed and my attitude shifted immediately. Thank you both so much for allowing us to share your home for these eight days. I was not disappointed about not being able to go on land due to the late Covid test results. I really am happiest when I'm with my sister. She's my best friend. So I would have to say the whole trip was a SUCCESS!! We loved your cooking, Maribel. Every meal was a triumph! Carlos, your stories: so fabulous. Thank you for a safe and memorable experience. The BVI is beautiful but a trip with you two, even on swamp, would be worth it! I hope this is the first of several trips together. Dezra and Joel H.
Mid March guests aboard ALIZE wrote:
Dear Maribel and Carlos, This has been the most amazing, relaxing, beautiful vacation Winslow and I have done together. This was our first sailing trip and it is everything and way more than what we hoped for. You two are such precious, loving and wise people and I feel like I have a new favorite aunt and uncle in my life. I have felt the happiest I have been in a long time and you two have such positive bright uplifting energy it's so contagious and so healing to be around. Thank you for following your dream and sharing your passion for living in the water, in the flow, with hearts open engaging the moment with us. I will be thinking about the gentle rocking of the ocean in my meditation and the joy and peace of this trip for so long. Highlights include Maribel's amazing food! Dancing on the bow, but most of all, feeling so safe and welcome, and free to be myself in a way I rarely feel with strangers. You two feel like family to me now. Love you both. Brianna March 24, 2021" " Dear Carlos and Maribel, It has been a joy being onboard these past five days! It's my first time spending a night on a ship like this and I've loved it. Your hospitality has made me feel cared for and at ease. It has been well beyond what I expected. You two run a lovely and incredible boat and have made my experience out here very special and memorable. Thank you for your care!! Love. Winslow P.S.: Maribel, your cooking was sooooooo yumi!
Mid-March, '21, guests in the BVI on ALIZÉ wrote
Carlos and Maribel, You made this trip possible. We didn't think it was going to happen. You made it happen. The ALIZE is beautiful. We had the most relaxing, fun and amazing time. The food was WOW! So Yummy! Drinks were perfect and kept coming. Just how we like. You both are fantastic hosts. Listening and watching who we are and took us to the best places in the BVI. We do not want to leave!! Thank you so much for taking great care of us . We have the best memories to take with us and great shirts!! Until we sail again... Love Brad and JoAnn
Johnson Family. Second Visit Comments
Carlos and Maribel, Thank you again for another wonderful week! Everything aboard was just wonderful and of course, both of you are the best. Great food, great adventures and best of all great memories. This is our second trip with you, but it won't be the last!. Until next time. Chad, Donna, Graham, Bryce, Brooks and Grace.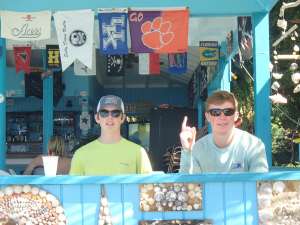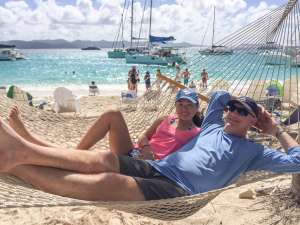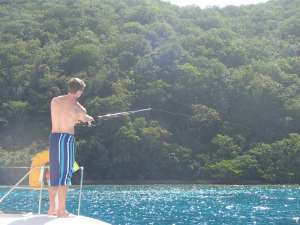 Schleich Family. Second Visit Comments
Thank you for giving our family such great memories and a trip of a life time! You are both amazing people and we will miss you...until we're back again . Carlos, your expertise on where to go for our specific family, our safety, and always impeccable timing was amazing. Maribel, wow!... we can't say enough about all the wonderful meals. You are not only very talented but you are such a sweetheart as well. Having four teenagers, we really needed this family time together. Thank you for all the time and effort you both put in to making it so special for us. You both went above and beyond! ♥ John, Andrea, Layton, Trevor, Brennen and Hollynn Schleich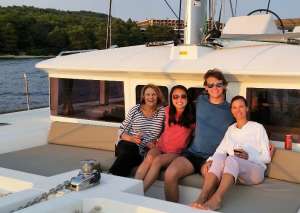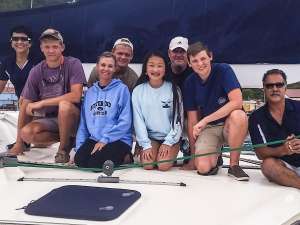 Pelose Family. Christmas Charter.
Captain Carlos and Chef Maribel, The ultimate family vacation! We never were board! The fishing, watersports, the sailing, the relaxation, the Caribbean Showers and the amazing food were a few of our highlights ! Your attention to detail from planning the perfect itinerary to the special touches and constant attention you gave us, was spectacular. Pelose family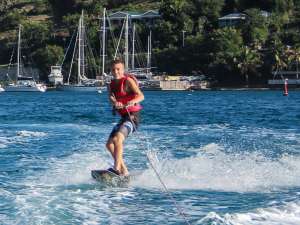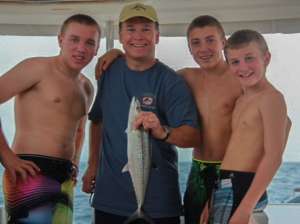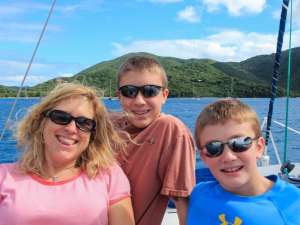 Girls Annual Sailing Getaway Vacation
Carlos and Maribel, Thank you so much for best vacation ever!! Love every minute (from the unbelievable meals, to all the perfect places to explore on land and see, and our attention to all our needs!. We loved stumbling into the Poker Rum!!. We will never forget our week onboard your beautiful boat touring this most beautiful spot on planet Earth!! Happy Sailing. Linda, Ann, Colleen, Nancy.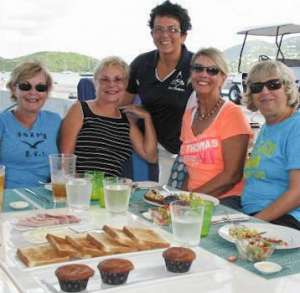 What Carlos & Maribel's guests have said in the past
Carlos and Maribel, This was the perfect first experience in the BVI your knowledge of the islands hospitality and the amazing cuisine complemented the beautiful views and the amazing waters. We look forward to being able to share this experience again in the future with more friends and family. Cheers and many thanks. Michael and Jenny Corr
Colmans Family. Third Visit Comments
Carlos and Maribel, Thanks again for another family vacation. The girls will be taking about Maribel's cooking none stop until we comeback! They also had a great time testing the new tube. The sea turtle in Christmas Cove was amazing! Another unforgettable family vacation! The Colmans: Gerard, Susan, Heather, Lizzie and Helena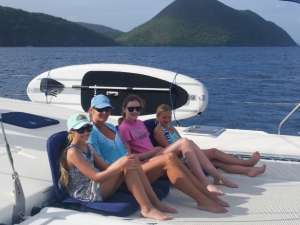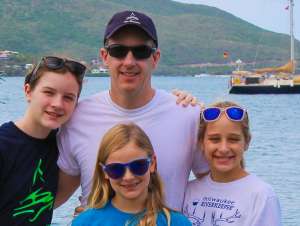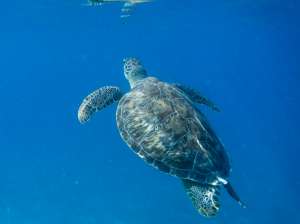 Reviews
Carlos and Maribel, Thanks again for another family vacation. The girls will be taking about Maribel's cooking none stop until we comeback! They also had a great time testing the new tube. The sea turtle in Christmas Cove was amazing! Another unforgettable family vacation! The Colmans: Gerard, Susan, Heather, Lizzie and Helena