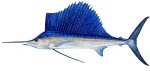 Pacific Sailfish (Istiophorus albicans)
Description: Blue to grey in color and have a characteristic erectile dorsal fin known as a sail, which often stretches the entire length of the back. Another notable characteristic is the elongated bill, resembling that of the swordfish and other marlins.
Size: Both species of sailfishes grow quickly, reaching 1.2-1.5 m (4-5 ft) in length in a single year.
Range: Usually found in the warmer, upper layers above the thermocline, the species often migrates into near-shore waters.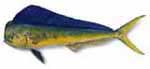 Dorado (Coryphaena hippurus)
Description: Bright greenish blue above, yellow on sides, with capability of flashing purple, chartreuse, and a wide range of other colors, body tapers sharply from head to tail, irregular blue or golden blotches scattered over sides, anterior profile of head on adult males (bull) is nearly vertical, head of females more sloping, the single dark dorsal fin extends from just behind the head to the tail, anal fin margin concave and extending from anus to tail.
Other Common Names: Dolphin Fish, Mahi Mahi
Size: Common to 30 pounds, can exceed 50 pounds.
Range: Offshore, in warm waters.
Natural History: A very aerobatic fish, often leaping clear of the water, one of the fastest-growing fish, thought to live no more than 5 years, swimming speed estimated at 50 knots, spawns in warm oceanic currents throughout much of the year, young found in sargassum weed, feeds on flying fish and squid.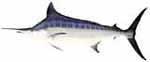 Blue Marlin (Makaira Nigricans)
Description: Cobalt blue on top shading to silvery white on bottom, upper jaw elongated in form of a spear, dorsal fin pointed at front end, pectoral fin and anal fin pointed, lateral line reticulated (interwoven like a net, difficult to see in large specimens), no dark spots on dorsal fin, body covered with imbedded scales ending in one or two sharp points.
Size: The blue marlin is the largest of the Atlantic marlins, common to 11 feet, known to exceed 2,000 pounds.
Range: An offshore, blue-water fish, pelagic, makes trans-Atlantic migrations.
Natural History: Most trophy size blue marlin are females, males normally do not exceed 300 pounds, spawning procedures are unknown, feeds on squid and pelagic fishes including tuna, dolphin (dorado) and mackerel.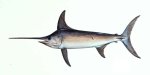 Swordfish (Xiphias gladius)
Description: Color of back variable-black, grayish blue, brown, metallic purple, or bronze, sides dusky, underbelly dirty white, long, flat, sword-like upper jaw, lacks scales, teeth, and pelvic fins, single keel on each side of body in front of tail, first dorsal fin high, rigid and short, large eyes.
Other Common Names: Broadbill
Size: Once averaged 200 pounds, but over-harvest has reduced size of commercially caught swordfish to average of 48 inches.
Range: Offshore species, pelagic, in temperate and tropic waters worldwide, known to frequent depths 400 to 500 fathoms, but also has been seen basking at the surface.
Natural History: Large swordfish are usually females, males seldom exceeding 200 pounds; except when spawning females believed to prefer water cooler than that favored by males; feeds on squid, octopus, and pelagic fishes of all kinds.

Wahoo (Acanthocybium solanderi)
Description: Numerous dark vertical bands on the side extending to below the lateral line, finlets behind the dorsal and anal fins, long snout, about half the length of the head, gill rakers are absent, first segment of the dorsal fin, with more than 20 spines, is about as high in the mid region as it is in front, upper and lower parts of tail are almost straight up and down.
Other Common Names: Ocean barracuda, Tigerfish
Size: Large by standards of most fish families, reported to reach up to six feet and 100 pounds.
Range: Found worldwide in tropical and warm temperate seas. In Western Atlantic waters, they range from New Jersey to Colombia. Migratory, venturing far northward in summer, returning to the tropics with the onset of cold.
Natural History: A large, powerful fish, usually loners, found well offshore even to mid oceanic regions. They are voracious predators, swiftly overtaking prey, of which flying fish and halfbeaks are favorites. Little is known of their reproductive habits.

Yellow Fin Tuna (Thunnus albacares)
Description: Fusiform body, more slender than that of bluefin or bigeye. Small eyes and head, longer 2nd dorsal and anal fins than any other tuna (which get longer with age). Liver without striations on ventral surface. Swimbladder present. 26-35 gill rakers on first gill arch. Pectoral fins usually reach beyond the origin of the 2nd dorsal fin but not beyond the end of its base. Dark blue back with yellow lateral band on the upper sides. Lower sides and belly silvery-gray, often with chains of white vertical lines and spots. 2nd dorsal and anal fins yellow. Finlets yellow with a narrow black margin.
Size: Commonly 16 to 67 inches, can grow to 75 inches and 388+ pounds.
Range: A warm-water species, yellowfin is the most tropical species of tuna. Abundant in tropical waters throughout Atlantic. Young are known to form large schools near surface. Adults inhabit fairly deep water but also live near the surface. Often mixed with other species, especially skipjack and bigeye.
Natural History: Yellowfin are sexually mature when they reach a length of approximately 40 inches, and spawning occurs throughout the year in the core areas of distribution (between 15' N and 15' S Latitude), including the Gulf of Mexico with peaks occurring in summer months.