Charter Yacht ALLURE 64 Guest Reviews
May 2022 - BVI
We have no words! All the superlatives just do no justice to the most incredible 2 week adventure ever! We wanted secluded, quiet beaches and coves, we wanted to use every feature of this great yacht Allure, to explore the BVI in safety and style. You all exceeded every expectation we had! Capt Scott you are an amazing sailor, able to take us to wonderful places while telling us all about the history and legends of the BVI. We chose to dine on the boat and we were glad we did! Niki cooks everything with love and perfection! Who know hot cookies and ice cream made on the boat could be so good! Dan, you are the perfect complement to Capt. Scott and Niki and we wish you all the best sailing and fair winds in your futures! Hugs Mike and Susie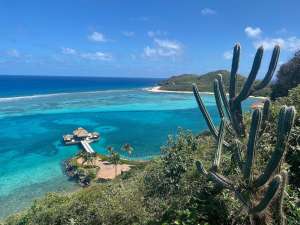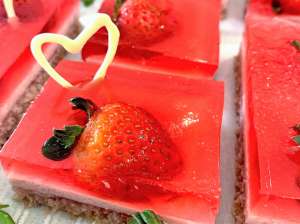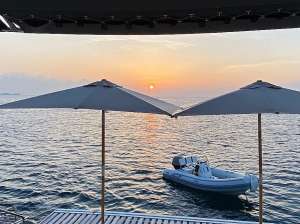 April 2022 - BVI
What a beautiful boat in a truly gorgeous part of the world. It has been amazing and memorable week is no small part to you Scott, Niki and Dan. Thank you a thousand times for taking such great care of us, keeping us smiling, safe and extremely well fed. Each of you were as incredible as these wonderful islands. Hope to see you again soon. Garry
April 2022 - BVI
What an amazing trip this has been! Allure is truly the most beautiful and well kept boat in the BVI and you all must be the most incredible crew. Thank you for making this vacation one for the record books and becoming a part of our family for the past week. Every stop, every meal, every day was filled with nothing but adventures, laughs and smiles. We cannot wait to come back to see more of the BVI (specially more pirate shows) with all of you. Your attentiveness and bright smiles will be sorely missed when we return home, and I don´t know what we are going to do without Niki´s cooking!! Thank you, thank you thank you again from the bottom of our hearts Cheers to more adventures Isabella, Chris, Joe
April 2022 - BVI
Our second vacation on Allure and it couldn´t have been more spectacular! The first week with great friends, lots of great food, laughs and making special memories. Our second week went by even faster! We were threated with the best care anyone could not wish for better. The trip with my kids was like a dream come true. No stress of having to feed and tend to them was wonderful. Being able to be present and check in with each of my kids and also make special memories was priceless. Thank you, Thank you Thank you! Last but not least the tour of the BVIs was breathtaking. The views and the people are beautiful! Thank you for the tender loving care Scott, Niki and Dan! Best wishes Kathie and Mike
April 2022 - BVI
Wow! Our trip through the BVIs on Allure was an absolute dream come true, a trip of a lifetime! Every day was a magical adventure. We felt safe, well taken care of und especially well fed! Everything about Allure is just beautiful and that includes the crew, the most fantastic crew we could have asked for. Without you three this trip would not have been the same. Thank you so much for your excellent service, showing us all the best spots, making us feel special (shoutout for Dan for doing the ladies hair for dinner) and just all your hard work in general. Mitch and I will most definitely be coming back to the BVIs and we will only settle with having you three take care of us. Thanks again Mitch and Angie
April 2022 - BVI
This was the trip of a lifetime. Amazing Scott, Niki and Dan took great care of us and allowed us to see the best parts of the BVIs. The food was amazing and creative. Of course our company guests were a part of making this trip so memorable. We will have these memories for the rest of lives and I will tall all of blame! Best wishes, Sammy and Tracey
April 2022 - BVI
This was our first sailing charter and we fear we are spoiled for life! Allure is a beautiful boat – from her well appointed staterooms to her various lounge areas and teak decking. We alternated between the aft deck and the forward netting "hammocks" each evening. Our crew for the week Scott, Niki and Danielle were superb! They anticipated every need, wish, desire – staying a step ahead of us. Niki is a master chef – so creative and resourceful! Captain Scott kept us safe and served as tour guide – regaling us with local legends and island color. Our stew Danielle couldn't have been better. Even beyond her duties she was kind, friendly and a perfect addition. It is with great sadness that we depart today. But we take with us full bellies, tanned legs and memories to last a lifetime. The BVIs are the most exquisite chain of islands full of lovely people and great adventures! Until next time…B.V. and Daniel
April 2022 - BVI
To our favorite Captain, Chef and Stew.. Yáll did it again… what an amazing week you have given us. From the beautiful boat, amazing meals, awesome playlists, sensational happy hours – the list goes on! Your top-notch service made our trip unforgettable. After 2 trips with you, we consider you as friends and will be seeing you again as soon as we can. Thank you over and over Russ and Naomi Thank you so much for your amazing hospitality. We were so appreciative of the wonderful yacht, unbelievable meals and professional and your fun company. We would love to see you again Mike and Kristin Thank you all for creating such an awesome experience for us. From the boat to the drinks to the adventure of each daily excursion, it was all first class and top shelf. We are all looking forward to the next great adventure with Team Allure Jim and Crizy
March 2022 - BVI
Thank you for an AMAZING and absolutely WONDERFUL week in the BVIs! The attention to detail that you all three bring every single day is outstanding. Dan - the smile on your face throughout the day… Niki - the artistry od each meal and the delicious foods you prepared… and Captain Scott – you kept us safe and happy all week. We could not have asked for a better family vacation! This has been the best experience for all 4 of us and we cannot thank you enough! We truly appreciate your gracious hospitality every single day! We will definitely be back soon. Take care and be well Love, Cary, Tad, Walt and Wyatt
Family BVI Charter - March 2022
Dearest Captain, Niki and Danielle, What a fantastic journey this has been! Not only has it been a wonderful vacation but also an education of the British Virgin Islands. We have enjoyed every single minute. The three of you were so accommodating, and thank you for taking such good care of the children's "special wants"! We will forever remember this trip. Thank you so very much Fayenelle and Jay Helm Captain Scott, Chef Niki and super stew Danielle, What an incredible week! We couldn´t have had a better time or felt more at home. Thank you for showing us such hospitality and anticipating our every need and want. Captain Scott made us feel so safe and we enjoyed the long sails especially. Chef Niki´s food was delicious without exception. Thank you, Niki, for working tirelessly to make our children feel included and satiated. We know our son was a tough case! Danielle´s bubbly personality, infectious smile and mixology skills absolutely made our trip. We will miss Dan&Scott´s playlists setting the tone for each day. Allure is the most beautiful sailing vessel we´ve ever encounted. You have made us charter guests for life! Christian and Robert
Tandem Charter BVi March 2022
As you know we planned this trip with our friends 4 years ago, as a chance for our families to be together. We have sailed together a few times, but the kids really wanted to do a trip to the BVIs. From the moment we met the three of you on the dock in Tortola, we knew we were in the best hands. The Allure is so clean, elegant and sleek- and comfortable. You have seen to our every need- from snorkeling to the lobster trap and every beach in between-what a wonderful trip! Niki´s meals have been incredible – from French toast to coconut shrimp to lobster – and the bread! We love Captain Scotts incredible sailing experience and precrisis. Dan is near us every minute anticipating our nuts with a smile. Thank you for all the special moments – especially our Friday toast – we will never forget that. Thank you for an incredible journey and vacation! Lots of gratitude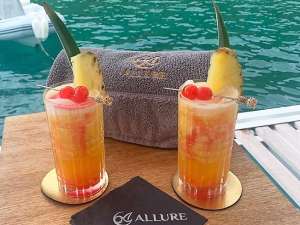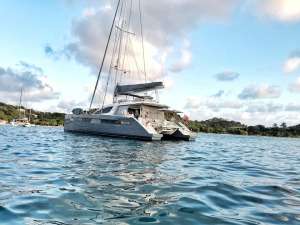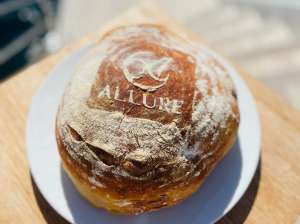 February 2022 - BVI
It's hard to put in words how fabulous sailing on Allure has been. Captain Scott, Chef Niki and Dan have gone above and beyond to ensure our experiences on Allure have far exceeded any expectations! Everything, right down to the smallest detail was first class! Thank you so much for such an amazing week with such amazing people! I will treasure the memories Rosanna Allure! Says it all. The crew, Capt Scott, Nikki, Dan.. over the top! Service, comfort, food, drinks.. they do it all! Been a lot of places, this is at the top. Thanks Rob/Erick we love you! This was an experience of a lifetime and we are beyond thankful and grateful that we got to spend this time with you. We´ve collected some great memories, new friendships and a couple of extra pounds. Captain Scott, Chef Niki and Stewardess Da are the best! A great crew that made us feel special. Michal and Kim Being Rosanna´s +1 on Allure has been such a gift. The BVI is a trip of a lifetime and one will never forget. The Allure and it´s crew are pure luxury, comfort and fun. Scott our captain is a man of many talents, Nikki is a top notch chef and Dan did a wonderful job keeping us refreshed. The crew were so attentive – lovely but we truly appreciated their humor. Clearly they love their work and are magnificent at it. I simply can´t express how grateful I am to have been here this last week. Michelle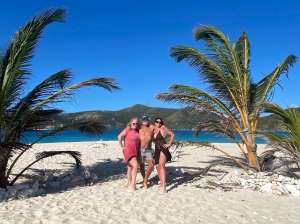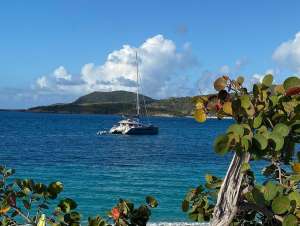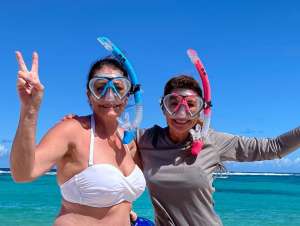 February 2022 - BVI
Wow what a holiday! We have never had such a holiday. We will never be able to top this. Captain Scott, Chef Niki and the wonderful Dan. You made our holidays so special. You made us feel so special like we were with family. The whole experience was amazing. Captain Scott you were amazing. You made the trip seem so easy and we know it had to be hard. Niki, you never complaint about my dislike of seafood  Your meals were amazing, nothing will ever taste as good, ever! Dan you were amazing. Your smile every morning made our day Thank you, Lorna and Steve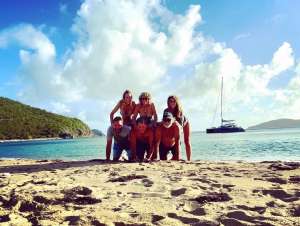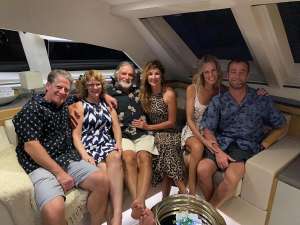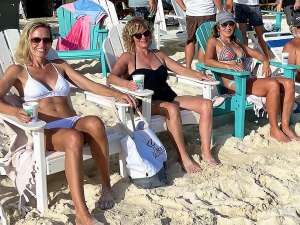 February 2022 - BVI
Sometimes when we are lucky our once in a life time turns into twice in a lifetime. Back on Allure a year later has been a gift. Where we find heart space, mind space and soul space from all the noise. It´s a holiday when all your food tastes like heaven, the playlist makes you dance, the breeze blows new life into you, the sun shines glorious and the ocean touches your soul. Captain Scott, Chef Niki and Dan we can't thank you enough for adding to the magic of this week. Every detail band together by the three of you to make it special. We love and are thankful for your kind character and generous hearts.. what a gift! Much love and many thanks Ryan and Renee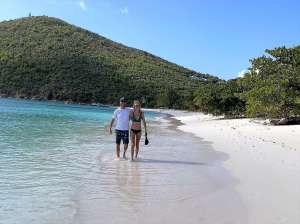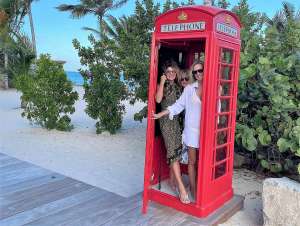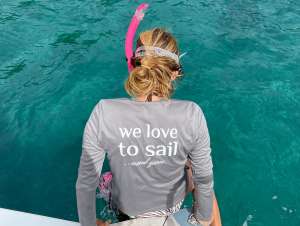 February 2022 - BVI
This is our second time on Allure and it was once another wonderful holiday. We are fortune enough to be invited again. The crew is amazing! Can´t say enough! Chef Niki is exceptional with meals. Our glasses and needs throughout the days were always fulfilled by stew Danielle, she always know when drinks were needed. Captain Scott kept us safe at all times and made sure all needs were looked after. I have to say the crew made the trip/vacation very enjoyable. Very friendly and attentive to our needs. Love the crew, they were the best. Robert and Karen Last year was fabulous followed up by another this year. Captain Scott and Crew were super professional and enjoyable. We sailed every day, Captain Scott made it look easy. Always anchord us close to shore in the best bays. Chef Niki never left us down, always fabulous meals. And Danielle was so special always offering the greatest drinks and calling us cheeky. Really enjoyed the yacht atmosphere, boutique bays, beaches and bars. We will be back. Murray and Patty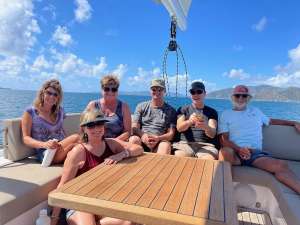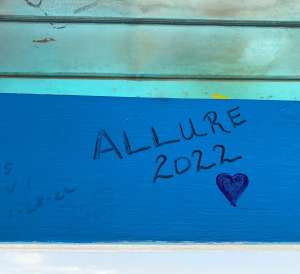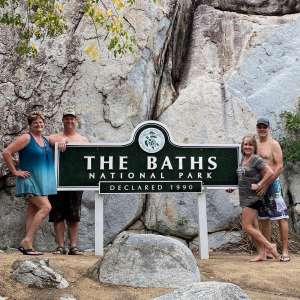 January 2022 - BVI
We came on board not knowing what to fully expect as we had never done this… What we experienced was beyond any expectation! The food was incredible, the atmosphere was so comfortable and we wanted for nothing. With all our travels we have never been so entertained or fulfilled. We were treated like royalty and as family. The experience of a lifetime. To our new friends, thank you so much Bryan and Kathy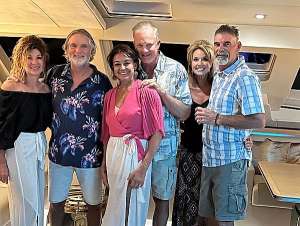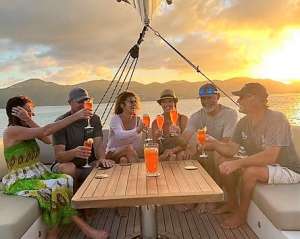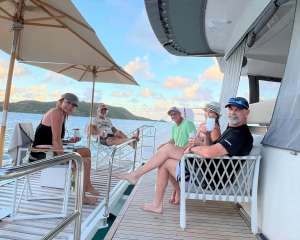 New Year Charter - Phenomenal Food
Dear Scott, Nikki and Danielle, We can't thank you enough for all the thing you all did for us to make our trip in the BVI on Allure so incredibly wonderful! The Allure is an amazingly beautiful and spacious boat but it is the three of you, your fun kind and warm personalities and all you fantastic skills which made this trip so memorable, awesome and perfect for all of us. Scott you are such a great captain. It was so fun for us how you came up with a great itinerary and and shared the daily plan each day at breakfast. Your captain skills made us all feel so safe and we loved sitting with you as you drove the boat and told us all about the area and many fun stories about your and Nikki's adventures. I could go on about the countless other things you did to make our trip spectacular. You're the best! Nikki! Wow! Your cooking is phenomenal and your presentation of it was always a work of art! Thank you for also cooking dairy free for Abby and gluten fee for Lucy. That was incredible and sweet of you to go to all that effort doing that for them. They loved it and felt so good and healthy on this trip! That meant so much! Danielle, thank you for taking special care of us in so many ways. You are a bartender extraordinaire, set a beautiful table and helped us keep SuperYacht Abby in check and almost on time (haha!) and had our cabins so cozy and beautiful. You did so so much more and we really appreciate you so much. We will truly miss you all. We adore each of you. The Adams family Dear Scott, Nikki and Dan, Thank you so much for an experience that will never be forgotten. You made a trip that already had high expectations better than any of us could have imagined. Scott Thank you so much for guiding us around and showing us some beautiful islands and waters. Also I loved our conversations and hearing the plenty of jokes you had throughout the week. Nik, I don't know where to start on your cooking and baking. I can easily say that is by far the best food I've had for a week and honestly some of the best I have had in my life! I also enjoyed getting to know you and hear about your and Scotts' adventures. Dan it was amazing having you with us all week. You were so kind, humorous and respectful and all the above. Your drinks were topnotch, and I am going to have to learn some your napkin designs. I can't say thank you enough for how wonderful all three of you made the trip. From the boat to the drinks and the food to all the destinations, and of course your unbelievable hospitality, t6hank you for blowing our expectations out of the water! Parker.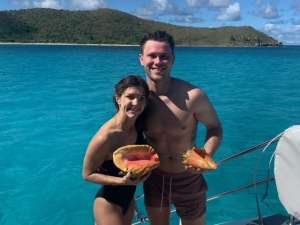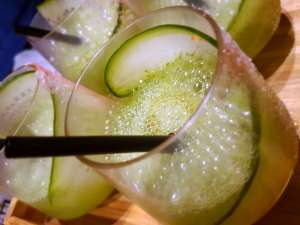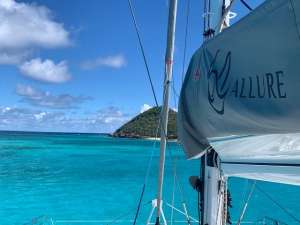 Christmas 2021 - BVI
Wow!!! What an incredible week aboard the beautiful Allure! Captain Scott, Niki and Danielle went above and beyond our expectations to make this trip a truly amazing experience. They were able to cater to our youngest family member (age 8) to our oldest (age 90) and everyone in between. We loved visiting all of the picturesque islands and playing in the water. All of the water toys were readily available to make each anchorage more fun. We are so grateful to have had this wonderful family experience. We hope to come back again very soon. Thanks to Scott, Niki and Danielle
November 2021 - British Virgin Islands
We had an amazing trip. The Allure is an amazing boat but the staff Scott, Nikki and Dan were amazing from the second Scott picked us up until our drop off. Thank you Scott for the great information on the Caribbean island. Nikki the chef was just outstanding. 5 star course meals. Incredible. Dan was just amazing..always a step ahead. This team served us at the highest level. We are so thankful that we had ya´ll. Thank you and we hope to see you all again. Sooner than later. Thank you for the amazing hospitality, you were just wonderful. We had the best time!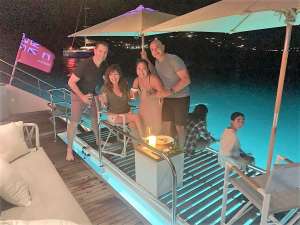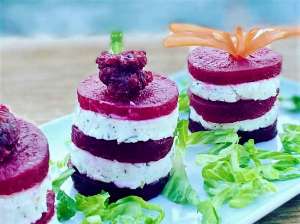 November 2021 - British Virgin Islands
Dearest Danielle, Niki and Scott, Tank you for the BEST experience of our lives. Thank you for the unforgettable lifelong memories! Hope to see you soon again. This experience is unforgettable. Never will I forget how much fun I had. Loved being on a boat with you guys. Thank you for everything Kaylyn (12 years) Thank you for having me on board, it was so much fun. Also thank you for the best food and drinks. Thank you for everything Kera (15 years)
October 2021 - Grenada
Wow Expectations exceeded We came with ideas at what it could be like when spending a week on a "crewed" boat but the degree of personal care was way beyond. The attention to detail.. we felt the love we tasted the love Thanks for all Professionalism is appreciated but the personal care made it so much more. Ken, Geralyn and Heather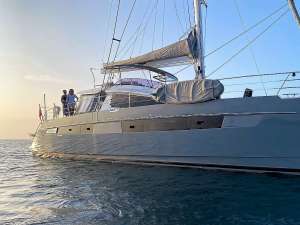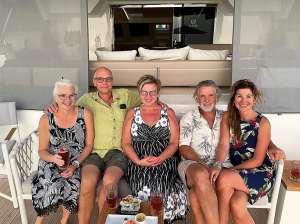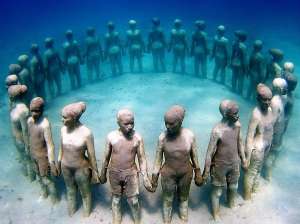 July 2021 - St. Maarten
I am writing this review on behalf of our family and friends. To say that our vacation was wonderful is an understatement. Scott and Niki were excellent hosts with impeccable attention to our every needs. Each day was planned around our wishes with the perfect combination of advecenture, relaxation, celebration and laughter. Scott kept us safe with a gentle smile but always for the lookout for our every need. The meals prepared by Niki were a truly culinary experience. Every meal was a special treat! Scott and Niki are true professionals with an obvious attention to detail. Their experience in the yachting industry translated into the trip of a lifetime! Thanks from the bottom of our hearts!!! Cheers Kirk, Genie, John, Susan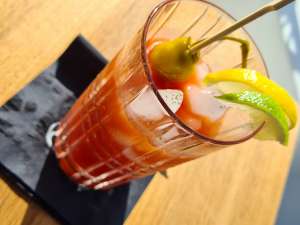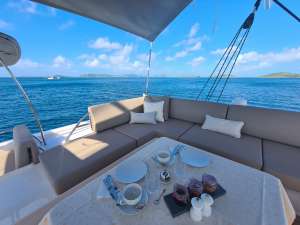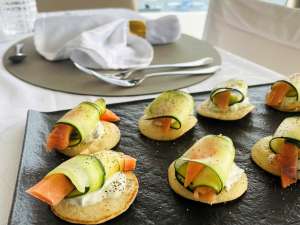 July 2021 - Antigua
We sailed on the Allure around Antigua with Captain Scott and Chef Niki and Stewardess Laura. We were a party of 6, 3 couples, and had no expectations. I mean what could you possibly expect having never sailed nor spent 5 days on a boat? We knew it would be fun, luxurious and an experience of a lifetime, but the trip far exceeded everyone's expectations. It was the most incredible journey. From the second we boarded the boat, we felt at home, comfortable and were treated like kings and queens. The accommodations were outstanding, as the boat is modern, clean, well laid out, roomy and very comfortable. The was food delicious, every meal was well thought out and a culinary journey. Niki is a master in the kitchen, not sure how she does it with just a kitchen on a boat, but you would think she was working with a full restaurant set up. The service was impeccable. All 3 of them made it their priority to wait on us at all times, but never too pushy or uncomfortable and always striking the right balance in giving us the personal time we wanted and of course getting to all know one another. At the end of every night Scott would spend the time with us to figure out what we wanted to do the next day, always offering suggestions with great ideas on how to make the most out of our time together and the wonderful island of Antigua. When we departed we were a bit sad to leave our new friends, but we know the memories of this trip will last a lifetime! Thanks Scott, Niki and Laura for a wonderful experience! We loved every minute and will certainly be back to do it again! Until then, 'To Absent Friends & Those At Sea'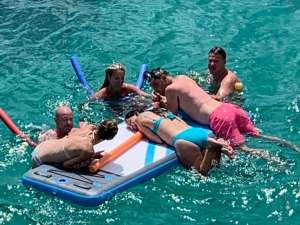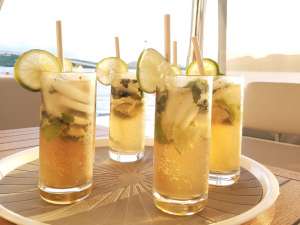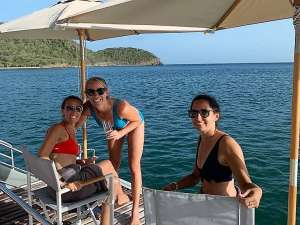 June 2021 - Antigua
We are so appreciative for our beautiful and perfect vacation. Everything was above and beyond and we are so thankful. Thank you Thank you Thank you. During our stay onboard we booked again and are bringing our three boys. We all are already looking forward to that trip! Niki´s care and attention to details from food to anything else we may need was exceptional. Watching two captain compare notes all week were very special. Captain Scott and Captain Mike are looking forward to sailing again, Best wishes Kathie and Mike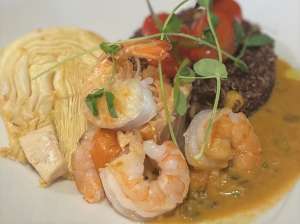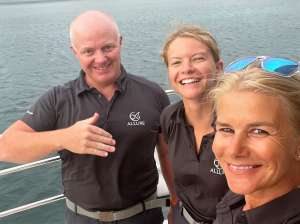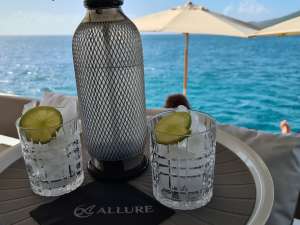 March 2021 - Spring Break Antigua
Our family had the absolute pleasure of being aboard Allure for spring break. We couldn´t have asked for a better crew than Captain Scott, Chef Niki and Ellie, which ended up feeling more like family. Captain Scott traveled the waters of Antigua with such expertise and skill and we learned a bit of sailing. Chef Niki created beautiful dishes that our whole family thoroughly enjoyed (even our pickiest eater). Ellie made sure that all of us were taken care of at all times – we all felt truly at ease and pampered during our week. We cannot wait to come back on Allure! We all have the fondest memories of our time together. Love Shervin, Georgette, Stella and Zane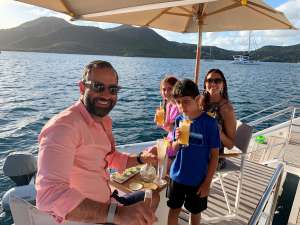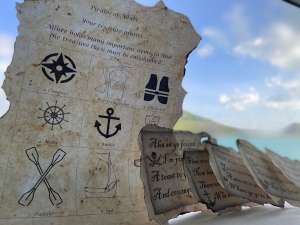 Antigua Feb2021
The experience aboard Allure was impeccable in every way. From the moment we stepped on Allure it was like being welcomed home. The Crew, the food and the luxurious detail has far exceeded our expectations. The ocean is its own language but we were gifted transition through the crew with their knowledge and experience. We felt as wild and free as the wind that carried our laughter! We are made greater for having experienced this adventure, where we were gifted time to quiet the noise , linger longer and soak in the salty air. There are glimpses of heaven on earth and this experience on Allure was one of them. The adventures we take we do not just remember, they form a part of our story and this one will be long remembered after the bags are unpacked and our sun-kissed skins fade. Until next time with gratitude The Albrights and the Smrts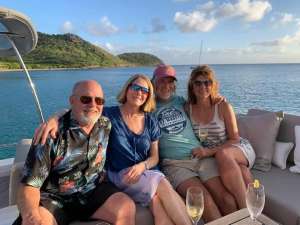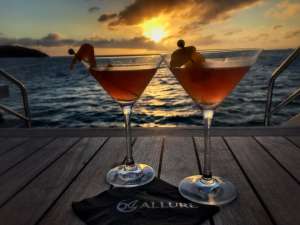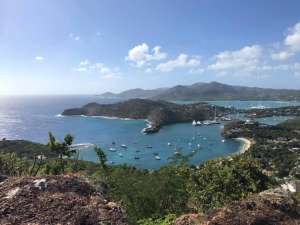 Antigua Sailing on Allure- What a gift!
From the moment we stepped on Allure we were in AWE! It's hard to describe something indescribable or even capture photos to show the magic of this adventure. So instead we spent every moment being present, soaking in the turquoise water, the warm breeze that carried Allure's sails and our laughter. We sat and celebrated the golden sunset over the water everyday, toasting to friendship, adventures and blessings. Every meal made was a work of art from the chef, followed by dessert and games, dancing or star gazing. There are places in Antigua that are a piece of Heaven on earth & being on Allure was one of them. An unforgettable experience. We will forever be grateful and arrive home having made some of the most incredible memories we've ever made together! What a gift!!! Jim, Jacque, Ryan and Renee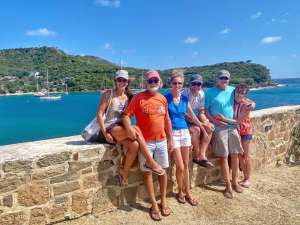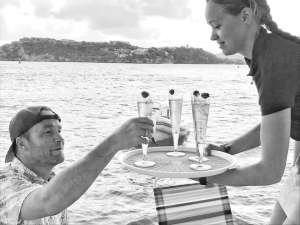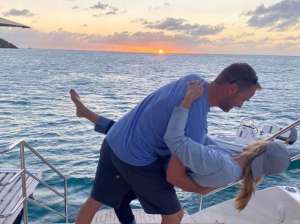 St Maarten/St Barth a great experience
There are no words to describe our experience. The crew are remarkable! Captain Pierre was constantly attentive to any of our requests. From sailing between islands to mooring in beautiful bays for snorkeling and paddle boarding. Pierre's expertise in mixology was much appreciated by all of us! Chef Desree was remarkable. Never have we had this level of cuisine. Every meal was truly a piece of art and we are going home with some extra weight under our belts! Ellie was the steward that brought the whole experience of the trip just that much more enjoyable. The whole crew feel like family and we can´t wait to see them again. Last but not least, THE ALLURE!!! A stunning piece of art. She sails so smooth and is very classy. The owners thought of everything when designing this beautiful yacht. Sure you can go to shore but we loved being on the boat. Can´t wait to return Murray, Patty, Rob, Karen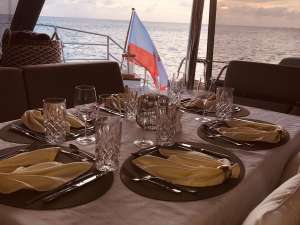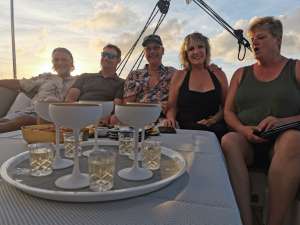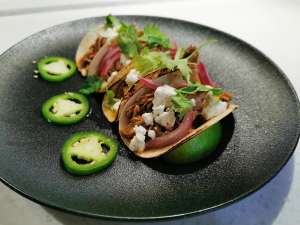 New Years Charter on Allure
It was an amazing experience that exceeded our expectations. The crew made the trip exceptional – Pierre kept us safe and ever sensitive to making sure we were optimizing where and when to go, balanced against the weather. Desree went out of her way to make sure we were well taken care of and is a world-class chef, that prepared us delicious dishes the entire trip. Ellie was always very helpful, polite, and attentive to our every need. The entire crew worked together seamlessly, and we enjoyed their service as well as their company. They were able to predict what we would want/need and were lovely to chat with. The boat was brand new and we were the first people to charter the boat. Amazing boat and the crew made a very memorable vacation for us. Matthew, Sue, Harry, Kim, Brian and Angel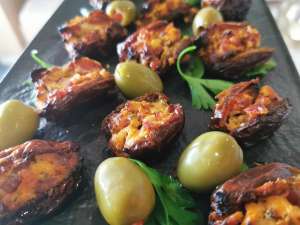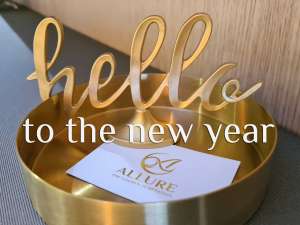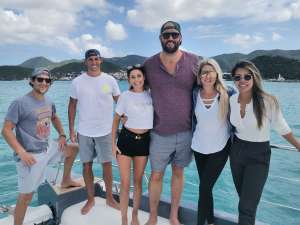 Scott and Niki
We have known Scott and Niki Smith for about 7 years now, They where the crème de la crème at the Moorings, it has taken Us 4 years to finally get them to come over to the private side. Scott is cool calm and collected the perfect English gentleman a total professional. Niki is a sweet heart and a wizard in the galley her meals are pure perfection and the presentation is 5 star and above. If I wanted to out on charter I would not hesitate to go on Scott and Niki's boat. All the best Tara and Matt Ex crew from Xenia62
Reviews from Scott and Niki on their former yachts
We were so fortunate to have Scott & Niki as our captain and chef. They make an amazing team and truly provided us with the vacation of a lifetime. When we go back to the BVI, we will not charter a boat with another crew other than Scott and Niki. They became like family during this past week and helped us make such fond memories, ones we will never forget. We were all blown away by their commitment to service. I'm sure you will receive similar emails from the other two couples as well. Should you have any prospective guests that may be on the fence regarding a charter, please feel free to give them my contact information. Also, please feel free to share any parts of this email as a recommendation for their services. I truly can't imagine another crew anywhere topping the vacation we just experienced. Ken E H First Vice President - Investments Wells Fargo Our voyage was outstanding, we could not think of anything that could have been better. Professionalism of crew outstanding P Habelko We just recently chartered with Captain Scott and Chef/First Mate Niki. I would like to report that the trip exceeded my wife's and my expectations on all fronts. I can honestly say that Scott and Niki were the "secret ingredient" to our dream vacation's recipe. Keith Y President Bayliner & Heyday Wake Boats
Reviews
We were so fortunate to have Scott & Niki as our captain and chef. They make an amazing team and truly provided us with the vacation of a lifetime. When we go back to the BVI, we will not charter a boat with another crew other than Scott and Niki. They became like family during this past week and helped us make such fond memories, ones we will never forget. We were all blown away by their commitment to service. I'm sure you will receive similar emails from the other two couples as well. Should you have any prospective guests that may be on the fence regarding a charter, please feel free to give them my contact information. Also, please feel free to share any parts of this email as a recommendation for their services. I truly can't imagine another crew anywhere topping the vacation we just experienced. Ken E H First Vice President - Investments Wells Fargo Our voyage was outstanding, we could not think of anything that could have been better. Professionalism of crew outstanding P Habelko We just recently chartered with Captain Scott and Chef/First Mate Niki. I would like to report that the trip exceeded my wife's and my expectations on all fronts. I can honestly say that Scott and Niki were the "secret ingredient" to our dream vacation's recipe. Keith Y President Bayliner & Heyday Wake Boats