Charter Yacht CruiseNautic Guest Reviews
CruiseNautic is a Trip of a Lifetime!
If our family could give Kate and Cyrus (your CruiseNautic crew) a 6 out of 5 we would! Our family of 6 spent an incredible week with Kate and Cyrus and their puppy Coco over winter break cruising the BVIs. Their Boat. It's an absolutely gorgeous brand new 42 foot catamaran with plenty of places to relax, soak up the sun, read a book and enjoy mealtime with the family. The Food. Amazing! Kate and Cyrus provide 3 creative and delicious meals a day including Cyrus's special baked goods (breads, cookies, pies, muffins and more!). The Service. Kate and Cyrus are so incredibly accommodating and never stopped asking if we needed or wanted anything. They make the Fours Seasons staff seem almost average. The Trip. It was all expertly planned out and we felt so at ease with how professional and safe Kate and Cyrus are with the boat. They took us to such great spots where we could use the paddle boards, kayak and snorkel gear right from the boat. If you've ever considered doing this type of trip, reach out to CruiseNautic, you won't be regret it. Brian U. Peoria, Illinois
Amazing!
With the recent events of the day, it has given me time to reflect and to realize that my recent travel was not only amazing but is a key part to helping me through the crazy times as it re-energized my soul, reconnected me to the world, and today, just makes me smile. This particular travel was an 8-day cruise on a magnificent catamaran originated in the Virgin Islands / St. Thomas with our captains, crew, hosts, and quickly, friends, Cyrus, Kate, and Cocoa, and travel buds, Marshall and Naomi. As the heart and soul of CruiseNautic, Cyrus, Kate, and Cocoa are incredible at making the adventure YOUR adventure. It started even before getting to the boat as Kate reached out to discuss food, drink, and activity preferences, provided cruise tips, and even gave us step-by-step directions to the marina. On our travel day to St. Thomas, of course, our flight from Chicago was delayed setting up this trip to start off on a rocky start but Cyrus and Kate were pleasant, completely flexible, and stayed connected making sure we made it safely – all was good…just that our vacation started about 6 hours later than planned! Arriving at the marina, I instantly knew the experience was first rate across the board. Cyrus greeted us, safely got us to the incredible vessel, and introduced us to our home for the next 8 days. The welcome drinks from Kate were a nice touch and, of course, every lick from Cocoa washed away my daily grind stress. The vessel, its accommodations, and amenities were nothing but top-notch. I am not going to highlight all of them but what you see on the website is exactly what you get from beautiful and clean staterooms to extraordinary watersports equipment – check out their website for details - www.cruisenautic.com. The food…the drink…amazing, fresh, and easily exceeded our expectations – we never went to bed hungry and many times went to bed feeling quite good – great margaritas! By the way, can I mention that we had the best sleep in years on this trip? Was it the gentle rocking of the boat, the fresh air, the comfy bed, or all of the above? Go on this trip and tell me what you think! Each day was an adventure decided by us from sailing (Cyrus and Kate know the area like the back of their hand and like the pirates earlier eras, they had a treasure-trove of information about the islands, its culture, its traditions and customs, and its history), experiencing local culture such as visiting St. John and Virgin Islands National Park, sampling local cuisine with a visit to Foxy's Taboo, daily snorkeling trips exploring caves/reefs and swimming with the beautiful fish and turtles, checking out the beaches, paddleboarding and floating with your friends (and Cocoa), enjoying movie night on the water (Cyrus and Kate have a large screen and projector for movies), and seeing boats and people from all over the world. It sounds like a lot of stuff and that it was exhausting but over 8 days and a crew that knows their stuff it was not – it was exactly the opposite for me…relaxing, stress-free, and just enjoyable. Don't worry, we had plenty of time and room to read, nap, chat, laugh, and just think – of yeah, they had internet. Remember, you can make the trip your own, Cyrus and Kate are that flexible, professional, and know how to make what you want happen – just ask. I am sure some of you are asking, "the trip could not have been perfect, what was something that fell short?" – Hmmm, I would have to say that we had a couple days when the weather wasn't perfect but it was nothing that a word search or book couldn't take care of. I would highly recommend CruiseNautic with Cyrus, Kate, and Cocoa as your next vacation – just don't book the dates that I want for my next trip! As I close, you probably noticed I never mentioned the conclusion of my travel journey, well, there is a reason for that because for me it is still continuing for as I sit at home today with a smile on my face, I just received a text from my new friend, Kate, asking how things are going in Chicago. It's movie night here. Support small business! Book a trip with CruiseNautic! Cheers! Richard S. Chicago, Illinois
T'was truly the "Vacation of a Lifetime" that we were hoping for!
My family had a blast last month sailing with Cyrus, Kate, and Cocoa! The weather was perfect and the destinations around BVI were fantastic and fun. Each time we were served a meal, the kids would take a bite and just sigh and roll their eyes in delight at the scrumptious cuisine Kate and Cyrus prepared. And they were quite the bartenders, too, whipping us up yummy libations whenever the desire hit us. Thanks Cyrus and Kate for truly giving us the vacation of a lifetime that we were hoping for! Cheryl G. Durango, Colorado
Wonderful family experience.
Kate and Cyrus are wonderful and amazing hosts. What an out of this world experience for 7 days in the BVI. And Coco (first mate dog) is so fun to paddle board with. They really knew all the cool spots to go to for snorkeling and just hanging out. The worst part of the whole experience was the food that Kate and Cyrus prepare is so frickin good that it's hard to go back to our own cooking. That is no joke. This experience is highly recommended. Brian G. Durango, Colorado
CruiseNautic is the absolute best way to go!!!
If you plan on sailing the British Virgin Islands and you DO NOT sail then CruiseNautic is the absolute best way to go!! Kate, Cyrus and their cutie dog Cocoa are a fabulous trio!!! They provided a fun, relaxing and safe itinerary for the 6 of us. My husband and I along with our 4 kids (17,17,15,14 yrs) had the most magnificent vacation. They were able to tailor the trip to our needs by providing a variety of activities (snorkeling, tubing, SUPing, kayaking, movie night and so much more). Both Kate and Cyrus are captains and chefs...there was never a lack of drinks nor food that's for sure!! Wow can they cook!!!! This vacation has surpassed our expectations and we can't wait to sail with CruiseNautic again!!!! I believe I forgot to mention they have a brand new luxurious catamaran!!! Extremely comfortable accommodations!!! We miss them already!! Definitely doing this again. ❤️ Melissa Uhlig Northbrook, Illinois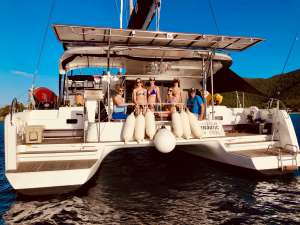 Best Family Time Ever!
"We spent 4 days on CruiseNautic with Kate and Cyrus in Grenada and had an amazing family experience. Kate and Cyrus are wonderful hosts in so many ways... they took really good care of us and spoilt us with incredible food and fun activities. Their boat is beautiful and packed with amenities. Their food is delicious and abundant, and I'd highlight Cyrus' baking and Kate's barista skills. This was the perfect context for spending meaningful family time together before my son goes out to college. We will definitely visit them again in the future and hopefully get to see the elusive "Jaguar shark"." Patricio and Josefina Campiani Key Biscayne, Florida
Snorkeling, swimming and great food
If you enjoy boating and water activities you should consider chartering a custom cruise with Kate and Cyrus @ CruiseNautic.com. They designed an itinerary specific to our group's interests and abilities. We relaxed as we sailed to tropical islands, swam snorkeled and kayaked in crystal clear aquamarine waters and visited unique island destinations. Their catamaran was a beautiful new vessel with comfortable living spaces skillfully sailed by its owners. Kate and Cyrus were wonderful hosts catering to our every need. Kate was constantly chopping fresh ingredients to make each meal an event. Cyrus wowed us nightly with his desserts. We highly recommend chartering with CruiseNautic. It will be a vacation you will never forget! Lorraine P. Harrisville, Rhode Island
Thanks again!
"Thanks again Kate and Cyrus for an amazing week cruising in the BVI we'll never forget. Can't recommend highly enough for families looking for a luxury holiday 'out of the ordinary'. From jumping off the Willy T to swimming with turtles, every day was an adventure! Hopefully we'll get to return soon." -Mike Regan Esher, England
Beyond Awesome!
"Sailing with Kate and Cyrus was an incredibly memorable experience. Every night we enjoyed another bay to snorkel- kayak and enjoy an wonderful sunset, eating wholesome, freshly made delicious dinners. Everything was fabulous and therefore there are no complaints. You do want to be comfortable on the water, during our day excursions we had fun but at times we bounced around. Would I do this again - absolutely- would I recommend to friends- I have many times already. We will defiantly catch up with Kate and Cyrus in a different location." - Rhonda K Oakville, Ontario
Comments from trips prior to CruiseNautic Ownership
"I had a great time sailing with Kate and Cyrus. Also really enjoyed the steak and microbrew. Thanks you guys! Looking forward to more fun times like that in the future with you both. Bob G. Princeton, MN Their experience and expertise put my mind at so much ease and I had the most amazing time on their boat, being that I've never been on this kind of boat before. When it comes to hospitality and meals they are an A+ plus plus. The food was amazing and I feel like I have lifelong friends now. I would definitely recommend them to all my family and friends. Jennell G. Elk River, MN
Vacation of a lifetime!
This trip was amazing! Kate and Cyrus were amazing hosts! The food they made was amazing, let us play in the water whenever, took us to the most amazing snorkeling spots! They even showed us how to drive their boat!! Most relaxing, beautiful and wonderful trip all around. Highly recommend it to anyone that loves the water or just hanging out on a boat. Even their dog Cocoa was a great host! She loved to swim and paddle board with you, and at the end of the day snuggle up and watch movies with you! Jordan B. Durango, Colorado
A whole new world
Thank you Kate for showing us the wonderful underwater world! As a cruising family, living on the water for a year now, it was time to have a better look at what's beneath the surface. And there's no better place to learn how to dive than in Bonaire. This is where we met Kate and Cyrus on Cruisenautic, our boat neighbors in the Marina. We were very happy to hear that Kate was a dive instructor and could offer us private lessons. Even though I was very anxious and a a bit scared to learn how to dive, the lessons went very well thanks to Kate's professional and calm approach. I went from thinking I would never dive in my life to diving multiple times a week and enjoying it a lot!! I hope we can meet up again next season when our boys are old enough to learn how to dive. Tina P. Belgium
Best Learning Experience - Advanced PADI Certification.
CruiseNautic were so much fun! My husband and I worked with Kate and Cyrus to become PADI advanced scuba divers after casually meeting on their stunning sailing catamaran. They scouted all of the best dive sites for us to ensure we had the best experience when learning. Kate was an extremely knowledgeable instructor and very skilled diver. Cyrus always offered great support and ensured everyone had a fun, safe experience. The only negative is that the class finished and we had to say goodbye!! I would definitely recommend CruiseNautic to any diver on any level to meet all their diving needs. Candace C. Portland, Oregon
We felt like family rather than clients.
We were fortunate enough to find Kate and Cyrus in amazing Bonaire! We are a family living in a catamaran and diving has become part of our lives. We wanted to increase our knowledge and our skills. We took the advanced PADI certification with CruiseNautic and I wish we'd had more time to do every class offered with them! What a great couple and so knowledgeable! We had so much fun. We felt like family rather than clients. We cannot recommend them enough! Heidi H.K. Flagstaff, Arizona
Incredible sailing vacation
Absolutely perfect week! Cyrus and Kate were top notch hosts with beautiful accommodations, delicious food/drink and breathtaking scenery. They were so helpful and knowledgeable about our diving experience. We can't wait to get back on board with them! Emily P. Centerville, MN
So much fun sailing, exploring and relaxing
Had the best week sailing and diving with Cyrus, Kate and Cocoa. The boat was perfect accommodations and they were so hospitable! They knew exactly where to take us. Kate was so knowledgeable and helpful getting set to dive. The views above and below the water were incredible. We can't wait to go back diving with them again! Gordy P. Centerville, MN
Reviews
Had the best week sailing and diving with Cyrus, Kate and Cocoa. The boat was perfect accommodations and they were so hospitable! They knew exactly where to take us. Kate was so knowledgeable and helpful getting set to dive. The views above and below the water were incredible. We can't wait to go back diving with them again! Gordy P. Centerville, MN