Charter Yacht ETHER Guest Reviews
July 2022 BVI Charter
Ether is brand new and is fully stocked with everything we needed. The beds were very comfortable with very nice linens and modern bathrooms. Individual yeti cups for everyone in our group. We loved the cooler of fresh, filtered water each day. Every type of mixer and alcohol we could want for making drinks. Ben, our captain was also an excellent bartender who made perfectly balanced cocktails for us. Charlie is a very talented chef who prepared amazing meals, breakfast, lunch and dinner. We especially loved the beautiful charcuterie boards she would make for a late-afternoon snack. Perfect for when we were hungry coming back from snorkeling or diving. Lunch and dinner meals were perfectly paired with wines. Charlie is also a dive master and we felt very comfortable with her leading us on dives as beginner divers. Ben is a very calm and capable captain. We felt very safe with him and he was very friendly and easy to talk to. -The Hariri Family
June 2022 BVI Charter
Ben – I'll love you forever for going to the bottom of the ocean for my sunglasses, you are the best Captain! Charlie thank you for your amazing food and we loved chanting Celine Dion into the moonlight. All the food we had was amazing – our favourite dinner was lasagna and the lunches were so fresh! We will miss our daily morning smoothies! We absolutely loved Anegada! The beach at white bay was gorgeous! Singing, dancing, jumping, snorkeling, swimming and SHOTS! Thank you for keeping us safe and showing us all the best spots in the BVI, you both made it an unforgettable week and 30th Birthday!!! -The Daleys
May 2022 BVI Charter
We could not have asked for a better crew than Charlie and Ben. From Ben's patience in teaching Nick how to loop the lines to Charlie's guidance in finding incredible snorkeling areas. Ben was a great bartender, even surprising us with a happy hour on the beach! Charlie's take charge confidence was perfect for our group and made our trip even more enjoyable. Thanks to Ben & Charlie this trip went beyond expectations. Charlie is an amazing chef! All of our meals were delicious and fresh. Loved the variety! Especially loved the Lasagna, conch ceviche and smoothies! So many ''best'' memories! Anegada – the scavenger hunt Ben & Charlie organized for us -, Conch Island. Incredible snorkeling everywhere, tons of fish, stingrays, turtles! Hobie cat races. Diving, flipping, dolphins swimming by the boat! Great memories and one-of-a-kind experience! -The Giordanos
May 2022 BVI Charter
Thanks Ben for letting me drive the boat!! Charlie, loved your infectious smile and zest for life. Ben, thanks for answering all our dumb questions! What a wealth of knowledge and patience. Loved you guys, thanks for being patient with us problematic children! We didn't know ''green stuff'' could taste so good!! Thank you for keeping us healthy and making it taste so good! One word : AMAZING. Our best memories: THE WEEK! Everything, we loved the rally you made for us on Anegada, the baths, the color of the water and dancing on the beach in Anegada! -The Curans
April 2022 BVI Charter
Where do we start?! Ben and Charlie you made this experience SO special for our family! You have such a spirit of hospitality and you lead our family beautifully with your many gifts! The food was amazing! We loved every single dish and appreciated how you so thoughtfully chose everything based on our requests. It was SO good! Our Best memories: Snorkeling, dinner with Charlie and Ben, Tubing, Sleeping with the waves, learning to sail! You guys are sooooo nice and I will forever remember this trip! Food was down right Awesome! – Katherine Tubing was awesome! My Favourite meal was steak! – Lauren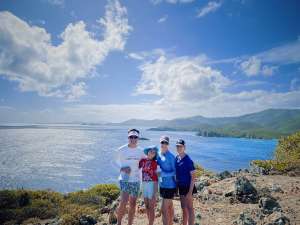 March 2022 BVI Charter
We had such a fabulous trip!!! Right off the bat: the boat was new and the crew said we were only their second charter in the BVI's, due to some sort of permitting or something? At first I was a little nervous wondering how it was going to go, but they could not have been more enthusiastic about where we were headed and what we were going to see. Captain Ben was super-laid back and friendly and very knowledgeable. Charlie was an excellent cook, very sociable and smart, and even taught the girls how to play a few new games. They really were a delight, which in that situation is really a make or break! Plus, they were young so the girls thought they were cool!!! I'm not sure what other feedback to give, other than it was a great trip for our family and we made a lot of amazing memories! Thank you for all you did!!!!
March 2022 BVI Charter
Charlie & Ben – you are amazing! You are so welcoming, helpful and fun. Thank you for your patience with kids (and the rest of us!) and extra thanks from Carol for the help and consideration with her knee. You made our week extra special! Best food ever! Charlie, you have an amazing gift. Everything was delicious. Our favorites: aged steaks, shanghai noodles. Risotto, ceviche, brioche French toast, fresh conch ceviche, every dessert and daily chocolate chip pankakes! Our best memories are the Anegada snorkeling tour, the sail to and from Anegada, diving the Rhone wreck and seeing the goliath grouper! Dancing at Foxy's, Willie T's Jump, Deep sea fishing, Driving the Mokes, best naps, kayaking, the baths, playing uno, the solitude at Great Camano, spending time with family and friends, making new friends, first ever snorkeling and sailing for the kids Riley and Parker : Best week of our lives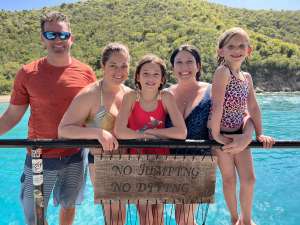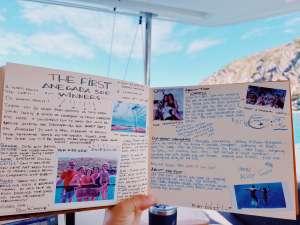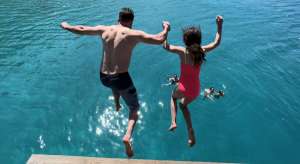 February 2022 BVI Charter
Everyone needs a Ben and Charlie! You two made our bucket list trip EVERYTHING we imagined. After the incredible hospitality, selection of our itinerary in the BVI and the fun competitions we had, we are sure we will be back to repeat this bucket list item. The food was impeccable from the eggnog French toast pulled pork sandwich, homemade gyoza and charcuterie was amazing. Every meal was a 5 star dining experience. From the best valentines day ever to the wet dighny ride to the yacht club to jumping off the boat with Charlie it was all fun! We will see you again – greg & janalee.
February 2022 Charter
Benoit and Charlie are SO much fun! Charlie taught us how to play Catan on rainy days and Ben let us steer the boat over choppy waters! They made sure we had the best tune ever – a truly exceptional crew. Awesome snorkeling & scuba diving with our guides Ben & Charlie who knew all of the best places. So much fun spending time together and them joining our gang for a week! About the food: everything has been absolutely incredible. The level of deliciousness was above and beyond our expectations! We truly enjoyed every meal. All the efforts spent in making every dish didn't do unnoticed. Such complexity and variety! We are glad this was just a one week adventure or else we'd all walk out much heavier than when we boarded the boat ha!! The handmade shanghai noodles were incredible! Really meant a lot to me that we had such an amazing Chinese New Year night as requested. The conch ceviche was also mind-blowing! Thank you for all the food & snacks & drinks. Our favourite memories are snorkeling through a pod of over 50 dolphins – amazing! Watching the humpback whales play in the waves was incredible, so was exploring buck island and walking along the beach!
January 2022 Charter
"What a pair! The onboard experience can't be beat – food, sailing, adventures, cocktails, snorkeling, fishing, paddle boarding and the coziest (always freshly-made!) beds to cap off the day. Ben: his warm, personable demeanor is a bonus and compliments his exceptional captain skills. Always cool, calm and collected at the helm – we felt safe and really enjoyed all the sailing. Charlie: unbelievably gifted, talented, creative chef – unmatched in her culinary skills (and we know skills!) She has an equally lovely personality and boat skills. About the food: *** Ether and Charlie deserves 3 Michelin stars! An experience worth booking for the food! Shakshuka, baked red snapper, prosecco-poached shrimps in watermelon radish, avo eggs benedict, crab & carrot agnolotti, wahoo with parsnip purée, snow crab boil + countless painkillers and delicious cocktails. Our best memory is in Buck Island – floating around and snorkeling, paddling and beach paradise. We loved hitting 8 kts on the St-Croix to St-John sailing journey after seeing a sunrise together. Kat & Blaise, Karen + Glenn, Janice + Sully"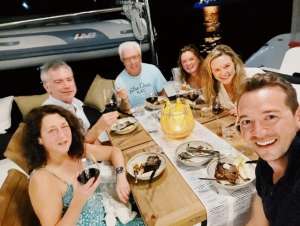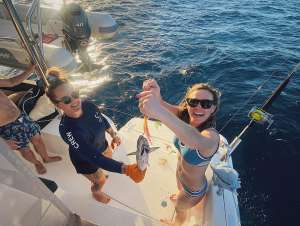 Previous Charter Reviews
"Benoit was absolutely fantastic, he knew the islands, made everyone feel part of a new family but also joined in so felt one of the gang. If I could personally request a skipper again I would have Ben in a heartbeat and wouldn't think twice!" "His professionalism on and off the boat was just awesome. He always made sure are sailing conditions were perfect. I had a hard time adjusting to walking the plank and each time I looked up he was there with open hands to help. Benoît should be the model of how a yacht week skipper should handle themselves for guest." "I have nothing but great things to say about our skipper Ben! Very professional and made sure we where safe. He made our holiday a great experience. Ben was very knowledgeable but the places we were going to visit. First class skipper a must request for our next YW holiday. "
Reviews
"Benoit was absolutely fantastic, he knew the islands, made everyone feel part of a new family but also joined in so felt one of the gang. If I could personally request a skipper again I would have Ben in a heartbeat and wouldn't think twice!" "His professionalism on and off the boat was just awesome. He always made sure are sailing conditions were perfect. I had a hard time adjusting to walking the plank and each time I looked up he was there with open hands to help. Benoît should be the model of how a yacht week skipper should handle themselves for guest." "I have nothing but great things to say about our skipper Ben! Very professional and made sure we where safe. He made our holiday a great experience. Ben was very knowledgeable but the places we were going to visit. First class skipper a must request for our next YW holiday. "