Charter Yacht FOXY LADY Guest Reviews
May 2023 BVI
All 8 of us had a fantastic time on Foxy Lady during our early May 2023 trip! The boat was larger than expected, so there was plenty of room to spread out. We were made to feel comfortable immediately upon boarding and greeted with Champagne during orientation. The cabins were spacious, and we all liked having a separate shower. The toilets were easy to operate also. Our beds were made up every morning while we were eating the delicious breakfasts, which was a nice feature. Speaking of food, every meal was delicious. Early risers in the morning could get a cup of coffee and go up to the Fly Bridge to relax, and breakfasts were leisurely and where we discussed the activities and destinations of the day. Throughout the day, the crew were always asking if we wanted something to eat or drink and the bar had everything we asked for and more! We had 4 memorable evenings during our week. First, we took the crew out for dinner to Coco Maya, which was an incredible dining experience. Then, we celebrated Cinco De Mayo with a wonderful Mexican themed dinner and fabulous decorations. The next night we also had a star struck evening with a British themed dinner to celebrate King Charles' Coronation. (Speaking of that, we were able to watch it on our iPads early in the morning since the WiFi connection on Foxy Lady was excellent). Last but not least, on Sunday night of our week we celebrated the significant wedding anniversary of one couple on the cruise and the dinner was spectacular and the decorations incredible!! Rob and Bex, and their daughter Dani, were the best crew I've experienced on several BVI Charters over the years. All three were super friendly! Rob was a griller and snorkeler extraordinaire (two of his many talents) and shot underwater film of us with fish and turtles that he gave us; wow! Bex is a talented chef and the meals each day continued to impress and surprise us. We loved having Dani as a third crew member – she helped Rob and Bex tremendously and as a result all of us had no worries or concerns about anything during the trip (My husband read FIVE books during the week, that's how relaxing the trip was for him!) All of us highly recommend Rob, Bex, & Dani Willows, no matter what boat they are on, but they made Foxy Lady an incredible catamaran trip that we will all remember for years to come.
April 21 - 28, 2023 BVI
How do you convey in words what an amazing week we had on Foxy Lady? Foxy Lady was a beautiful boat, perfect for four couples. And from the moment we stepped aboard, Rob and Bex (and extra hand, Dani!) made us feel at home. No, actually it was way better than home. They spoiled us from the moment we got up each morning until we went to bed each night. From the snorkeling, swimming, and diving, to visiting beaches and the Baths, we enjoyed the beauty of BVI. Then there was the food! Wow! Rob and Bex treated us to gourmet meals at breakfast, lunch, and dinner. Everything was top notch. While we didn't actually lick our plates clean (I don't think…), everyone loved every meal. But what truly made it perfect was Rob, Bex, and Dani. They were so friendly and welcoming, making sure each of us was comfortable and enjoying our time. I cannot recommend Rob and Bex and Foxy Lady more highly.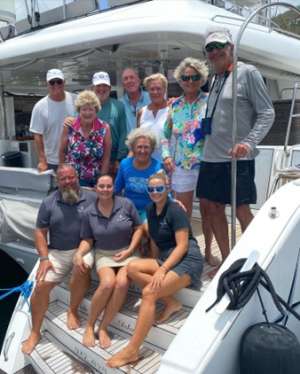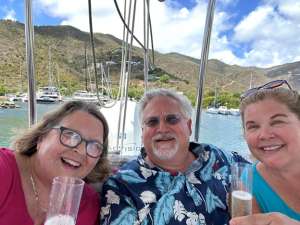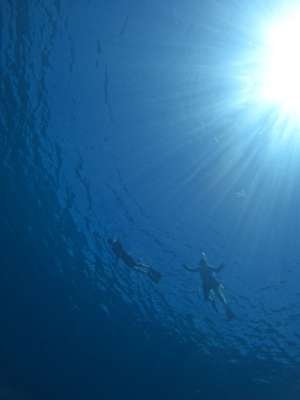 April 2023 BVI
In April my wife Jane and I, along with three other couples spent a week in the British Virgin Islands onboard Foxy Lady. This was our first charter experience. Though we have done many trips and several cruises in the caribbean, we always dreamed of doing a sailing charter. After much research, our group chose Foxy Lady, and we were not disappointed. Rob, Rebecca, and Dani were consummate hosts. Professional, knowledgable, as well as fun, warm and welcoming. The boat was beautiful and comfortable, the food extraordinary. All of our needs and wishes were met. This trip was beyond our expectations. I'm sure this won't be our last charter, but it's hard to think of doing it with someone other than Rob and Rebecca. David Westerfield Grand Rapids, Michigan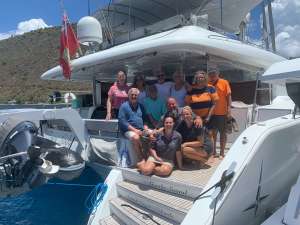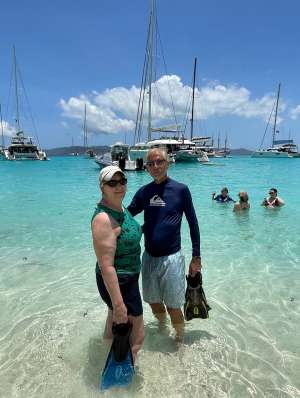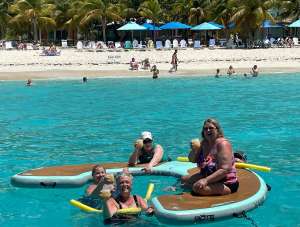 March 2023 BVI
My family and I spent a week aboard the Foxy Lady in March 2023 and there aren't enough words to express how perfect and magical the trip was. We were greeted on Scrub Island with champagne and a beautiful lunch as we set sail to The Baths. Rob knew that the Baths was the one thing my daughter really wanted to do, and they had just reopened so he suggested we hit it up first! Rob, Bex and Dani made sure to accommodate every desire we had, often before we even knew that we wanted it! My husband and I have eaten in numerous Michelin star restaurants and the food that Rob and Bex rolled out was equal to or better than those restaurants. Rob took time out to spend an hour looking for whales as he knew that I really love them. And we found some! Additionally, he offered up tubing to my kids and they loved it! Rob, Bex, and Dani were so engaging with my kids and ensured they had a great time and had plenty of activities to keep them busy. My daughter isn't the strongest swimmer and Dani took extra care to swim with her while they snorkeled and ensured her comfort and safety. This trip was a bucket list item for my family and it exceeded everything we could have imagined! We will definitely be back to do this again, but only with Rob and Bex! Best regards, Kelli & Klaus Diem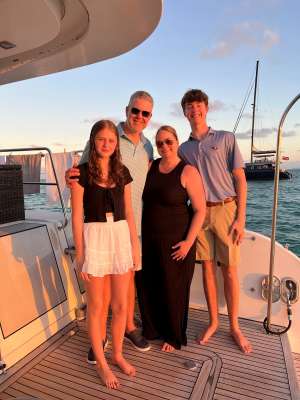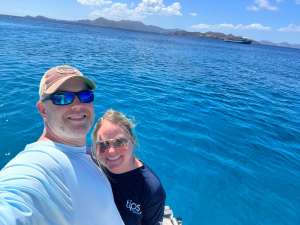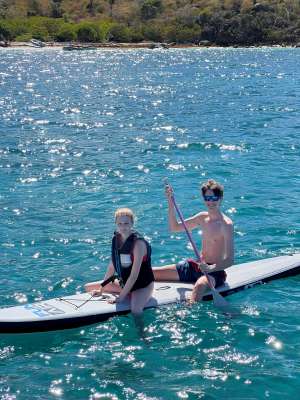 January 2023 BVI
"My husband, another couple, and two teenagers had the pleasure of traveling onboard the Foxy Lady with Bex and Rob in 2023. It was one of the best vacations we've ever been on. Bex and Rob were both consummate professionals and a ton of fun to be around. The food on the boat was amazing - a wide variety of fresh, flavorful ingredients, and lots of care and detail in every dish. The food was also well-timed - every time we started feeling a bit peckish, a fantastic meal appeared (including a much-anticipated late-afternoon snack). Both Bex and Rob mixed a mean cocktail as well and made sure we were always well-provisioned in that regard. Rob was an amazing guide when we were out snorkeling, pointing out lots of sea life and making everyone feel safe. He even took underwater photos and videos of our crew. We also felt very confident in Rob and Bex, knowing they would be able to ably handle anything that might come up while we were on board. All of the small details aboard the boat were sorted as well - beautiful flowers, little snacks around, a sparkling clean boat, inside and out, and gorgeous tablescapes at dinner. We couldn't recommend sailing with Bex and Rob enough! You will have the time of your life. Sarah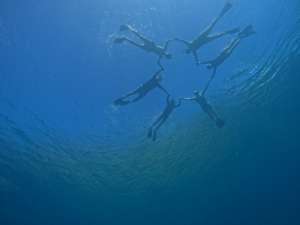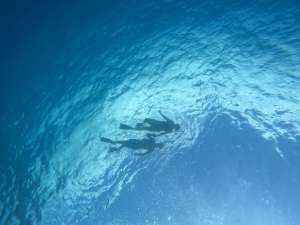 January 2023 BVI
Our voyage on the Foxy Lady was nothing short of spectacular. All of our (lofty) expectations were exceeded. Within two minutes of boarding the spacious catamaran, we were enjoying champagne and oysters. This set the tone for the duration of the trip. The Foxy Lady is long and wide. There are so many comfortable places to situate yourself that you can choose based on sun, wind, and/or view. With eight of us, there was enough space for us to really spread out, if we wanted. The cabins and heads were also very comfortable, with more than adequate storage space. There is a bar, refrigerator, and coolers; all within just a few steps if you ever needed a beer, soft drink, or painkiller. Note that while you could always help yourself; one of the crew was always asking "do you need anything?" The food was simply amazing. We could not stop raving about the fresh cut fruit (every morning), the fresh fish, grain bowls, steak, lobster, etc. Every meal was a special treat and we felt that we were in some magical restaurant on the ocean. Bex deciphered our "spec sheet" perfectly, and every palate was totally satiated. I've saved the crew for last, as they were the primary reason for our happiness all day every day. Rob, Bex, and Dani were the most gracious, competent, and amicable hosts you could ask for. Rob was the "Captain Extraordinaire". He knew all the best snorkel spots and would direct you in getting the perfect go pro shot at every spot. In addition to manning the helm, he did a bit of everything on the boat and was very knowledgeable about all things BVI. We actually had our daughter's boyfriend join us two days in, and it was totally unplanned. This meant going off the scheduled itinerary and route to pick him up. Rob just said "we'll make it work", and he did. Effortlessly. Bex was our Chef (Head Chef?) who was responsible for us never having a bad bite. No exaggeration when I say everything we ate was excellent. Her timing, portions, and mix of foods was perfect. She even baked an unbelievably tasty chocolate cake for my daughter's birthday. Dani was sort of a jack of all trades. Always smiling, and always there to ask if you needed anything. She made excellent cocktails, made sure the food was right, and helped with everything to do with sailing the boat. As mentioned, we had a great time. The crew really made our trip as good as it was. If we do this again (pretty sure we will), we would search out Rob, Bex, and Dani and book whatever boat they are on. William H.
New Year 2022/23 BVI
The boat was very comfortable and clean. The crew took great care of the boat and made sure to keep it spotless throughout our charter. It was spacious enough for our group and had everything we needed for our week long charter. Rob, Bex, and Dani were AMAZING. They catered to our every need in a prompt and delightful manner. They were informative and friendly and went out of their way to make our vacation exceptional. Our crew was personable and helpful and really made our charter. They made us feel like family and we were all really sad to leave them. The food was EXCEPTIONAL. You could tell that Rob and Bex take pride in their cooking and their presentation. Every meal was well balanced and perfectly prepared. There was a variety of dishes and we looked forward to every meal. Dani also took pride in setting a beautiful table for every meal. Furthermore, Rob and Bex seemed to know exactly when we would need a snack and had it prepared and waiting for us. We enjoyed every single meal and the food exceeded our expectations. We can't say enough great things about our crew. They were delightful in every way. They met our every need and did so with a great attitude. Bex planned scuba diving trips, taxis, dinner reservations - whatever we needed. She made our trip effortless. And Rob was also a great snorkeling guide!! Truly, this crew made our trip. K.S.
Christmas Week 2022
Let me start by saying I did not want this trip to end! In past travels I have always been ready to "head home" after a weeks vacation. I honestly could have stayed on this boat, with this amazing crew for another full week! As I reflect back on the seven days on the Foxy Lady in the BVI, many things stand out. The first being the Crew! We met the Crew (early- all them) in Nanny Cay prior to our noon board. The first thing we noticed was their (early arrival), and their warmth in welcoming us to the BVI and the Foxy Lady. (as well as their fabulous South African accents)! Within a very short amount of settle time, we were treated to Champagne and Oysters while preparing to cast off on our adventures! We quickly settled into our cabins, and set sail! The beauty of the BVI speaks for itself. We have travelled and sailed the BVI four previous times. We knew where and what we wanted to see and do. The boat was spectacular, spacious and spotless with EVERY amenity available. We feel that our CREW; Captain Rob, Bex and Dani were friends we have known for years. They have an easy and casual way about them, warm and welcoming, yet extremely knowledgeable and professional. When you are on on a boat for a week, the crew can really "make or break" the trip. The attention to our EVERY need at every moment was like a 5-star Hotel experience. The preference information forms I filled out prior to the trip were executed beyond our wildest dreams. We were eating the most amazingly prepared foods by Bex while maintaining a healthy balance of good foods. The presentations of ALL of our meals, to the table settings and healthy desserts was nothing short of Michelin star cuisine. The crew interacted with us, and Captain Rob and Dani accompanied us on snorkeling excursions and sightseeing stops on the different islands. We (me especially, as I am not super comfortable with "big" fish and wildlife near me) always felt safe and comfortable knowing our Captain and Dani were in the water with me, and literally ready to grab me should I encounter a fish bigger than my hand! Christmas was made so special by Rob, Bex and Dani. Bex prepared a seafood Buffet meal that was the best meal we have ever eaten! They really "made" the day and night, with acknowledging the special occasions we were celebrating that week, toasting us, and having little xmas goodies for us. ABOVE AND BEYOND. To conclude, We are SO excited to book another trip on Foxy Lady with Captain Rob, Bex and Dani!!! This trip was absolutely FABULOUS! We would not have changed a thing, except perhaps adding another week!! You are free to contact me at any time, I would be delighted to speak further about this amazing week in the BVI on the Foxy Lady! Most Sincerely, Jill P
April 2022
We cannot thank you enough for this beautiful week on this gorgeous sailing 'home'. Foxy Lady has so far exceeded our expectation that it's difficult to list all the magic we've experienced! We cannot thank you enough for your suggestions and creating the perfect itinerary and captaining us into beautiful bays and cays and even more beautiful sunsets every single evening! The fabulous, delicious, beautiful meals will be remembered and missed so much. Absolutely 5*! You are an amazing and gifted chef and we were so lucky to have you. Mich - it's been a joy to be a recipient of your beautiful and delicious cocktails and your delightful and joyful personality. Our time on Foxy Lady has been a dream come true and the three of you have a left a big, warm print on our hearts.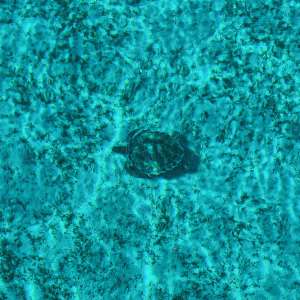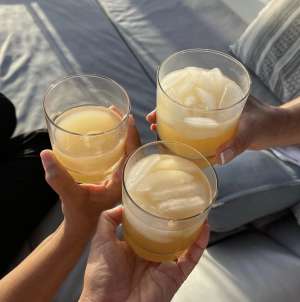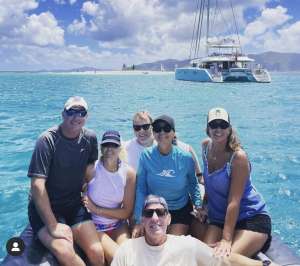 WERTZ
Jos, Julia, Mich Thank you, thank you, thank you! For seven days you became our family. You will forever be welcome to be our guests in our home. Your warmth, your skill, and your attention to every detail make this a trip of a lifetime. Best wishes to you always You three are the absolute best! Thank you SO much for the best vacation. The food, the adventures, drinks, fresh beds etc. You are all wonderful. Foxy Lady and crew are beyond expectation. Thank you all for taking such good care of us. We will miss you!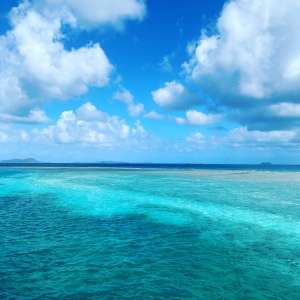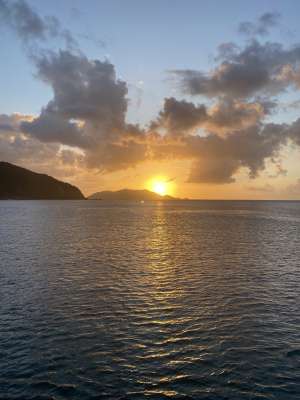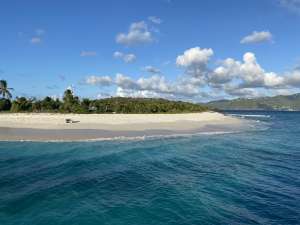 OBERG TANDEM
Dear Jos, Julia and Mich, Thank you for the fantastic and most fun and memorable week of our lives! Thank you for helping us bring it all together. The boat, food, sailing and your professionalism is exceptional! An Ode To Our Crew: An ode to our crew from the BVI Don't want to But have to say goodbye To Mich Very funny and quick Can turn a deck of cards Into an amazing trick She indulges every drinking wish And you don't feel guilty when you drink like a fish To Julia Who can prepare gourmet meals In a small galley That rivals 5* restaurants In the San Fran Valley To our fearless Captain Jos Always a steady hand The leader of the Foxy Lady band You made a perfect vacation Even more of a blast Oh how we wish It could last and last!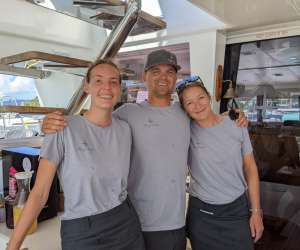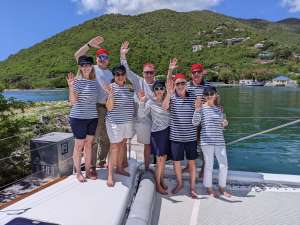 OLSON
Jos, Julia and Mich, Where do we even begin? I think we all collectively agree that this was the most amazing vacation ever! Your kindness and hospitality far exceeded our expectations - we were absolutely blown away by everything! Julia's each and every meal was a work of art - not only beautifully presented but totally delicious. Jos's knowledge and expertise - not to mention his patience - was amazing! And we are all fighting over who gets to take Mich home with them. She is the sweetest person and the best bartender. Goodbye is hard to say - we never want to leave this little slice of heaven.... Until next time! FIRST CLASS BOAT - WORLD CLASS CREW!! Beyond grateful for this experience and equally grateful for our new friendship.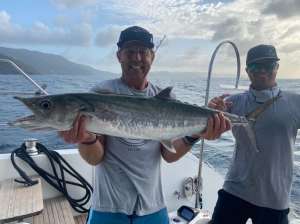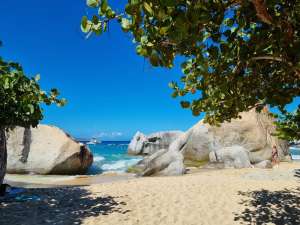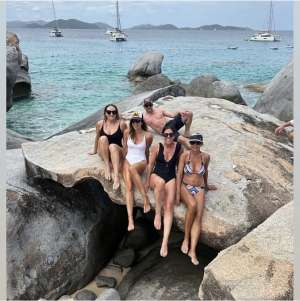 JOHNS
Jos, Julia, Mich We dropped into paradise on 2/4/22, we knew we could expect to be awed by the spectacle of nature in all its awesome glory. The sun, the mountains, the wind and the surf. What we did not necessarily expect was to be awed by our crew of Jos, Julia and Mich. Thank you so much for sharing your piece of heaven with us. You welcomed us into your home, Foxy Lady, and cared for and catered to our every whim. The service was impeccable and the food was delicious. We will always remember this trip and your extraordinary contribution to making it unforgettable.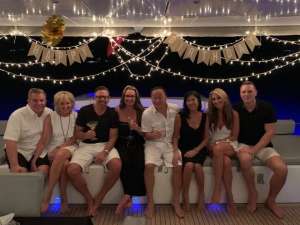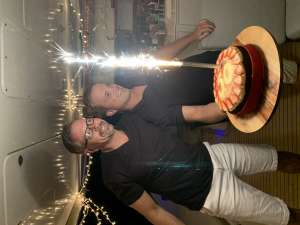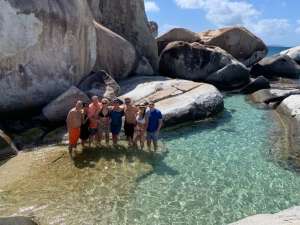 ODOM
Jos, Julia and Mich, Thank you for another amazing week on Foxy Lady! Your hospitality, welcoming and warm personalities, and delicious food and drinks and fun excursions are just first class. You guys are the best and we can't wait to see you again in 2023! Thank you again for everything. Tiffany We so appreciate you guys and cannot wait to see you again soon. Thanks for making August's first trip so special and here's to many more to come! Love you guys, Stu Thank you for a wonderful week. We are sad to say goodbye but we know we will be back. Jos - thank you for taking Wes snorkelling. Julia - thank you for the amazing food. Mich - we loved your cocktails! The Odom family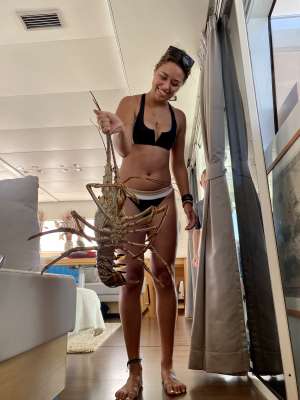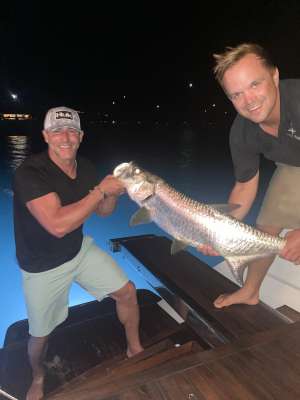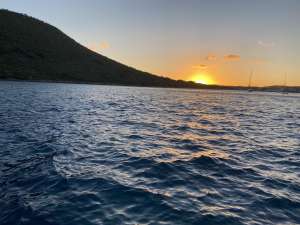 WEILER
Dear Jos, Julia and Mich. In this crazy world of ours with virus variants and protocols changing daily - we truly did not think this BVI vacation was going to happen! It was a CHRISTMAS MIRACLE! We arrived worn and weary and were taken care of immediately. Julia, Jos and Mich - you are experts at what you do! It's not easy, but it looked effortless! Cocktails, meals, tucked away anchorages, guided scuba and snorkelling, and most importantly, making us feel comfortable and relaxed on Foxy Lady. It was a special family vacation we will cherish forever with our kids. Clean plates, full hearts and eager eyes! We can't wait to meet up again! Until then, Best wishes for a happy and healthy 2022! The Weilers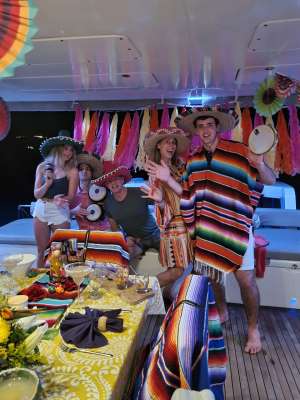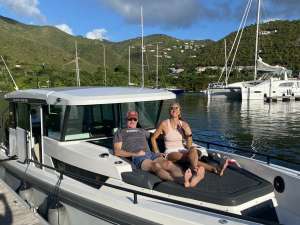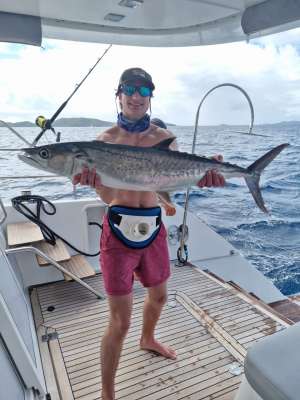 BANZ
Jos, Julia, Mich The most perfect week I have ever spent with my family. The food, the drinks, the activities, the accommodations were all wonderful. The company of the three of you was the best part - such wonderful people! Jenny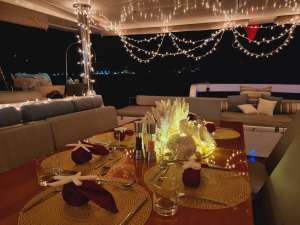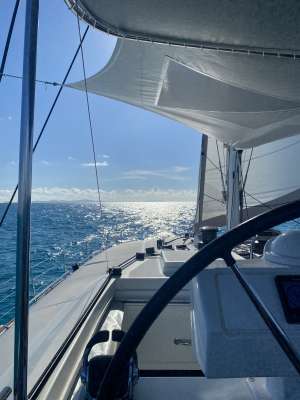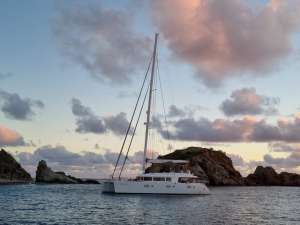 HECHT
Julia & Jos, This, by far, has been the BEST trip of my life and it was all because of you both! I've never been taken care of so well. The activities, your company, and food was UNBELIEVABLE! Thank you for everything. I pray to God that our paths cross again some day and when it does, it'll be the best day of my life! You both are INCREDIBLE! Kerry Jos, Julia - truly the best week of my life was onboard Foxy Lady. You were incredible hosts in the most beautiful spot ever. Thank you for everything. We'll be back to the BVI sometime soon! Chris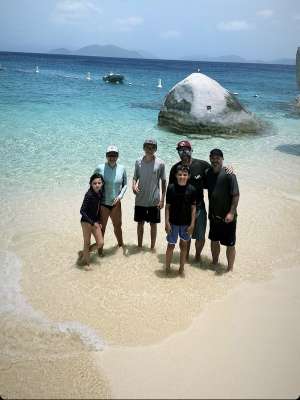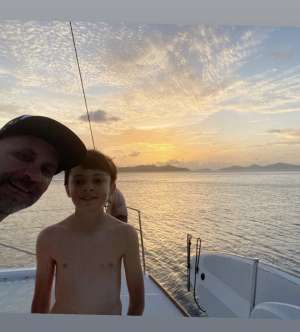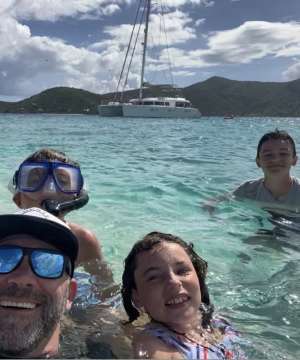 STAPLETON
Jos & Julia, THANK YOU, THANK YOU for the most amazing week aboard Foxy Lady! We loved every minute and will never forget our time with you. You are so much fun, and helpful, and we will miss so many things - amazing food, non-stop watersports, laughter, trivia, getting our asses kicked at trivia by Julia, and everything in between. You are the BEST!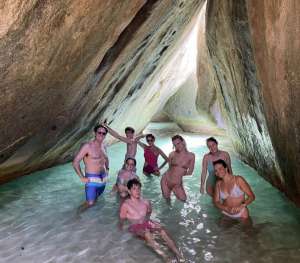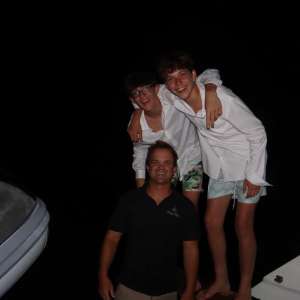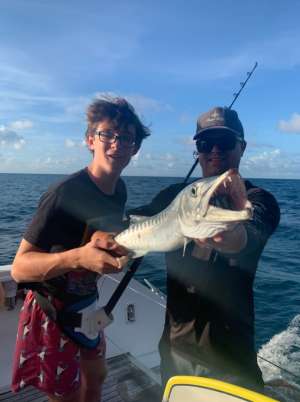 LAMBERT
Julia - you filled our days with gastronomic delights - I don't think I will recover from the duck and parsnips - SUBLIME! Thank you for all your care and service. Jos - great flag display! Great time on Super Mabel! The best time I've had in a long time with my clothes on!!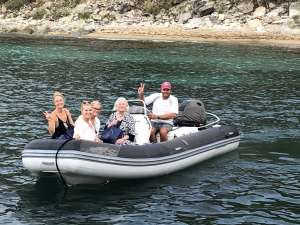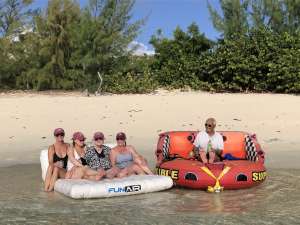 BROWN
Dear Julia & Jos, We came to you feeling tired and detached, harried and just exhausted from a crazy world. We emerge refreshed, smiling, and with whole hearts and souls. This is absolutely the BEST family vacation we have ever had, and we all want to stay! Rest assured, we will come back! Thank you for: - Your friendship - 5* meals at every turn - Julia - your grace and friendliness - Jos - your leadership and your example - Constant smiles and great conversation - So many incredible dives! - The halyard swing - Finding the perfect bays - Knowing where to snorkel and dive, and giving us confidence, whether old or young! - The best snacks and cocktails - and the tarpon! Lots of love, Jubilee, Wendel, Elizabeth, Emily, William and Foard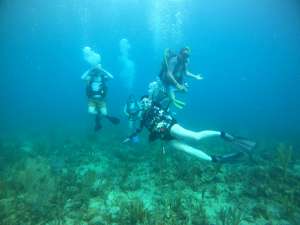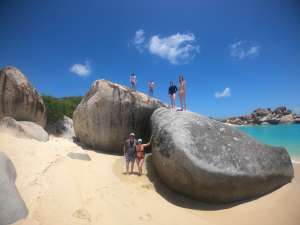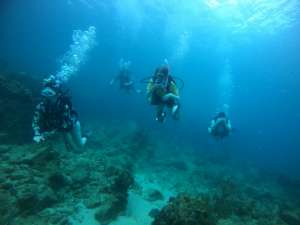 ELLIS
Jos & Julia, They say everything happens for a reason and life takes you on a path that is written, which brought us to Foxy Lady and to you both. A trip that exceeded every expectation, thank you for the trip of a lifetime! Too much fun, but some of our favourite moments.... - Nightly dessert betting - The Wrecking Ball - Julia saying 'Good morning' no matter the time of the day - when do you sleep?? - Mich Ultra Challenge - All the fun watersports - The perfect portion sizes - 2 Birthday Celebrations with amazing cakes - Multiple dry heaves and too many Covid tests - Too many laughs and smiles to count Jos & Julia were the perfect 5th couple to partner with on this amazing trip. Looking forward to a future sail and making more memories! Jason & Allison, Mike & Kim, Dee & Shital, Guy & Crista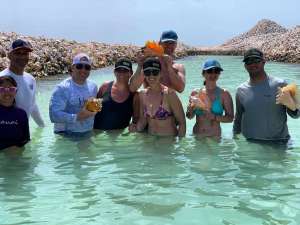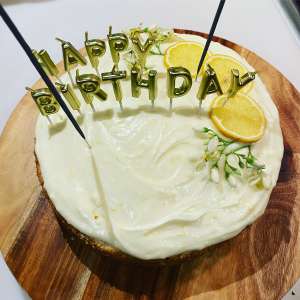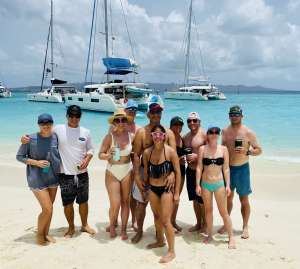 LANDSKRONER
Julia, Jos & Rosie, We cannot thank you enough for all the joy and happiness you have given us the past week. This was a lifetime experience for all of us - incomparable time with close friends in a breathtaking setting. We will remember your kindness, competence, and effortlessness forever. Best of luck to each of you, Fondly, Jack, Heather, Stephanie, Seth, Jill & Gulam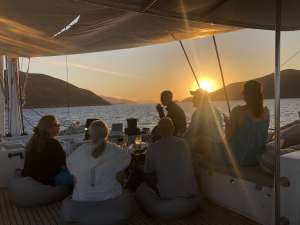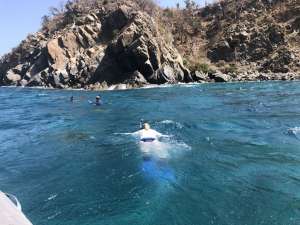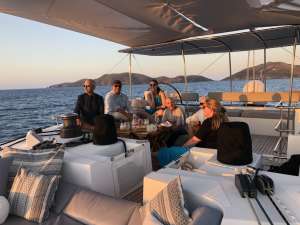 SWARTZWELDER / LABRECQUE
Jos, Julia & Rosie, I'm not sure what else to say other than YOU ARE THE BEST!! Thank you so much for coordinating a perfect trip while helping us navigate COVID requirements. Your efforts and communication made the process seamless. Although we knew how amazing you are, it was so much fun watching you interact with our children and providing them with an experience of a lifetime... Shirley Temples, Liar's Dice, Chess, Tubing, Scuba, Fishing.... are you kidding me?? I know I speak for the group when I say, wherever you are is where we want to be!! We'll be counting the days until our next adventure with you. Safe sailing! Jeff, Rachel, Samantha & Tyler Brad, Melissa, Ava & Jack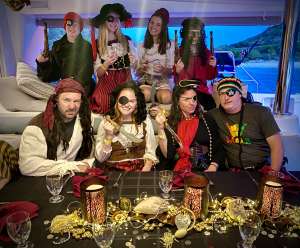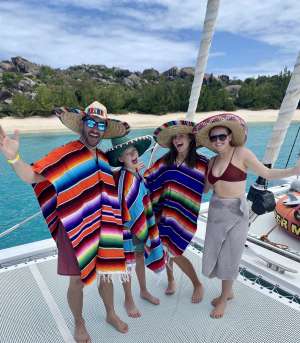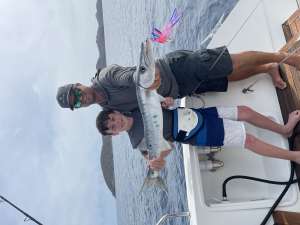 COOPER CHARTER
Our week on Foxy Lady was unparalleled for any week of vacation that we have experienced in a very, very long time! Jost, Julia and Rosie were the most incredible hosts one could ever want. The diving and snorkelling was incredible and the sailing was amazing. Julia's food kept us all clamouring for more. Rosie's drinks were impeccable. We couldn't have asked for a more perfect week amid the challenging atmosphere of COVID. Thank you so much and we are so grateful! Chris & Jody, Mike & Katie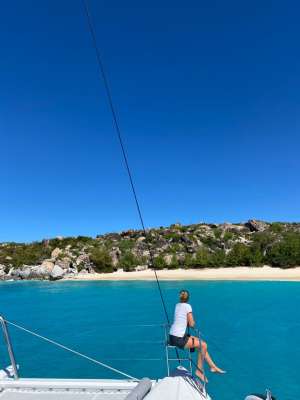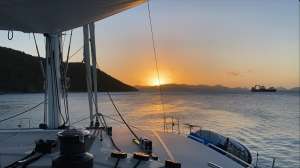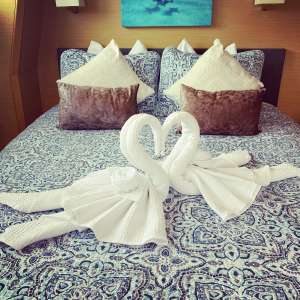 BARTLETT FAMILY TANDEM
Dear Jos, Julia and Rosie, "Thank you" hardly seems sufficient to express our most sincere appreciation for the care and effort that has gone into making our week on Foxy Lady such a wild success! From the delectable meals, to the endless water activities (snorkel, scuba, tubing, boom jumping...), to the delicious cocktails, we literally could not have asked for more. We hope to see you again, in the BVI, US, or otherwise. In the meantime, best wishes for the season and thank you! Sam, Annie, Ben, Jack, Rob & Karen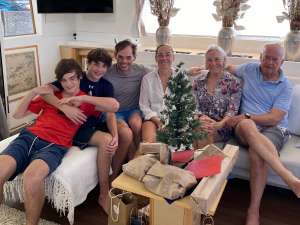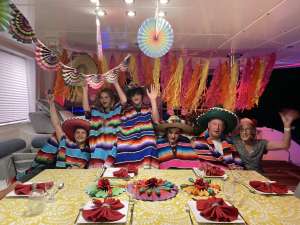 McGAUGHY - HOGAN CHARTER
Julia, Jos, Rosie, What an AMAZING week - thank you! Sail, Scuba, Snorkel, Halyard Swing, Ski, Hydrofoil, SUP, Fish... I think we did it ALL! You guys are amazing hosts. Julia - every meal was a work of art. We will shelter in place on Foxy Lady any time... Best, Esme, Mary Frances, Kent & Emily Julia, Jos and Rosie, Thank you for everything! What an amazing week! Outstanding mixology, incredible food, gorgeous dives! We could not have asked for a better escape from the global pandemic... we will definitely return to Foxy Lady. Wyatt, Elizabeth, Alice and Ellen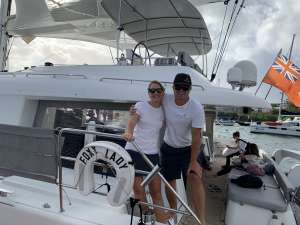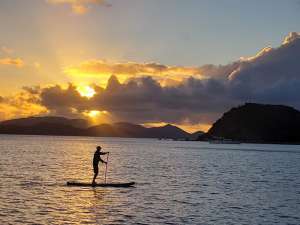 SWARTZWELDER / WILLIAMSON TANDEM
Jos, Julia and Rosie, That was awesome!! With as much anticipation as we had leading up to this trip, it's easy to build high expectations. What's amazing is how you immediately exceeded all of those expectations. We are all so impressed with the professionalism and friendliness of the crew as well as the spaciousness and cleanliness of Foxy Lady. Julia - your meals were fantastic - only to be outdone by your desserts! Rosie - your drinks were perfection. The perfect way to unwind after an action packed day. Also a great way to start the day...... Jos - thank you for all your patience! We loved hearing about the islands, learning about sailing, learning to wakeboard, and yes, even jumping on the trampoline. As this trip winds down and we begin to reflect, the one thing we all agree on is we wouldn't change a thing... well, maybe we'd add another week! Cheers! Until we sail again... Brad and Melissa, Jeff and Rachel, Eric and Sydney, Sam and Gina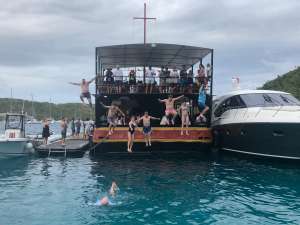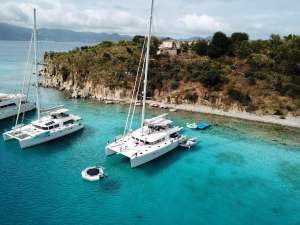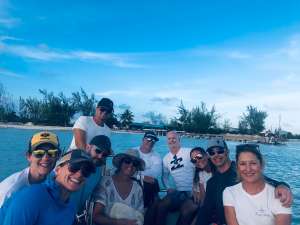 JOHNSON CHARTER
Dear Jos, Julia and Rosie, What a memorable week! We could not have been more pampered: every detail, every meal, all of the planning, perfectly made cocktails - it was all so amazing and we are entirely grateful. Each of you is so genuine, funny, and we love you so much. We hope we will meet again (and soon) but we will be forever grateful for our amazing trip! With so much gratitude, Wes and Linea Jos, Julia and Rosie, Thank you for the most amazing week! It truly was the trip of a lifetime. You considered every detail and it showed. From the sails, to the cuisine, to the service, hospitality and activities - you created the most enjoyable BVI sailing experience. Thank you for all your efforts, thoughtfulness, and delightful company!! All our love and many thanks, Courtney and Ed Dear Jos, Julia and Rosie, There are no words to describe this AMAZING week! With our crazy busy lives this was the perfect way to de-stress, relax and recharge. The whole experience was just magical. We felt like we were on vacation with friends. Thank you for thinking of everything - the food, killer painkillers, snorkelling, tubing, etc - it was all a trip we will never forget - and can't wait to do again! With so much gratitude, Gabby and Bill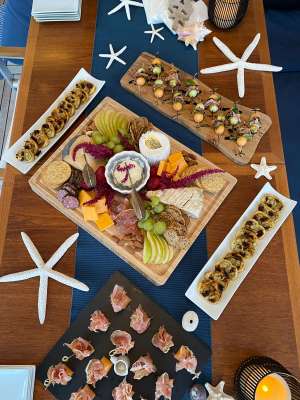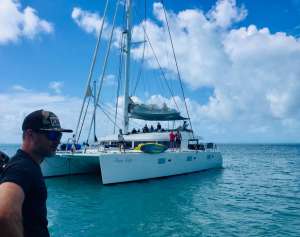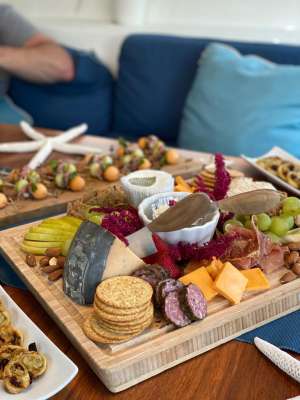 ROBERSON CHARTER
A DREAM. PLEASE DO NOT WAKE ME UP! ABSOLUTELY DIVINE. Jos, Julia and Rosie, thank you for cultivating such an extraordinary experience. You are admired and loved! Penny. I have no words to adequately describe just how wonderful, amazing and magical our time with you three has been on Foxy Lady. Cindy. I'm dying on the inside! This trip was simply incredible. I am so glad to have met and spent time with you. Matt. This trip has been a tropical dream come true. We could not have asked for better weather, a better boat or better crew. Your ability to make everyone happy and to feel at home while onboard is truly a gift. We are so grateful to have shared this with you. Jess.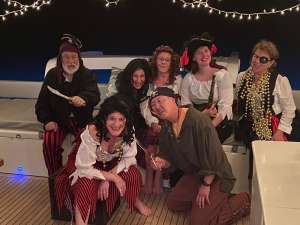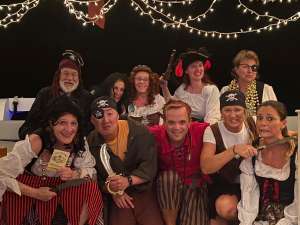 ODOM CHARTER
Jos, Julia & Rosie! Thank you so much for making this week so amazing! It was the perfect way to start 2020. Your hospitality was on point and your friendly personalities will make this a trip we will never forget. Hope to see you guys soon! Tiffany. You guys are an incredible crew and even better people. It was an honour to get to know each of you and I hope to see you all again very soon. Stu. Can't wait to do it again! Keesha & Rusty
GRISHAM CHARTER
Our experience was incredible. Jos, Julia, and Rosie were wonderful and we could not have had a better crew. They were wonderful with our boys, catering to their "kid diet", making mocktails, setting up a treasure hunt for Kellett's 6th birthday and hosting a New Years Eve party and a birthday party. Jos was always ready to pull the boys on the tube or to change course because my husband and father-in-law might get seasick. Julia's food was so fresh and delicious and Rosie did an excellent job making adult cocktails and taking care of our rooms and every whim. The yacht was incredible! Very comfortable and spacious. There were plenty of seating areas so we could mix it up. It was nice that our boys could watch a movie inside when they were tired at night, while we could sit right outside and see them while enjoying the nice weather. The food was very enjoyable and well presented. Julia was great at touching base with me everyday to see if the boys would eat what she was planning to make or if she should make them something else. We really appreciated the diversity of her flavors. The itinerary was perfect! Jos found us lots of fun beach bars, excellent snorkel spots (we saw sting rays and turtles, among lots of fish), and very picturesque areas.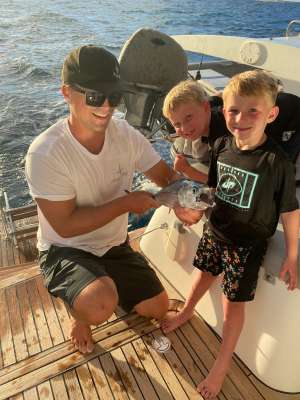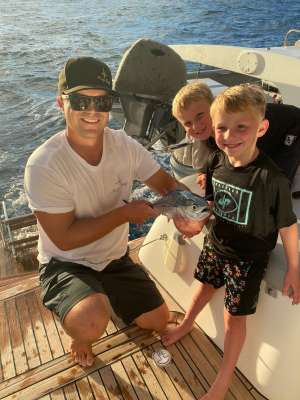 FREIBURGER CHARTER
Julia and Jos, thank you for such a fun week. You took us to gloriously wonderful spots for snorkelling, for swimming, for beautiful views, for privacy - it was all terrific! And the meals! How awesome were all of the meals!..... Thanks again for a wonderful trip, awesome in all regards! Jos, thank you also for working so hard to get some FISH ON!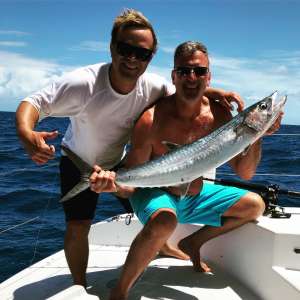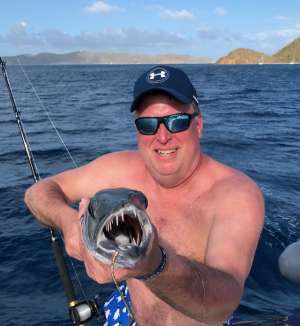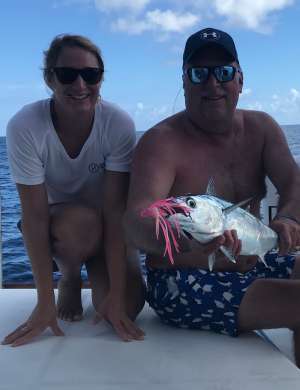 SMITH / O'KEEFE CHARTER
This cruise exceeded expectations in every way. The boat was beautiful and maintained in perfect condition. Most important to the success of this trip was the stellar crew of Jos and Julia. They could not have done anything better. Their level of hospitality and helpfulness was beyond anything we have experienced before! Lonnie & Ed, Terry & Judy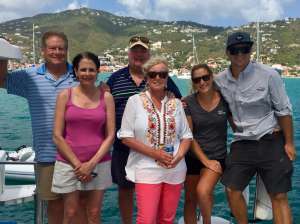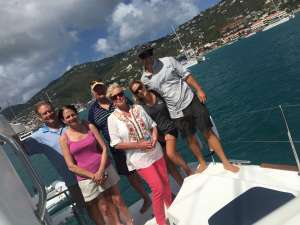 GUNNING / HOLLANDER CHARTER
SO. MUCH. FUN! You both made our stay aboard an amazing adventure - many, many thanks! JJ and Les The stuff of dreams and fantasies! We really felt like royalty, and your calm, easy ways helped alleviate all our stress. Unforgettable! Abe and Sharon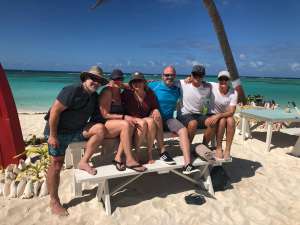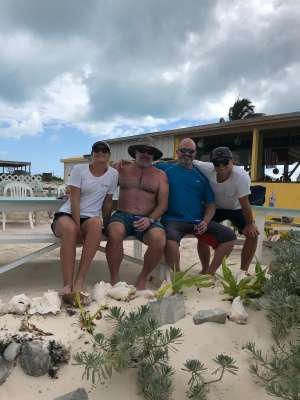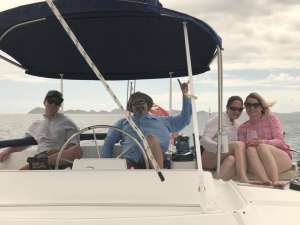 BAUS CHARTER
We had a wonderful trip - probably our best family trip ever! The boat was perfect for us - so nice to have a walk in shower. But what made the vacation so special was the crew - Jos and Julia were absolutely amazing. Julia's culinary skills were over the top - every meal, snack, drink was beyond our expectations. We only ate off the boat on NYE, and decided against bar hopping on the islands because what she and Jos created was so much better. They were able to predict what we would want/need and were lovely to chat with and be with on the boat. They are amazingly good at their jobs! We were all very sad to leave them and the boat. Steve, Betsy, Meaghan and Jemma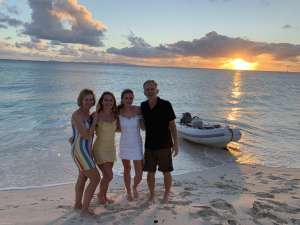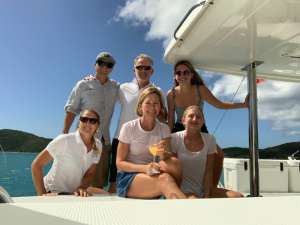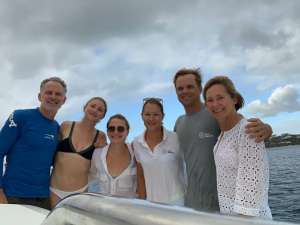 HOLLERBACH CHARTER
Jos and Julia - the two of you opened up your hearts, shared your passion of life and knowledge of the BVI with us. Your attention to detail is extraordinary, you kept us entertained and listened to our ramblings. You adjusted to our dietary needs, phyllo eggs were my favourite, fish tacos, Cornish hens, the sauces... I could go on and on! We normally collect just one rock from every place we visit, but most of our stops here are three rock experiences! It is bittersweet that we have to part! Theo and Linda
KING TANDEM CHARTER
........................................... Hi Kate, Jason and Tayla! Wanted to thank you again for the awesome time we had. Mission accomplished!! ...............................................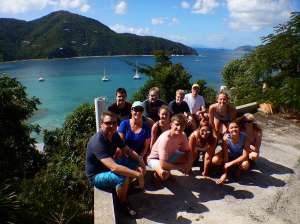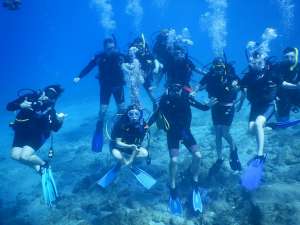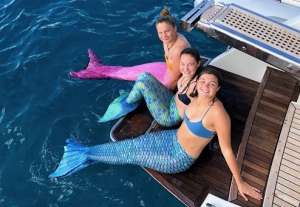 BRAZILL CHARTER
.............................................................................................................. Kate and Jason did a fabulous job of keeping all of our rooms, the salon and their busy kitchen neat and clean. They were also amazing at hanging our towels each time we came out of the water and making sure the deck was clean at all times. This is our 5th time chartering and both Jason and Kate were hands down our favorite crew! This is the top captain and chef we have ever had on our private charters. They were both attentive to what we wanted to do while taking into account the conditions of that day. They organized a treasure hunt for our 4 year old grandson. Kate drew an amazing map based on the landscape of where we were, I think it was Peter Island. She burned the edges of the map and stuffed it into a bottle. They put it in the water at the front of the yacht so that it would float down and in front of my grandson allowing him to 'discover it'. Everyone jumped into the water and headed to shore. Poor Jason had to make at least 3 prior trips in to add additional clues and bounty. They turned our family trip into a magical adventure! The crews expertise was exceptional. They sometimes had some challenging winds to deal with. Jason handled the boat well in all conditions. Kate too. We had a previous charter where the food was awful. Since then we have always specified that we wanted someone who knew how to cook. WOW can that girl cook. She sometimes had to make 3 different meals for one dinner. One for my grandson, one for someone who was allergic to the main course and the main course. Would we charter this yacht again? YES!!!! We are heading back out with Jason and Kate in November and would not consider sailing with anyone else after being with Jason and Kate. ..............................................................................................................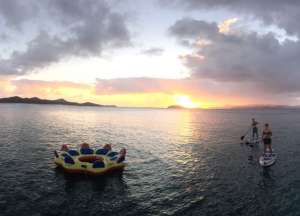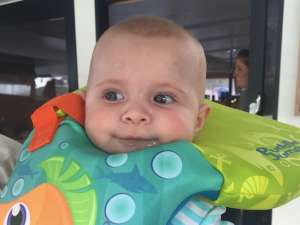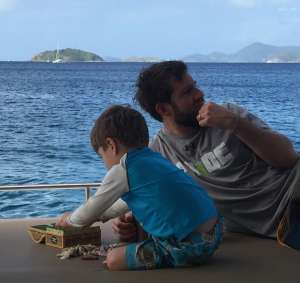 BROWNING CHARTER
............................................................................................................... Hi Kate and Jason, Finally we get to send you both a note of thanks for making our BVI experience beyond our expectation. We appreciated the attentive concern you professionally provided to both of us. Hope all is well, we have shared our photos with family and friends and continued to hi-light our captain and chef at every opportunity. You are an awesome couple. Again, many thanks and Big Hugs! ...............................................................................................................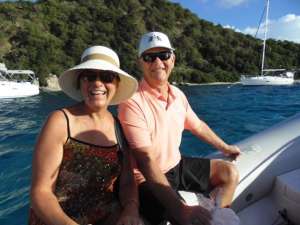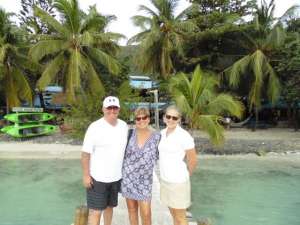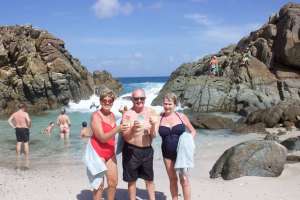 Reviews
............................................................................................................... Hi Kate and Jason, Finally we get to send you both a note of thanks for making our BVI experience beyond our expectation. We appreciated the attentive concern you professionally provided to both of us. Hope all is well, we have shared our photos with family and friends and continued to hi-light our captain and chef at every opportunity. You are an awesome couple. Again, many thanks and Big Hugs! ...............................................................................................................