Charter Yacht FREESTYLE Guest Reviews
November 2022
We had the best 4 nights ever with Captain Sean on the sea! Some of our favorite activities were snorkeling, going to the Windmill Bar with an amazing view and the floating taco bar! Adam also caught 3 fish - the only crew member to catch anything! We saw several sea turtles and lots of cool fish at night. The view from the front deck at night was breathtaking. We saw many shooting stars. The mountainous landscape and deep blue waters were some of the most beautiful sights we've ever seen. We had so much fun and a relaxing time. We can't wait to come back some day - hopefully with captain Sean again too! Sincerely, Bethany & Adam Klein, Bethanie & Rish Derose, Jenny & John Amenhauser. (From New Jersey)
April 2022
Yacht & Captain Please answer the following questions pertaining to the yacht you chartered and the crew. Rating of Yacht & Crew: (5 Being the Highest) 5 Was the yacht comfortable and clean? Yes Was the yacht well ventilated? Yes Was the yacht's cooking and cleaning equipment sufficient? N/A Was the captain friendly and accommodating? Very Additional comments about the yacht and captain? We sailed on the Freestyle in April 2022. Capt. Chris was a consummate professional, extraordinary captain and very easy to get along with. He was very accommodating to our schedule and laid back attitude made the pace of our trip our own. We felt as though we had our own private guide and local at every stop we made with excellent recommendations for shopping, restaurants and snorkeling. Cruising Area Did you like the area you chartered in? Yes
March 2022
Rating of Yacht & Crew: (5 Being the Highest) 5 Was the yacht comfortable and clean? Very clean and organized Was the yacht well ventilated? Yes! Very comfortable climate. I loved being able to adjust my own cabin at night. Was the yacht's cooking and cleaning equipment sufficient? No complaints. We had everything we needed. Was the captain friendly and accommodating? We hands down could not have had a better Captain. captain Chris was the best captain ever! He really made our trip fun and was able to lead us to the best locations for adventure. Additional comments about the yacht and captain? Thank you so much Captain for an amazing trip! We will definitely book with you in the future! Cruising Area Did you like the area you chartered in? Yes. We had the best spots. Maho Bay and Honeymoon Beach were my favorites. Snorkeling in Water Lemon was the coolest thing ever. I felt like I was in an aquarium.
February 2022
We had such a relaxing and memorable holiday. It will stay with us for years to come…We'll certainly be back -  just loved it.
February 2022
We had an amazing time, thank you for setting this up. Chris was truly a pleasure to be around. We will hang out with him next time he is in NY, that's how much we liked him.
February 2022
It was a wonderful trip, complete with access to snorkeling spots and beaches we'd not be able to get to otherwise. Living on the sea for a week was very special, the islands are so beautiful. In fact I still feel like I'm floating:) Will definitely do it again!
May 2021
This was an AMAZING adventure for our family and friends! Thank you, Captain Brian, for the hospitality, suggestions, advice, patience, teaching, and expert sailing! The boat was a dream! The bays, water sports & snorkeling will be memories we keep forever! This was the trip of a lifetime! This week was definitely a trip of a lifetime, full of fun, adventure & trying new things. The boat is beautiful and we couldn't ask for a better Captain! This trip made me never want to go home and to permanently become an island girl! I absolutely loved going snorkeling and seeing the colorful fish, sting rays, and cute sea turtles! Thank you Capt. Brian for showing us the most beautiful bays, best snorkeling spots, and keeping seasick spirits high with your positivity and humor! I will never forget this incredible trip (or the sunburn that came with it!!!)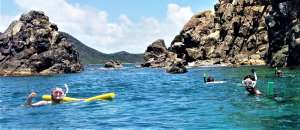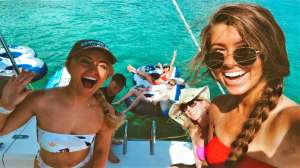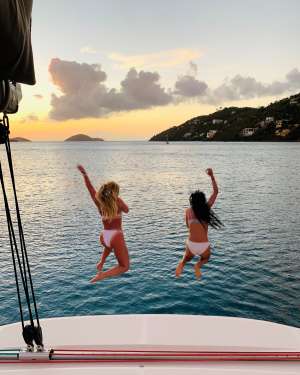 April 2021
Didn't think it was possible to completely forget about Covid but thanks to Brian's hospitality, knowledge and desire to please, we enjoyed 4 incredible days on Freestyle. We packed in sailing, fishing, snorkeling in Salt Pond, Waterlemon Cay and Congo Cay. Topped it off with kayaking, learning to SUP, and celebrating our daughter's 18th birthday in style. Through it all, Capt. Brian was there with a helpful hand and genuine smile. This was our first 'captain-only' charter – definitely the way to go! We are returning home today feeling revived and looking forward to a return trip! With much appreciation for the treasured memories, "Joanna" & "Emilily"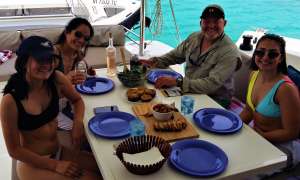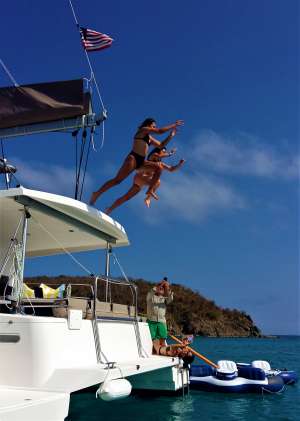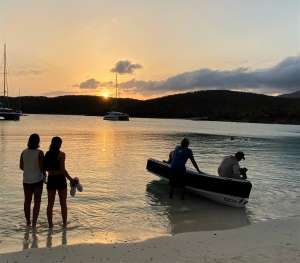 April 2021
Thank you Captain Brian for the trip of a lifetime. You provided memories my son and I will cherish forever. Finding the new reef, catching the shark, and don't forget discovering the old scoop anchor. Priceless memories! The boat was well maintained. In closing, Brian, please know that we greatly appreciate all you did for us. Please don't tell the other guests about how this old guy can cook! Sincerely, Wes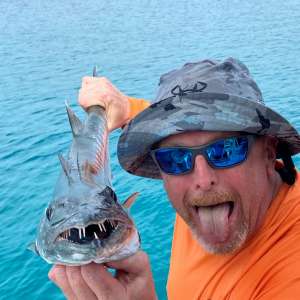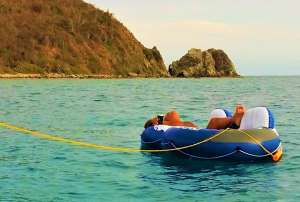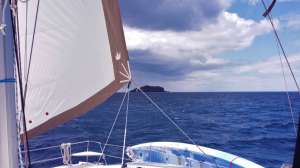 March 2021
We has the most amazing time exploring St Thomas and St John on the Freestyle :) It was our first time spending an extended amount of time aboard at sea on a boat and it could not have been a more pleasant experience. Brian was an amazing captain! he was so attentive to our needs and made sure to guide us so we had the best trip possible. Brian took the time to engage with us on the trip teaching us basic sailing terms/skills as well as the best places to explore dinning our trip. Some of our favorite parts of me trip were kayaking in the Megan's bay, snorkeling in salt panel, sleeping on the deck under the stars, lounging in the water and the beautiful sunrises and sunsets.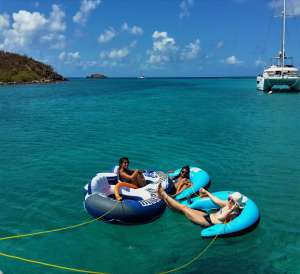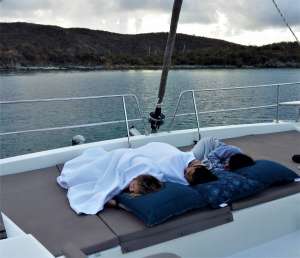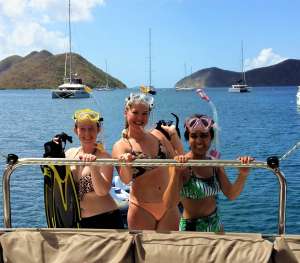 March 2021
We had an amazing trip with Captain Brian. The seas were calm except for the 1st full day. Brian put us in the best possible spots each day they allowed us to do a number of activities such as diving off the boat, fishing (caught a large Spanish marcel which was an excellent lunch) hiking visiting ruins, snorkeling (saw a res shark, sea turtle feeding, several sting rays. make sure to watch out for the black sea urchins. Not fun when you step on one. Brian was great cleaning up constantly after us and ready to help out with a beer or cocktail so we never had to get out of the floating chairs. The kids and us will remember this trip the rest of our lives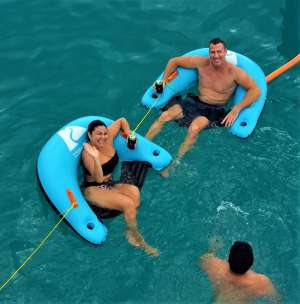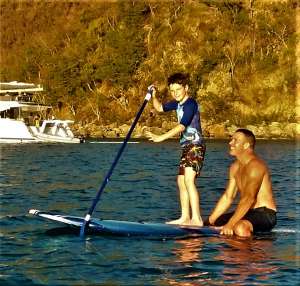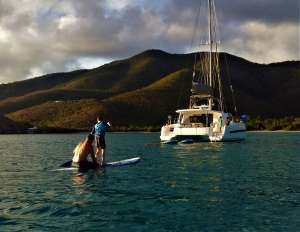 Reviews
We had an amazing trip with Captain Brian. The seas were calm except for the 1st full day. Brian put us in the best possible spots each day they allowed us to do a number of activities such as diving off the boat, fishing (caught a large Spanish marcel which was an excellent lunch) hiking visiting ruins, snorkeling (saw a res shark, sea turtle feeding, several sting rays. make sure to watch out for the black sea urchins. Not fun when you step on one. Brian was great cleaning up constantly after us and ready to help out with a beer or cocktail so we never had to get out of the floating chairs. The kids and us will remember this trip the rest of our lives