Charter Yacht JAN'S FELION Guest Reviews
November 2022
Dear Loic, Kat and CK (AKA Captain Kirk/Captain Sweet Tooth) Thjank you for the trip of a lifetime! It exxceeded all our expectations. We are so grateful the Dragonfly got struck by lightening. Everything happens for a reason. We spent the last year planning this adventure and each of you helped make it so special. Kat's infectious smile and incredible laugh brightens every morning. Loic created culinary master pieces for each and every meal. CK's daily brief was on point, his skill and experience made us all feel so comfortable + safe. Every location + stop was a hit. Here are a few words to describe our trip: *Real wave * Barracuda *Kat's Painkillers *Casa Blanca * The Hike *Necker Tour * Sailor Boy Baron *It's waterproof *Fungi *Gumption *Nauti but Nice * White Night/Willy T *Oreos * Broken Foil *Full Moon party... Mike ,Heather, Meags, Mike, Stacey, Baron, Scott and Sarah
BVI January 2022 BEST vacation
Comments from Broker regading Clients aboard - They said this was the BEST vacation they have EVER had! Captain Kirk was so nice and super professional. Bill is a very experienced sailor and was impressed with Kirk and his knowledge. They were impressed by his mannerisms, supremely professional and knowledgeable. He also helped out in the galley all the time. It was a team effort and they all seem to have gotten along well. They just love Captain Kirk! NIA-OMG! Sooo impressed with her cooking skills and the fact she is self-taught. Amazing!!! Every single meal was AMAZING! They went to stay at Little Dix after the charter and missed her food the most. Mr. & Mrs. are foodies and were blown away with the talent Nia has. They were surprised at the quality of food as well. The breads and cheeses were so impressive too! Couldn't believe she found such excellent quality cheese on the islands. They can't say enough of Nia and her cooking abilities. She should have her own cooking show or write a cook book… THAT GOOD! Kat was AMAZING as well. They absolutely LOVED her too! She was always helpful with anything and everything. She was the sweetest and they loved having her on board and commented of how well this trio got along and worked very well together. Her cocktails were PERFECT! Not too strong, and not to weak, just right! Very creative and they looked forward to her cocktail of the day. She was truly AMAZING! Enough to invite her to their home anytime she is in their neck of the woods! The toys were amazing. They LOVED the sea scooter. They had the most fun on this. And, they loved the boat too! So impressed with her as well. Very spacious and great sitting areas. She was beautiful and they loved every minute on her!
March 7 -14, 2020
"What an amazing week…we gathered from all over…Colorado, Wilmington, NC Toronto, Grand Is/ and NY + Ohio. We had no idea what an amazing week we would experience….The BVI's are special but the crew took the trip to a whole other level .. you are so good at what you do… with food better than any restaurant on the island and a positive and cheery attitude that welcomes all, Captain Kirk made us all feel so safe & you knew he always has your back, the quiet steady presence of a true professional..And Kat, the glue that kept us all together, enjoying the trip + taking care of our every need. We will have life long memories thanks to you three…Back to the real world but remembering our amazing week in the BVIs. Thank you for an awesome week, The Stones ( + Krissy too!)" "Thank you so much, Kat, Nia & Captain Kirk ! We had a wonderful time. You truly are the best of the best. Hard to go home to snowy Colorado but we will always have these wonderful memories to warm us. Hope to see you all again soon. Kim+ Rick Stone"
Feb 15 -22, 2020
"Kat, Nia, and Captain Kirk …how will we survive without you? Its only been one week, but you have raised the bar in all ways. This trip has exceeded all expectations. The boat is meticulously maintained, the food has blown us away every day and night, and the drinks and hospitality has warmed our hearts. You are going to have to kick us off because we are not leaving! Thank you, The Genovese-Prescott Family ! Cris, Matt, Cheri, Alex, Sophia, Julia, Bella, Nick"
March 15 - 19 (Broker - Carol)
"Dear Captain Kirk, Kat + Nia, What an amazing vacation!!! I don't even know where to begin to thank you! We enjoyed ourselves and had so much fun with you! The tubing, beach outings, and just spending time relaxing on the boat have all been restorative to our souls and a well needed rest. Then there is the food. Every meal was incredibly delicious and we are very grateful to the care and effort put into making meals and service. We were on the boat during some anxiety- and the crew provided the respite that we needed to focus on what's important, our family and healthy and safety. We are grateful to you all for providing a vacation that we will never forget. We look forward to seeing you all again after this corona madness is over. With love and gratitude! The Londons "
March 2019
"The McKennon Family is so appreciative for the "best ever week onboard Jan's FeLion. From the moment we boarded we were amazed at what a beautiful home we had. Captain Kirk took amazing care of us and provided the exact perfect spot and activity for each day. Chef Nia prepared photo ready and delicious dishes at each meal. Susanna kept our cocktails full and our hearts warmed as she cared to our every want and need. Best week full of family memories!" With love, The McKennons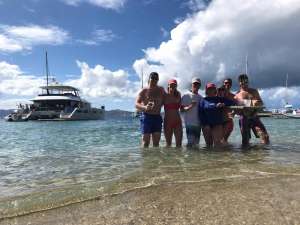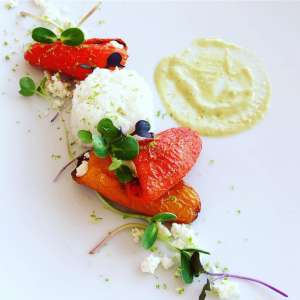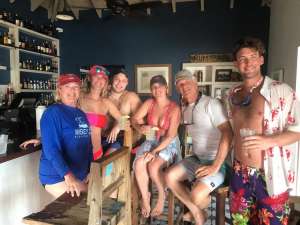 February 2019
"What a week it has been! Our family made many memories that will last a lifetime! Captain Kirk and Nia are hard-working, caring and gracious people who made the trip more fabulous than we could have imagined. They took care of every detail- didn't miss anything! From the food and the cocktails to our daily adventures- everything was perfect. WE WILL BE BACK! Compliments too on the beautiful boat. It is kept up pristine and definitely feels like home. Thanks for caring for us this week- we were in great hands! Again thank you, thank you Capt. Kirk and Nia- God Bless you!" The Orozcos, MI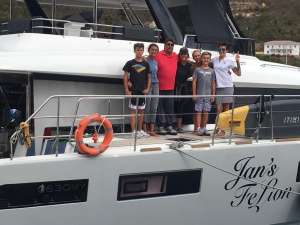 February 2019
" A fabulous vacation! Every detail was perfect...the boat, the food, the crew, the friends and the weather. Captain Kirk arranged perfect days that were the greatest balance of relaxation and adventure. We enjoyed riding scooters, bar hopping and indulging in local cuisine and dancing. Nia spoiled us with daily culinary treats and Nicole arranged a beautiful table and created lovely cocktails. We just can't say enough about how much we loved this trip! It far-exceeded our expectations. Thank you for a fabulous week! -The Robertsons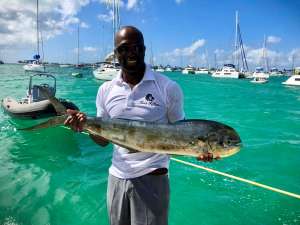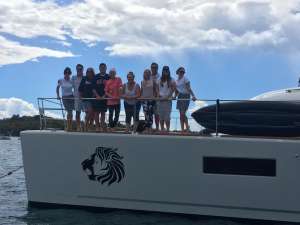 Jan's FeLion's first guests, in January, 2018, aboard a brand new yacht said:
Jan's FeLion, what can I say other than it was 63' feet of perfection!!!! My family and I had the privilege of being the first charter on this brand new beauty. It had all the accommodations you would imagine and more. I have known the captain, Kirk, from previous sailing trips in the BVI with my brothers and father. Everyone in the group always wants to boat with captain Kirk, this trip was no exception. Our group included my siblings, their spouses and my parents, 12 people in total, so we decided to charter two boats. Jan's Felion and A3 both exceeded our expectations. My wife and I were on Jan's Felion with captain Kirk and his first mate Randy. The two crews worked non-stop to make sure we were all having a good time. In addition to the beautiful sites, delicious food and fun activities, Captain Kirk, and Randy truly are what made it special. I have one perfect quote that I did not write, but noticed written at Potters by the Sea on Anegada. We were all finishing up eating, having a few drinks and dancing. I stopped to look at the wall and it said "There is no place like home, but, this is better". It truly was perfect. Thanks to Jan's Felion crew for what really was one of the best weeks of our lives! Please know that the BVI is open for business and the people as always were friendly, welcoming and strong. They want to see you there. Thanks all who had a hand in this, (Steve and Jenny Zawacki)
Comments from guests on Capt. Kirk Robinson
SV JUS CHILLIN VOYAGE 60' JAN 5- 12 2016 BVIs "We have NEVER hadsuch an AMAZING time!!!! We spent an entire week being taken from island toisland in the BVI while literally eating 5 star cuisine!! This will probably be a annual trip for theRobertsons!!!! I wish there was a way to express truly how amazing of a time wehad!!! Kirk was our Captain and Heather was our Chef. If you know ANY franchisee looking forsomething out of the ordinary.... This is it!!! Every day with sailing, eating, drinking, snorkeling, diving, enjoyingsolitude beaches, beach parties, fishing, paddle boarding.... You name it!!!!!! We felt like we were leaving our closefriends when we left!!..." But just had to send a quick email to tell youhow BLESSED we were to be on Jus Chillin with Kirk and Heather!!!!!! We can notexpress how much we LOVED EVERYTHING about it!!!!!!! You are right Susan.... Heather and Kirk and Very Special people." - The Robertson's SV AMAZING L6209-13 July, 2016 in BVIs The boat was very comfortable inside & out, and inimmaculate condition...spotless, and crew worked to keep it that way throughoutour visit. It was a pleasure cruising with Kirk & Heather…they were so easyto get along with, great & positive attitude. They catered to our everyneed and refused to let us lift a finger. They made sure everyone was happy andengaged throughout. Captain Kirk was clearly an experienced and skilled captainand piloted the vessel in a way to make sure everyone was comfortable. Heatherwas a master in the kitchen…excellent meals…the presentation was better thanmost of the top restaurants I have visited anywhere. Truly memorabletrip...working on dates to come back.
 - Brother's Company Flotilla SV AMAZING L620 May 23-30, 2015, BVIs Kirk, Heather & Courtney, 
Spending the week on boardAmazing has been an unbelievable experience for our entire family. This triphas been on my "bucket list" since I started coming to the islands and the last7 days have exceeded every expectation. Thank you all for taking such greatcare of us – you made it truly special in every way. You showed us the BVI'sfrom a local's point of view and made it come alive for all of us. Heather, thefood and presentation was amazing. Courtney, thank you for your constantattention and wonderful boat drinks. Kirk, an outstanding captain, host andperson. We are always going to remember this and hold it very close to ourhearts. Hope we see you again.
Matt & Lea, Shannon & Derick, Taylor & Chase SV AMAZING L620 April 18-25, 2015, BVIs Heather, Kirk & Courtney – Thank you all for such awonderful & memorable week. We look forward to this trip all year and it'sbeen the best one so far! We knew we were getting an upgrade, but your companymade the experience all the better. Kirk hooked us up with the best spot atevery location. Heather fattened us up with DELICIOUS food and Courtney wasalways there to make sure we were happy and liquored up. You guys knew it wasour 4th charter but took us to places we'd never been. Thanks again for such awonderful and relaxing trip.
 Kent, Tori, Kate, Elias
Latest water toy for Jans Feline
Come and enjoy the Tahiti Floating Island - latest water toy for Jans Feline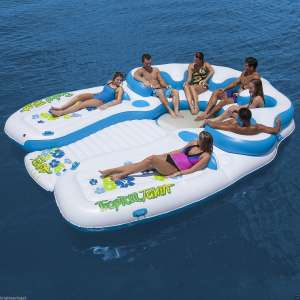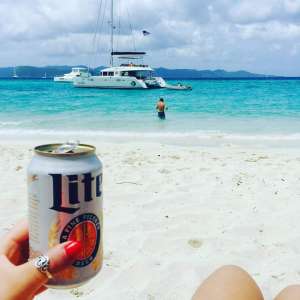 Chilling out on Jans Feline
Friends and family on spacious upper deck of Jan's Feline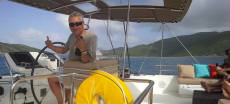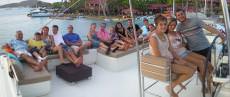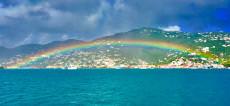 British Virgin Islands
Jan's Feline - guests on vacation in the beautiful Virgin Islands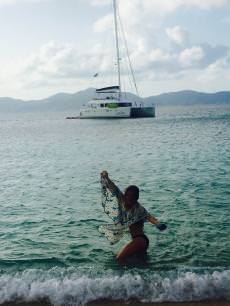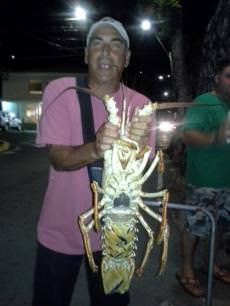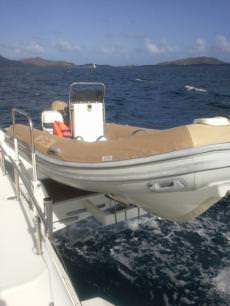 More pics of Jans Feline
Cute name for tender of Jan's Feline :)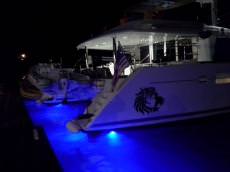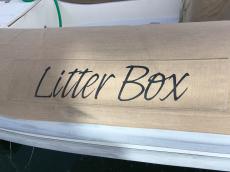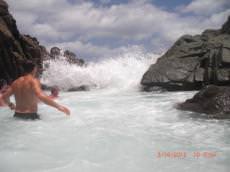 Great vacation on Jan's Feline
Everyone had a fabulous time on beautiful, elegant Jan's Feline in the Virgin Islands.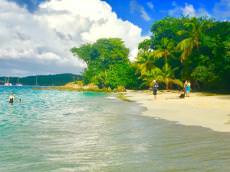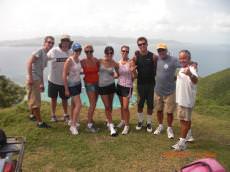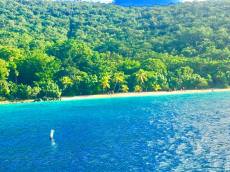 Reviews
Everyone had a fabulous time on beautiful, elegant Jan's Feline in the Virgin Islands.