Charter Yacht JOY Guest Reviews
Charter on April 29 - May 6, 2022 in the Tuamotu - American group of 8
We have been having a fantastic time! Life doesn't get any better than on the Joy Thank you CJ and your team for the great charter.
Charter on August 9-18, 2021 / Tahiti - Bora / American group of 4
Thank you for the check up. All is fabulous! We are very much enjoying the trip. The crew and food have been fabulous. It's exactly what we needed!! We can't thank you enough for helping us put this trip together..oh and we were able to swim above a male whale ... It was amazing!
from the broker, W. Family Hawaii / May 31 – June 10, 2021, Hunahine – Bora Bora
"Sailing vessel JOY is very aptly named...she is a beautiful, comfortable, unforgettable, modern, catamaran. The fantastic experience we were lucky enough to have in French Polynesia for 10 days was something our family will never forget. JOY is well appointed with every amenity and all the ocean toys you could need. The captain C.J. and crew Lexi & Jorge were exceptionally pleasant, engaging and very accommodating. They seemed to anticipate all of our needs and requests. Chef Jen exceeded our expectations! Every meal was creative and delicious. We were constantly telling each other what a treat it was to have this level of proficiency in our young chef! (and we are a family of restaurants and wine producers...not an easy bunch to surprise.) Overall, we whole heartedly recommend this trip and this boat and crew to everyone!! The W. Family, Maui, Hawaii" Thank you both for all your assistance with the last two charters on JOY. Both clients had excellent experiences and we look forward to sending many more charters to CJ and his crew on JOY.
Charter November 5 - 14, 2020 Rangiroa - Tikehau / 2 Americans
Wow, what a magical adventure the last 9 days have been. The deepest gratitude to every human on this special boat, JOY, for ensuring that our trip was one of the most amazing and tranformative trips of our lives. We leave today feeling as if we not only made 6 new beautiful friends but life long adventure buddies. Thank you for making us free the family keeping us safe, showing us the beauty of French Polynesia and keeping us in fits of laughter. Lexy you may be one of the funniest humans i've ever met. Your jou of life, lightearted attitude and witty humor were a big highlight of my trip. Thank you provideed me with so much safty, knowledge and some deep belty laughs. Thank you! There's so much more I would like to share but words weren't created to express my deep gratitude for the trip you are made possible. from dancing with daolphins encounters, delicious food and incredible company. This the best trip I have ever been on and will forever live in my heart. We see how hard you worked to make this happen and we look forward to the many adventures we will share together. So much love and beams of lights. M.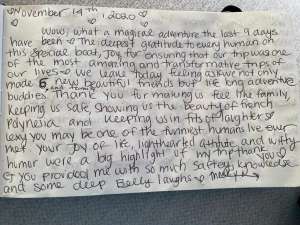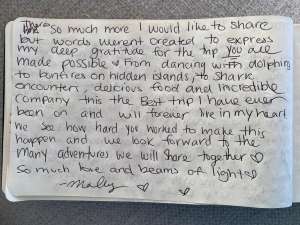 Romantic Anniversary Charter_Bora Bora-Raiatea_28.09.-05.10.2019
Dear Crew, Thanks you so much for this amazing cruise on a beautiful catamaran. Joy is top of all the perfect words for an unforgettable holiday, with a perfect crew, very professional, however being very friendly, and also with amazing food, very healthy and tasty. Thanks again for everything and hope to be [back] aboard very soon. Marina & Sylvian Switzerland
One month charter on JOY - Rangiroa to Bora Bora - Aug.-Sept. 2019
This has been the most remarkable vacation - a month on a boat with an unknown crew - and for the crew unknown guests, was a step in the dark - it has proved to be one of the best decisions of our lives. Four weeks on a very special boat, crewed by four very special people has been a JOY and a privilege. CJ's sailing skills took us to perfect locations at every stage - avoiding "bombies" all the way. Every member of the crew has contributed significantly to our enJOYment - never an empty glass and such quality and variety of meals that deserve Michelin stars. CJ's knowledge of the likely locations of the different areas to view, from tiny fish to 4 metre manta rays is uncanny! We have had the most memorable sightings of whales, manta, sting and eagle rays as well as dolphins off the bow and sharks swimming around us. I don't possess adequate superlatives in wishing to say a huge thanks to CJ, Lexi, Fabiana and Pablo - you have all been stars and made our dream a reality. From our hearts, thank you all. Bill & Hayley
Reviews
This has been the most remarkable vacation - a month on a boat with an unknown crew - and for the crew unknown guests, was a step in the dark - it has proved to be one of the best decisions of our lives. Four weeks on a very special boat, crewed by four very special people has been a JOY and a privilege. CJ's sailing skills took us to perfect locations at every stage - avoiding "bombies" all the way. Every member of the crew has contributed significantly to our enJOYment - never an empty glass and such quality and variety of meals that deserve Michelin stars. CJ's knowledge of the likely locations of the different areas to view, from tiny fish to 4 metre manta rays is uncanny! We have had the most memorable sightings of whales, manta, sting and eagle rays as well as dolphins off the bow and sharks swimming around us. I don't possess adequate superlatives in wishing to say a huge thanks to CJ, Lexi, Fabiana and Pablo - you have all been stars and made our dream a reality. From our hearts, thank you all. Bill & Hayley