Charter Yacht LIQUID ZEN Guest Reviews
November BVI 2022 Charter
Everything exceeded our expectations! The boat is beautiful and you both take great care in keeping it that way. It is also obvious you both enjoy what you do very much. All of the work "behind the scenes" made this vacation truly restful for our family. The sailing, the delicious meals, scuba diving, snorkeling, and all the water activities were a blast. We look forward to another charter with you both someday. You are a great team. -The Valentines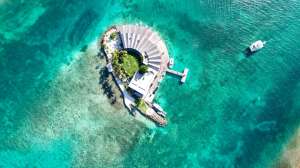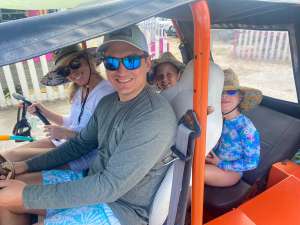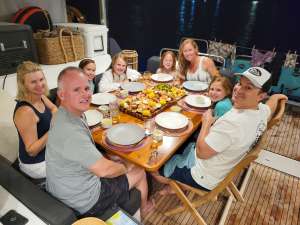 November USVI Charter
This trip was absolutely incredible and that is because of y'all! It was like being at summer camp with the two most fun counselors. You guys kept us in line with good suggestions and lots of delicious food. It was so awesome getting to know y'all, learning cool stuff about the islands, exploring new spots, and so much laughing. Casey - you're an amazing chef and the kindest person. Michael - you're an effortless captain and hilarious person. Thank y'all so much for making the week so awesome. We hope to boat with the two of y'all again soon - maybe we can find a few more merch stops! - Amy & Jon, Chris & Brit, Eric & Monica, & Barry the Barracuda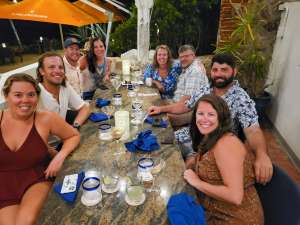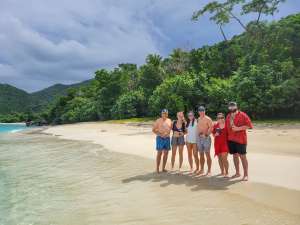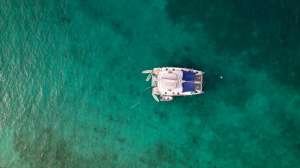 Charter Up Island 2022
'Thank you so much for letting us come on your adventure/tack North. Your kindness and patience, especially with my scuba nerves, was so appreciated. We felt special and part of the "Team Liquid Zen" We will be preparing our trivia chops and scuba breathing before we see you next. Here's to a magical season for you two. We will be thinking of you!!' -Terry & Joe 'These past nine days adventuring across the high seas have birthed memories I won't soon forget. Learning how to swim and snorkel will no doubt save my life one day. Perhaps the most fun part of our journey was cooking the lamb with you on the last night, it was a delicious dinner. I wish you both the best luck in your future journeys, and hope you might one day sail to the enchanted forests of Pennsylvania to visit us. Please be safe and stay in touch.' -S. Pirate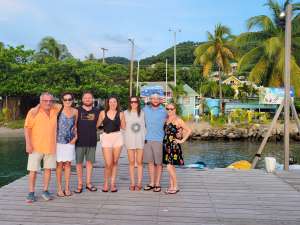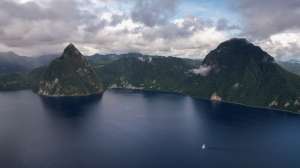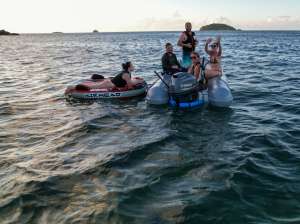 July 2022 USVI Charter
We arrived in Red Hook, St. Thomas on July, 25 2022 and were welcomed by our Captain, Michael Wilson and Chef Casey Strickland. From the moment we stepped on the deck of the Liquid Zen we felt at home. The yacht was clean and beautiful and our staterooms which were immaculate. Michael and Casey walked us through the safety procedures and what to expect on our journey. They were very thorough and made us feel very comfortable. It's hard to let down from day to day stress at the beginning of a vacation, but aboard the Liquid Zen we felt we were unwinding right away. Michael is an extremely competent captain. We knew at all times that he could handle waves, weather and maneuvering around other boats. Casey is an extraordinary chef. Every meal was healthy and delicious as well as unique. The presentation was gorgeous and creative. The table was always imaginatively set with the theme of the meal. We had 2 children with us who can be hard to please but Casey nailed it with the food every time. Michael and Casey helped us learn more about snorkeling and where to swim to see the best of the area we were in. Each cay or cove we went to offered something different from the last. It was great to be able to paddle board at some spots, snorkel at some, hike and take the dingy to the beach at others. This was truly a vacation to remember. Members of our family commented more than once about this being their best vacation ever! We are so glad we chose the Liquid Zen for our trip. One of the reasons we did is because of the web site that featured the yacht and Michael and Casey. The pictures they posted and descriptions made all the difference. We would recommend to everyone that if they are planning a yacht trip in the Virgin Islands to book with Michael and Casey. They are simply the best hosts you could have. - Jo We will be forever grateful for the amazing memories you helped us make over the last week. This experience was hands down the best family vacation one could ask for. There was no detail left out. The views and food were perfect! Thank you so much for being a part of our family the past week. Can't wait to do it all over again, hopefully sooner than later! Until then I wish you the best in all your next adventures. -Marlo, Ian, Stella & Lola Thank you for making our time aboard the Liquid Zen such a memorable experience. No detail was overlooked. We always felt safe and secure with Michael at the helm. The boat is beautifully appointed and comfortable. Chef Casey's meals were as beautiful as they were delicious. The cuisine added much to our experience. Thanks for the memories and good times...an unforgettable experience! - Rick Weston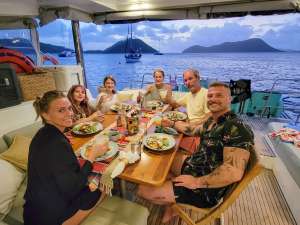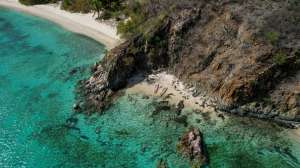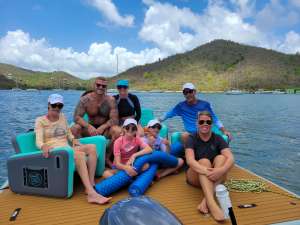 July 2022 USVI Charter
Where to start...a million thank you's aren't enough for what has been the very best vacation ever! You've far exceeded our every expectation!! Casey - Wow! So impressed with every single meal...I bow to your greatness as your crab cake is way better than mine! :) you are the master of mise en place!! Michael - your'e a gifted captain and instructor. I so appreciate the scuba lessons and next year will get to the bottom. Wishing you both a very relaxing offseason, safe travels, and precious time with your families! - Laurie & Stephen Thank you for the perfect 25th anniversary trip! Both of you made the whole experience far beyond our dreams! Casey, we don't want 'french trained' cuisine ever, we just want your amazing 'Chiefdom'!! :) Captain, my Captain - Michael what an amazing leader and host you are! Thank you so much for your patience with my scuba anxiety and your tolerance for our husbands! We cannot thank you enough for all you did this week! We will miss you both! -Laura & Joe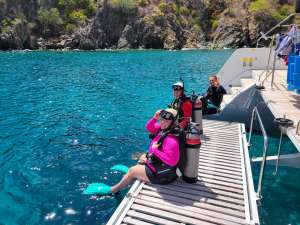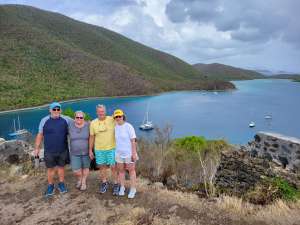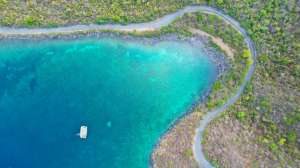 July 2022 USVI Charter
We want to thank you for such a great week. Casey, the food was amazing. Michael, your attention to detail was as good as it can get. Both of you made us feel comfortable from the first step on the boat. I even enjoyed drinking glass with Michael at Dinghys! If only Cruz had caught Moby Dick we would have had the perfect vacation. Thanks again and see you soon! - Kris Thank you for the best vacation! Not everyone gets to experience what we did this week! We were able to make some great family memories together. Casey, your skills in the kitchen left a huge impression on my family. Your food will be talked about often, they will look forward to the next trip. I am appreciative of your patience and kindness, teens can at times be a challenge. Michael, you are a wonderful host. You were attentive and accommodating to my family. Your calm presence made us all feel welcome. We are all looking forward to the next trip. - Cresenta Thank you for the amazing experience, one that I will never forget. I hope to see y'all next year. - Master Fisherman Thank you for accommodating my food. - Aiden Thank you for such an amazing trip! I enjoyed every aspect of the trip, especially the food! I look forward to our next trip. - Ava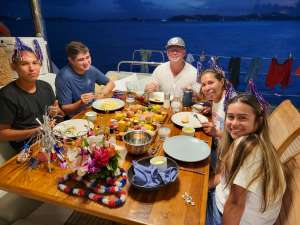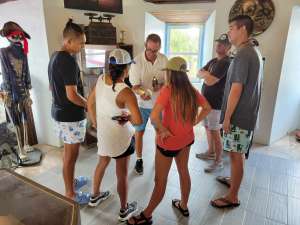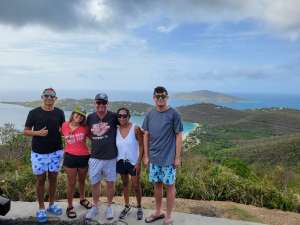 June 2022 USVI Charter
Thank you for making our first trip on Liquid Zen so memorable. Your deep and thorough knowledge of the USVI made sure that our unexpected itinerary detour was nevertheless a great week! We appreciate you indulging our "the kids aren't here!" adult humor and presenting us countless opportunities to create lots of inside jokes with our guests. I am not quite sure how to go back to our regular diets after eating Casey's wonderful creations three times a day for the past week, but I'm sure my waistline will thank me. Lori and I look forward to coming back with our Molly for Thanksgiving, until then, Fair Winds! - Lori & Jason Thank you for an incredible time! We made friends and memories to last a lifetime. For that we are eternally grateful! Until next time, let the turtles breathe. - Brian & Cathy Thank you for an unforgettable experience. We are ruined for any other crew, ever. It's hard to express what it means to us to feel so well taken care of - a true vacation! - Steve & Sara & Our Bevy of Turtles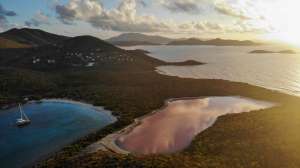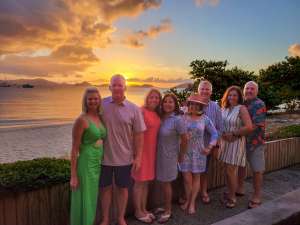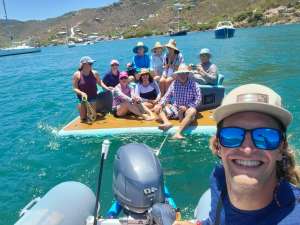 May 2022 USVI Charter
"What an amazing week under your care and friendship. You made us all feel like family and locals. Every morning till lights out at night, we had a blissful, magical experience. We lost track of time and space and just rode the experience like protected children. Thank you for making everything seem effortless." -Terry & Joe "Thank you so much for such an incredible trip. I already can't wait to come back" -Galen "Thank you so very much for a once in a lifetime vacation. So many firsts for us - and a lot of questions for you! :) We will never forget the week. Everything was perfect - the food, the company, the snorkeling, and the list goes on and on! Thanks to you both for an unforgettable week. Call if you ever make it to Charlotte!" - Joey & Calan (aka Aquaman)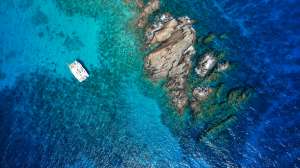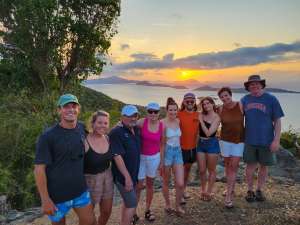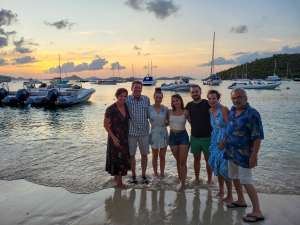 May 2022 USVI Charter
"Thank you so much for making our time on Liquid Zen a wonderful lasting memory! Casey - your cooking and presentation were fabulous! You were gracious, kind, and fun host. Michael - you are a seamless, skilled Captain. Your local knowledge and expertise made for a safe and relaxing experience. Cannot wait to see the drone videos! Every experience in life comes down to the people you share it with. You guys were a true complement to our group of friends. Good luck in all your future endeavors. We hope to see you again!" - Sam & Susan, Nancy & Alan, Christine & Andy, Greg & Kimberly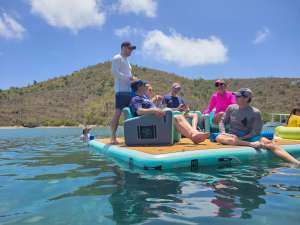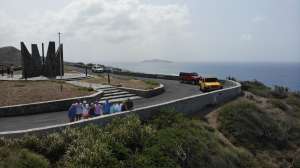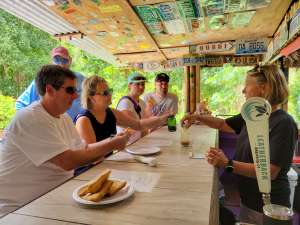 May 2022 USVI Charter
"Thank you so much for an incredible week that we will never forget! You both blew away our expectations, from the amazing meals that Casey worked so hard on to the Great Captain Mike. We loved every single day and every moment. You both were incredible hosts always making us feel so spoiled! We appreciate every detail and all the beautiful spots you took us to! Can't thank you enough!" "Amazing week! Amazing Place! Food was delicious. Mike and Casey, you are the best! Thank you for making this trip so memorable. Loved every minute!" -Jen & Brian -Raja & Alli -Chandra & Nate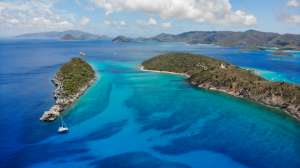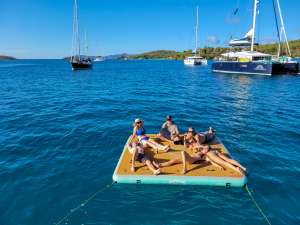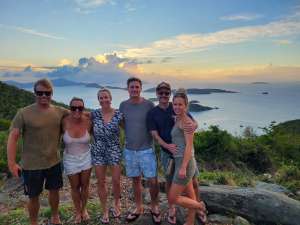 April 2022 USVI Charter
There really are no words I can say that express how special this week was to me. You guys are simply two of the best humans I have ever met. No detail was overlooked. I will miss our "friendly banter" Guess I'll just have to go back to Colorado and give "school aged children" a hard time. May your lives continue to be a ray of sunshine to all who are on this boat. I need to stop writing now as my eyes are misting. Be happy and safe." -Camel "Please accept our sincerest thanks for an amazing week aboard Liquid Zen! Michael, thank you for your command of the week, your superb itinerary, your expert seamanship, and harassing Carmel so we didn't have to. Casey, thank you for your sunny disposition and your culinary expertise. Your food was delicious and healthy at the same time. I hope you aren't disappointed that we didn't eat until we exploded, but we came close :) This week we will never forget. We wish you much success in the future and hope to someday see you again on the water or in Vail. Hugs to you both." -Scrabbling Seniors & Jake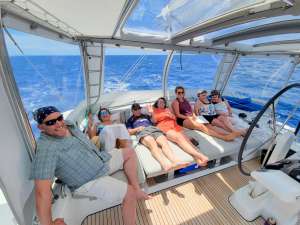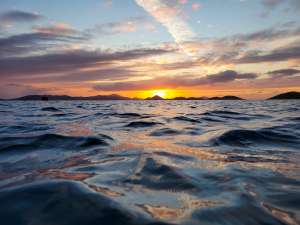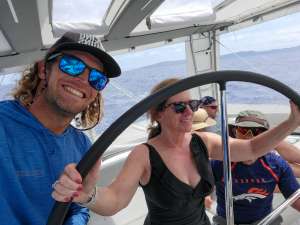 April 2022 USVI Charter
Thank you so much for making our trip so enjoyable. We recognize and appreciate all of your planning and hard work. The trip would not be the same without your cooking Casey and Michael's special cocktails! In the words of Arnold S. 'I'll be Back' Thanks again and with much love. Doug & Kasey Michael & Casey aka Mom & Dad We love you, we love you, we love you. Nuff said Dave & Vic Mom & Dad, what a wonderful week - we loved every minute of it! Thanks for taking such good care of us - now off to college and some new adventures. Sandi & Paul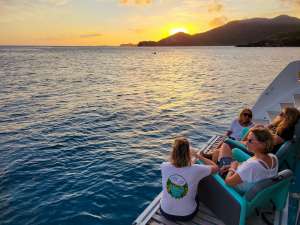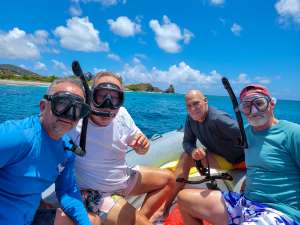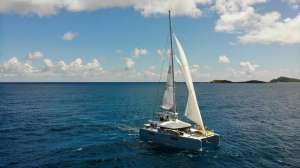 April 2022 USVI Charter
"To say this was the trip of a lifetime doesn't even come close to the true experience that you two created for our family. Our two families, though separated by distance, have been coming together for years, and this is by far the BEST trip we have ever taken. The attention to detail, your kindness, and patience truly stood out. We all know 100% for sure that we landed the best crew & boat in the entire USVIs. We all can't wait to return to meet again & experience the BVIs with you both. Thank you from the bottom of our hearts!" -The Zaps if you ever need an extra crew member for night watch, you know who to call ;) "What a treasure it was to be a part of your Liquid Zen world for a week. Thank you from the bottom of our hearts for making this the best week ever!! It is hard to pick a favorite day/memory from the week. The sunset hike, the "icing", the scuba diving, the FOOD, the drinks, pineapple card game, the night time snorkeling, will all be in our hearts forever. Your attention to detail is so impressive. The two of you make the best team and your hard work does not go unnoticed. Grant is already plotting the next boat trip to the BVIS, but we all agree we couldn't do it with anyone but the two of you! Take care and be safe, and we hope our paths cross again!" -The Coons (aka future Bote Raft Owners :))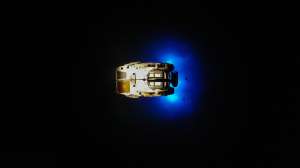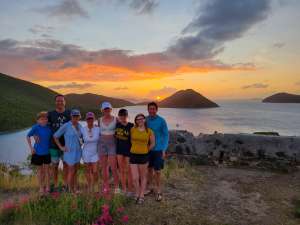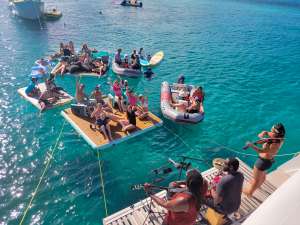 March 2022 USVI Charter
Well, my bags are packed and I'm ready to go :( *crying. We can't thank you enough for such a wonderful, peaceful, gastronomically divine, and adventurous holiday at sea. So many wonderful memories have been made, so many new experiences have been tried, and we are eternally grateful for all you've shared with us, including your most beautiful home on the sea. These islands are magical and it has been so great to slow down and enjoy life's simple joys and nature's abundance. We can't say thank you enough for the 10 Star Service! You've knocked it out of the park!!! I hope that our paths cross again on the mega yacht in the future! Please take good care of yourselves and each other and I hope only THE BEST!! Love & Kisses Jano & Crew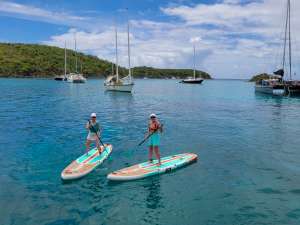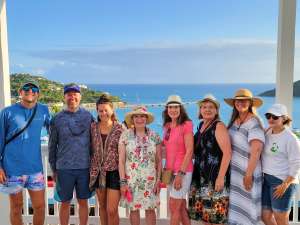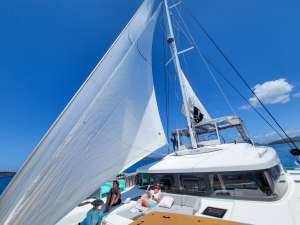 March 2022 USVI Charter
Words cannot express what a wonderful trip this was from start to finish! Casey, the food was meritable! Michael, the drinks and skilled driving were amazing! The turquoise waters will forever be on our mind. Thank you for renewing our vows and planning such a wonderful event. Love Sean and Theresa aka the Caribbean Crew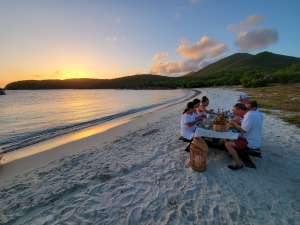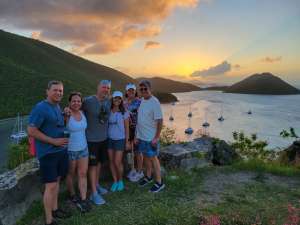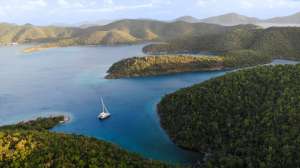 March 2022 USVI Charter
"Thank you both for such an incredible experience on Liquid Zen! Even though our parents weren't able to make it, we had the BEST time and honestly wouldn't have it any other way (except maybe icing Brad at least *one* more time). This week truly was the best relaxation that I didn't know I needed. To Casey: no words other than wow - this trip was filled with the most amazing food and really not sure how I can go back to reality at this point (lol) Thank You! To Michael: Thanks for being such a fun Captain despite our plot to lose the dinghy. Also thanks for initiating Brad into the family by icing him upon arrival. We won't forget these things along with all the other great memories! We had such a great time hanging out with you both, and feel like we are leaving with two new friends. It's been an unforgettable trip & we can't wait to do it again! (maybe we'll even let our parents join next time haha). Cheers! Love Mollie, Hastings, Emily & Brad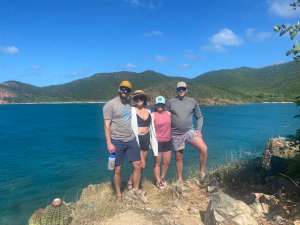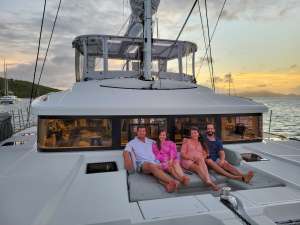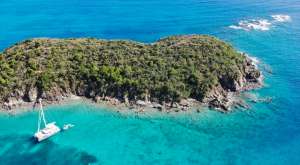 February 2022 USVI Charter
"Thank you so much for such an amazing week. You took us to so many amazing places that when we try to pick our favorites, every one is a favorite. Thank you for taking us to places that weren't on our list, but also making the effort to bring us to the places we read about. St. John is such a beautiful place and we will definitely be back - sooner rather than later. Also thanks for all the patience with us scuba diving - actually getting down and exploring the reef was an accomplishment for all of us...and the food was totally amazing - we always looked forward to what we would come back to. Best we've ever eaten! If you are ever in the frozen tundra of Boston please call! -Brian, Amy, Jackie & Jayden p.s. LZ was the coolest boat in the mooring field!"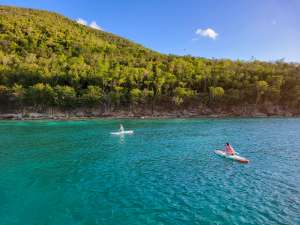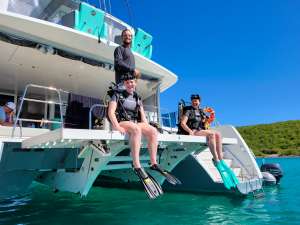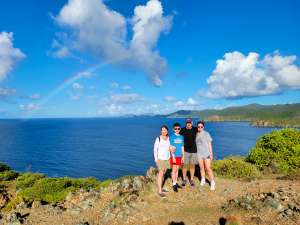 February 2022 USVI Charter
"I think I can speak for all of us when I say that the two of you exceeded any expectations we had as the hospitality extended to us aboard Liquid Zen. While the boat itself is spacious, luxurious, and well equipped, it is the crew that makes or breaks the voyage. And you both made our week aboard so much fun! Your knowledge of the islands, your daily itineraries, your positive attitudes - what fun we've had this week with you!! And Casey - OMG - what a remarkable chef you are!! Every meal was more spectacular than the last. I will think of you every time I try to recreate one of your dishes at home. You welcomed us into your home and we thank you from the bottom of our hearts for an unforgettable week!! (I almost forgot - Trivia Night - Girls Rule!)" -All the best to you both, Lindsay, Renee, Doub, Patty, Steve, Linda & Eric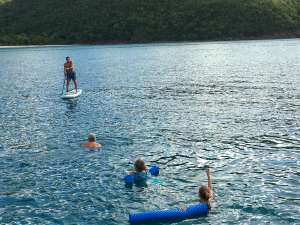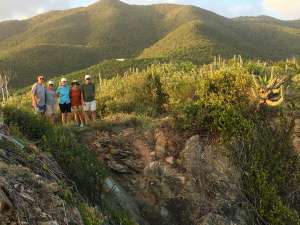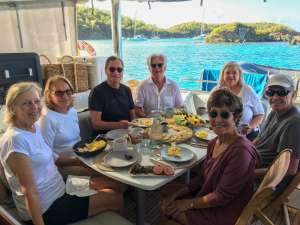 January 2022 USVI Charter
"Thank you for saving our vacation from near-certain tragedy! Not only did we get a great boat, we got an even better crew. You are a great team and top notch across the board. You enabled us to make new friends (including you) while having the time of our lives. Not a boring moment. It is rare to find people in the world who are so good at making others feel so good, have so much fun, and make them eat so much!! We will miss you." -Shaun (aka boat man) & Betty "What a fantastic week...and unexpected given the inauspicious start having our originally planned vacation canceled the morning of our flights. As it turned out, we were lucky. This past week was better than expected - good time with great friends, of course, but with a nicer boat and (I'm sure) a better crew. You two were great, organizing a fantastic itinerary with unexpected surprises - After Irma concert, massages, Lime Out, Zozos...and what wonderful food!!! Thank You!" - Heather and Lou "We have lost ourselves in the moment of "today is today." I am hard pressed to think of another time in the last two years when I have felt so relaxed and carefree and slowed down. This was all possible because the two of you made things so easy, comfortable, and your knowledge of the islands and what you knew we would enjoy. There were too many highlights to pick out just one, but what I will remember the most is the belly laughs with the two of you and all our friends. Thank you for absolutely everything!" - Christine & Rob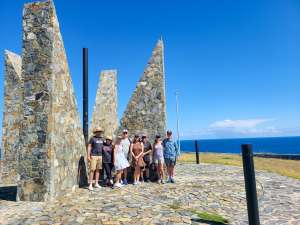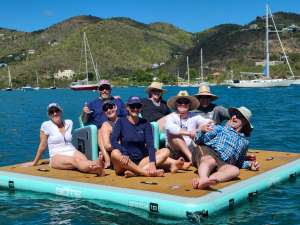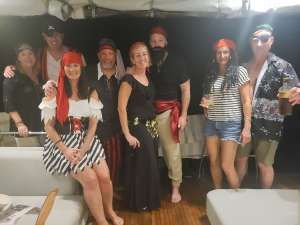 January 2022 USVI Charter
"We are in agreement - this has been the most relaxing vacation we have ever taken. Thank you for that and everything. Love Todd & RJ" "Thank you for everything! We travel a lot and this trip has been one of our favorites. We will be recommending you to all our friends. Love and best wishes Angie & Clint" "Thank you so much for everything! This trip has been one of the best i've ever been on. Thanks for all the fun :) Love Nicole & Nay"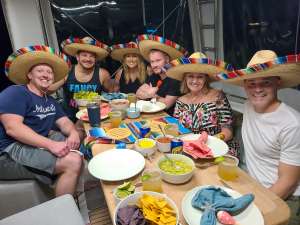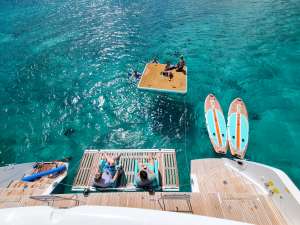 New Years 2021 Charter USVI
"Michael & Casey, Thank you for giving us a week full of experiences and memories that we will remember for a lifetime! From the food that was out of this world, to teaching Shane and Travis to scuba dive, and even showing us the ropes of sailing, we've had the most unforgettable week island hopping around the Virgin Islands! Both of you have shown unbelievable kindness, grace, patience, wisdom, joy, laughter, and love to not only our family, but to each other! Each of you are truly an inspiration to us and everyone you encounter! Thank you for being such a highlight on our trip and welcoming us to your home with open arms. We hope you have an amazing 2022! Love, The Cristiano Family"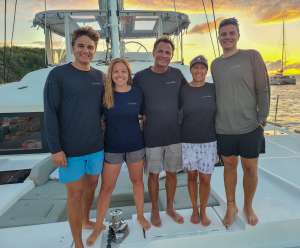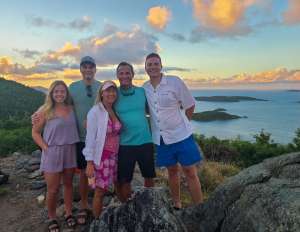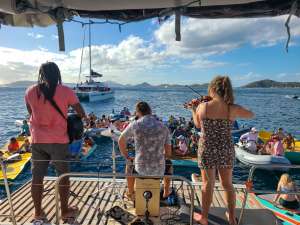 Christmas Charter 2021 USVI
"Wow, if you want the best vacation for your family to make everlasting, very special memories, this is it! A one-week cruise with Michael and Casey, our captain and chef, was just what we all needed to reconnect and spend quality time together. Our family of eight including my husband, our two daughters, son-in-law and three teenage grandchildren spent one week on Liquid Zen, a beautiful 52-foot catamaran with all the amenities. Without a doubt, we had our best family holiday ever! Michael and Casey pampered us from the moment they met us at the dock and helped us unload our luggage from the van to helping us with our luggage into the van when we, very reluctantly, started our journey home. They had wonderful suggestions of some extras, which I fortunately said yes to. Both were surprises for my family (it was a Christmas cruise) – the first day a massage therapist came aboard to give each of us a relaxing massage, which was the perfect way to jump right into "vacation mode." And, the last day, I surprised everyone with a super band of three and as they played and sang from the swim platform on our boat, other boats and floats came to share in the fun and frivolity. Casey is a superb chef, so consequently mealtime was a real highlight of the trip – it was magical how such yummy food (and snacks) appeared many times each day just when we started to get hungry! We ate and ate, and she prepared special food for those of us who are gluten-free and vegetarian. Fortunately, there were many activities to prevent us from having to be rolled off the deck at the end of our cruise! We swam, snorkeled, went scuba diving, paddleboarding, hiking, ate lunch one day on a floating pod (whoops, this is in the wrong category!). There were all sorts of fun water toys that kept appearing – floats, floating chairs, kayaks, paddleboards where all sorts of silly games and competitions ensued. The sea life was never ending – sting rays, turtles, starfish, tarpon, multicolored designs on a myriad of fish swimming alone and in schools. At night, we watched the same sea life from the platform at the back of the boat all lit up from above. In the evenings we played our guitar, listened and danced to music, played cards and both night and day a lot of chess matches were happening – when we could get Michael to stop working, he won every game! He also designed a very interesting trivia game, which once again brought out our competitiveness! We highly recommend this 5-star experience with Michael and Casey on Liquid Zen!! We can't wait to go back!!!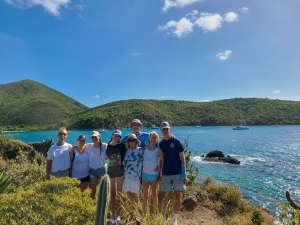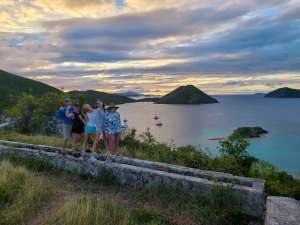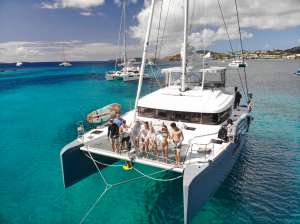 Previous Charter Reviews
-Michael & Casey Senior Spring Break – March 2021 'Everything about this trip was absolutely perfect. Michael & Casey clearly love what they do and their passion shows. After a number of boat trips, this is my all time favorite and we will be back!' – Monica 'Thanks for the unforgettable week. Best trip we've ever had! Next time you're in Rains look us up.' – TA 'Thanks for the perfect trip for us Newbies! The food and adventures – we will never forget. The attention to detail was on point! Can't wait to sail with you guys again and thanks for making us "seniors" feel young again ' – Angie 'Thank you for an amazing week on the sea and in the sun! Top notch crew, my favorite yet, that didn't miss a thing. I appreciate your attention to detail and how you went above and beyond on the menu and taking us to places we hadn't been. You will be missed and y'all make us want to come back!' - Stacey and Big Nate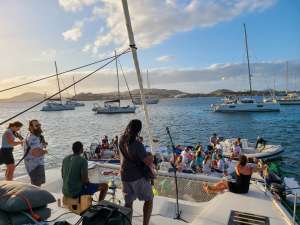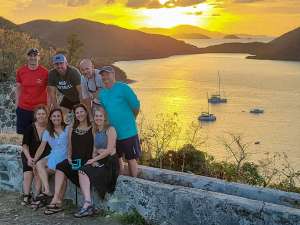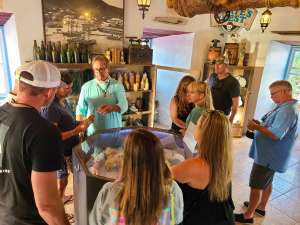 Previous Charter Reviews
-Michael & Casey "We've traveled all over the world and this has to be our favorite vacation so far! Thank you for taking such good care of us! Michael was a great Captain from working the sails to navigating the dinghy in the dark. Casey - the meals, snacks, and drinks were way beyond our expectations - every meal was the "BEST MEAL" (seriously create a cookbook and make some side $$!!). Our trip has ended much too soon - let us know where you are in a year so we can book another charter with you! If you're ever in Atlanta, you have a place to stay so give us a call (same with Nashville! Come see us & we will take you to Broadway :)). God Bless you in all your adventures!" -The Grimes, Greg, Melissa, Conner, & Kristen Duluth, GA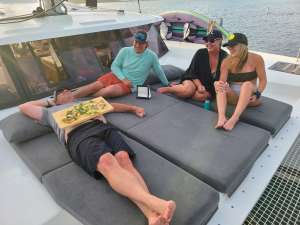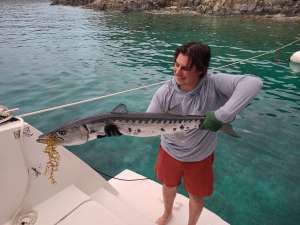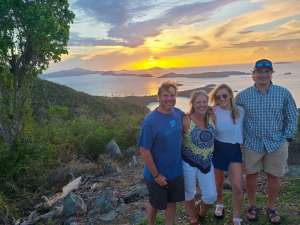 Previous Charter Reviews
"Michael & Casey Thank you for an amazing vacation. From snorkeling to fishing to hiking, you helped us create so many fun memories! Not to mention a super fun New Years Eve celebration and extra-special triple birthday party! The food was absolutely spectacular, so delicious and thoughtful. We loved seeing the kids try (and enjoy!) so many new things. We had a blast, thanks again! Until next time -- The Kinneys and Lily & Cole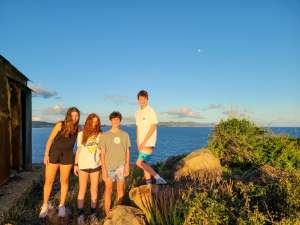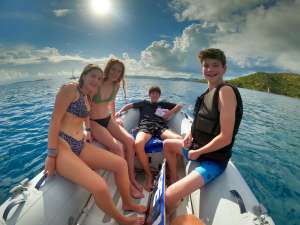 Previous Charter Reviews
-Michael & Casey "Thank you so much for guiding our Virgin Islands Adventure. Everything was fantastic! We loved all of the locations we visited and all of Casey's cooking was amazing. I think our group especially liked the sea turtles in Maho Bay and the Eagle Rays in Christmas Cove. We all really appreciate the experience you provided. We certainly will not forget it. Thank you! Thank you for all the things you did to make our family sail an unforgettable adventure. We will never forget it! We appreciate it all. This was a long anticipated trip, thanks for making our family time so free and easy! We appreciated your care and attention more than words can say. Lots of love from the Brodigan/Walter families!" -Mike, Judy, Kelly, Mike ii, Joel, Grace, Jason, Misty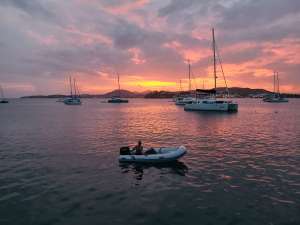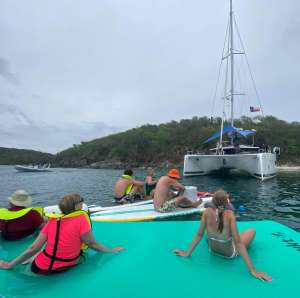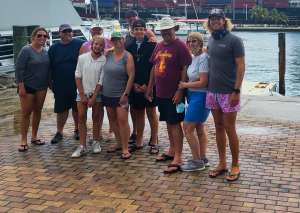 Previous Charter Reviews
To Our New Friends, Casey & Mike "Mason will never forget, or live down, night fishing in the National Park ;) Beyond that, the adventures we shared will be talked about (and laughed about) for the rest of our lives. Every time we play Pineapple and catch Ayden peeking at his cards we'll try to replicate the cold, hard stare Mike would cast his way haha. Some amazing first time experiences include swimming with sea turtles, hovering over eagle rays while listening to the band on the bow, and probably everyone's favorite fun activity was sub-winging off Great St. James. It felt wonderful to be exhausted at the end of a fun filled day and wake up to a delicious breakfast and read the Plan of the Day, knowing each day would be better than the next. After a rough year, this was the perfect way to celebrate our life together, and be thankful to have seen such a magical place. Your hospitality was amazing I hope to keep in touch over the years." With Love, The Tokarz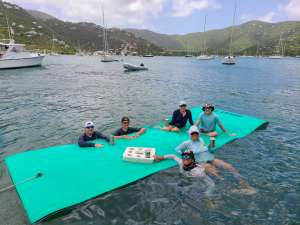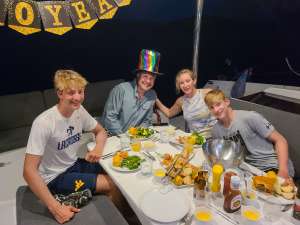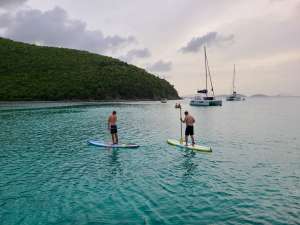 Previous Charter Reviews
"Thank you so very much for making this trip truly unforgettable! You took care of our every wish and were so kind to our children, just like family. We enjoyed the games, movies, jetskis, paddleboard, floating mat, dinner on the beach, snorkeling, and conversation. We pray that you have a Merry Christmas and a Happy New Year!" -Joseph, Sarah, Drew, Faith "Thank you so much for creating all the wonderful Christmas memories. Everything has been amazing. Every morsel of food was the best. You both went above and beyond to make everything excellent. May you have a blessed Christmas and Happy New Year. May God show you his love and joy." -Mark & Teresa Tucker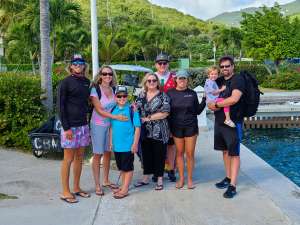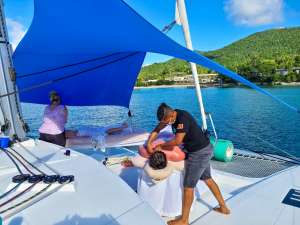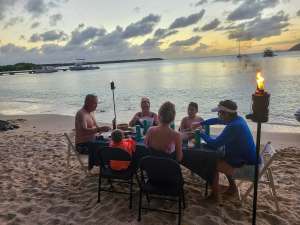 Previous Charter Reviews
-Michael & Casey "I wanted to thank you for making this trip the most memorable trip we have ever done. Everything was exceptional. You clearly go above and beyond for your guests. We would definitely book again." - Eric & Melanie "We loved it all! From the amazing food to the fun jokes and talks we had, you both truly made this a memorable trip! Thank you so much! :)" - Mark & Julie "Wow...definitely a trip of a lifetime and you both made it incredible. Thank you so very much! Everything was more than expected. You went above and beyond on all aspects of this cruise. Thanks again. Hope we can do this again with you two, of course." - Carol & Mike "Thank you! Thank You! The trip was amazing. You guys went above and beyond on all levels, food, and laughs. Wonderful." - Maureen & Bob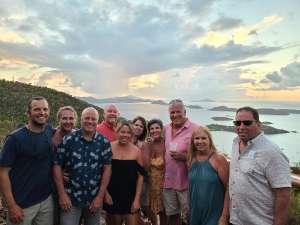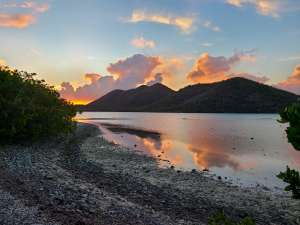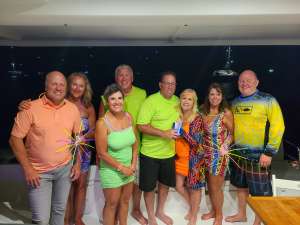 Previous Charter Reviews
-Michael & Casey "This very last minute vacation ended up being one of my all time favorite family trips ever. The balance between relaxing and activities, the comfortable boat, and the perfect food were exactly what we needed after a Covid Christmas, Thank you Michael & Casey and I hope to see you for a repeat before too long" -Lindsay "Thank ou Michael & Casey, you took care of us very well. Casey the food was spectacular and both of you anticipated our every single need." -Ada "Thank you for being so kind and fun and making yummy food" -Isabella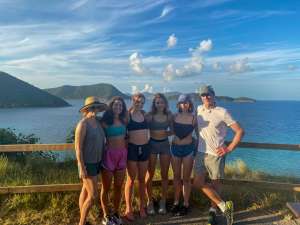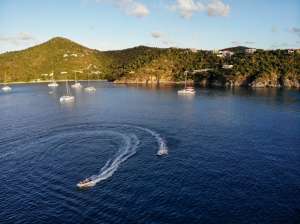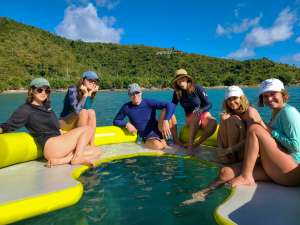 Previous Charter Reviews
-Michael & Casey "I can simply say BEST VACATION OF MY LIFE! Thank you for making it absolutely wonderful, you both spoiled us and we totally appreciate it." - Shannon, Joe, Trey, Kayla Bass "Thanks for the wonderful tour around St. Thomas, St. John, and the other islands! Excellent guides, entertainment, and meals made for one of our best family vacations ever. Until we see you again." - The Harkeys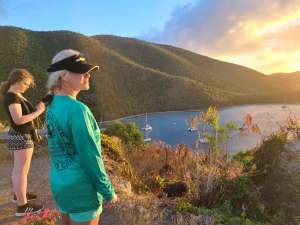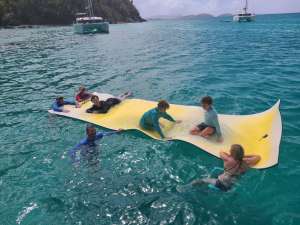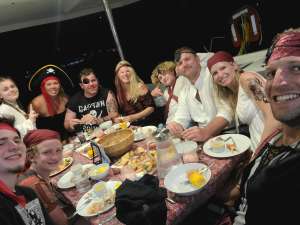 Previous Charter Reviews
-Michael & Casey "What should we say...EVERYTHING was superb. Thanks for the great vacation! The food was so yummy, hikes, snorkeling, and boat time were on point. This is one of those vacays we would definitely do again. You guys are the best! Don't forget if you're ever in Dallas, you've got a place to stay." -All our best, Karen, Marc, Jared, Justin, and Rachel Shalek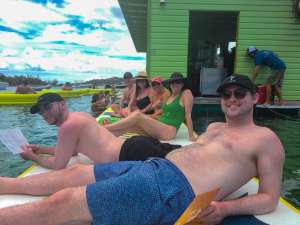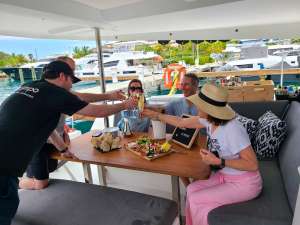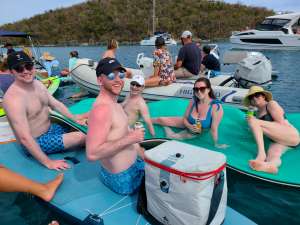 Reviews
-Michael & Casey "What should we say...EVERYTHING was superb. Thanks for the great vacation! The food was so yummy, hikes, snorkeling, and boat time were on point. This is one of those vacays we would definitely do again. You guys are the best! Don't forget if you're ever in Dallas, you've got a place to stay." -All our best, Karen, Marc, Jared, Justin, and Rachel Shalek