Charter Yacht MANNA Guest Reviews
May 3-10, 2022 Good Friends
Thank you to Wayne, Lu, and Allen. We have looked forward to this trip for years and your kindness, knowledge, and patience made it a wonderful experience. We came with four wonderful friends and feel like we're leaving with three more. Safe sailing Susie and Dale Thank you for an amazing week aboard Manna and traveling through the USVI and Puerto Rico. Your constant attention to our wants and desires was over the top. The meals were excellent, and the overall provisioning was outstanding. We loved to lose notion that we came aboard as strangers, but we leave as family. We couldn't agree more! Marshall and Caroline We truly appreciate all you did for us to make this last charter unbelievable. Service, food, cocktails, and most importantly the company was Absolutely Fabulous. Thank you for making the entire experience perfect. Truly, truly a pleasure meeting you Lu and Allen, we wish you all the best on your next adventures and charters. Ethan and Jo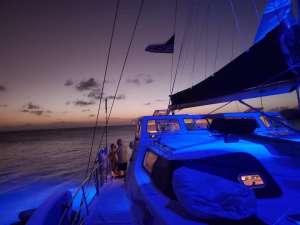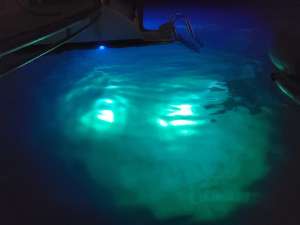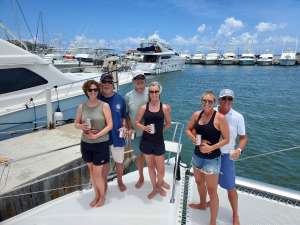 April 24-May 1, 2022 Let's Discover Scuba!
Grateful, blessed, calm, peaceful, connected, and so full of love for these new amazing friends that are now family. I would say it was an adventure of a lifetime but really, it's now an adventure I plan to repeat and repeat. This is truly living. Soaking up each moment, fully present, immersed in all of the beauty. Captain Wayne and Lu made it all just the most enjoyable and easy experience. So full of joy for what they do in the place they call home. Thank you for sharing your passion with us we are forever grateful Mary No words can adequately describe just how magical the past week aboard Manna with Wayne and Lu was. Thank you for an amazing week. Thank you for the great food, drinks, laughs, diving and sharing your amazing stories. You're an inspiration and have given us much to think about to create an amazing lifestyle. We hope to cross paths with you again soon Andy We had an absolute blast. We didn't know what to fully expect having never done a boat trip before. It offered such a great experience, great times, snorkeling, sitting around at night and sharing stories, discover scuba, etc. Food was great and drinks were even better period definitely a trip worth repeating, but only with this crew. Wayne and Lu were the best! Thanks for a great adventure. Ronnie What an unbelievable adventure. Water has never been a sport that we have embraced. It opened a whole new world to us that we absolutely love. Thank you for your patience and allowing us to explore the underwaters in our discovery dive course. We hope to come back for more. Your hospitality is second to none. We feel like a part of your family. Lu, the food was outstanding. Your sweet personality is infectious. Mary Lou I had no idea a catamaran trip would test my physical and emotional limits but this one sure did. Discover scuba challenged me to overcome fears and I'm a better person for completing the adventure. The hospitality was genuine and easy going. We felt like family from day one period I lost track of time which is my test for a great vacation. Manna and USVI are etched in our memories for a lifetime. George I am grateful for the week aboard Manna. Of course, the food and fun will be with me forever. But what's more, is the feeling of healing and escape that I experienced through discovering the ocean and its life above and below the water. God's creation and a vast portion I've never known. With love and gratitude TimThank you! Wayne and Lu! We had the most amazing time sharing this week with you. This was truly exceptional adventure then it would not have happened without the two of you we are looking forward to our return trip in the future. Blessings to both of you! Linda Thanks for the most amazing week ever! Could not have been better. Can't wait until we return and a big thanks for helping show me the lines! Phillip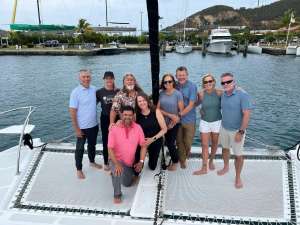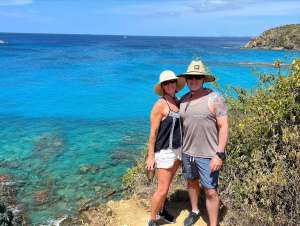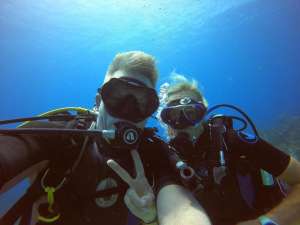 April 10-20, 2022 USVI and Puerto Rico
Overall great experience with wonderful people. We got to experience the usvi and Puerto Rico which we had never been to at all. Captain Wayne and Lu made our trip very special because they are so very wonderful people. We enjoyed spending time with them and getting to know them. Really enjoyed the sights and learning about the area. Snorkeling was fantastic and we had a blast going to some smaller beaches and having a great time there with friends and family. Wish we had more time, but we will be back again. Thanks for all who joined us to make this great Jerry My only complaint was there no manner stationary in the cabins to write a formal thank you to you and Lu we had a fantastic experience on this beautiful boat. So glad you had this book! Your knowledge of the islands we sailed was very impressive! You made such an impression on me with the tales of your life, weather falling from the sky or sailing across the seas! You also roll some mean dice! Thank you for making us laugh with your great sense of humor. Also thank you for the great effort you put into marrying my wife and myself. It was a beautiful ceremony that I will always remember the rest of my life! My only wish is that we will cross paths again someday soon. All the best to you! Bob and Kim What can I say, it was truly an amazing trip. Second time sailing on Manna was just as incredible as the first. There is a saying we have, "would you trust your vacation to anyone else? And the answer to that is a simple one no". The crew of Manna goes above and beyond to exceed all expectations the only disappointment is the day we have to stay, see you later we don't say goodbye, We say see you later because we will see the crew of Manna the next time we sail with them. Until that day take care of my friend! Bob and Barbara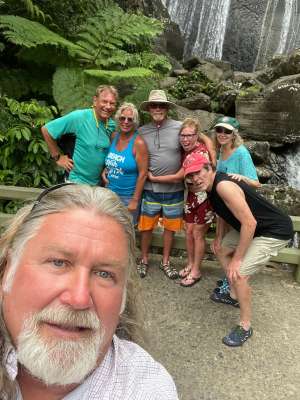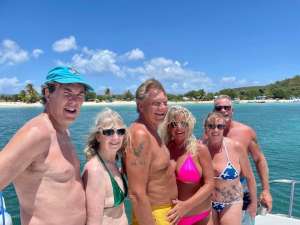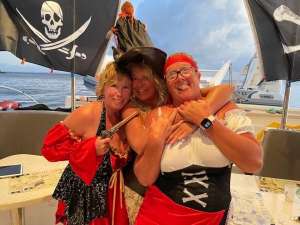 April 2-9, 2022 1st USVI Trip
We always wanted to try a liveaboard and Manna exceeded our expectations. This was also our first trip to the USVI, and we enjoyed seeing all the different islands and bays. Captain Wayne had great suggestions for dive sites, and activities and navigated the seas with expertise. Lu always had a great meal prepared and made us feel right at home. Wayne did an excellent job grilling, and always had interesting conversations. Both were so warm and welcoming, and we immediately felt like part of the family. Definitely would recommend them for anyone and all! Lisa, Walt, Wes, Erich and Kenzie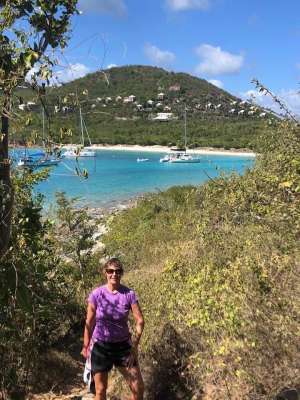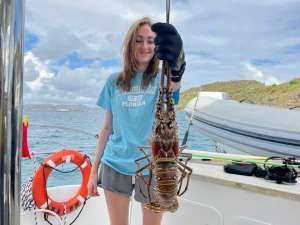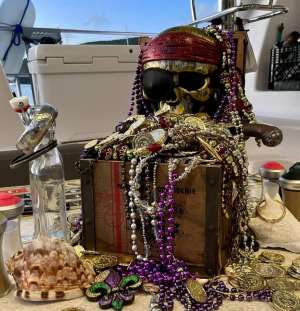 March 19-26, 2022 Family Time
It was a really good time I had, and a lot of fun and I would recommend people to come here. The food was really good in playing all the games was really fun. I hope I can do this again Angelina This was truly a once in a lifetime experience! I couldn't have asked for a better captain and first mate there was amazing food, fun games, breathtaking waters and adventures. Thank you so much. Chloe First, this was an amazing trip. Captain thanks for inspiring me to return to diving. Thanks for your willingness to do whatever necessary to provide calm waters period last but not least, thanks for the conversation. I hope your next adventure is everything you hoped for. Lu thanks for the amazing food. Thank you for keeping everyone entertained. I hope your new adventure is everything that you and Alan have dreamed of. Best wishes Kelly and Renee Wow! This trip was a trip of a lifetime with amazing experiences. Thank you for making sure we all had the chance to try new things, new food, new games and mostly see the new beautiful places. I love to get to hear all of your experiences and it sure made me realize anything is possible if you just do it. Andrea Wayne and Lou made this trip great! They took us to do many things that all of us could enjoy. They treated us amazing and made us feel so welcome! Thank you for all you guys did. A week full of smiles. Food was so yummy. Overall, this was for sure a trip I will never forget Sophia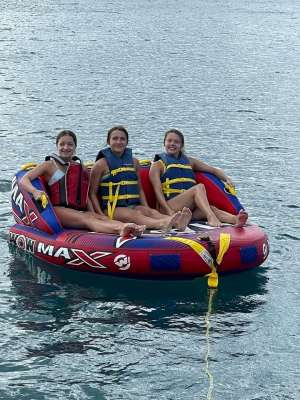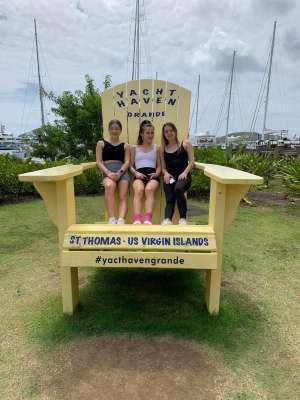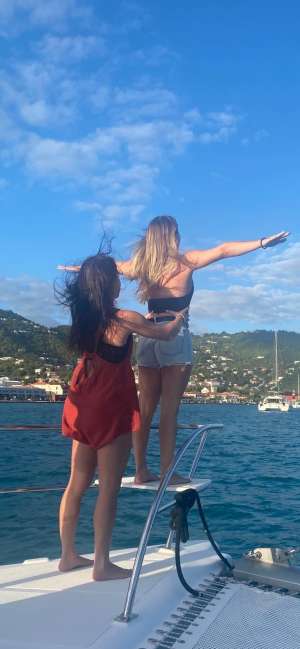 March 7-13, 2022 Father and Son
Thank you for an amazing week on Manna. The boat was amazing in the diving while murky at times was also fantastic. Wakeboarding was a blast and I hope to do it again. I loved playing games after dinner and the food was great. I hope to be back soon Adam And now our week aboard is done, the boy and I had lots of fun, with captain Wayne and 1st mate Lu, our time aboard the Manna flew! Thanks for a great week! John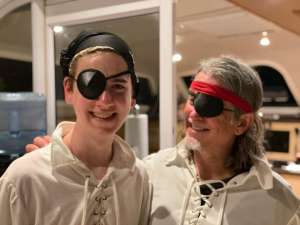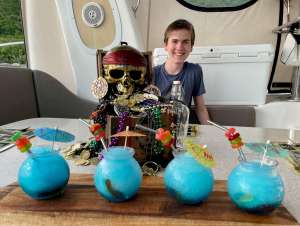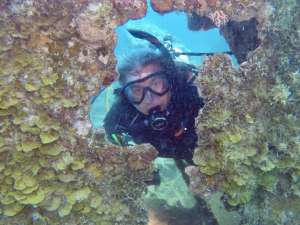 February 12-19, 2022 3rd time's a Charm!!
The third time was a charm on Manna for our crew. I found no better vacation with better people that aim to please and hit the mark every time! Food, fun, sun and the kind crew. If we travel the world, the experience on Manna will call us back every time. Bill and Wendy This was our third voyage on Manna. It was every bit as good as our first two. Lu's food was excellent, the weather was fine, and our hosts became old friends. I'll sum this up with the chorus of our song. Raise a toast to manna, raise a toast to being free, raise a toast to manna, she's my lady of the sea, I hope to see her sail again ,I hope that I will be on the deck of manna with captain Wayne and Emily ! (And Lu) Dave and Jill Thank you for an awesome voyage! We cannot wait for the next time period we hope to come and see you next time we venture to Puerto Rico to have a toast and dinner. Thank you for the snorkeling and diving. Made the trip even better period if you can get any better. Very relaxing and beautiful islands. Cannot beat this trip. See you again soon! Scott and Cindy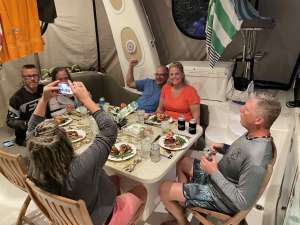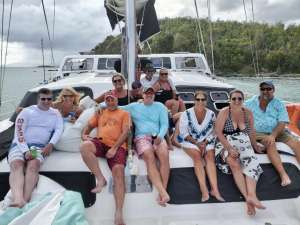 February 2-9, 2022 Relax!
Captain Wayne, thank you for another amazing charter wonderful views, great sailing, fun on the subwing and paddleboards. Hopefully this charter was easier for you than our last one! Lu great job learning the ropes! Your food was delicious, and the presentation was beautiful. Extremely relaxing vacation! May you stay positive and test negative. Mark and Amy Words can't express how grateful I am for our charter. Even though I've spent lots of time on the water, I really appreciate all of your expertise and insight into Puerto Rico. Your sense of humor and willingness to put up with our silliness was awesome! Lou you are a remarkable lady and helped us feel welcome! Thank you for all of your dedication to our awesome experience. Loved our cocktails, meals, and camaraderie! Chrissie The best way to spend our pre honeymoon is on Manna. Cruising the Virgin Islands and Puerto Rico was amazing! Captain Wayne, your sailing experience and stories kept us entertained. Lu, your hospitality made everyone on board feel like family. Donna and Duck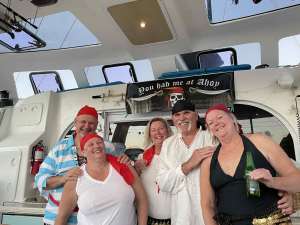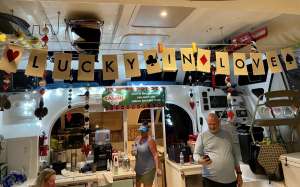 January 18-31, 2022 Two weeks in the Spanish Virgin Islands
What an extraordinary 14 Days! Thank you for your amazing sea talent and sharing those with us. A memorable trip in so many ways. From all the amazing meals to skiing, scuba diving and some incredible adventures including Monkey Island. You all are such blessings to us girls. See you soon for trip #3 onboard Manna. All our love, Dani, Amy and Sally P. S. Amy here- "In those last few months of my life that will surely come someday, I pray that I am visited by the thrill and joy of careening around the whip on my slalom ski with you, my captain."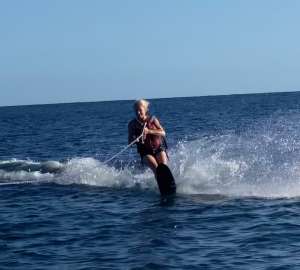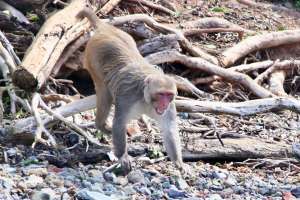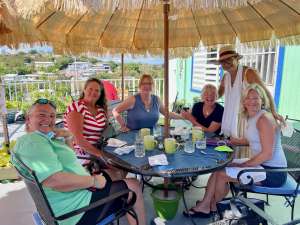 January 6-13, 2022 Advanced Dive Training Johnson Family
Lu, thanks for the egg whites and the hospitality, great food and great cocktails. Wayne, you're probably one of the most interesting people I've ever met. Diving with you has been awesome, game nights taught me never to trust a pirate, and your stories are awesome. I hope my life is half as interesting as yours. Maybe if I become an owner, I'll take you out on some dives!! Thanks to both of you Matthew Manna is awesome! You both made us feel welcome and pampered the entire trip. Thank you, Lu, for the wonderful meals so delicious and fun. You encouraged me to relax and accept the reset. What a special way to make me feel all the relaxing vacation, the blue seas, the gorgeous clouds and the time to read in the wind. Wayne. You are a great teller of stories! I so appreciated hearing your tales and adventures from around the world. Thank you for caring about others and making a difference in so many lives in your mission trips. I thank you especially Wayne for giving us so many scuba dives, and for taking Matthew through the advanced open water course. We loved the nightly games, and your skill in boating. Eileen Thank you for one of the nicest vacations I can remember! Lu, your kindness and attention to detail was such a blessing really allowing me and my family to relax and enjoy. Your meals and special provisions for Matthew were greatly enjoyed and appreciated. Wayne, you are such a terrific host! You made the travel and the diving interesting and painless. I loved hearing your stories, thank you for sharing how God has worked in yours and Emily's life now positively affecting so many others. I hope to come back soon with my family on another Manna adventure. Herrick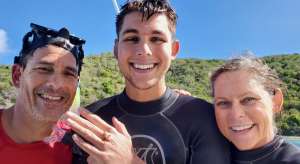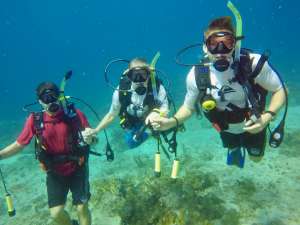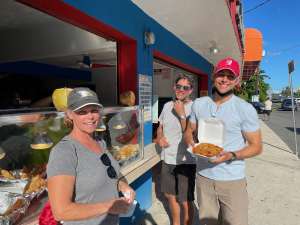 December 27 -January 2, 2022 New Year's Scuba Lessons
Thanks so much for our week of adventure. We will never forget our days filled with scuba and nights under the stars. We will certainly miss the captain's cocktails while watching the sunset over the water. Keep roaming the seas. Kevin and Maeve Dear Captain Wayne, you're a fun pirate , you Arrr.... Thanks for teaching us Scuba Diving, sailing and wakeboarding. We had a great time and are going to miss your toasts. May your future be full of treasure. The Dice Man Wow! What a week! Thank you for all you did to make the week so special for our family. It was a week of firsts for us, snorkeling with the turtles, scuba diving as a family, sleeping on a boat, and sailing the US Virgin Islands. I enjoyed great views, great food, and great company. Thank you for the kindness and patience you showed us. We leave here with great memories. Wishing you all the best in 2022 and always. The Christmas family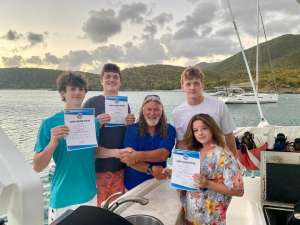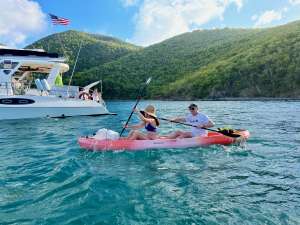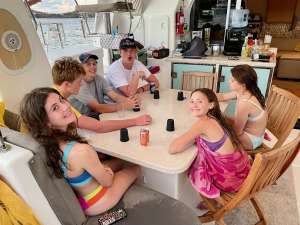 December 19-26, 2021 Kudlacz Family Christmas
We had such an amazing time this week. You always made sure we were doing what we wanted and we adjusted to everyone's likes. The food was more than what we expected! It was delicious and always felt like we were dining in a fine restaurant, thanks Lu! You are a pro! We had so much fun. We wish you continued success and health. Kudlacz Family Thank you for an incredible experience. I came in a little hesitant on how fun a week could be in close quarters, but was blown away at the quality of the ship experience and service you all have made me a lifetime lover of the sea. Lu is a great chef! Stephen Thank you for the best week filled with amazing food, fun, games, total relaxation, and captain's cocktails galore! Your attention to detail was everything! Sam Thank you for the best week ever! Wayne, your energy and expertise made everything every adventure fun. I always felt we were in the perfect spot, whether it was the coolest view, best snorkeling, or most fun beach bar. Lu, I am going to miss your cooking a lot. All I'm saying is I will be dreaming of that banana pudding for years. Thank you again and good luck with your future adventures Libby Can't thank you enough for the great week we had on board Manna. It was a blast watching my family enjoy what will be known as "the vacation of a lifetime" Jeff I never wanted this trip to end. This trip was so much fun and something we will never forget. I was nervous to spend a whole week sailing but now I don't want to leave! The snorkeling, swimming, and gaming was so much fun. I will definitely be taking liars dice back home. And the food, "Yum" is all I have to say I never had anything I didn't like especially that banana pudding. Thank you for sailing us around Paradise. Y'all are truly the best! Syd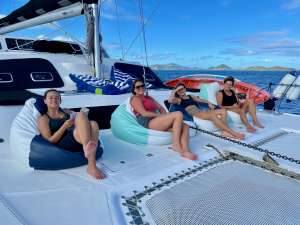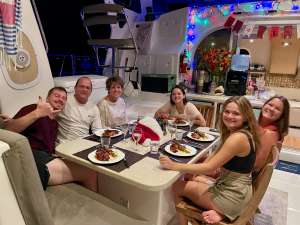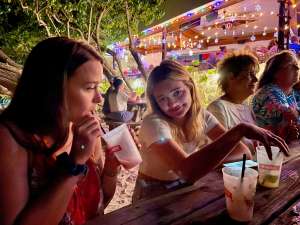 November 30-December 7, 2021 Spanish Virgin islands on our second trip!
I can't possibly put into words how wonderful our trip has been! A fantastic week all around with you to as the ultimate hosts. This week was just what we needed to totally relax and celebrate our 40th wedding anniversary and it was such fun to be here with Janet and Tom. Emily, the food was amazing every day and every meal was wonderful! And Wayne, thank you for your patience and willingness to help me with diving again. You are amazing. There are so many other things that made this trip so lovely and memorable! Thank you for everything and we will be back. Suzanne What a wonderful week we have had on Manna. You're both wonderful hosts, the food was perfect, the diving was great, and most important the mood was welcoming, calm, patient and sharing. Couldn't have been better. Thanks so much see you next time Tim Wow! What a trip. Again! A beautiful way to celebrate our 35th wedding anniversary. I am so glad my sister and brother-in-law got to meet you both and have the Manna experience. Emily you are amazing and the hard work you do every day is amazing! Wayne, you keep us going! So happy to have been on Emily's last hurrah! We will be back. Jan and Tom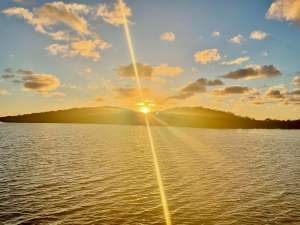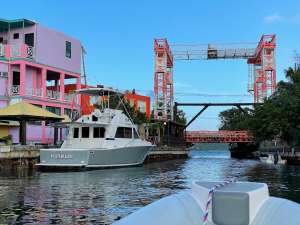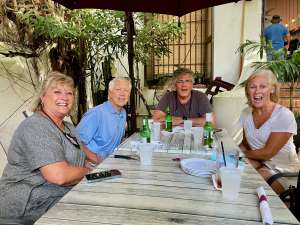 November 21-28, 2021 Sutton Family Dive Trip
Thanks for an incredible trip! It is always special for our family to come together and you all provided us with a perfect opportunity. The adventures were tremendous and the food was incredible! Thank you so much for the great memories Bill and Hillary Thank you for a fantastic week aboard Manna! The food, the dives, weather and most importantly the company, created many memories we will cherish forever special thanks for helping me get my PADI certification. We will be back! Emily and Neil Thanks so much for a fantastic Caribbean vacation. You are so fun and accommodating. The food was absolutely delicious and you customized the trip exactly to our needs! What wonderful memories we will have forever! Doug We so enjoyed our time with you on the manner your trip the itineraries the food the activities and you made a week of lifetime many thanks for all you did for our family it was fantastic Patty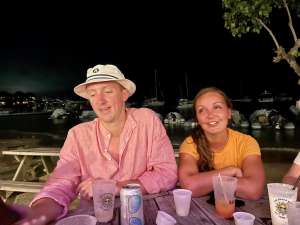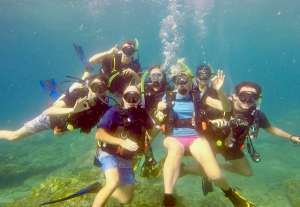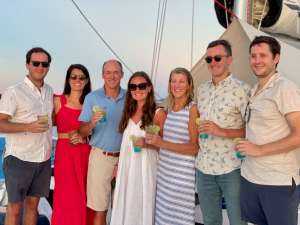 July 28-August 3 Family Diving Fun
Words can not describe our week on Manna. Seeing the blue waters of the islands are equally hard to capture on photos as they are to put into words. Our week on Manna with both of you has been paradise. So glad we had you as an instructor as we finished our scuba certifications. We appreciated your attention to details as we did our lessons, and knowing that we would be having a delicious meal prepared by Emily excited us. Her meals were out of this world! Our nightly games ended each evening on a high note!! We are still wondering how Wayne managed to win most of the time. We learned new games that will be with us forever. Our nightly Captain's Cocktails were a treat. Our week has been spectacular and we owe it to you both for taking such good care of us and making this week most relaxing and fun. Jay and Lisa Thank you for such a spectacular trip! I had an amazing time with you. The food and cocktails were out of this world! I am beyond thankful that I finished my scuba certification with you. It was amazing. Playing games with Wayne after dinner was so much fun. Thanks for making this such a memorable trip. Leslie Thank you for everything this week. I am so happy we finished our certification and see so many things while diving. Every meal and Captain's Cocktail was amazing and I have picked up a few recipes to take home with me. Thank you for being patient with us and helping with whatever came up. It was special to have all 6 of us together this week and I'm happy we were on board with good company. Caroline Thank you so much for giving my family and I an amazing time this past week. I will remember this trip for a lifetime. From Emily's amazing food and Wayne's cocktails, my taste buds and stomach were always satisfied. Thank you for laughing and joining us on the late nights outside. Scuba is now something I can do for the rest of my life , thanks to you! JJ Thank you for being part of one of our last family vacations. As we get older it gets harder and harder to all be together. It was a magical and special week making memories that will last a lifetime. What an incredible life you two share to always help make these memories possible. You guys are amazing and made this trip so special. I wish you all the best in life and hope to see you again! Ellie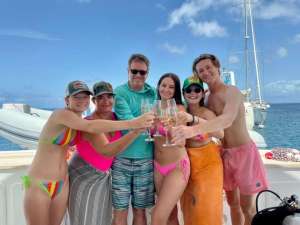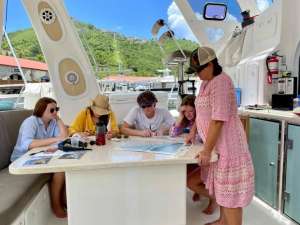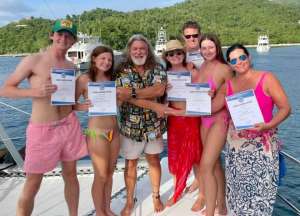 July 17-25 Off to St Croix
Thank you for your hospitality and sharing your home with us for the week. The memories will last a lifetime. We checked everything on our list and so much more. The food was amazing! We will be making the ceviche at home!! We will be playing ship, captain and crew at home as well. The trip to St Croix was great and an adventure! The excitement of catching fish and navigating the storms added to the adventure. We hope to return soon! Doug I can't thank you enough for such a relaxing and enjoyable trip. I loved the family time that we were able to have on the catamaran as well as the wonderful food and hospitality. I know it was not easy to cater to the kids all week, but you both did it with grace and a sense of humor. I wish you the best in the future and hope that we can do this again. Thank you so much for an amazing vacation. Christine I loved every meal that I had on the boat. Thank you for teaching me so many fun and new games. I hope I can do it again! Allison 10 years Thank you for making this vacation a great experience. My favorite part was seeing the turtles! I will never forget this week!! Lauren 12 Years What a wonderful week it has been. Thank you for the hospitality on the boat. From amaxing site to amazing site, you always knew where to lead us. With a blend of adventure and relaxation, couldn't have asked for a better vacation for the family. All this….and keeping us well fed…even with some challenging dietary restrictions for me. We hope to be back for visit number 2 on Manna !! Eric and Danielle I loved snorkeling with the turtles and building a sand castle. Thank you for the trip. Carter 8 years old My favorite thing was tubing and making sand castles. I loved swimming! Claire 6 years old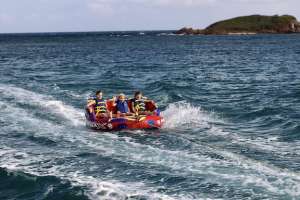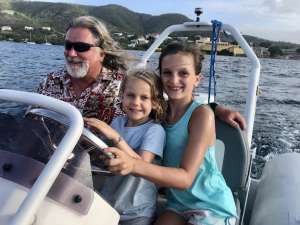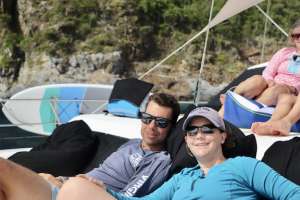 July 2-12 Second Charter New Location
Thanks for another great birthday week. Great food, great drinks and great friends. Plan on our continually impressed by your gracious hospitality and immense friendship. Looking forward to staying in touch. Pam and John From the first night to the last morning, once again an amazing time. So hard to put into words how much we appreciate your kindness and your hospitality. Let's see, we started with a trip to the BVI, now Spanish Virgin Islands so till the next trip, we shall see…. Jill and Vince Words cannot express how much we enjoyed our trip again with you. And how special you made our trip, but most importantly the friendship that has evolved has made it all so much more special. We hope you too will still be chartering in another couple years so we can do this again but if not, our friendship will definitely continue. Enjoyed the new beaches and reefs of the Spanish Virgin Islands and sailing downwind. Following winds always! Bob and Jo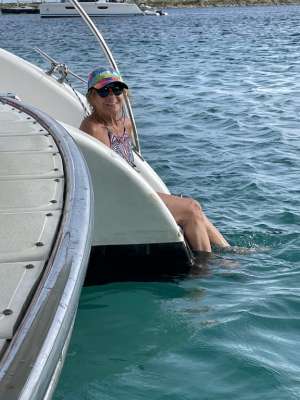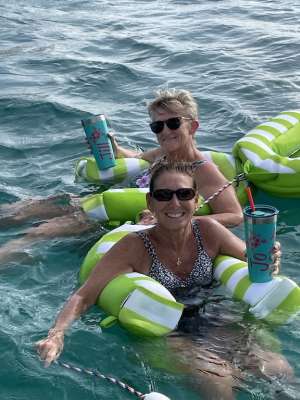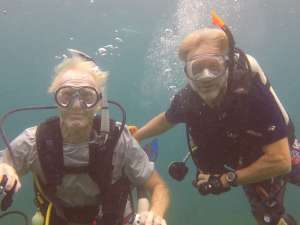 June 20-27, 2021 Family Dive Training
Thank you for all of the great expeditions that we spent together. You two work so well together. I learned how to dive from one of the best divemaster I have ever met. Diving is something I will always cherish. (Night dive was the best). I loved all the food that we had on this trip. It was like from a 5-star restaurant. Thanks, Wayne, for showing me your Tilly hat, I now have my own forever!! You guys made a vacation with great memories I will never forget. Lucas To the king and queen of the charter world or should I start with the queen and the king. This is an experience I have been wanting for a longtime, since I was a kid on my parents' boat. This trip has given me my youth back at least in my mind. It had a little bit of everything that I enjoy in life whether it was the diving, water skiing, snorkeling, sun, food, drink, toast, and family and friends. Emily, your menu was divine and thanks for letting me do some things on the boat that made me feel like I was a part of the crew. Wayne thank you for taking us for the ride of our life and the diving was what I had been waiting for!! Lou Thank you for my voyage! I have learned so many silly tricks that I will try to perfect. I especially enjoyed our trip around St John, and I will always remember each opportunity to snorkel. You are both so calming, knowledgeable and funny. Wishing you both the best the world can provide, until we meet again. Donna This is been one of the best vacations I've ever been on. You guys made this experience so amazing so thank you. If we had a different crew taking us to these places, I wouldn't have liked it as much. I love diving. Wayne, the way you taught us made learning fun. I would say scuba diving is one of my favorite things now. Emily, your meals were wonderful and your sense of humor was great. You guys both made the past few days some of the best. I wish I could spend more time on the boat! Alex We waited two years for this trip and it was worth the wait! I felt so comfortable in your boat as if it were my own. You both made us all feel that way! The food was always perfect and delicious. The snorkeling and sightseeing off the boat were majestic. This will always be the first of hopefully many more charters for our family. Hope to be with you again! Thank you for teaching my boys the art of scuba diving! They will be lifers in the underwater world. Having this time all together at these interesting teenage years was priceless and having the boys learn from others how to make the most of every moment was a lesson that they will both cherish forever! We hope to see you again and wish the best for you. Debra Can't thank you enough for a week we will never forget! Our family vacation was a success and we owe that to you and your hospitality and expertise. The food was great and your personalities made it fun and exciting. I will always have a picture of the two of you in my mind and think so fondly of this trip. Smooth sailing! Godspeed! Thank you for a great family adventure! Mark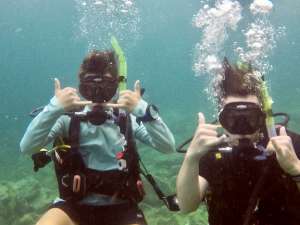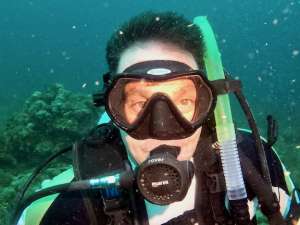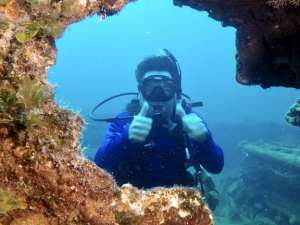 June 12-19, 2021 Island Hoppers
You all were great for the entire week; wish we could've stayed longer! Thanks for teaching us how to wakeboard and sub-wing. Food was amazing! Y'all were great friends and will continue to be. We will definitely come back. Wayne, keep being an awesome captain. Emily keep being an amazing chef and friend! Love you both! Bella 15 I loved this trip and the best part about it was the bond we made and how y'all kept the good times rolling. The food was delicious! The toys were great and the islands were amazing. Thank you! David Thank you for your incredible hospitality, great food, humorous stories, and unique vacation filled with nothing but fun I loved our diving, lobster hunting, wakeboarding and all my sleeping. You two are a crucial part to this vacation and you each made us feel special and kept us entertained and fed. I enjoyed seeing the different ways you bonded with each of us based on the differences. You are so incredibly accommodating and a pleasure to be around. Thank you for everything! I can't wait to be back for round two. Brooke I can't thank you enough for everything you two did over the past week. From amazing dive excursions, culinary delights, amazing tall tales (where we never let the truth get in the way), staying up late, and learning new games. Your personalities, as different as they may be, complement each other perfectly to provide an exciting trip along with having the stability of a daily routine. So happy I was able to enjoy it without getting sick. Don't hesitate to reach out should you find yourself in Houston. Jonathan What can we say? Words do not seem enough to express how much we appreciate the work you put in for us this week. It was an amazing adventure and we found ourselves wanting for nothing!! We enjoyed your company, and especially hearing your stories and adventures. You run a great boat and we are so happy to have met you both. Until our next "Captain's Cocktail"!! Rick and Danielle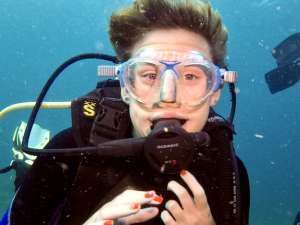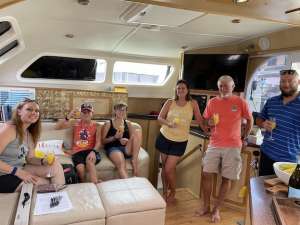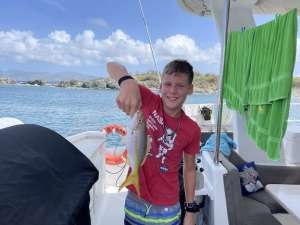 June 3-10, 2021 Great Repeat
Our second trip with you both and loved it even more! You're the best hosts ever and so much fun. The food was beyond five stars. Emily you're the best chef ever. And Wayne, no one can be a better captain. Enjoyed meeting Kim and Dick and I hope everything works out for the four of you. What a wonderful relaxing vacation! Thank you so very much for everything! Thanks for the dive instructions also excellent Jim and Shelly We feel so privileged to be invited to come on this fabulous adventure, our first ever sail vacation. I can't imagine how it could be any better! The entire trip was so enjoyable, Wayne, you are a great entertainer and captain. You made everything fun and I want to be on your winning catchphrase team all of the time! Emily, you spoiled me rotten!! Every meal was superb!! I can't thank you enough for your kindness to me! Best wishes to all! Karla and John What a fantastic week! Seven days went by so fast. Could not have enjoyed it more and now the bar has been set so high that if Vicky and I sale again, it will have to be with you. Food was superb, storytelling, and games were all great. A hearty recommendation from us. Easy sailing! Ron and Vicki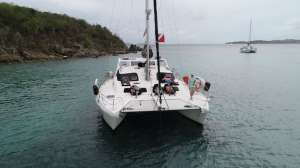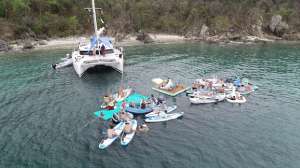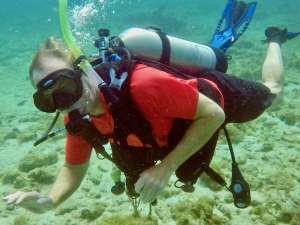 May 24-31, 2021 Family Charter
What an amazing adventure! We loved every minute aboard manner from Darling to fabulous nails, Captains toast, and the many toys! We had the best time! A family trip with memories of a lifetime! Emily and Wayne were great hosts, the food was great the drinks tasty and the dogs were spectacular. A perfect family vacation and we will be back. Mike and Theresa Thanks so much for an amazing week in the islands! Can't wait to do it again. Go lefties Andrew Let it be known I Dylan, got more waves than Alyssa. Great way to celebrate graduation jumping off the boat in cap and gown. Lots of fun and lots of great cocktails! Dylan Thank you, Wayne and Emily, it was a wonderful week. The food was great, Sights were astounding, and the diving was fantastic. Captain cocktails are a must. The better-looking Mike Thank you for keeping all my scuba ducks in a row and for not getting annoyed with me for constantly bumping into you along the way!! Can't wait to use all I have learned on my next dives!! Alyssa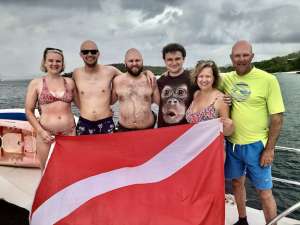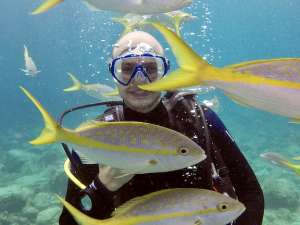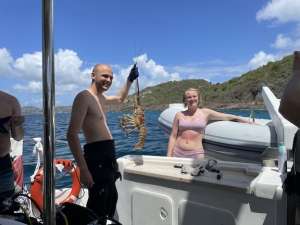 May 15-22, 2021 Couples Dive Trip
Thanks for a wonderful week in paradise. We enjoyed it all especially the diving and Emily's cooking. The evening games were a great addition also! A real week we will never forget. Allison and Andrew Thanks for all the fun! I love swimming with the turtles in our mini dabbing adventures. Thanks for all your humor and Emily for all the great food. What a week! With such a good experience we are hard pressed to not stay another week. We can't wait to bring your kids back and spend more time a board manner. Thanks again for the wonderful week! Cheers and good sailing! Frank and Becky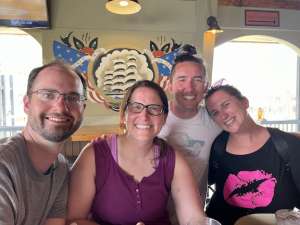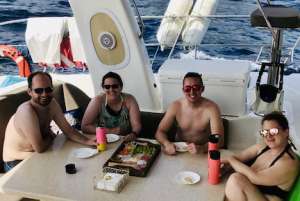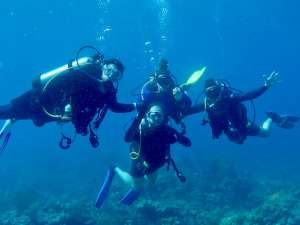 May 5-12, 2021 Good Friends
We live with a prayer that God will bless you on your mini adventures to come. When in him, you have blessed us with good food, good times, good memories and good humor. Still not sure about the rummy cube, though! We waited a long time to get here and our patience has been greatly rewarded! Thank you for your care. Sam and Wanda Mana crew here's to you! Thanks so much for all you did especially putting up with Pat. The stories were entertaining, sailing was amazing, food was spectacular. Your patience in dealing with all is admirable! Hope you have some great guests or the sense of humor to survive! May you have Fairwinds and good friends. And may Phill always be with you! Gary and Debbie Extremely enjoyable week of fun, laughter, friends that have become family. Emily the food was fantastic your smiles are wonderful. Captain Wayne you're a character – Island man and tour guide. We would love for you to come see us in Texas. Dale and Juanita What a lovely couple that truly know how to show your guests a great time. Talented, patient and fun! May God continue to bless your you richly as you bless others. We will remember you always. Fairwinds! Pat and Joc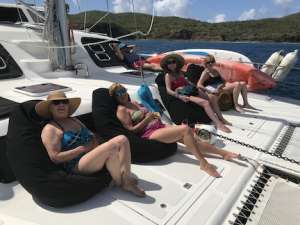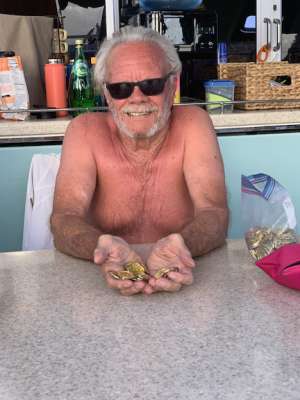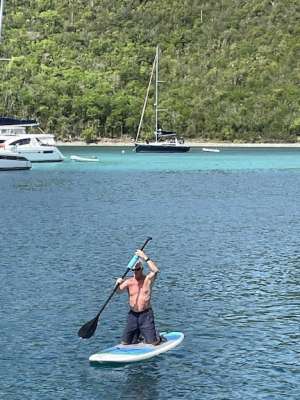 April 20-26. 2021 USVI to Puerto Rico / Dive Certification
From the moment we planned our journey, we knew this would be a remarkable adventure! We worried about Covid testing, but trust in God's plan. Thankfully we were blessed with days with you, that I've created lifelong traditions! We have three certified, strong, and courageous divers. And many recipes we will make forever and think of our meals with you. You have marked our hearts, thank you. We look forward to many more adventures with you! Jen and Mike I couldn't imagine a better place to spend our vacation. Thank you for such an amazing trip! You're cooking Emily, you should consider going professional. Desserts every night! You both are absolutely wonderful people and I wish you all the very best. I love scuba diving and seeing the world underwater, so thank you for teaching me Wayne. Living on a ship for a week has been wonderful and not one that will be forgotten! So, in conclusion, there are no words that can describe how thankful I am. Ashes to ashes, dust to dust, if it weren't for scuba, my tanks would rust! Abbi 15years old Thank you so much for this trip! Learning how to scuba dive was the best part along with sailing and shopping and everything. The food all the food was delicious. My favorite meal was the Key lime pie. My favorite dive was the last one. Overall, this trip was amazing! Ben 12 years old This was really a dream vacation! It's still hard to believe that we spent a week on a boat. The meals were just delicious, and I loved trying the fish. You had so many stories that just cracked us up. Our member this trip for the rest of my life. It was amazing scuba diving for the first time. We saw so many different fish and sea creatures. I've always dreamed of being able to see all of that, and I was finally able to! I also loved seeing all the islands! I sat on the front of the boat for so long just looking at the view. Thank you so much for the amazing memories that will be with me forever! Anna 13 years old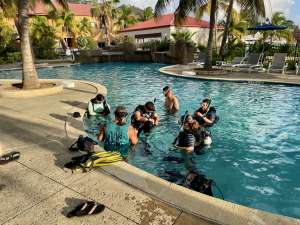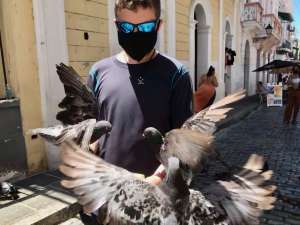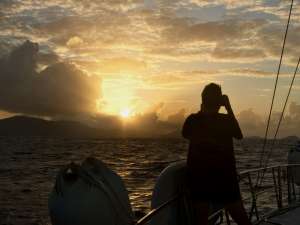 April 8-18, 2021 Honeymoon / 1st Anniversary Trip
Wow! Thank you both for an incredible trip full of adventure. We had such an amazing time with the two of you and cannot wait to return. The meals were excellent (thanks for all my salads) the diving was beyond, games were a blast, and the company was more than we could've hoped for. USVI, Culebra, and Culebrita will be in our memories forever! Thanks for providing a great honeymoon/1st anniversary trip for our young old souls. Be sure to be in bed by nine! Mallory and Levi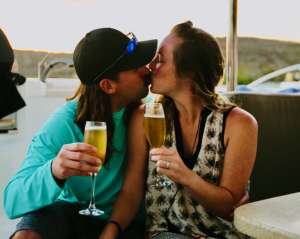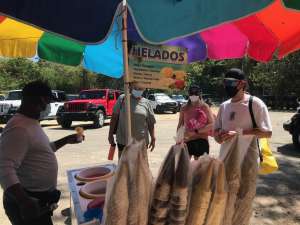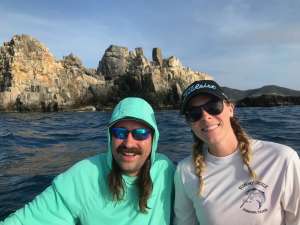 March 14-21, 2021 New Family Adventures
Perfectly brilliant week of sailing, snorkeling, diving, swimming, paddle boarding, sub-wing, excursions, amazing dining and fun captain's cocktails! Jack and Kate went on the wave runners off of the friend's boat "The Lady K". Family memory for the week for Jodi was towing behind the tender on our paddle boards! ~Jodi One of the best weeks ever! Thank you, Wayne and Emily, for the amazing food, learning to dive, and all the fun games and water activities! My favorite memory of the week was seeing a shark on my first dive so fun! ~Kate What an incredible week. Thank you, Wayne and Em for making this such a wonderful week for our family. Every meal was perfect especially the curried shrimp. The Key lime pie with praline crust was my favorite dessert ever. I have never been diving six days in a row before. That will always be a special memory. Wayne is a wonderful divemaster and patient instructor. Kate's first scuba dive is a special memory, plus Jack catching five fish off the back of the boat. Until next time! ~Rick This was a wonderful week of relaxing, trying new things, and making great memories. I love the sub wing, snorkeling, swimming, eating, paddle boarding, and all the other amazing activities. I appreciate the accommodations for my picky eating habits. I loved all of the amazing meals and appreciate learning fishing, snorkeling, and how to play games like liars' dice, rummy cube, and ship captain and crew. ~Jack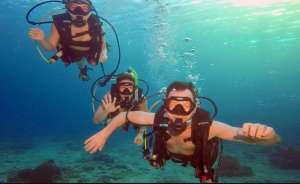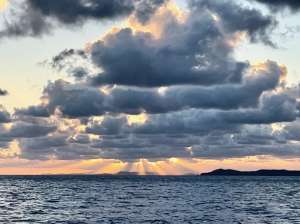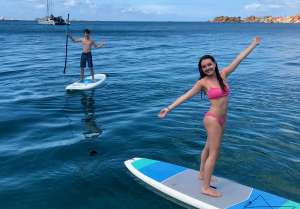 March 5-12, 2021 PADI Advanced Open Water Certification
Well thank you again for a wonderful week! A second dive trip for me with you! Wayne and Emily, you guys are awesome! ~Vida Thanks again for allowing us to invade the great yacht Manor. We loved our time again as always! Hoping to see you guys in Scottsdale Arizona 2021. See you soon for Vida's open water. ~Shawn Wow! What a great trip. I can't thank you enough for the awesome memories. This was the trip of a lifetime. So sad to go home. Hope to see you in Texas! ~Annalyse Truly fantastic trip! From the snorkeling, group games, to the scuba diving, fun, fun! Thanks for helping me get my advanced open water certification. Hope to see you soon! ~Shawn II That was so much fun!! I cannot wait to come back. The snorkeling was amazing. I never thought I would swim with turtles. Again, thank you so much for the great adventure. ~Evelyn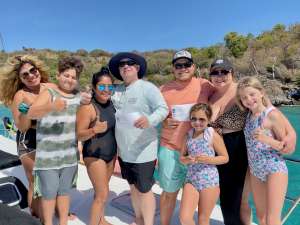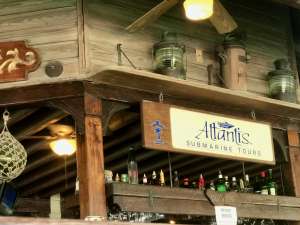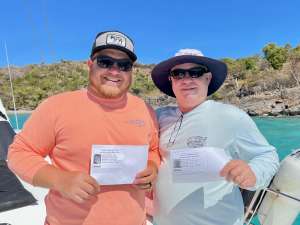 Feb 22 to March 2, 2021 Amazing Trip in USVI
We had a wonderful vacation on Manna this week. Thank you for sharing your home with us. We love the sailing, the beaches, the toys and most especially the food. We will be playing liars dice at home and remembering a relaxing week in USVI. We really appreciate the fact that you took Tim's wish list and made his dreams come true! We loved the sailing and mooring lessons, patience in refreshing our scuba skills and the excellent lobster hunting. ~Tim and Rachel Thank you so much for your great hospitality. Although Covid delayed our 2020 vacation, everything worked out for the best after all! So grateful you were able to fit us into your schedule. We enjoyed the food, the diving and especially the captain's cocktails and your stories of past adventures. Hope we can join you again soon for a Spanish VIP trip. ~Sue and Tom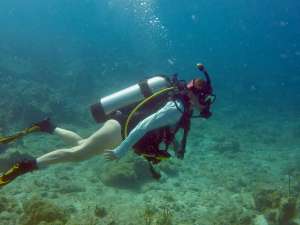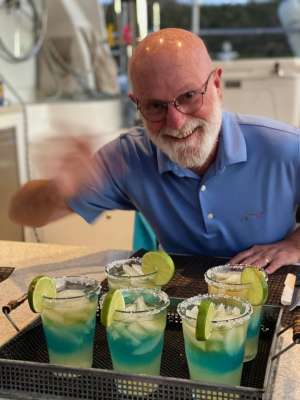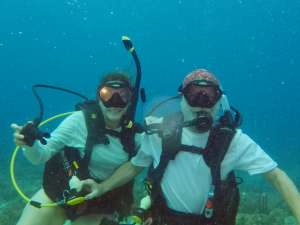 Feb 11-18, 2021 USVI to Puerto Rico
Thank you for making our second charter as much fun, as the first! In addition to escaping the frigid Colorado winter, we enjoyed sailing, snorkeling, fishing, paddle boarding, hiking to the Culebrita lighthouse, and the peace and quiet of the Puerto Rican islands. We feel like real sailors after experiencing the Christmas winds. Thanks for the great food, fellowship and games onboard. Will see you again in the future. Greg and Cecelia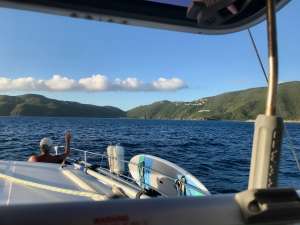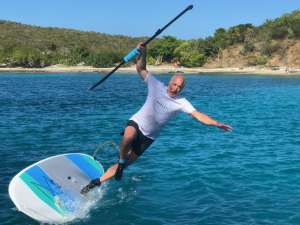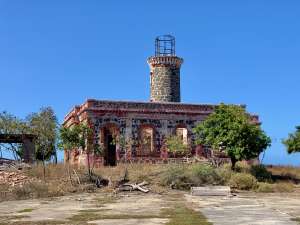 Jan 10-17,2021 Wedding Onboard to be Remembered
Clear beautiful water for diving and swimming. Sparkling stars litter the sky at night. We have truly been pampered all week. I can't imagine Emily how you produce such fabulous food three times a day from your little galley. We have truly been pampered all week. Thank yous just aren't enough for how wonderful you have made us feel. ~ Jan and Michael Thank you for an amazing week full of laughs sunsets great food and fun with new friends. We'd love to have you visit us in Saint Croix. ~Michelle and Bert Such a perfect week with you. Relaxing and fun time. We enjoyed your stories, paddle boarding, snorkeling and especially the delicious meals. You are so accommodating thoughtful and kind. ~David and Marilyn Thank you so very much for making our dream wedding come true! Your generosity, love of life, and incredible hospitality or one of a kind. Your big heart shine with your faith in God. You are both inspiring, beautiful, and a gift in our lives. ~ Dick and Kim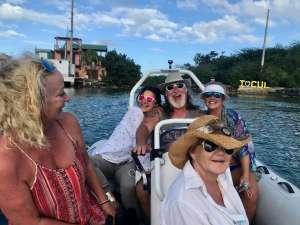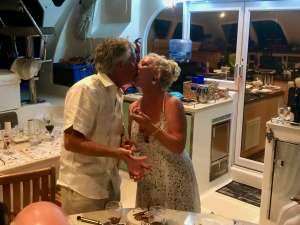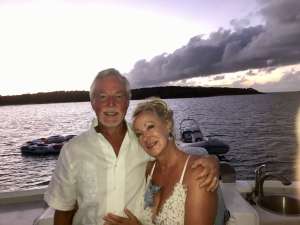 Dec 28,2020 to Jan 6, 2021 Good Buy 2020
There are not enough words to describe the wonderful trip! We had a ball. It was amazing. Everything was amazing. Emily, your food rivals anything put out by professional chefs. The Manna is fabulous. We were so comfortable. New Year's was wonderful too. You two put so much work into each day. The Daulton family will return. Many happy voyages. Thank you again. New friends are the best. Jan and Tom Thank you so much for a wonderful trip. We enjoyed ourselves more than we thought possible, and can't wait to come back. I loved lounging on the front of the boat and exploring the beautiful United States Virgin Islands. Neil and Carter loved every diving adventure with Wayne. Thank you for your generosity, we love the Manna. Mary Cole You will never go hungry, you will never be bored, you'll never lift a finger while you're on board. With bottomless diving and fun things to do it's an excellent vacation I'd recommend for you. Neil and Carter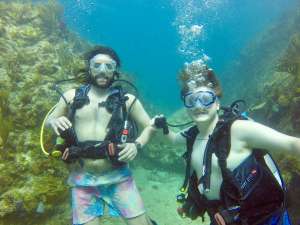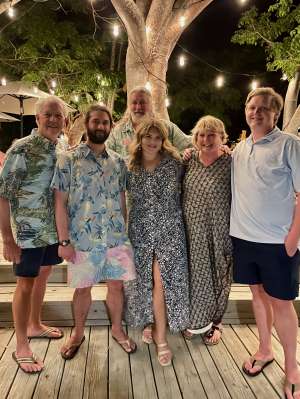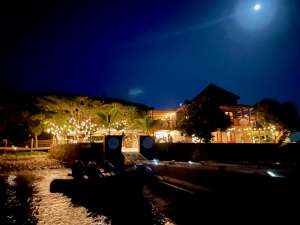 Nov 7-14, 2020. Manna for Missionaries Trip
A thousand "Thank You's" could not come close to expressing the gratitude we have for the impact you have made on my life. I made memories this past week that I never thought would be possible for me. Your love for Jesus encourages and inspires me. I will never forget the love I felt on this boat. Emily you are the most beautiful person inside and out that I have ever met. I want to be like you when I grow up! Wayne don't ever lose that smile. It's definitely where your spunk and love shine through. Rachael and Brock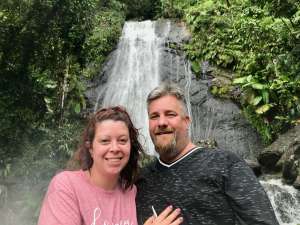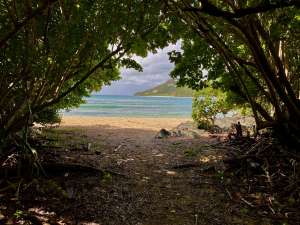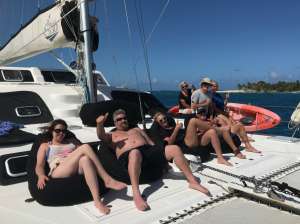 Aug 1 to 7th, 2020 Scuba Certification Vacation
As I sit with my morning coffee on the last day, I reflect on the week. I become speechless and my eyes are over joyed with tears that my heart feels. Words cannot do justice to the amazing time onboard Manna. From the moment of flexibility surrounding COVID and then the hurricane. Our smiles began the moment Captain Wayne saw our luggage, followed by a welcome aboard by co-captain Emily. Your laughter and warmth made us feel at ease and at home on the seas. Your laughter was contagious. Your dive instruction led us to new adventures below, your food preparation and dining lead our pallets and bellies embracing the goodness, your catamaran made us live the dream, and your remarkable history and knowledge lead our ears to listen. Although the initial plan was to be a different celebration for my 50th God laughs when we plan. Without a doubt, my week was filled surrounded by our daughters, family, and friends. A time of healing with new beginnings. As I leave a piece of myself in the USVI I am brace a new found me at 50. Be still and know I am God Psalms 46:10. People come into our lives for unknown reasons only to stay a moment or a lifetime. I memories last a lifetime and a wise man once told me not to live and what if. So, with that said, it's when we sail again, it's not with a crew, it's with our friends. Until then guardian angels, star salon and compass laid your way. ~Jeanie We had a wonderful time here in the VI even with Covid. Learning to scuba dive was the best experience and really opened up my eyes to what the ocean really looks like. The captains' cocktails were all amazing even the one that had tequila. All the food we had on Manna was way better than onshore. Thank you for a memorable time. ~J & Adam Thank you so much for an incredible journey around the US via scuba diving is an experience I will never forget and even after seeing the shark, will do it again. Thank you for being so kind, welcoming and giving. No doubt you will change many lives for the better. See you in a few years. ~Keegan This is truly been an incredible trip for us, thanks in part maybe full part to you too. Your hospitality and warm welcome made us feel right at home. The Manna is a beautiful place to be and I loved our scuba adventures in the US VI. The captain's cocktails and meals were outstanding. I had an amazing time. Hope to see you again. ~Danielle Yeah, I had the best time! The two of you made it feel like home all week, I'll miss Emily's cooking the most. This week was unforgettable thank you so much, I'll remember this for a lifetime! ~Nina What an incredible adventure! This is a first for us and I doubt we could replicate it again. U2 have been the kindest, attentive, informative and fun couple. We couldn't have asked for a better team. Thank you for a week of pure fun and relaxation! We will never forget it. ~Yo ho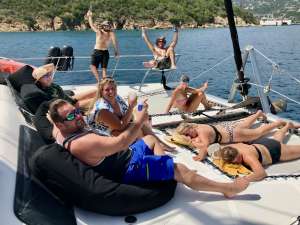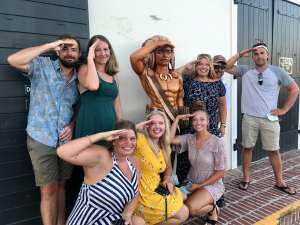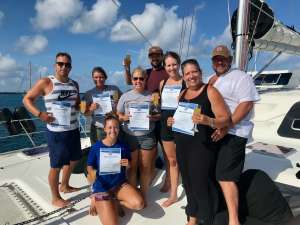 July 11 to 16, 2020 Puerto Rico
Thank you for the vacation of a lifetime! It was such an adventure to have all of these amazing experiences together with our family. The scenery was beautiful, the food was amazing, the SCUBA and snorkeling was like visiting a different world and watching the kids laughing on the crazy tube rides were definitely the highlights. I really appreciated learning about all the volunteer trips you do and it was really has motivated me to find a way to combine passion with being a better global citizen. Thank you again and come visit us in Austin. Tushar and Julie I could not have asked for better hosts on this amazing once in a lifetime trip. You both were so kind and friendly cracking jokes and telling stories you made my experience 10 times better. Not only are you a great captain and crew but you are amazing chef tour guides in scuba diving experts. I had an amazing time and hope we meet again someday. ~Thank you. AJ Thank you so much for an amazing week. I loved all the water sports and tubing was insane. I thought SCUBA diving was going to be horrifying but it was really fun. Y'all were both really great and I had a great time the food and drinks were amazing and I loved playing Farkle again. ~Thank you Krina This week has been so much fun! I love the tubing, surfing, sailing and everything else! Scuba diving might've been one of my favorites. You both are great teachers. I struggled at the beginning, but I figured it out and had a ton of fun. Also, thank you for helping so much with my photography. That was a ton of fun. Aric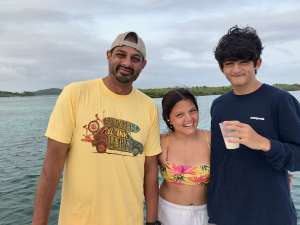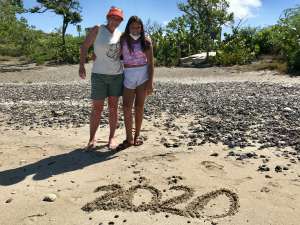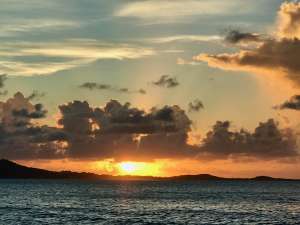 Feb 25 to Mar 4th, 2020 Private Get A way
Wayne & Emily, Our trip was everything I had hoped for. Thank you for your creative way of rearranging and adjusting our trip to match our needs. Absolutely very relaxing, great food, good weather and most importantly getting to know you both. ~Nikki My friends Wayne and Emily you have five years of positive comments in this book that command your skills as marine voyagers and hospitality superstars. I certainly agree, our time with you was perfect. I'd like you to know that your Christianity shines religiosity, your commitment to adventure and need to experience new vistas along with your genuine love for people was the ingredient that made our time together forever memorable. ~ Ross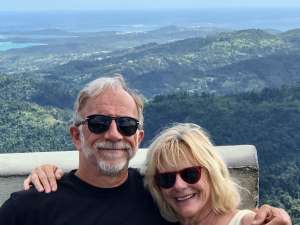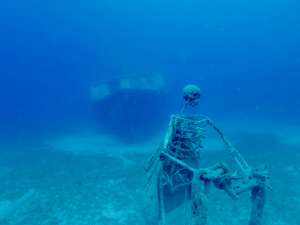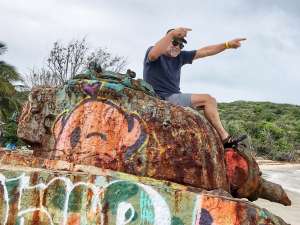 Feb 12 to 18, 2020 Couples Retreat
We can't thank you enough for the best 6 days of my life. I knew this was going to be the trip of a lifetime, and it was because of the two of you! The food was delicious and Emily busted her butt for us. Wayne you are my kindred spirit. We were meant to be on your boat. Thank you for putting us at all the spots and bars we needed to be. Mostly, thank you for putting up with me and my gang. You guys are wonderful hosts! Take care of those organs. We are going to be rich!! ~Stacey and Larry Thank you for a wonderful 6 days. The food was delicious. Every meal was better than the one before. I can't recall the last time I had 3 home cooked meals a day for as long of a stretch. Wayne was so knowledgeable of all the areas we traveled too and was very accommodating to our ever-changing plans and moods. This was a wonderful experience and you are an amazing chef and captain. ~Matt and Danielle Thank you for a memorable trip filled with laughter, sun, lots of rum and adventure. We appreciated your positive vibes and your ability to put up with our shenanigans. All of the meals were delicious and we were delighted with the surprise of a wonderful meal at all the moments when we desperately needed it. Your knowledge of the area added an extra element to the trip that was unexpected and made it better every step of the way. We truly felt like every moment was tailored to us whether it was the food or the destination for the day. Thanks for teaching us new games and starting the tradition of the toasts. Thank you. ~Krystie and Nick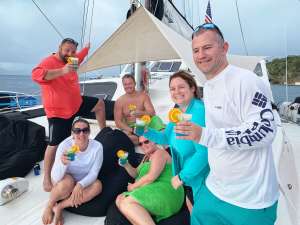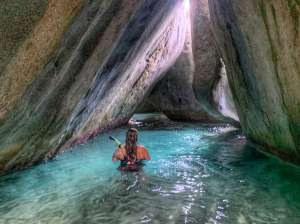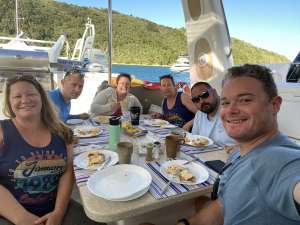 Jan 6 to 14, 2020 Learning to Scuba Dive
Thank you both for an amazing week of diving, sightseeing and delicious food. You two are a very special couple. Manna is a very special boat. We are so blessed to have you both in our lives and we look forward to another adventure in the near future. ~Georgia and Doc Firstly, thank you for your wonderful hospitality during our 7 day charter. You both are exceptional people. Jeff and I thank you for your patience while certifying us as DIVERS! Though at times it seemed an impossible task because of Jeff's lack of ability to understand the concept of breath out, go down—inhale go up, we accomplished our goal to be Certified Divers. We thank you—I am a natural of course! Seriously, we had a lovely time on your Manna Charter. You are funny, courteous, and just wonderful people. Thank you for showing us all the sights and local places to see and hang out! You are the best…cheers to seeing you back on Manna in the near future! ~Kelly and Jeff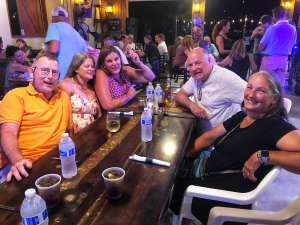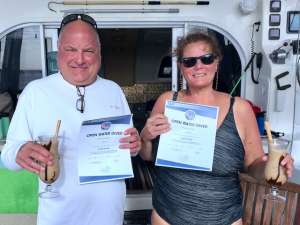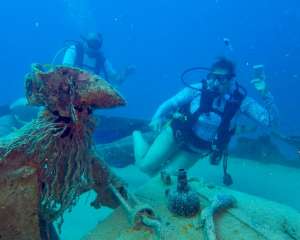 Jan 17 to 26, 2020 Girls trip
The last 10 days have been a trip of a lifetime, thanks to you both. Sailing with you was the best way to celebrate Amy's 50th and each one of our lives. Your ship is exquisite, but we will cherish your friendship most of all. We especially enjoyed our meals together, after dinner games and beautiful diving/snorkeling sites and waterskiing. There was nothing left undone on this voyage. You have truly filled our souls. We look forward to our next adventure with you . How lucky we are to have started off as a charter and ended up as friends. All our love Dani, Sally, Missy and Amy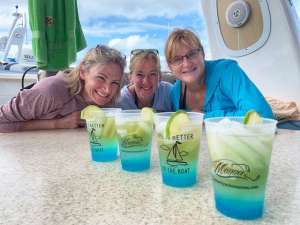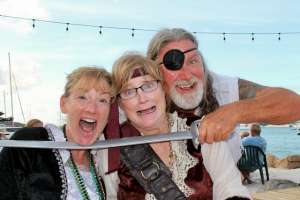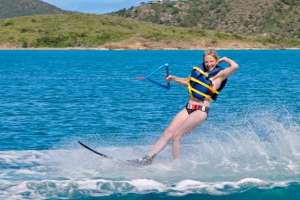 Dec 21 to 28, 2019 Christmas
Thank you so much for such an incredible week. The dives were the most incredible thing I've ever done. The food was amazing. Thank you for lying to me about the cauliflower rice. You both made our Christmas one to never forget. ~Tom Thank you so much for your southern hospitality. You're both very welcoming hosts, who are very knowledgeable about the Virgin Islands and more! The boat, the food and our experience was amazing. I will never forget my first scuba dives into BVI. Thank you, and thank you for everything. ~Steven Thank you so much for the most memorable vacation I have ever been on. The BVI's are absolutely beautiful. What made them so special was you two. Emily for me being a picky eater you surprised me every night. Wayne thank you for taking me scuba diving even though I'm absolutely terrified, probably because I'm just dramatic. This trip would've been so much different without you guys. I'll never forget you two or this trip. Thank you again to Emily for getting me so excited for dessert every night, and Wayne for all the laughs. Definitely my favorite Christmas yet. ~Meg Thank you for an amazing Christmas vacation. From Emily's cooking to the dives with Wayne this trip has been an unbelievable adventure. You both have made the extra effort to make us feel welcome and at home. Thank you for sharing Manna with us. This will always be one of our favorite Christmas memories. Safe sailing. ~Steve and Kristin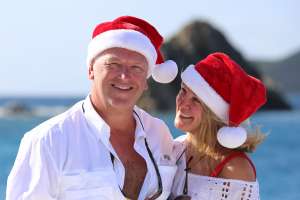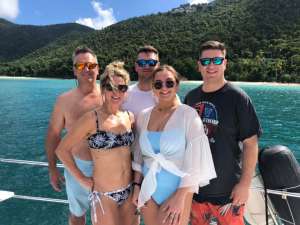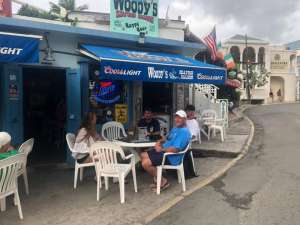 Dec 13 to 20, 2019 Family Pre-Christmas Vacation
Thank you for going above and beyond to make our time on Manna so special and wonderful. I appreciate that you saw to understand that unique interest of each person in our family, then went out of your way to make sure each of us got to experience the activities on our bucket list. Emily your cooking was fantastic! I think I gained at least 5 pounds on our trip. Wayne thanks for your sense of adventure and taking us on many great diving and snorkeling excursions. I truly enjoyed our many conversations and learning about your mission work. Thanks for gently encouraging us to jump into activities when we were feeling a little lazy and for initiating nightly games. I feel so blessed to have chartered with you. I couldn't have asked for a better charter experience. Rich Thank you for allowing us to step into your lives four one incredible and memorable week. Manna was absolutely perfect for our family of four and plenty of space to be together or to get away for some quiet time. The Christmas winds did not hamper our time at all due to Wayne's great efforts to find us calm waters and Wayne's sense of adventure always made for fun times. A few memories I'll cherish include the late afternoon swim to shore to run up the sand hill, exploring the Baths, cocktails with our kids at Willy T ending with a jump into the ocean, Game night with catchphrase and quiet mornings alone with the Lord and coffee out front. Emily your food was amazing and your company was even better. Pam Thank you so much for one of the best vacations I've been on! The dogs were beautiful and I especially enjoyed the wreck dive with the pirates. I love stopping and staying at a new place every night. We truly got to see as much as we could in our week. The food was amazing and then after dinner games were the perfect way to end our night. I definitely will never forget this experience. Kendall Thank you both so much for an unforgettable week. The food we ate and the places we saw were truly amazing, but the time we all spent together made it extra special. You're both such good people but I know we could not have had a better time with anyone else. Colson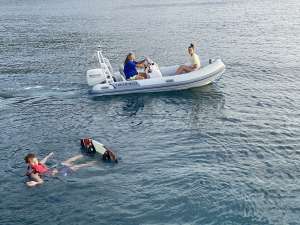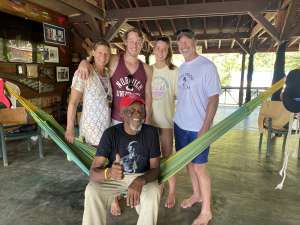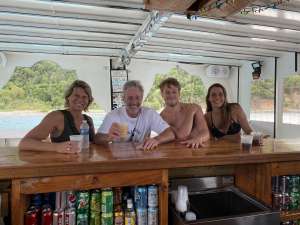 Nov 21 to 27 2019 Thanksgiving!!
I had a great time. Probably the best Thanksgiving trip ever. The food was extraordinarily good. I learned to wake board and scuba dive. That islands were gorgeous. I would love to come back. Next time we need to stay for a week thanks so much. Garner This trip was by far the best trip we have done yet! The food was amazing and what topped .it all off was the scuba diving. Especially the wreck with the pirates. I also loved skiing, wake boarding and sub winging. Greer After 21 years of family thanksgivings in the Caribbean, we finally decided to do a charter. Now we are wondering why we waited so long! Manna was the perfect choice! Wayne and Emily made it such a great experience. We immediately felt like we were part of their family. Wine was so patient and thorough as we did our scuba checkout dives. He made sure we left with a love of diving. Emily was a wonderful hostess she took care of every detail and served excellent meals. We hope this will be the first trip of many on Manna. Brian and April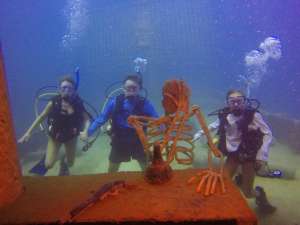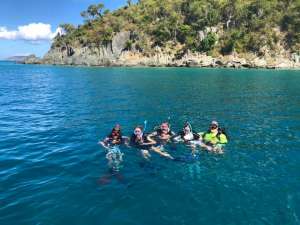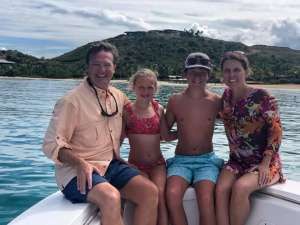 Nov 12 to 19,2019 Family Trip
This was very best time ever. I water skied for the first time in eight years, that made the trip worth it. The team on the boat is the very best. The diving with Wayne was some of the best times I had in the water. I can't wait to come back. Don and Alma Great trip! Good people! I will be back. Ron Thank you so much for an unforgettable trip. Trolling was beautiful, snorkeling and my scuba experience was perfect because I felt like I was in great hands! Your mission and hospitality shines through. You both are incredible servants. Your boat, the food and the love were the best. Carley Rose We had an amazing week. Emily thanks for the delicious gluten-free food all week. All your meals had a great presentation. Discover SCUBA was fun and I'm ready to get licensed. I happy hour drinks were great and we are ready for our next trip with you. Vida Wayne it was amazing to get back into diving with you. We saw and did some amazing dives. We will start planning our next trip. Time for me to get the rest of the family certified. Shawn What luck to have found our Texas crew! We were brought together for reason and we celebrate and appreciate your guys letting us share your piece of paradise for a week. All the secrets you shared were hundred percent enjoyed. I was happy to be here for my 38 birthday. Y'all made it perfect. Blair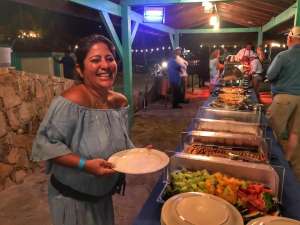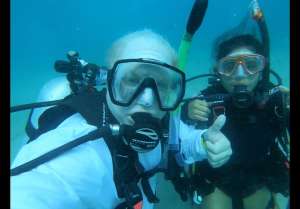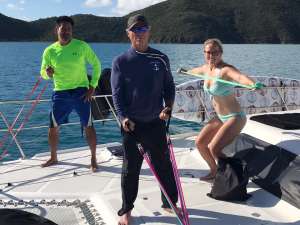 October 21 to 28, 2019. Girl's Trip
Amazing!! Thank you so much for making this adventure such a fabulous experience for all of us. We had so much and could not have asked for more. You both were an amazing crew. Thanks for putting up with us . The food was amazing! Kelly, Shannon, Jenn and Cathy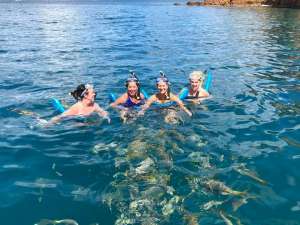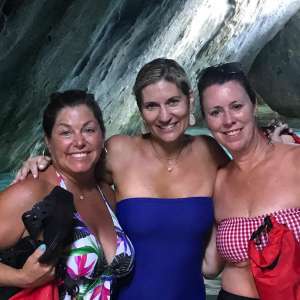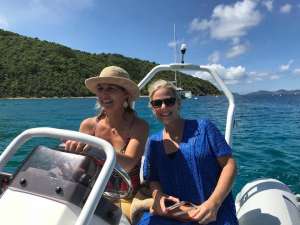 July 30 to August 5, 2019 Culebra, El Yunque'
Thank you both for your hospitality in caring and providing for us on Manna. What a fabulous time on the boat and in the Caribbean. We honestly had no worries or agenda during this trip, but you exceeded any expectations we could have ever dreamed of. We love all the islands we visited, the time to exploring, snorkel and the opportunities for Ward to dive. And the food…. We were all spoiled with all the delicious meals Emily cooked every day. The entire trip was so relaxing. What a wonderful blessing to be in the Caribbean and have so many memories and pictures to bring home with us. Ward and Vivian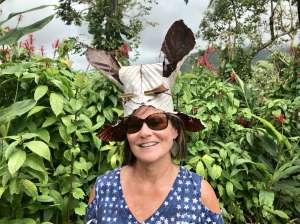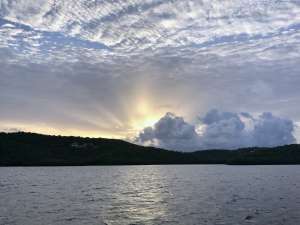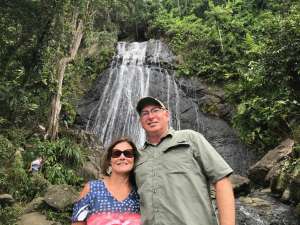 July 20 to 27, 2019 Add another Padi Diver !
Thank you for a week of wonder and delight!! The week was spectacular and amazing. This was our first sailing trip and it surpassed all of our expectations. The accommodations were so comfortable. We loved everything about the week. You are both are such wonderful people and we are truly blessed to call you dear friends. We loved our week and look forward to sailing with you again in the future. We so appreciate your hospitality and kindness. You are incredible hosts, and we feel so fortunate to have experienced our first sailing trip with you! Linda Wow! What a week we had. Our plan was to come without a plan and just let the week unfold as it comes. We let you choose our itinerary and cruising locations and it couldn't have turned out better. Linda completed her Discover Scuba and I completed my Open Water during the week. You both are great instructors knowledgeable and patient. We saw some amazing underwater sights. The four of us became fast friends and enjoyed each other's company. The fun and laughter will be remembered for a lifetime. We really enjoyed Emily's amazing meals and the nightly captain's toast. Can't wait until next time. Happiness is a journey!! Dale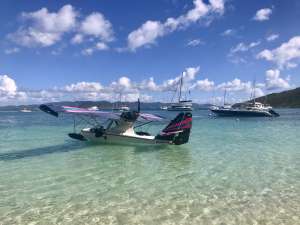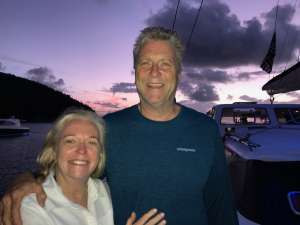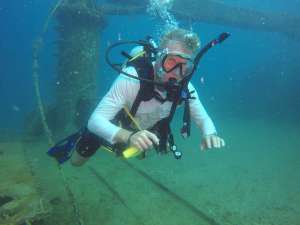 July 11 to 19, 2019 Dive until you Drop!!
Our week on Manna surpassed all our expectations and checked off a bucket list trip for my husband. He's been dreaming of this trip for as long as I can remember. There are not many moments or experiences let alone a whole week that we can walk away from feeling this excited, relaxed and rejuvenated. The delicious meals and captain cocktails glued together days with diving, snorkeling, reading, swimming, hiking and laughing with lifelong friends. We cannot think of a moment that isn't a highlight. Your knowledge, patience and hospitality made this week spectacular. We feel so blessed that our first charter was with you both on the beautiful Manna and we can only hope our paths will cross again. Bryan and Lisa John and I had a fantastic time. We are so blessed that we chose Manna and you two! Manna was above our expectations with comfortable accommodations, delicious foods, lounging areas, excursions, diving, knowledge of the islands, service, fun and friendly crew. Wayne you are so knowledgeable on diving. You put my mind at ease as John would report to me how much he is learning and exploring. Emily you are a gourmet cook! You are such a hard worker. Our cabins were sparkling clean every day. I thank you for the girl talk! John and I feel like you are good friends and hope to keep in contact. We loved all the conversations and stories. We admire your charitable giving to one's in need. Happy Sailing!! Vicki and John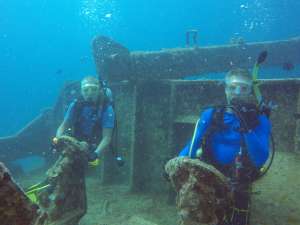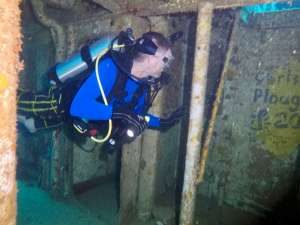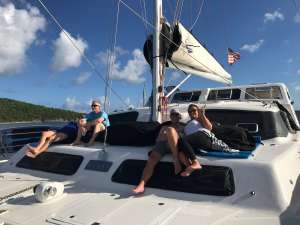 June 22 to 29, 2019 Spanish Virgin Islands, Old San Juan, El Yunque
I cannot thank you enough for letting me and Mom come explore with you. This has been the best trip of my life and I will never forget it. Miranda Thank you so much for an absolutely, hands down, best vacation ever! Miranda and I had so much fun exploring the Spanish Virgin Islands with you. What a priceless gem and well-kept secret these cayes and islets are! Jen Words cannot describe how thankful and blessed we are to have been able to experience this journey with you. These are the moments that will be cherished forever. You have taught us what the true meaning of living is. You have inspired us to live and think outside of the box. Cost of living is expensive but the wind is free!! Kenzie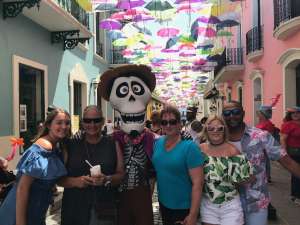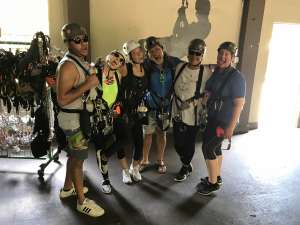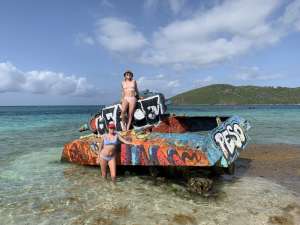 June 2 to 9, 2019 Discover Scuba with friends
Thank you for taking our family on our 1st charter. Loved all the sights and snorkeling. Really appreciate your patience with the 4 of us. Wishing you both lots of happiness and success as you sail around the BVI. Kim and Brett Thank you for teaching me how to scuba dive. I also loved my birthday dinner and dessert. Michael 15 years Thank you so much for providing me an amazing trip filled with excellent food ad adventures. I truly hope to see you next year! Brendon We had a great time and really enjoyed the island hopping and visits to the beach bars. We enjoyed the captain's toasts each evening and that you always made virgin drinks for the boys. We really liked Brewers Bay and the stop point between Savannah Bay and Pond Bay before the Bath's too. Also enjoyed Maho Bay with all the turtles. This was our 4th charter but our first to depart from USVI. Thanks for doing Discover Scuba for the guys. They all enjoyed it once they got the hang of it. Last but not least, Landon loved learning to wake board and loved the scuba. Janie , Trent and Landon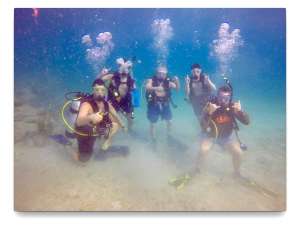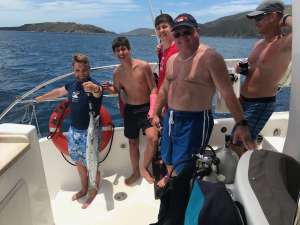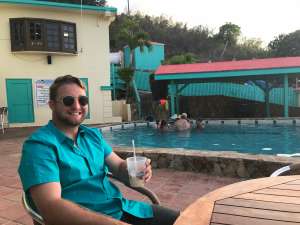 May 4 to 11, 2019 Family Time
Thank you for having us on your boat. It was so much fun. We really enjoyed getting to know you both! We really enjoyed Scuba as well as learning to wakeboard. Also, we won't be able to forget Captain's toasts at the end of the night or learning how to talk like a pirate! Thanks again for an amazing trip. Peter and Annette The food was amazing and the trip was great fun! You've hooked me on Scuba!! I wish you the best and will definitely be back! Greg Thank you for a memorable 30th anniversary trip with family and new friends! We enjoyed snorkeling with turtles, diving , paddle boarding and water sports. I really enjoyed hanging out on the bow as we sailed from one island to the next. Hope to see you again soon. Cecelia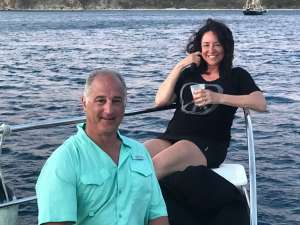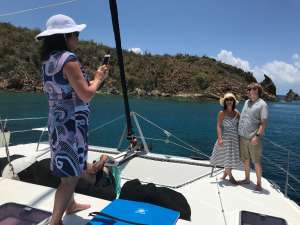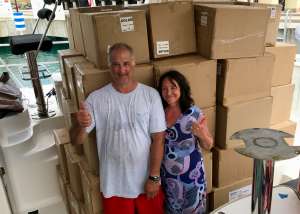 April 14 to 21, 2019 Let's learn to Dive!!
" If the vacation was any better, I couldn't stand it. " This is at the top of all our vacations, the friendly hospitality, the wonderful locations, the amazing food, the great company, and getting our family from zero to scuba certified! Thank you both for an amazing experience. Shane Thank you for the amazing hospitality, kindness, delicious food, knowledge, patience, scuba and so much more! I was so nervous to get into the water and at the end I actually enjoyed it. You two are the kindest most ever giving patient people we have ever met. What a gift to have met you and call you our friends. Thank you for the best family trip ever! You guys are the best. Jenn Yay..... best vacation ever! Wayne and Emily are some of the nicest people ever. Wayne was especially awesome when he certified us all as scuba divers and Emily could be on masterchef with that Keylime pie Yum Yum.. The scenery was so beautiful and I haven't even felt close to seasick. The rooms are so nice and you fall asleep instantly. All in all this vacation is a 10+. Olivia 12 years . Thank you so so very much for my favorite vacation yet. Everything was amazing from the amazing food (especially the broccoli) and the spectacular diving. When I first got here I didn't know what to expect but in the end I came to the following conclusions: You will see amazing animals and creatures and coral reefs You will eat the best food ever You will have the most unforgettable vacation ever Thank you so much Lillie 13 years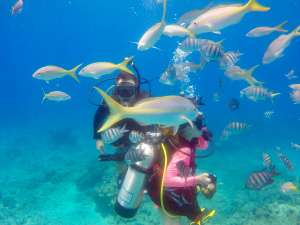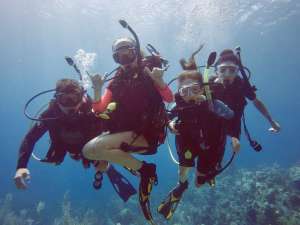 Mar 23 to 30, 2019 Grenada to Grenadines
We can't thank you enough for taking us on the adventures through Grenada and the Grenadines. We loved every minute of our trip. Every meal was always delicious, every drink was fantastic, and most of us especially loved learning to dive. Those who didn't dive loved spending time on paddleboards and kayak. Thank you for your endless patience during driving the kids around on the tube and wake boarding. We love spending time with you both and hearing about all the adventures in your lives. We truly hope to be able to plan another charter with you soon to explore the Spanish Virgin Islands. Many many thanks! Laura Thank you so much we had a fantastic week made even better by your hospitality and how you catered to us. Wayne's willingness to pull the kids on the tube and wakeboard what seemed like hours and Emily's cooking made each day full of fun. The Discover SCUBA was really special and Wayne made it really easy and relaxing for us. Please keep me in mind if you ever need an eager crew. Ira We thoroughly enjoyed the week traveling in the Grenadines and Grenada with you on Manna. Our family loves the new experiences and adventures of travel and it was wonderful to spend time with two people who reflect so much of that in their everyday lives. We wish you many more great adventures and love to join you again for some together. Chad Wayne you always looked on the bright side of things and made the trip a lot of fun. Emily you make the best food ever and I like fish now. Caleb We loved the week so much! Scuba diving was so fun and I'm so glad I was introduced to it. Wayne thank you for taking us on the tube even when we barely had any time and we always fell off. Emily the food was amazing and the dessert was some of the best I've ever had. Overall this was one of the best weeks. Thank you. Samantha This week was the literal best week ever. Emily thanks so much for making me food that's normal. Wayne sometimes I felt you are my grandpa! You were always very nice. All the kids were on the beach one day and we all said we want to be as good of people as y'all are because you do good stuff. Thank you so super much. Sefina From the minute we met you both, we knew we would have an amazing journey on Manna. You showed us paradise each day. Thank you for sharing your captivating stories, teaching us never trust a pirate, and making the most delicious rum punch ever. Wayne is a true pirate of the seas with a heart of gold and a contagious smile. Emily is a true gem with her humor, and her cooking…yum… You both give so much to others through all the works on your missions that you do, that it is an inspiration for us all. Each day was filled with sunshine, laughter in the warmth, and the hospitality you showed us made this a voyage of a lifetime. Just like its name, Manna, Wayne and Emily shared their gift from heaven with us! Sharzhad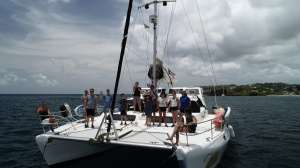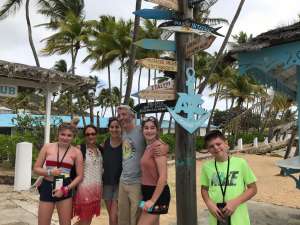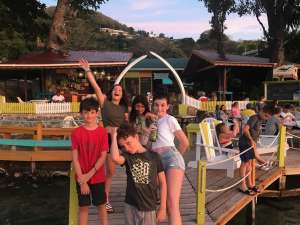 Mar 4 to 11, 2019 Clothing Lost Paradise Found
Blessings to you all for our first charter. You spoiled us with Emily's cooking and Wayne's humor of pirate songs. You find joy and happiness in everything you do. The two of you are incredible. Thank you for making our first cruise an amazing one. Our adventure far exceeded all expectations. You shared with us some spectacular places but they would not have been as special without your companionship. Bob and Barbara Fairwinds, following seas, big hugs. Rob and Karen Wayne and Emily thank you for an amazing vacation. Emily your food was fantastic and we were never hungry. Wayne you kept us safe and happy. Activities you had were great. Even if you tried to throw us off the tube! Thank you for everything! Mark and Amy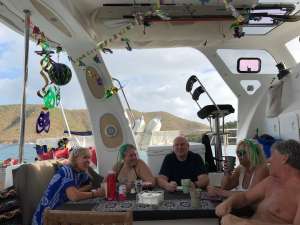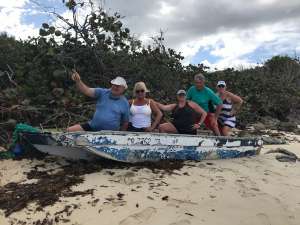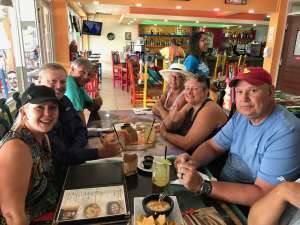 Feb 9 to 16 2019 Second time is even better!
Our 2nd journey on the Manna was just as awesome as the 1st trip! Wayne & Emily can take credit for 99% of the greatest vacation we've had (the weather and beautiful blue water get 1%). Great food, great stories and vast knowledge of the area. If only the trip could have been more than a week. Wayne & Emily are the salt of the sea! Wendy & Bill Nergard-St. Michael, MN I had a wonderful time aboard Manna. Wayne and Emily are friendly, good-humored, and lots of fun. I'd think they were pirates in a past life except that they are charitable and loved by all of the locals. The food was excellent and I ate too much every day. I especially loved scuba-diving, riding the sub-wing, and the pirate show. There was never a dull moment. I hope to make it back someday. Thanks for a fantastic trip! Crystal Weech-Crystal, MN We had a great time with Wayne and Emily on Manna! They did an excellent job of taking us around to a lot of great spots in the Virgin Islands. They were welcoming and fun hosts. We had a ton of activities to keep us constantly entertained. The food and rooms were perfect! We would definitely book another trip on Manna. Dan and Heather, Reno, NV The best trip ever! Two years ago we chartered Manna for our first ever yacht trip and loved every second of it. We loved it so much, in fact, that we booked it again this year.True to form, Wayne and Emily produced the best vacation ever. Again. We snorkeled, scuba dove, paddle boarded, sub-winged, kayaked, fished, and drank plenty of cocktails. We covered as much of the Virgin Islands as possible in a weeks time, and never once felt hurried, or anything but relaxed. Emily provided great meals everyday, and Wayne never said no to a request. From the minute we stepped on board we felt like old friends with our crew. The pirate show at Leverick Bay was again our highlight of the trip, so much fun! I would like to thank Wayne and Emily for being such gracious hosts and treating us as family. I give Manna my highest recommendation to anyone who wants to relax and feel like they are not only a guest, but a part of the crew. Raise a toast to Manna, she's my lady of the sea. Dave & Jill McDonald-Coon Rapids, MN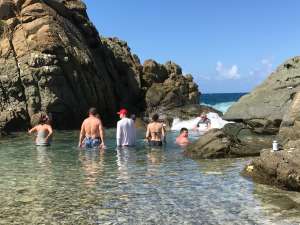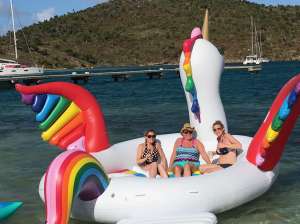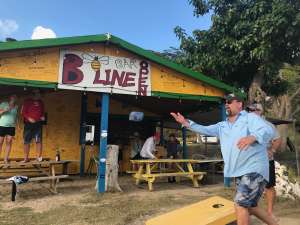 Jan 6 to 12 2019 Once in a Lifetime Trip
Dear Wayne and Emily, Thank you so much for the once in a lifetime trip. From the meals to the dives everything was perfect. There was an activity for everyone onboard. All of our expectations were met above and beyond anything we could've anticipated. New activities were acquired and games were learned. As Dr. Seuss says "Oh, the Places you'll go" this trip has taken us to some amazing places. Thank you for the most amazing vacation. Wayne and Emily are truly Aces… Cheers to our new friends Wayne and Emily, Paul, Dawn, Rachel & Maddy Sandquist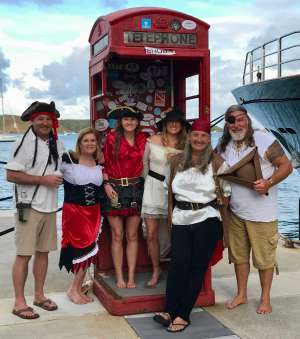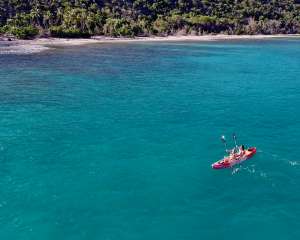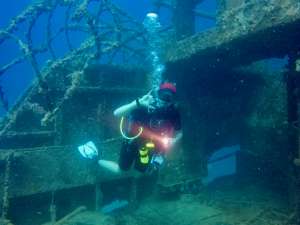 Dec 30 - Jan 5 2019 New Year Tandem Charter
What an amazing week you showed us! We sailed, we swam, we snorkeled, we scuba dived, we laughed, we ate and drank. But most importantly? We made everlasting memories that we will take back with us and cherish forever! From the bottom of our hearts, Thank You for your hospitality and local knowledge :). Happy Sails Erin & Jason TX/CA Thank you for this amazing fun filled experience. Emily your food was fantastic and Wayne you're a great Captain. This was the best vacation ever. Snorkeling, fishing, the Baths and meeting Michael Beans was among the best. Thanks again Love, Brady, Audrey, Kamsey and Natalie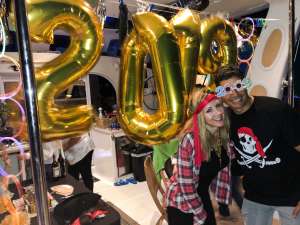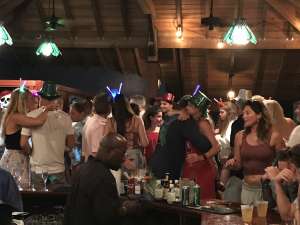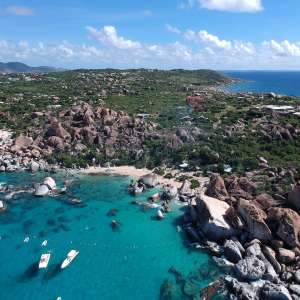 Dec 21 to 28, 2018 Christmas Fun
Thanks for the unforgettable time! Too much fun and laughs to list them but here are a few that will stay with us. Liars dice, liars dice, liars dice! Laughs at captains cocktail hour! Aargh aargh aargh! Hope to see you all again for the Grenadines. Safe travels and peace out! John Thank you for welcoming us aboard your fun filled home on the sea. An unforgettable Christmas for sure! We journey back north with heavy hearts and many new stories to share. Thanks for being super cool, openhearted and awesomely authentic folks! Wishing you the happiest 2019. Kathy , Papa John, Max and Josh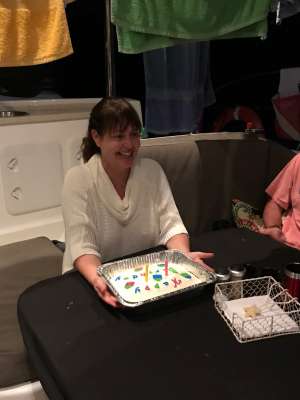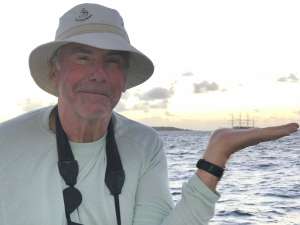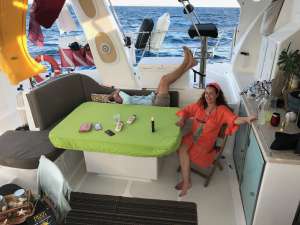 Dec 13 to 20, 2018 Amazing Trip!
Thank you so much for your wonderful hospitality and a fabulous week! We will treasure these memories forever! Emily, your meals were perfect for our family and so delicious. Thank you for sharing your beautiful testimony of forgiveness. Wayne we loved your stories and appreciated your flexibility to adjust to our daily needs. The guys loved scuba diving with you. Hope to see you in the future. Had a great week cruising the Islands and seeing lots of new places! Really love the hospitality and food and the family time with our kids. Thank you so much for showing us amazing places in God's amazing creation! Scuba was great also… God bless and happy cruising! The Rutts Thank you so much for hosting us! I had such a great experience. Thank you for a great week. Sarah Thank you for being such gracious hosts! This was an awesome experience. Ben Thank you so much for an amazing trip! It was so fun, and I loved everything we were able to see and do. Katelyn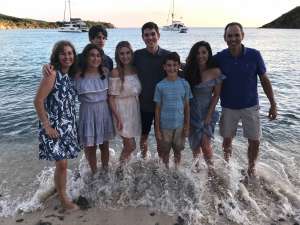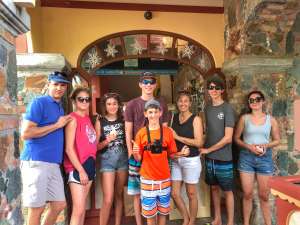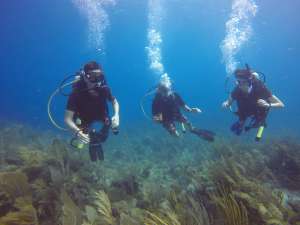 Nov 23 - 30 2018 Honeymoon couple from Taiwan
Team Manna, Thank you for such an unforgettable Honeymoon! It was well beyond our expectations. We will definitely be back to sail with you again. Look us up if in Taiwan. Lincoln & Annabelle MADE IN TAIWAN 24.1477*N 120.6736*E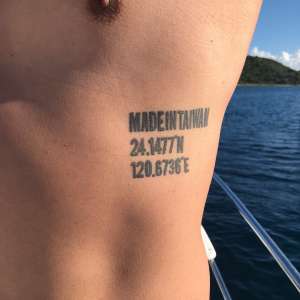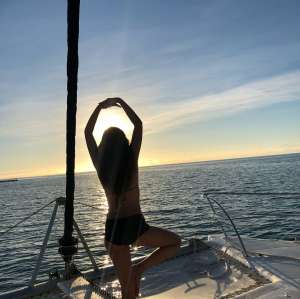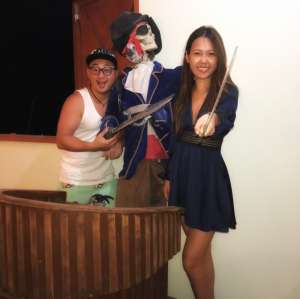 Nov 4 to 10, 2018
Thank you, we had such a great time. Great hospitality. Left home thinking we're going to have a good trip came back saying we had an unbelievable trip. Love the food and lots of great memories were made we will be back. Collin Thank you from the bottom of our hearts for an amazing vacation! It was a pleasure to spend a week with you, we will never forget it. You two are remarkable. Jimmy and Sharon I can't tell you enough how wonderful you both are! This was by far the best trip of my life. We had so much fun. Love the captain cocktails and the delicious food, Emily you are a star in my book. I look forward to a trip to Grenada. My God continue to bless you both and all you do. You're the best host and hostess by far! Carrie Thank you for making this trip more than amazing! Your knowledge of all the places we visited was second to none. We always felt safe on Manna. Every day was better than the day before. Emily, your five star meals were unforgettable. You're sweet countenance was felt by all. We appreciate the work that you do and would love to support and help anyway we can. You haven't seen the last of us yet, arrgh. Jason and Trina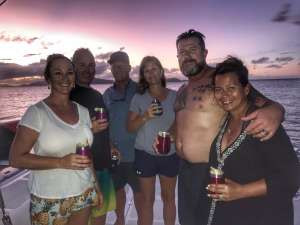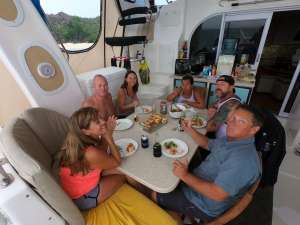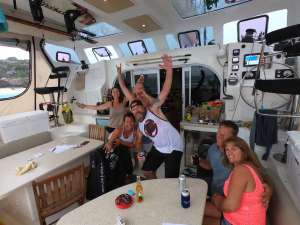 Aug 4 to 11, 2018 Rescue Barbie
What an awesome trip we had. It went well beyond what we had an imagined! Because of you, we were able to explore the unique, special, and most fun places in the BVI. Maybe next time I'll learn to stand on the paddleboard! David and Jenny I want to thank you for an amazing 60th birthday week! You went out of your way to guide us and show us the islands. Love the dice games! This was a major bucket list trip. Sorry we missed Emily, but we will catch her next time! We will be back if you will have a us! Thanks for the memories. Doug and Diane Thank you for everything it was an awesome week! And who knew that into up your first mate! We enjoyed every minute of it! Jeannie and Glenn Thank you and your guests for rescuing me on Beef Island. My life has changed forever. The sites I've seen and the places I've been in one short week could fill a life time. Thank you for the adventure! Rescue Barbie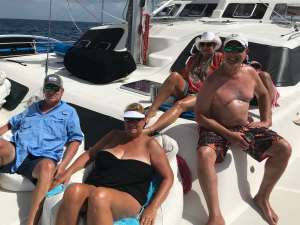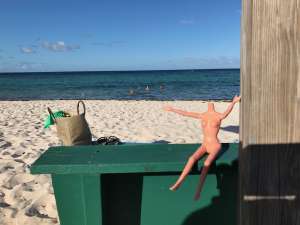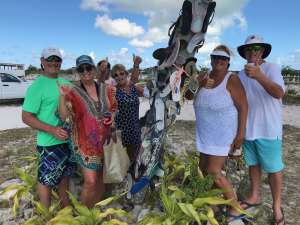 July 10-19, 2018 Spanish Virgin Islands
Another great trip! This time to Culebra and Culebrita, along with PR. We missed Em, but Krystal kept us well fed. Loved the diving and touring the old town San Juan and golf carts on Culebra. The guys had a blast on the water toys. Thanks for the great time and Krystal for the amazing food. GT and family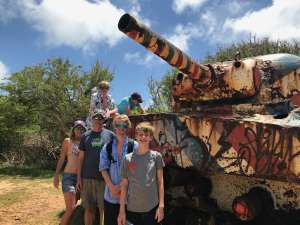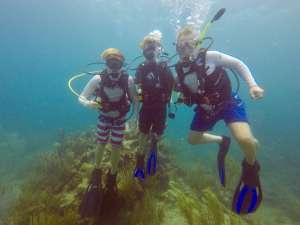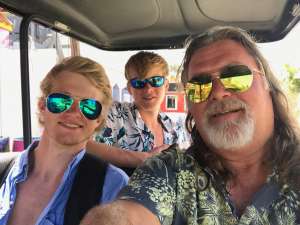 June 29 to July 6, 2018 Independence Day!
What a perfect trip for our family! Thank you for your patience and willingness to use all of your toys! The water sports were awesome. The snorkeling spots were perfect and indescribably beautiful. The scuba diving was a huge extra bonus. The adventures on the island and the baths will never be forgotten. My favorite was eight days of total family time just relaxing and playing together. No responsibilities other than having fun! The food exceeded expectations each meall was an explosion for the taste buds. Way to go Crystal! We loved it all! So grateful for this opportunity. Dodd and Jennifer Thank you for hosting the best vacation ever! I had so much fun sailing and spending time in the sun. Scuba diving and the baths were some of my favorite parts. The class pig also thought you were a hoot. The food… Crystal you are awesome! Very thankful for both of you. Michala Thank you so much for hosting a trip of a lifetime! I had the best week ever! All the snorkeling scuba diving water sports good food and dance parties. Thanks again so much for an awesome week. Bess Thank you so much for the best week ever. This is Ben my most favorite vacation I've ever been on. You're the best captain around. Thank you for taking us to all your favorite places. I'll cherish the memories forever. I'm also honored to have given your haircut! We love Capt. Wayne. Ashlyn What an amazing journey that we have had. You have done a fantastic job navigating all the way down to electrical engineering. The perfect balance of pirate/professional. Thanks for the memories. Zack Wayne is the man! I came into this trip with high expectations. Wayne met everyone of those. This was by far my favorite vacation. You take me on my first hopefully many dives. You're a true pirate ! Ben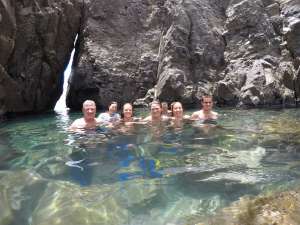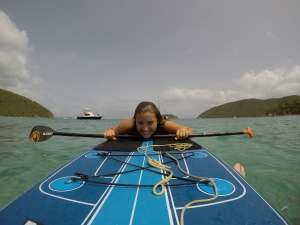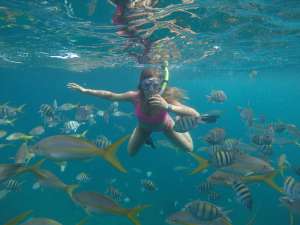 June 2-9, 2018 Family Memories!
Thank you for making our family vacation dream a reality. We've been looking forward to an island dive trip for years now and you have exceeded every expectation. The diving was incredible and ware excited to explore this new hobby even more now. Thanks for the hospitality, laughs, Beautiful experience and the salsa dancing! You guys are awesome and we hope to see you again. Calli and Gavin Dang! That was an amazing time! I enjoyed the BVI trip so much. First I was a little nervous about spending a week on a boat with seven other family members, but we all came out okay. My favorite part of the trip was drinking having just turned 18. At least favorite part were the hangovers the morning after but no one to blame but myself. I really enjoyed it both of you guys so much. Each one of you is so funny, and adds so much to the boat in your own way. Emily with amazing food, and Capt. Wayne with great diving in part posts. Thank you so much for dealing with me this last week! Austin Thank you thank you! What an amazing trip, the perfect once-in-a-lifetime family trip. The food was amazing Emily. You're such a gifted chef making three meals a day that all eight of us enjoyed. Wayne you're so funny. We enjoyed all the stories games and toasts. Thank you Wayne for your patience with all of our new divers. So much fun seeing everyone enjoy he under the sea. Can't wait to see the pictures and relive this trip through those pictures. Maggie and Bill Thank you so much for hosting us and Walt was absolutely the best family fun adventure. McKenzie and I enjoyed every second of it. Lovely meals and an amazing scuba. We will really miss you and hope our paths cross in the future. Matt and MacKenzie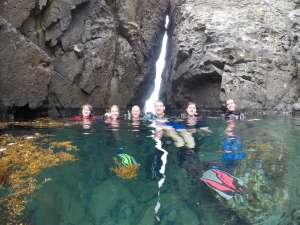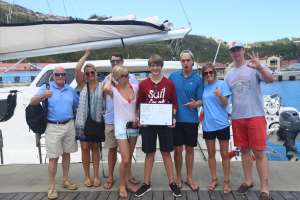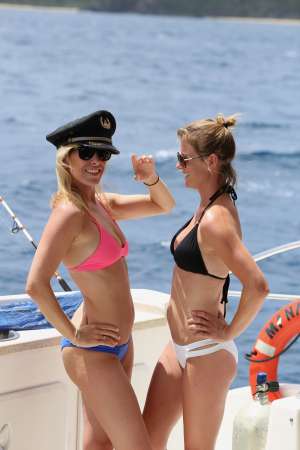 May 19-26, 2018
Cannot tell you how much we have enjoyed our weekend aboard manna! You're truly awesome. Different in so many ways but complementary to say that to say the least. My favorite, Thursday night dinner. The food was awesome but it felt like we're all very happy! Please stay in the business as promised for a few more years. We will be back. Our homes are open to you anytime you might want to visit New England. We truly mean that so never feel awkward about calling. We love to entertain thank you so much for trip of a lifetime. Julie and Dick Emily and Wayne so glad are pads have crossed in lot. What an amazing week on Manna with family and friends! This toast was inspired by this trip and is for the both of you: Motor tender Here's to the little motor tender Ferrying most things we put in our blender Idling each day with no hidden agenda Other than to help the captains crew start another drinking Bender Bottoms up Steve and Sandy Thank you for an amazing time and sharing the beauty of the Islands! Your yacht and hospitality have far exceeded our expectations. You have made this an amazing vacation. Emily your food and perfect plating skills were five-star. The only downside is is now I will have to get on a diet to recover from all that deliciousness. Wayne, Love the captains cocktails another thing we will need to recover from post sail. Best of luck and continued success with your charters and programs. We love hearing about your good works. Keep it going. Don't forget if you ever need a boat sitter you can find us eager to help. Keep living the dream Cheryl and Lisa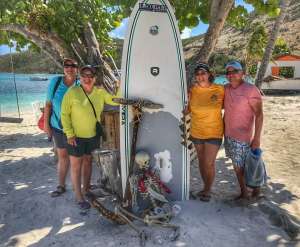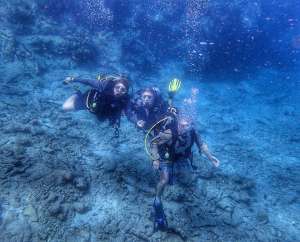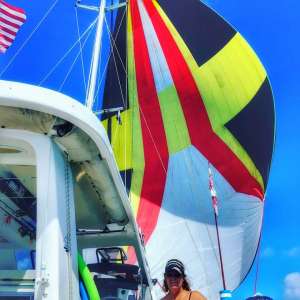 April 26 to May 5, 2018
"Everyone had a wonderful time. I thought 10 days was the perfect amount of time onboard. Wayne & Emily bent over backward to make sure we were happy. I liked how Wayne made sure everyone was comfortable scuba diving and he is a good instructor. The boat was nice and we thought it was the perfect size for 6 guests. Emily is a great cook. The whole experience was good & we would like to book Catamaran Manna again!" There are no words that can be said to tell anyone what a joy it is to be aboard Manna. Emily is not just a great mate for Capt. Wayne but an awesome chef. We have had such a fabulous time. Their hospitality leaves no stone unturned! Great 10 days! We have to see them again and they're certainly always welcome to visit our paradise in the Florida Keys. Many many thanks wishing you blessings as you sail upon the salt. Lin and Stu From the tip of my head to the end of my toes I still feel this is an unbelievable experience! Scuba diving, massages, eating lobster on the beach in bare feet, snorkeling and being rescued it is all so wonderful. The best 10 days ever Great friends old and new! Hats off to Wayne and Emily for great food and great adventures. Pinch me, I still can't believe I'm here thanks from the bottom of my heart. Cindy and Jerry Wow. We did no cooking cleaning or bedmaking those still weren't even on our list of things to remember! Lobster at anegada, snorkeling, the baths, the views, the friends… check this off our bucket list! We could do this again! Darren and Kandi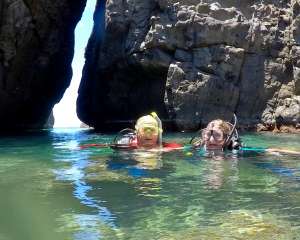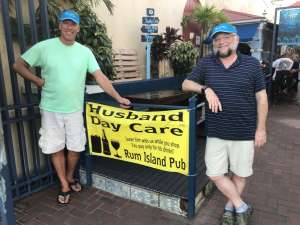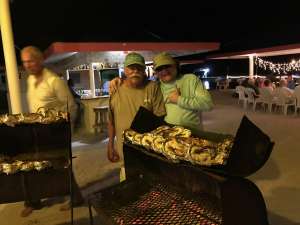 March 31 - April 7, 2018
My sad smiley face :( is because we have to go back to reality. Thank you Wayne and Emily we had a great week on your yacht and couldn't ask for better hosts. Emily is a great cook and you are both ready to find solutions for anything never problems . Diving was fun for the whole family and we wish we had more time to play with all the toys you have onboard. Eugenia Emily and Wayne were great! You took us to beautiful dive spots and fed us delicious food. Our trip was amazing! Constanca Everything was great!! Thank you so much for your hospitality and for having provided us such great holidays. Well done for all the humanitarian work you do!! Thank you also for that!! Could not wish anything other than the best and the greatest happiness . Rita To memorable vacations! Thank you so much for the amazing experience. Everything was great starting from the food up until the water sports! Emily and Wayne you guys are awesome! Joana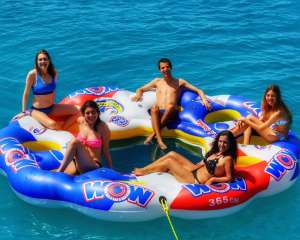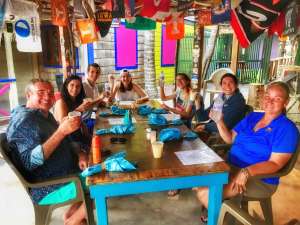 March 21 -28, 2018
The Virgin Islands aren't just a place on the map they are a state of mind. You are the perfect example of that idea. Kind fun hospitable and laid-back the perfect host to guide our family to memories that will last a lifetime and beyond. The meals were exceptional and that you found something to please us all was a miracle. The diving ,snorkeling ,sub winging, games and fellowship were wonderful. Thanks for welcoming us into your home. You will forever be in our hearts. Stephenson family The food was amazing and I was never really hungry. Waterskiing, tubing ,sub winging were really fun and it was awesome to try those activities. This experience would not be as awesome without you. Thank you for making the trip the best one ever. Ava 12 years old Of course I love this trip as it was my first time out of the country and out of all my experience it was awesome ! I'm a really picky eater and I loved the food and when my parents ate something I didn't like the Emily made something just for me. Lola 11 years old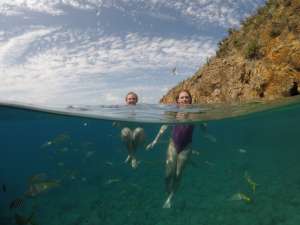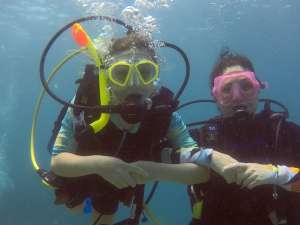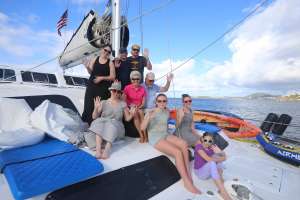 March 10-17, 2018
Wow! What a week! Thanks for allowing us to be guests on your home. We had a fantastic time! The dives were great, the food was fantastic and the stories were fun. Truly a world-class vacation on a beautiful boat with a fantastic crew. Al You too far exceeded my expectations! Every little detail of the trip was so well planned and organized. It truly was a treat! I've never experienced the things I did this week, and I will never forget the amazing times we had! I loved every minute of the trip except when everyone got mad at me for jumping off the dinghy when it was still running( I know it was stupid) but I could not have asked for a better captain and Admiral. The love you too both have for each other is contagious and I hope Maddie and I are half as happy as you two are together. Your such an inspiration! AZ Thank you for the experience of a lifetime! The food and the time on the boat was awesome. I can't tell you how thankful I am to have met such wonderful people! Thank you , Thank you!! Chelsea Thank you for an amazing trip ! It was a trip of a lifetime and I loved going to so many different places. Thank you for all the fun activities, fun diving and the amazing food. This will nor be a vacation I forget anytime soon. Definitely at the top of the list. Thank you again Megan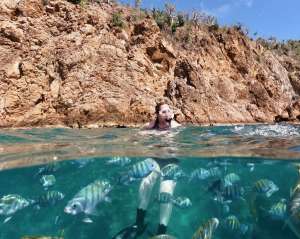 February 28 - March 7, 2018
This was a trip of a lifetime … except the other 2 times we have done it! We keep coming back because it's people like you that keeps us coming back. Thanks for all you've done this week. It's been super special! Tom and Carol Our first time on a charter cruise was absolutely wonderful! Thanks for making such a memorable trip. You are wonderful hosts that cater to the needs of your guests . Wayne you did a great job on the dives. The entire week was an adventure! Mike and Lois Thanks for a great Carefree week with delicious food and great sailing! We couldn't have had a better time! You guys are "smooth like dat"…. "This didn't suck" Bob and Linda Exploring new worlds with the best captain and mate in the Virgin Islands . When I get back home I'm going to say "beam me up to manna". Thanks for making my week totally awesome and This did not suck. Kathy Toasts for Captains cocktail: Somewhere In the BVI's a sailing vessels floating She rocks and rolls and taps and groans to give them all a warning. The 9 on board ignore her talk they know of no foreboding, but when the full moon clears the ridge, they will all will be transforming into frothing, drooling beasts of the darkest pirate tales and only if they drink rum all night Will they live to tell their tale. In the heart of the Virgin Islands there's a captain known to all His specialty is running relief supplies to all. Hurricanes can not beat him all through the night he sails Manna the far yacht carries him while on the radio Waylon wails. Then when the skies clear up and turn blue and the sea calms to turquoise green. He carries with delight his passengers to Foxy's and Michael beans. Virgin Gorda , JVD , Tortola and St. John too. The rum just keeps on flowing and when we leave we will leave a tear or two. Until then we sail, snorkel, dive and have fun, until we part , we toast and of course drink more rum.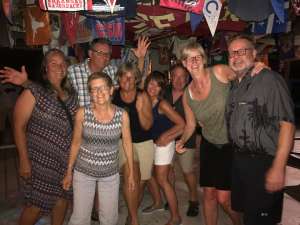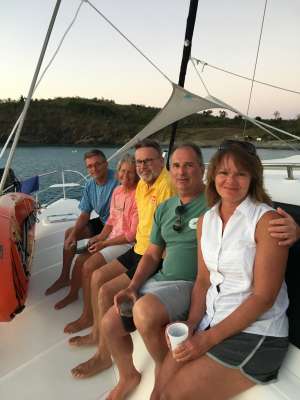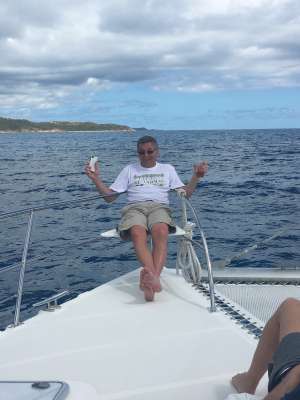 February 19-26, 2018 Seeds of Hope
The past 6 days have been amazing, beautiful and breathtaking. I cant begin to put into words the week I've had with 7 other wonderful friends. Wayne and Emily are amazing hosts . There was never a dull moment. Emily's cooking was out of this world. Every meal was better than the last and every meal was delicious. Wayne was the consummate skipper. Lots of fun stories and his care for us was evident. Dancing at Foxy's was so fun. Thank you Manna for making this once in a lifetime trip the most memorable ever!! Dana This trip has been the most amazing Time of my life! There have been so many things that have made this trip memorable, swimming with turtles, paddle boarding in the sunset , and the clearest blue water I've ever seen. I'm so thankful that I have the opportunity to go on a trip like this . I could've never dreamed it up to be this incredible. But overall , over everything we got to experience Emily and Capt. Wayne have definitely been my favorite part of the whole experience. They make an amazing team and they did so much for us daily, always making sure we have what we need and that we were having fun. Emily is so sweet and caring and her cooking is so heavenly. I never felt so much love through food. She loves it when you help her serve and plate desert and she is seriously considering me to be her sous chef! I think I made it. She's also very funny, funnier than Capt. Wayne. ha ha! Whoever gets on this boat, know that when you meet Emily you will be taken care of and you will have all you need and an amazing woman to take care of you. And Capt.. Wayne, well he's memorable alright. Everything he does to make you laugh and have a good time. Both of them together have never been such a treasure towards us. We feel so cared for and loved through every Little thing on this boat . I'm so happy to call them friends. Amy Cannot even begin to express how I feel and how healing this trip has been for Chris and I. I feel so loved by God that he amazed this incredible gift for us. You're so generous and every little tiny thing has been Beyond our wildest dreams. The food has been so good, actually I've probably never had a week of such incredible food. You both have such humble and beautiful hearts. Praying God will continue to richly bless you with adventures and love because of all that you do for others. Penny and Chris The trip of a lifetime! Thank you for every minute ,every memory and every smile. The beautiful coves, riding the swells on the seas, the food, the laughs the dancing there is no way to ever pick a favorite. Thank you for sharing your home with me and making me feel at home. Your hospitality is so gracious humble and loving. God bless you as you give so much of your time and resources to those you need do I admire You both so much. Elaine Emily, thank you so much for your hospitality my favorite part of this trip was getting to know you guys and eating your food. You're great woman and God has so many good things coming on board for you. Wayne, I had so much fun playing with the water toys and learning a new car games thanks for your joy it is contagious keep listening to God he is the sailor of your life for a You guys are amazing . Thanks for giving me the trip of my life .There's no way I could've done this. Please come to visit Costa Rica, now it's my turn to show you my world Diego This trip is truly been a dream and a gift from God. You both are such beautiful people. The way you have loved us from the first minute has been so impactful and I hope that I can give and serve with such a generous love is you both have done. God has blessed me through you and your ministry and in this rough year, the trip could not have come at a better time. A Few of my favorite memories are brain coral , manta ray , Baths, conch shells , Sea-glass, Foxy's , the magical boat , the amazing food , shooting the cannon, dancing , and captains cocktails….. Thanks again for all you've done and continue to do! Chloé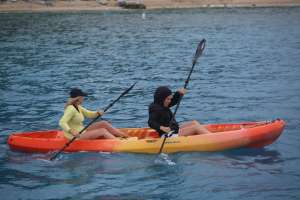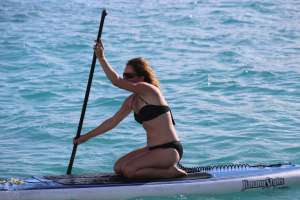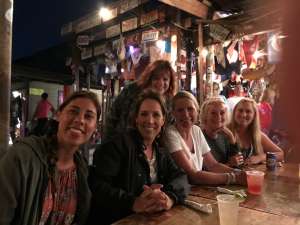 December 31-Jan 7, 2018 New Year's Party
Wayne and Emily were amazing hosts. Emily always cooked amazing food and Wayne is a wonderful captain. The places we went to were so beautiful and the activities that were set up for us were so much fun. Highly recommended!!! Josh 17 yrs This trip has been such an experience, and each day we go to do something new and exiting. To make things even better each meal was just as exciting to eat as the activities we got to do . Wayne and Emily made this trip more than we could've ever imagined. Riley 19 yrs What a great way to start off the New Year! We could not have been blessed with better hosts than you two. This week has been absolutely amazing and filled with memories we will never forget. Thank you for your patience, hospitality, and most importantly, catering to my food allergies. You went above and beyond and I couldn't be more thankful. Safe travels! Jamie and Todd Thank you for an amazing week aboard the SV Manna . You hospitality was second to none! The memories made will last a lifetime. Can't wait to come back . May God continue to bless your adventures! Jim and Candace I take pen in hand to praise Wayne and Emily for all their hospitality and hard work. Truly memorable experience!! Smooth Sailing Tom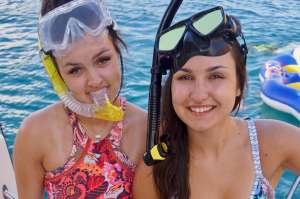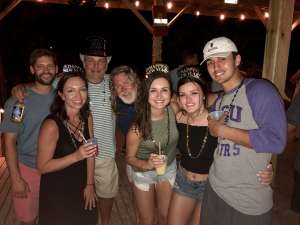 December 21-28, 2017 Christmas Getaway
Thank you so much for a wonderful trip in the Virgin Islands. Always felt safe and secure and well fed. You're great people doing what you do for Manna for Missionaries and sharing your beautiful boat Manna. The pirate party on Christmas Day was lots of fun thanks for introducing us to the local celebrity Michael Beans. If I don't go out and get a cat of my own, I'll be contacting you all again next year. Wish you calm seas and fair winds. Bruce and Jackie Thank you for the sincere hospitality. It is been a wonderful week in paradise, and I am honored to have learned the ropes from the best. Your boat is truly one-of-a-kind, and the work you guys do through Manna for Missionaries is inspiring I look forward to staying in touch. You always will have friends in Atlanta. Hopefully my path will cross yours in the Caribbean sooner rather than later. My luck always be on your side and the winds strong. Joe This week has truly been a dream. I couldn't imagine better people to lose my passport virginity with in the Virgin Islands! Every meal was out of this world and every destination was picture-perfect (despite the hurricanes). My mom always said that there's always a reason people come into our lives and there is no doubt in my mind that you all came into our lives when you did or a reason. I hope to stay in touch, you guys are an absolute inspiration. Thank you for an amazing week-still can't believe we swam/dove with a dolphin and her calf!! Truly a dream. I wish you all the best and hope to see you both again soon ! Alison Alison again….I felt like I just didn't say enough the first go round. I needed to elaborate a little more if you will..This has been, by far, the best week of my life and I am so sad to say goodbye for now. I'm going to miss Emily's cooking, from the to die for Lobster Bisque to the Grouper tacos. Every meal was an absolute treat!! Diving and sailing with Wayne was so great!! I feel so honored to be with one of the best captains in the islands. I really do hope our paths cross again in the future (sooner rather than later). If you all ever need a volunteer don't hesitate to reach out, I would love to support yall's mission. So here's to the best kind of ship-friendships! Alison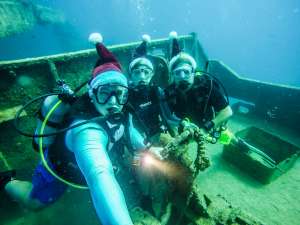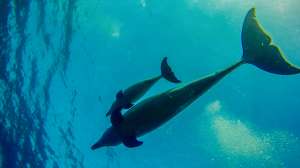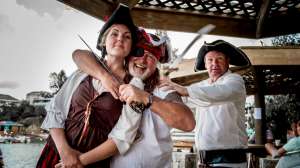 August 7-14, 2017 Family Vacation
Thank you for all you have done to make our trip to the BVI amazing! You have shared some beautiful spots with us and we always had fun along the route. We appreciated your abundance of energy and patience with entertaining our active kids. From sub winging to tubing, dice and card games,you always had a smile on your face. The food was great and you quickly caught on to the kids favorites. We couldn't have asked for a better tour guide and host! Many many thanks! Happy sailing in the meanwhile. Karey Thank you very much for your hospitality energy and patience. This was our family's favorite vacation! Looking forward to staying in touch and hopefully sailing with you guys in the Spanish Islands next summer. Cheers, Todd I loved this trip so much it was probably my favorite trip ever! The food was so good and you took me to the prettiest places ever. The baths were awesome, and the coves were always clear. Wayne and Emily were really nice. They told us funny stories and pulled us behind the dinghy whenever we wanted. Wake boarding rafting and sub winging we're some of the best experiences ever. The addition of George made it so much better. Sean This trip was very fun. The food was so good. We went to really cool places. I like to raft, wakeboard, and sub wing. The beaches were so clear. The baths were really cool. Ryan This has been the best trip I've been on. The most beautiful beaches ever. I had so much fun doing all the activities and going to the little beaches. The food was very good. Thank you for making me special things when I didn't like something. This is been one of the best weeks of my life thanks to Wayne and Emily. Sub winging was so fun and snorkeling with the turtles. I couldn't have asked for a better vacation! I don't want to go home. Thank you so much! I'll never forget all the amazing places we got to go, including my favorite, Sandy spit. It has been wonderful! Maddy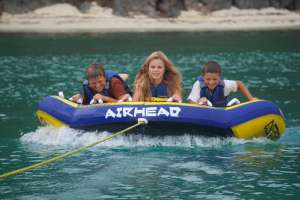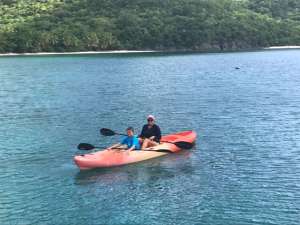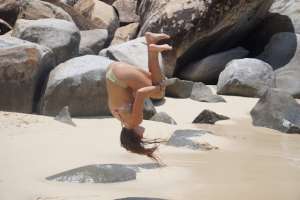 July 21-28, 2017 Returning to BVI
Oh my!! Thank you for bringing back our BVI memories of 2001. This trip was everything and more, especially having our sons with us.Thank you for your selfless hospitality, lifelong memories of scuba, night swims, snorkeling, island hopping, bar hopping, and evening games. Your food was amazing given our food limitations. As our captain and chef we could not have asked for anyone better and that says it all….Best wishes to you both always! Keep sailing the friendly seas Hopefully we'll see you soon in the next set of cays!!! Doug, Denae, Worth and Cayman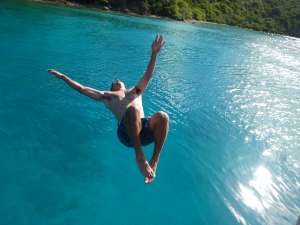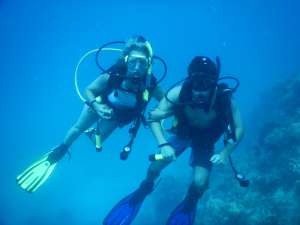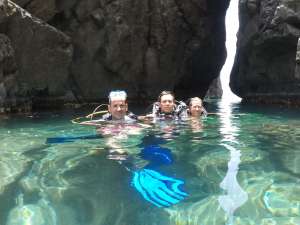 July 10-19, 2017 Family Vacation
Dear Wayne and Emily, What an amazing vacation! We love exploring new areas with our guys and are blessed to have you as our guides and friends. Our entire family are taking many wonderful memories, new accomplishments ( learning to water ski, wakeboard and subwing) and seeing a new part of the world in the most unique way possible. I could never imagine spending days on private beaches (the most beautiful blues and clearest water I have ever seen) while exploring so many islands. I will cherish stargazing, learning new games, your hospitality and yummy meals. Thank you for a spectacular adventure. Best wishes with Manna for Missionaries! Elaine and GT I liked playing with George and subwinging. I liked everything we did. Harrison 9 yrs I loved the water sports and tubing. I also loved George, snorkeling and subwinging. Truman 12 yrs I loved diving the Kodiak Queen and the Chimney. Water skiing was fun , too! Grant 16 yrs I loved diving the Wreck of the Rhone and the Kodiak Queen. It was fun tubing and waterskiing. Carter 14 yrs After Charter Follow up review- How did you enjoy your cruising vacation? Best vacation we've ever taken as a family How would you describe your Captain and crew? Were they Courteous? Helpful? Friendly? Attentive? Knowledgeable? Wayne and Emily were awesome. Very patient with the kids, knowledgeable about the area, fun tour guides and very welcoming hosts. George the dog was fun to have on board as well! Tell me about your meals? Did the menus meet your expectations? Did your Chef and Crew pay close attention to your Preference Sheets? Great meals. With picky eaters we can be a challenge but Emily knew that some of us didn't eat seafood while others love it. She always had options for us. I think most people want more gourmet meals but with kids, she adapted nicely and had some homestyle dinners that the kids loved (spaghetti, pot roast, etc.) How is the yacht? Is she clean and well-maintained? Were your cabins comfortable? Was the cockpit comfortable? Was there enough shade? I was worried that our family of 6 would get sick of spending so much time in close quarters but there was plenty of space for each of us. Outdoors at the front and back, the indoor sitting area and our cabins gave us plenty of space for alone time or hanging out with eachother. Very clean boat, Emily did a great job keeping it that way. What did you like most about the yacht? What did you like the least? With 4 kids, I was concerned that they'd each have plenty to do. Lots of toys on the boat. The dinghy was strong enough to pull water skis, wake boards and tubes so the kids were never lacking. Wayne was always willing to take it out and entertain the guys. Wayne was a great divemaster as well. We went on 8 dives over the 11 days of our trip. He knew of some great spots that weren't crowded where the non divers could snorkel above us so they didn't feel left out. How did you find the pace and the itinerary of your vacation? I'm glad we did 10 days. 7 would have felt rushed. We fished for 1 day (we shouldn't have spent money on fishing licenses).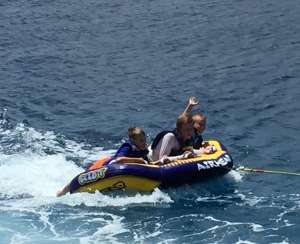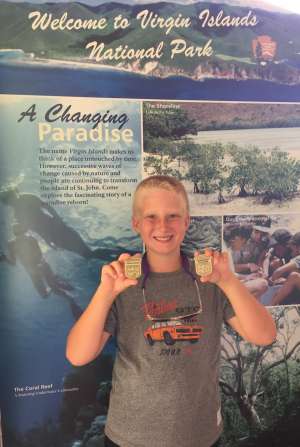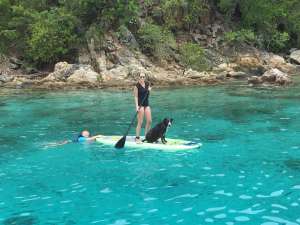 July 1-8, 2017 Birthday Celebration
I couldn't have asked for a better birthday trip and you two made it even more special. I hope you enjoyed having us as much as we enjoyed you tow. We look forward to doing this again- Spanish Virgin Islands!! (in the future but we hope sooner than later). Cheers to new friends. Bob says "greatest 6,5,4"!! Bob and Jo Thank you to both of you for a trip of a lifetime. So many memories, so many laughs. This was our first trip to the Virgin Islands and not sure we can top it! Thanks Captain and Admiral! Come join us at Mardi Gras and ditto to the Spanish Virgin Islands! Jill and Vince Tall Ships Small ships Friendships Ya'll run a tight ship! John and Pam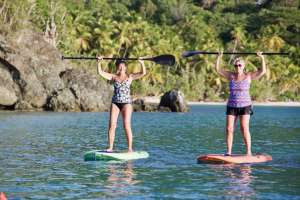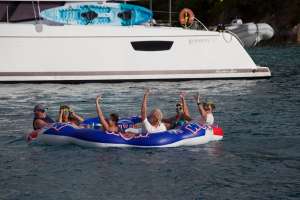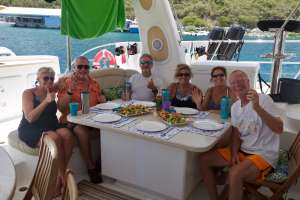 June 11-17, 2017 Graduation Celebration through the Islands
Capt. Wayne and Emily, Just wow! What an amazing vacation! It exceeded all our expectations, which were set pretty high. Where to start… trip planned to celebrate Melanie's graduation. Two teenagers on the boat for the first time, Was I crazy? But no, between Emily's amazing cooking and Wayne's never-ending energy it truly was an amazing vacation. The dives were incredible. The girls loved the Subwings. First time waterskiing, up on the first try, incredible! Hiking, paddle boarding with George our constant companion. And just when we thought we would drop dead from activities, late night card games with Wayne and Emily. We will always remember the laughs and stories and especially Wayne's toasts. Thank you Wayne and Emily for an incredible vacation we will never forget. Emily, you should write your own cookbook. Hope to be back for the Spanish islands. Going to miss those morning sunrises. Amazing memories but even better? New friends. Karen Didn't think the islands could get better than our first few trips but thanks to Wayne, Emily and George we were definitely shown otherwise. Between the peaceful cruising around, scuba diving and other activities we'll have enough stories to talk about for a long, long time. Can't thank you enough for a vacation of many firsts, laughs and toasts. Thanks for an amazing trip! Megan and Melanie Wayne, Emily and my buddy George, BVI is an amazing place. Our family has visited many Islands but never by boat. What a difference!! This trip was full of daily adventures. All exciting with stunning views. Scuba diving was amazing, seeing the girls water ski for the first time, and boating with George were very special memories. Excellent food at you on-board dining table was an awesome touch. To put the final touches on , Captain Wayne taught us many new toasts we will enjoy for a lifetime. Thanks for an amazing family vacation. Gary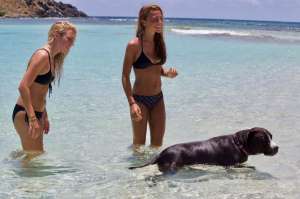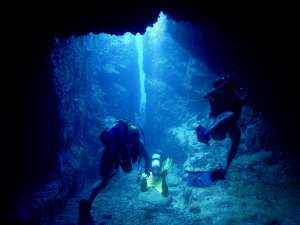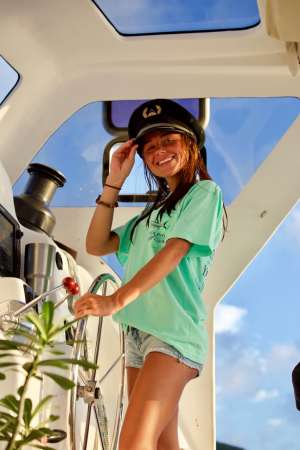 June 3-10, 2017 Covering tons of diffrent islands Island
This was an Island hopping trip in its truest form. Starting in St Croix and including stops in St John, St Thomas, USVI and BVI. With loads of sailing, over 150 miles and some of the most interesting stops along the way... Wayne and Emily, Thank you for making our first cruise such a memorable one. You are great hosts who were so amazing!! Your knowledge was so interesting and we appreciated all your kindness you showed along the way. George and Marilyn We had a wonderful time! You two were so accommodating and gracious. Wonderful hosts!! Tracy and Pat Thank you for the repeat visit! I'm saddened by the prospects of never seeing you again unless you make it to Kansas City. Bernie Thank you for this amazing trip. It was a ton of fun. Nolan "13th Birthday while aboard"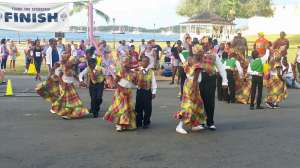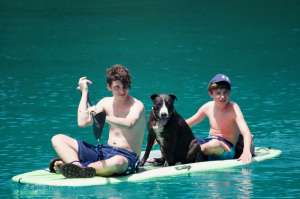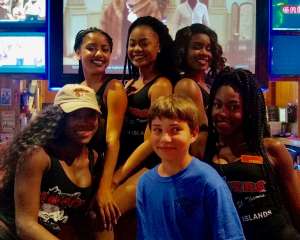 May 13-20 Manna to the rescue that saved one groups vacation!
When another boat canceled this group's vacation at the last minute. Manna came to the rescue with less than an hour from dropping prior guest to take on the Challenge of an unplanned charter. They did it with precision and with the spirit of yachting. Without question absolutely amazing! S/Y Manna and crew, you're nothing short of the best. Thank you so much. Wayne and Emily, Thank you so much for your hospitality this week as you shared your home with six strangers. It was such a treat to get to explore and experience BVI alongside you both. Wayne you're an excellent captain and added much to the humor and adventure of this trip. Sweet Emily, you have such a servant's heart and a gift of making people feel at ease in your home and in your company. You definitely added to the laughter also. Thank you again for taking us in with such short notice. Sam and Sydney~ Emily and Captain "The Dude" Wayne, Thanks for saving our family vacation! We couldn't have lucked into a better situation. Best week ever! Dan and Tracey~ Thank you both for such an amazing week! We all had the best time on your boat. Each of you are so special. We admire you so much for how you enjoy the lives of others. I think we all can learn a thing or two from your selflessness. You helped create a vacation we will never forget. Next time will bring our little fur baby to hang out with George. Carson and Marisa~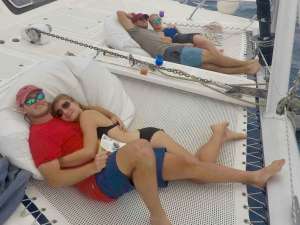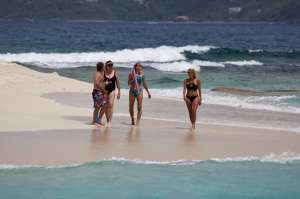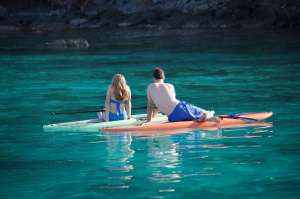 May 5-12 2017 Scuba Diving & Treasure Hunting
Group of four (Two couples) comments after a very enjoyable and relaxing week aboard S/Y Manna; Wayne and Emily, What an absolutely amazing experience/trip. We are so blessed to be on your boat sailing the BVI and getting to know you both. We immediately felt comfortable and spoiled. Emily your cooking was fabulous and hospitality over the top. Thank you both for taking us to all of the cool spots throughout the islands, for telling us the history of the area and being patient with our "minor drinking". We are all discussing our next years trip with you as no one compares. Wishing you safe charters to come. Love Ethan and Joanne Wayne and Emily, Thank you for a wonderful week aboard Manna. We were so comfortable on your beautiful boat and your hospitality was far beyond our expectations! Emily your food was fabulous and always planned with perfect timing. Wayne, thank you for always being ready, willing and able to entertain us with whatever activity was our whim of the moment. We hope to stay in touch and come aboard another time. Thank you Marshall and Carolyn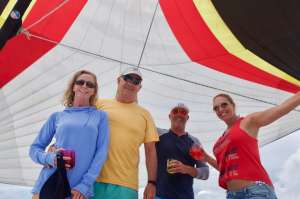 April 5-18, 2017 Puerto Rico & The Spanish Virgin Islands
We knew when we planned this trip we would have a good time. But we never dreamed it would have been this amazing and wonderful!. Each day was a new adventure and memories created that we will never forget. Thank you for everything! From the all the great Scuba Diving, snorkeling, sub-winging, shopping, games, laughs and the amazing food! We really can't say enough, thank you! Dalton and Jamie~ What a perfectly named vessel for our experiences this week: Manna! We were fed bountifully in every way possible -physically, spiritually, recreationally, and emotionally! The food was fantastic; the company was inspirational; the play was refreshing, and the pace was restful and soothing! We've never feasted better on a trip! Our deepest most gratitude thanks to you and your vessel. Fair winds and Gods speed, Ron and Katherine~ Once again the most wonderful, exciting, and relaxing trip! Thank you so much for a needed to make your guests feel welcomed and pampered- yet like we are at home! The lobster hunting in the Spanish Virgin Islands this time was really a special treat and we hope to get to do it again! The food as usual was first class and five star. We only return home to start planning the next trip! Thank you thank you thank you! Can't wait till the next trip. Happy sailing, Dan and Regina~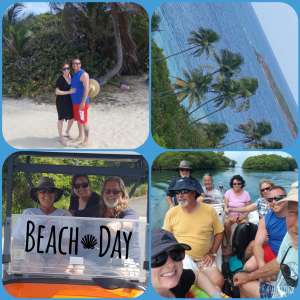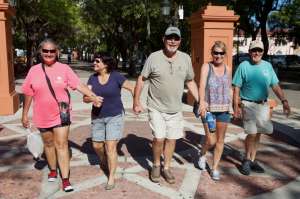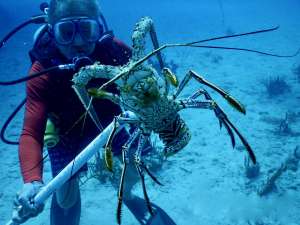 Mar 11-17, 2017 Caribbean Texas style
Wayne and Emily, Thank you for being such gracious hosts aboard manna. We had an awesome adventure! We loved getting to know you both. Captain Ron, I mean Wayne, thank you for taking us snorkeling, skiing, wakeboarding, sub-winging, and who could forget the tube ride!!! The boys loved it! Thanks for making this a special trip for them. Emily, we absolutely loved that Texas meal package. It was all delicious. Again, thank you thank you for making this trip a wonderful experience. We want to come back if you'll have us. We love your servants heart. Take care, travel safe and please let us know when you'll be coming thru Houston. David and Karen~ Thank you, Wayne and Emily, for an adventure on the water! Matthew~ Wayne and Emily, I have had the time of my life this past week. Thank you so much for pouring into us, taking care of us, and sharing stories. I couldn't have imagined a better trip with a better captain and crew. I am so thankful for everything you have done for us this week from cooking the food to pulling us behind the boat. I hope and pray we cross paths in the near future. Again, thank you for your hospitality and genuine care you showed me and my family. Michael~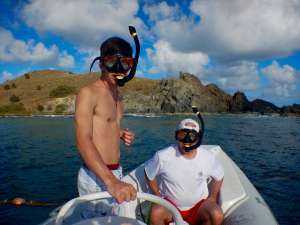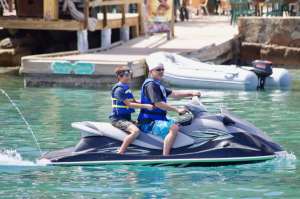 Feb 27 - Mar 6, 2017 Looking for that spice of life!
Perfect is not a good enough word to describe your ability and passion to lead us on an amazing vacation journey. Kim and I would like to thank you for a fabulous week. It is one we will forever remember! So appreciative of your accommodating our needs, as we know how challenging it is to satisfy our six people. Your infectious enthusiasm and flexibility made our trip that more special. We couldn't have asked for a better vacation on board manna. Steve and Kim~ Thank you so much for being such wonderful hosts. We've done this trip a few times and I'd say it takes a lot to impress us but we were more than impressed with the food, the dives, the sailing, and the water sports! You were always ready to assist us with everything we needed and wanted. Nico and Elyse~ Thank you for the amazing adventure! We had such a great time! Wayne, the dives were so beautiful and thank you for your patience with the wakeboard. Emily, your food was so good, we love your spices, LOL! And those desserts, yummmmm, our diets start tomorrow. Thank you for your hospitality and for spoiling us, we loved this vacation! We wish we could have met George, maybe next time. Thank you! Thank you! Adam and Shevaun~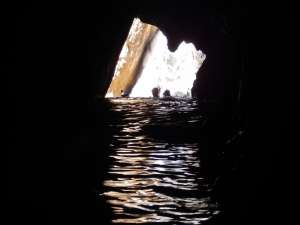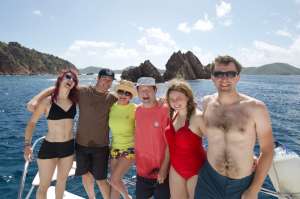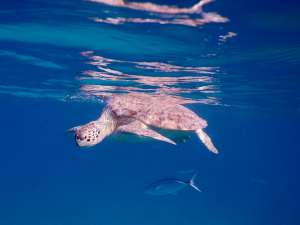 Feb 19-26 2017 Six adventurous guest in BVI
While, we had a great trip! You both were awesome adjusting to our rather eclectic motley crew. I appreciate very much all of the flexibility and accommodating the varied interests. May there be many jet skis in crew dog George's future! Woof… Smooth sailing to you both in the future and thanks again for your hospitality. Owen and Mary~ I had such an amazing experience on manna. All of the food, the diving, the water-skiing, wakeboarding, riding the subwing, and especially hanging out with George! We got everything we could have possibly wanted out of this trip. Thanks for being so generous and accommodating. Next time we'll take the cannon down towards Venezuela and take on some pirates! Ben~ Thank you for the amazing experience! From delicious meals, beautiful dives, water toys, and laughs-we had such a good time!! Caroline~ A poem for Wayne and Emily -----Mike~ At the end of this sentence, rain will begin. At the rain's edge, a sail. Slowly the sail will lose sight of islands; into a mist will go the belief of harbors of an entire race. The ten-years war is finished. Helen's hair, a gray cloud. Troy, a white ashpit by the drizzling sea. The drizzle tightens like the strings of a harp. A man with clouded eyes picks up the rain and plucks the first line of the Odyssey. By: Derek Walcott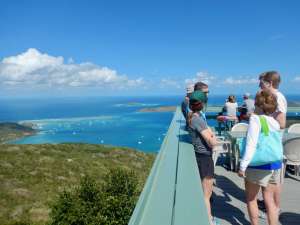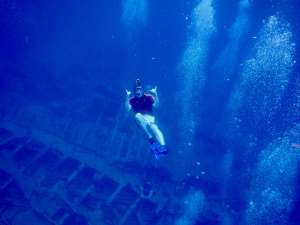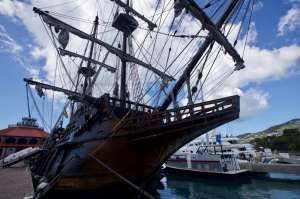 Feb 12-18 Half board with 8 guest
Words cannot describe the truly amazing and fantastic time we had! Food, friends, sun, and sailing the seas with the best! My memories will be forever in my heart and soul. I now know good people walk the earth but the best sail the sea! Thank you for being so gracious and accommodating for every little thing. Truly the best vacation anyone could ask for. Hoping for repeat! Wendy and Bill~ Thank you for our fabulous vacation. Your food and hospitality are second to none. We had the best time ever!! We will to see you in the future. Wishing you both the best. Rod and Stacey~ Thank you so much for the amazing week! We have been on many trips in the past and none of them come close to this one. It was amazing as well as the cocktails. Fun times had by all! Hope to see you soon. Jill and Dave~ Amazing! Sums up our entire week. The food and cocktails and company were top notch and this was the best vacation ever and we will see you again. Pat and Julie~ Email received a few weeks later; Hello Emily and Wayne, I just wanted to thank you once again for taking us into your home and making us feel so welcome. This was a vacation I had been dreaming about for years and I had extremely high expectations, and you far exceeded them. I am attaching some music (Meat & Taters) for your listening pleasure. The first song is Caribbean Love. It was the first song I wrote that had any Caribbean flair. The second is called heaven and it is basically a dream I had of taking a boat through the Caribbean, that incidentally, you helped come true. Thanks again, Dave~ Just a note to say thanks again for our best vacation ever. We have only been home a few days and hated to put on "real" clothes for work on Monday. You run a terrific business. We have always talked about moving to the Caribbean some day after our moms no longer need us. After our visit it seems we can make that a reality. We would love to sail Puerto Rico with you sometime. If a short week comes up or you have a last minute opening, Pat and I can usually make a quick trip. We would love for our kids to experience your Manna as well. Pat~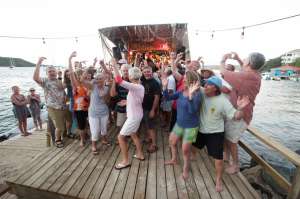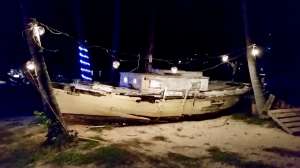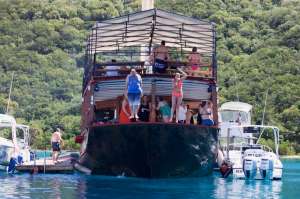 Feb 4-11, 2017
What a fabulous week it has been! A dream really! We loved sailing away with you. Emily, thank you for your delicious healthy meals. Wayne, thank you for keeping us up on all the history and fun facts. Loved, loved, loved the showers. The beaches were amazing! I had never felt more welcome and on someone else's boat or home. Robert fell in love with snorkeling and wants to come back and dive. We love you! Rob and Amy Where do I start? This has truly been a trip of a lifetime. I have loved every minute of it. Just wait, we will be back with all the kids also. I can't wait for them to meet you. In this last week, I have grown to love both of you. You two are amazing! I would love to make a trip to Haiti with you. I love your spirit and the light of Christ you share! I wish you both the best in all you do. Can't wait to meet up with you again. Thank you for making this the most amazing trip I have ever been on. And the food! Holy Cow what I would do to just take Emily home! In fact, please come visit us. We would love to have you. I'll give you a phone number when I get a new phone since mine is on the bottom of the ocean. Love you both. Tiffany ~ Thanks so much for an amazing week! I've been wanting to take this trip for years, and I'm so glad I found you two! I had high expectations and you exceeded all of them. Thanks for everything. I loved it all. Tyler~ I was not sure what to expect when we booked this catamaran. I can say it was the best vacation I have ever been on. We owe it all to you and Emily. You are so accommodating and took us wherever we wanted to go and do whatever we wanted to do. Emily's cooking was amazing! Breakfast, lunch and dinner and also snacks were perfect. This trip that they did my expectations about far. I can't wait to come back and bring the kids. Thank you so much for putting up with us and making it the perfect week! Love you both. Amy~ This was a last-minute decision to come on this trip and I've found glad we came. By far the best vacation I have been on. The beauty, food, fun is almost indescribable. I loved your faith and passion that you have for life and what you do. You both are amazing. Brett~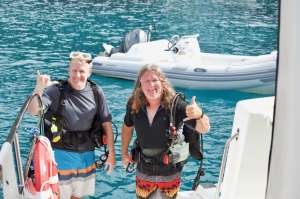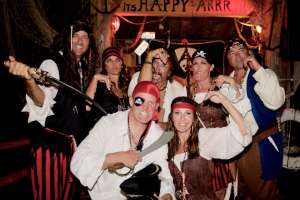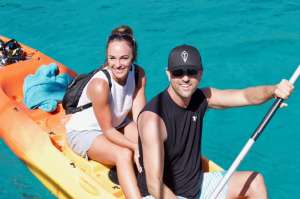 Jan 22-28 2017 USVI & BVI
We have had the most amazing week on Manna and feel completely spoiled by the two of you. This trip was filled with beautiful scenery, relaxation, wonderful food, cocktails, and best of all the company of an amazing generous couple. We hope to continue a friendship with you. Darla and Greg This was an amazing vacation. Both of you are such good hosts. Food was fantastic. Conversation was superb. Learned so much about that this part of the world and what makes it so desirable for people. This is a trip that will not be forgotten. Loved our pirate outfits and blowing the conch. Lots of fun! Every day was perfect and I hope we meet again. Thank you for sharing with us your life. Carol and Scott Thank you so much for being great hosts. We enjoyed your company and all the great food. Thank you for showing us the BVI and excellent snorkeling. Greg is going to practice on his snorkeling skills in our pool. Thank you for sharing all your experience and adventures on the islands and for sharing your missionary work at Haiti. We both look forward to communicating and keeping in touch. God, bless you both. Sherra and Greg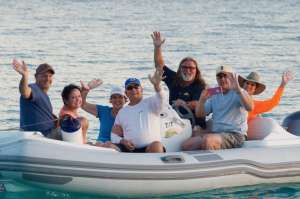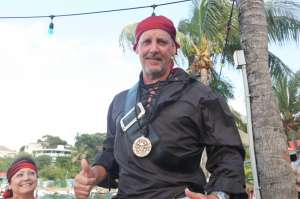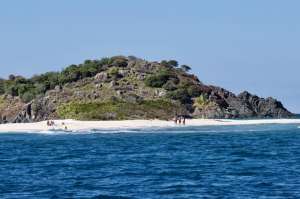 Jan 4-11 2017 Wedding & Honeymoon
Captain Wayne had the honor and privilege of officiating the first Wedding ceremony aboard the decks of S/Y Manna. It was a most beautiful and moving ceremony, with local entertainer Michael Bean Gardner performing a live Love song specially for the young couple. Thank you so much for the trip and honeymoon of a lifetime! We are so blessed to have you guys in our life. We can't wait to start planning our next trip. We can never thank you enough for the preparation and planning for our big day. You are so special to us! Hannah~ Thank you as for giving Hannah and I a wedding and trip we will never forget. You guys are a blast to be around and have some wonderful friends. We hope that we can come see you again. Thank you for such great hospitality and taking the time to teach me the basics of diving. Words cannot express how Thankful I am for all that you guys have done. Hayden~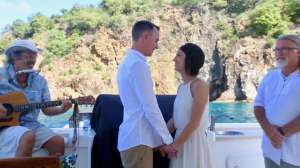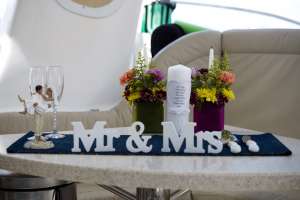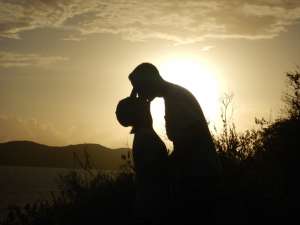 New Years 2016/17
And what a new year it is been! Thank you for an amazing week on sailing vessel Manna. From perfect stops throughout the BVI, snorkeling, subwing, delicious food, amazing drinks, music, and games. We loved wakeboarding and touring on the dinghy but especially loved bar hopping on Jost Van Dyke and being pulled around on the tube a rama!! It could not have been a more activity packed week and yet it was relaxing as any I could ever imagine. Thank you for letting us usher in 2017 with style and such fun. Forgot about Allie's birthday celebration. Best 15th birthday and pirate show a girl could have with a great cake! Pam and Frank~ Thank you for such an amazing trip and for an amazing time. Also thank you for the smooth trips and amazing food. Spicer~ 10 years old Thank you for such an amazing week! We have experienced so many new things and firsts as a family and it has all been so fun. Thank you for showing us all around the islands and showing us the ropes. It has been a blast and we can't wait to come back again! Allie~ 15 years old Thank you so much for an amazing week! There was a perfect balance between relaxation and activity, so we got to experience so many different islands while also getting lots of rest. Thank you so much for all your hard work making this trip so incredible. Happy new year! Holland~ 17 years old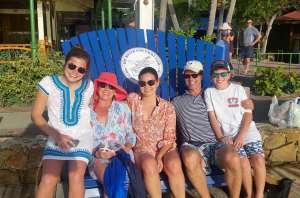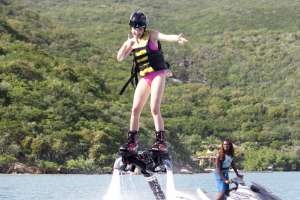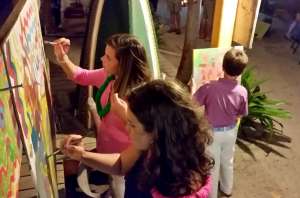 Dec 17-23 2016 Single Guest
There are many reasons to come to the Virgin Islands: Amazing vistas Exotic destinations World class entertainment Great food Alcohol But the best reason to come to the Virgin Islands is Wayne and Emily, and George of course! Mr. B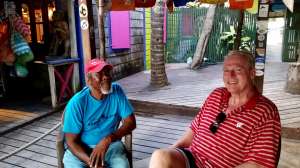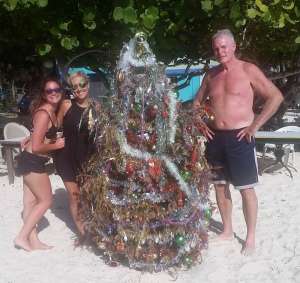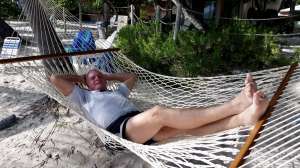 June 13-22 2016 Spanish & USVI Captain only
Sailing on Manna was a dream come true for us. We have been in love with Royal Cape Catamarans for over 10 years and are so happy that she is as wonderful as we'd imagined. Captain Wayne and Miss Emily made this an amazing vacation for our family including kids 11 & 12. Beyond the incredibly well appointed boat, they were full of surprises with unique grown-up toys like the sub-wing and UAV drone, and exciting activities like diving in Christmas Cove, waterskiing in Megan's Bay and exploring coral nurseries. Having previously chartered in the BVI many times, we found it fun to explore new locations in the Spanish and USVI. Each day was a new adventure with Captain Wayne giving us several options to choose from to ensure that each of us got to hit our bucket lists for the trip. Thanks so much for sharing your time and wonderful home with us. You made us feel special and we will certainly recommend a Manna vacation to all of our friends! Steve and Denise Thank you for your amazing hospitality and patience with us. Captain Wayne thank you for letting us subwing and playing cards with us. Emily thanks for cooking amazing meals for us. Also you make amazing desserts. George you are a great dog and you brought lots of joy to this trip. Scott Thank you so much for everything. The boat sailed so smoothly, the food was great and I even won a game of monopoly. Captain Wayne was so patient when letting us subwing. Julia Thank you for such an awesome trip. I have never been on such an amazing adventure and I am so glad it was this one. What a trip, the fun, humor, and all the great swimming spots. Thank you so much! Ree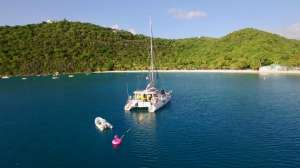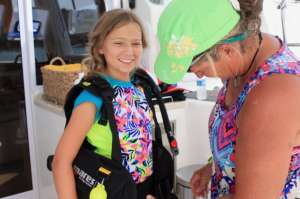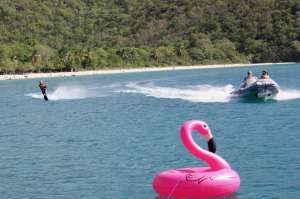 June 4-11 2016 Winning bid for Charity
Manna donated a week all-inclusive vacation to "Ian's Friends Foundation" as part of a fundraiser to be auctioned off with proceeds going to research for children's brain tumors. Below are the comments from the guest that won the bid. Can't thank you enough for making our trip so wonderful! From the minute, we got up in the morning until the time we went to bed the 2 of you were a joy to be with. You made our family trip one of the best! There was nothing we desired that you didn't make happen. Our wish was your command thank you. Emily your food was delicious. Wayne you're a great captain and I love the stories. You are however too good at monopoly. Thanks again for everything. Wish only good things in your future. Roger Thank you for making this week so fun. It has been one of the best weeks at my life. Emily your great cook and I enjoyed your food. Wayne, you are a pretty cool cat. You are funny and really good at monopoly. Harrison Thank you so much for an amazing week. I had a great time getting to know you both and enjoyed every minute. George, I will miss you bad. Thanks again for a great week. Gabrielle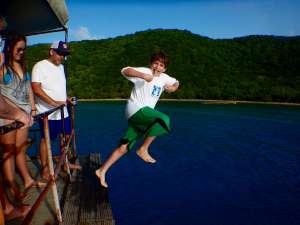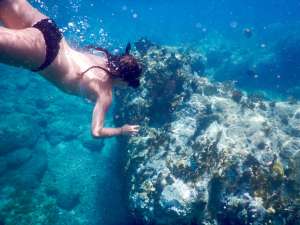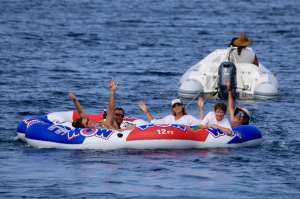 May 14-21, 2016 Slice of Heaven
We had a wonderful time. So much better than I had envisioned as I don't have the best sea-legs. You both are dear friends and this trip was awesome! Beautiful scenery, fabulous food. Emily's culinary gift was amazing. To prepare such wonderful dishes in limited space and time. Captain Wayne you made our trip a forever great memory. Captains drinks, keeping us abreast of where we are going and history of the islands. I am thankful God put you in our path. Dave and Renie What a great time we have had with you both. The Captain, Wayne, was such a great Captain from running us in the dinghy or just sailing. And Emily your cooking was 5 star. The week came to an end way too soon. Manna is such a comfortable boat and we know you are so enjoying living the dream in paradise. Thank you so much for sharing it with us. Jim and Shelly Thank you so much for an amazing week. Loved every minute. You are such gracious hosts. You've got a fabulous home on the water. Thanks again for sharing. We'll be in touch again, Im sure. The time with you has been a slice of heaven. Terri and Haven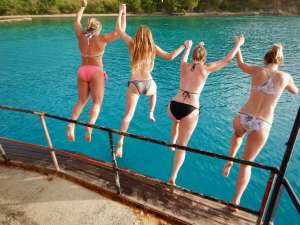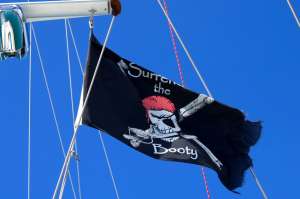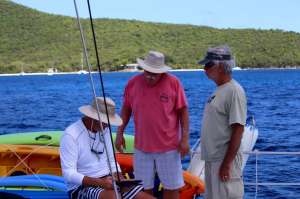 May 1-8 2016 Spanish Virgin Islands
My wife, Nan and I would like to thank you for a wonderful week on Manna. From the moment we arrived on May 1st until the minute we left on May 8th everything was perfect. We felt like we were the center of attention. Your boat is beautiful and our cabin was so cool and comfortable. The meals prepared by Emily were absolutely fantastic! Our sail trip to Culebra and the island of Culebrita was filled with swimming, snorkeling and scuba diving in the most beautiful waters imaginable and then going ashore for sightseeing and entertainment. We think Captain Wayne knows exactly what his guests expect and then exceeded our expectations by taking us to uninhabited pristine beaches and beautiful coral reefs to explore. WOW! We had a magical time. We will be back! Until then we thank you for the very best, most relaxing week we have ever had on a trip like this! We highly recommend the crew and yacht for the best of the best! Kim and Nan Fuller What an amazing week, so many wonderful memories, great sailing to awesome beaches, snorkeling and diving. Loved all the toys, card games and fantastic food!! You guys are wonderful hosts. God bless you both. Linda and Dave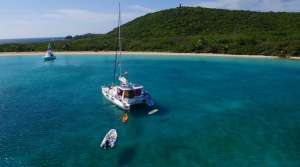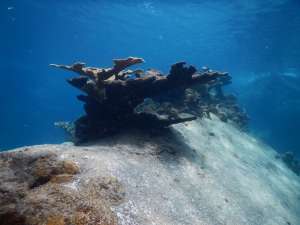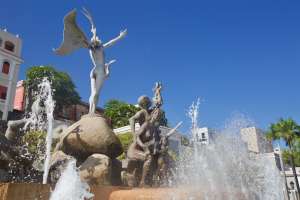 April 9-16, 2016 All Girls trip
Thank you so much for a wonderful time at the BVI. The food was outstanding and Wayne did a good job keeping us entertained on the water and shopping You are the best!!! See you in 2 years! Patty~ Thank you so much for such a great time. This was truly a trip of a lifetime. I will keep you in my prayers. Thanks again for everything. Shari~ Thank you very much for the best trip to the BVI. The food was excellent and snorkeling at Peter Island was amazing. See you in 2 years! Staci~ I can't explain how wonderful the trip was for me. The hospitality was out of this world. The best time of my life. I enjoyed helping on the boat-thank you for allowing me to. Everything was amazing. Lori~ Thank you so much for the wonderful hospitality. This trip was the best vacation I have ever been on. You guys were great and I can't wait to come and sail again. Abby~ Oh, my gosh-what a fabulous trip I had!! Thank you for being so awesome! Pat~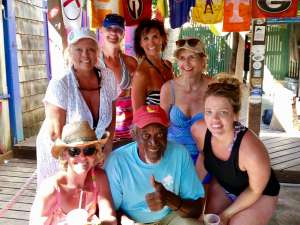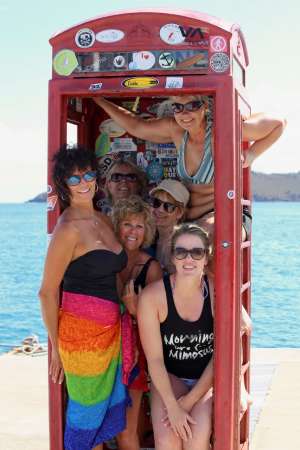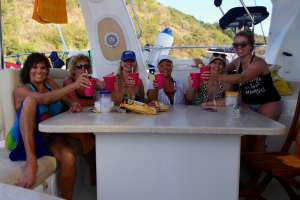 March 26 through April 2 Tandem Charter with S/Y Manna and Ultima Life
Thank you so much for bringing us aboard Manna with you. This vacation has been amazing and you two have done a great job exceeding our expectations. Emily your food was amazing and I am sure we will be cooking some of your meals again. Captain Wayne, you were always ready to tell a joke or story and knew a ton about the BVI. Thank you so much for making this vacation even more amazing than we thought it could be. We would love to sail again on Manna. Bayard My favorite part was playing with George. I had a fun time with him. I hope I see him again. Love, Dinghy Captain Paige - 6 years old Thank you for teaching me to water-ski. It was amazing. Andrew Thank you for giving us the experience of water skiing, snorkeling and fishing. I will remember this trip for a long time. Graham Thank you for the great week. I don�t think I have ever seen so many ear to ear grins over the course of a week-from the water skiing, to diving, to dinghy driving. I am sure George will be happy to be free of his morning baths. Enjoy sleeping past 6 am in the weeks ahead. Arrgh, Russell We cannot thank you enough for making our first (but not last) trip to the BVI so memorable. Thank you for keeping up with the all-day activity of 4 kids and adapting to their early wake up times. We loved every minute of this trip. Stephanie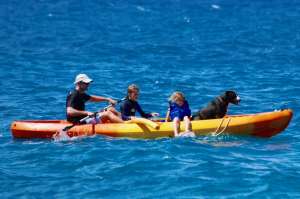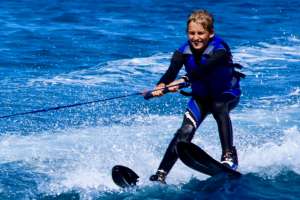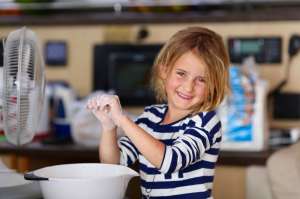 Mar 16-21, 2016 Birthday Celebration
Where do I begin to express our thankfulness for the opportunity to celebrate my 60th birthday aboard your awesome home "The Manna"? This is truly one vacation that I will remember for many years to come. Being onboard with my husband, children and best friends has truly been a blessing. This awesome experience would not have been possible without the hospitality of you two. You willingly gave up your cabin for us and treated us royally. Those pleasant dispositions you have! Emily, every meal was a hit. You really went all out! Wayne, no request was denied. You are a 1st Class Captain. We loved your giving spirit and willingness to please. God is good to provide such beautiful scenery for us to enjoy. From sun up to sundown, his majesty surrounded us. After being on "The Manna" it's hard to return to New Orleans and everyday life. No doubt memories of this time will sneak into my mind and cause me to think of you two and I will smile. Love you guys! Vicki~ We don't want to leave! Not enough words to express our gratitude for all you have done to make Vicki's 60th birthday celebration so special. The memories we made aboard Manna are ones my family will treasure for many years. Each of you went above and beyond to make us feel at home aboard your home. We truly appreciate your southern hospitality and your hard work. Emily, we love your cooking, the meals are 5 star! Wayne, no request was denied! You both aim to please and you certainly did! We are family now! Cheryl and I have been on many vacations and travelled the world and it seems though we sometimes are more stressed when we return because we have to either make all the decisions or we're in a hurry to catch excursions with many other people. We call it the Cattle Call. Not the case here, truly left our worries at home and just relaxed. The boat was fabulous; food better and if you can believe it the captain and 1st mate were even better. We felt safe, well informed at where we were, where we were going and what we were going to do. Best vacation ever! Toy~ You both have been so wonderful to be with. Celebrating Vicki's Birthday has been a blessing! We got to celebrate with 2 heaven sent people! So glad God works in mysterious ways. So glad our paths crossed. This vacation has been so exciting, fun and adventurous! The meals, swimming, snorkeling, games have been so much fun. Thanks for a wonderful vacation and adventure. May God keep you both healthy, happy and safe travels. Hope to share more adventures with you both. Thank you for sharing you home! Keep the Faith. Cheryl~ Thank you guys so much for the hospitality and wonderful experience this week. Emily you have been my "Momma on Manna" and where do I start on the Food! Wayne thanks for your knowledge and patience with us and hopefully you can take my dad up on his offer to be your "Deck Hand". Everything has been great but what made it special were you guys. Hope to see you soon! Nic~ Emily & Wayne, Thank you all so very much for making my mothers 60th birthday one to remember. Also, thank you for not throwing my father overboard. I've never quite had a vacation this relaxing or adventurous. I may be leaving sunburned, scratched, and dehydrated [Symbol], but it was definitely worth it. Thank you for all the memories! Angela~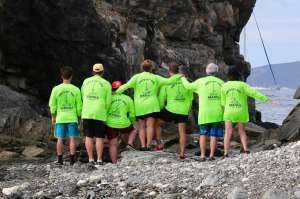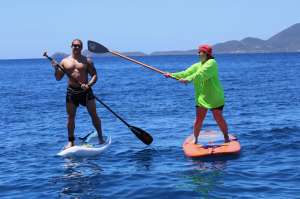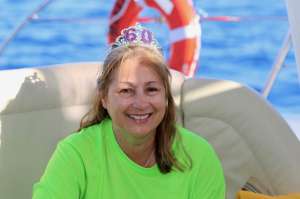 New Years 2015/16
Wayne and Emily, Thanks for a spectacular week aboard the Manna. We had a great relaxing time: a perfect vacation. You've been so generous and the perfect hosts, from dive trip to bouncy raft to all the wonderful meals. Emily your food was outstanding and you will have to incorporate all the new recipes into your repertoire. But really it's all about the almond cake. Thanks and good luck with Manna for Missionaries-such a wonderful cause /calling. Matt We couldn't have enjoyed our time with you and the Manna more. You are both delightful hosts and created a perfect atmosphere of casual relaxation. It exactly what we needed. Thank you Wayne for your good- natured, confidant hand at the helm and Emily for the wonderful meals and pampering. All the best to you on your further adventure in life. This was a great one in ours. Dan Thank you for guiding us through this beautiful part of the world. I will never forget this trip or your hospitality. DJ Thank you so much for the incredible week aboard Manna. It was the perfect way to end a hectic 2015 and makes me hopeful and optimistic for 2016. Good luck with Manna for Missionaries and keep us posted. Thank you for sharing your world with us. Jon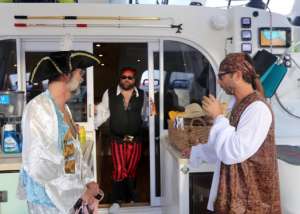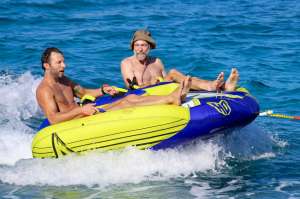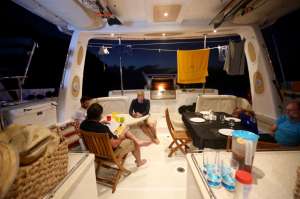 March 2015
We have taken over 25 cruises on the large ships, but this one takes the cake and by the way Emily's cakes are to die for.The intimacy of this trip is like a 9 day long super excursion that you would take on a regular cruise. The feeding frenzy rivalled the large cruise ships. I have 8-10 extra lbs to show for this. We have enjoyed spending time with you both (and George too) Mary and Paul~ Where do we begin and how can we begin to thank you for such a special week in your magical world. We are truly blessed to have crossed paths with you both (and George) . Your elegant, casual, thoughtful gifts for sharing your treasures-Manna, Virgin Islands, BVI, best recipes EVER, tales of the sea are deeply appreciated and will forever be Remembered . Thanks so much for your warmth, wit, courage and friendship. Victoria and Skip~ We knew that it would be good, we just didn't know that it would be this good. I am so proud of you guys for getting out and living your dream. Your hospitality, food and beautiful Manna exceeded our expectations. You gave us a week we will never forget. Just great all the way around. Tom and Debbie~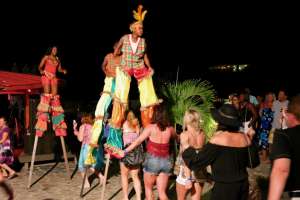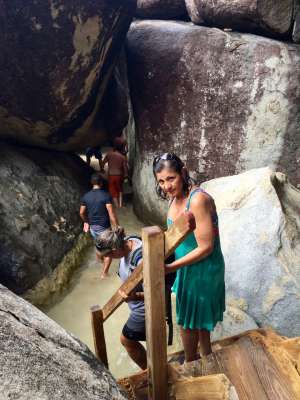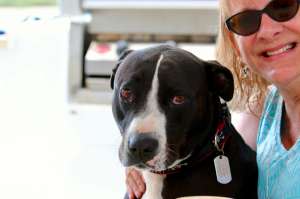 February 2015
Another wonderful trip. The meals were five star, the rooms are awesome and thanks for giving up your room for us. May God continue to bless you. Brian and Connie~ Last week we left home knowing we were on our way to a beautiful place but we didn't know that we were going to meet 2 new friends. We want to thank you for opening up your home to us and showing us your world This has definitely been a special week for us. Your hospitality was above and beyond anything we could have expected. We look forward to coming back soon. Rick and Cindy~ Thank you so much for allowing us to come back on vacation with you. A week on Manna was the perfect solution, the most relaxing vacation ever. The food was incredible as always. You are both wonderful hosts , accommodating everyone's wishes and making sure everyone had a great time. Robin and Wayne~ This has been one of the best vacations we have ever been on. It was so relaxing . Everything was wonderful The food was yummy and we enjoyed every stop. Thank you for your hospitality. We feel so blessed to have been a part of such an awesome experience. May God bless you in your journey. Doug and Shanelle~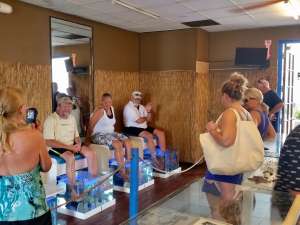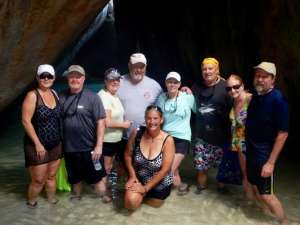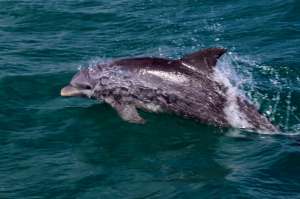 Reviews
Another wonderful trip. The meals were five star, the rooms are awesome and thanks for giving up your room for us. May God continue to bless you. Brian and Connie~ Last week we left home knowing we were on our way to a beautiful place but we didn't know that we were going to meet 2 new friends. We want to thank you for opening up your home to us and showing us your world This has definitely been a special week for us. Your hospitality was above and beyond anything we could have expected. We look forward to coming back soon. Rick and Cindy~ Thank you so much for allowing us to come back on vacation with you. A week on Manna was the perfect solution, the most relaxing vacation ever. The food was incredible as always. You are both wonderful hosts , accommodating everyone's wishes and making sure everyone had a great time. Robin and Wayne~ This has been one of the best vacations we have ever been on. It was so relaxing . Everything was wonderful The food was yummy and we enjoyed every stop. Thank you for your hospitality. We feel so blessed to have been a part of such an awesome experience. May God bless you in your journey. Doug and Shanelle~