Charter Yacht MOON BLOSSOM Guest Reviews
January 2022
Captain Jamie & Wonderful Thea - Thank you for hosting this amazing voyage. You are so much more than a crew to us. You gave us the gift of yourselves - your personality, humor, candor, and friendship. In sharing your thoughts, advice and experience with marriage. You have impacted 3 couples more than you know. Your influence will travel home with us and enhance how we regard ourselves and our spouses. For this, I am ever grateful. Of course, the fabulous food, tending after us and making sure we had a lovely time are also greatly appreciated. Thanks for considering us your "favorites"! Love, Liz & Dan
January 2022
Jamie & Thea, Words cannot express how wonderful the two of you are - we are leaving this trip of a lifetime feeling blessed to have met you. Both of you made this trip special. Your help in coordinating our engagement is so appreciated. We were lucky you guys were there to share it with is. It was truly spectacular! We hope that you will come stay with is in Neptune Beach, FL. You are charming, funny, and have an amazing spirit. Thank you for everything! Love, Chrissie and Johnny
January 2022
Jamie & Thea, Thank you for making our bucket list trip the most memorable of all our vacations. Your attention to our happiness and every need or ask is amazing. The sailing, locations and experience will not be forgotten. Thea, you are an amazing chef and the funniest person, which made us all fell welcome and comfortable. Jamie, you are an amazing Captain and sailor! I told you both, you are living our dream. We sit at our desk dreaming about being on a boat! Don't stop doing what you love! Love, Bill & Lisa
Christmas 2021
Jamie & Thea, Thank you for a wonderful vacation! Everything was amazing! We are so glad we finally made it even though COVID is still around. We will miss being so pampered and all the great times we had with you! We hope to be able to come back and do it again in the future. I hope you get to see your grandson in person very soon. All our best, Gerard, Susan, Heather, Lizzie & Helena
December 2021
Jamie & Thea- Thank you for a fantastic trip. Loved the new boat. We were so happy to be your first trip in the BVI post-covid. Fantastic food and views. Gary enjoyed being able to help sail. We all enjoyed being pampered for an entire week. You create such a fun and friendly atmosphere on board that makes each day a joy. We hope to be sailing with you again! Marilyn & Nelson, Ellen & Justin, Gary & Ginny You're always welcome in Texas!
February 2020
Jamie & Thea - Wonderful adventure on Moon Blossom with great company, wonderful food & hospitality. Thank you so much for a great week!! -Bob & Linda Jamie & Thea - Thank you so much for a wonderful seven night BVI adventure. Great food, friendship & laughter. We had a wonderful time! RJ & Lisa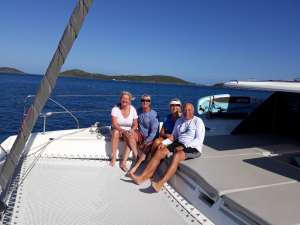 January 2020
Thank you so much for making this bucket list trip totally fabulous! You were both so gracious and hospitable. The sailing and motoring was beautiful, safe and fun. The food was over-the-top wonderful! We thoroughly enjoyed your company. You are both awesome! -Pam & Jeff It has been a pleasure to meet you guys! It has also been a great week of snorkeling ad navigating to all the awesome islands in the BVI. Thea, your food was so special! You both took such good care of us and made us feel right at home. Love ya! -Joe & Carol We couldn't have asked for a more perfect crew for the six of us. We now consider you friends as well, and would love to have you visit us in Texas. Thanks for a first class trip, and we appreciate your professionalism. Mary & Henry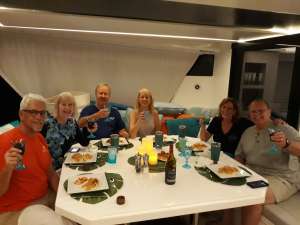 January 2020
Dear Jamie & Thea, Let us as well express our gratitude to spending a week with you on Moon Blossom. EVERYTHING was prefect, from the wonderful cooking, navigating, mooring sites, snorkeling (you still owe us a turtle!) and accommodations. It was as well a pleasure to get to know both of you and converse over a myriad of topics. We clearly made the right choice in choosing you guys and Moon Blossom. Not only that, but we greatly appreciate you controlling the weather for us! Echo above. Getting to know both of you was a wonderful experience. The entire week was Spectacular. -Susan & Michael Dear Jamie & Thea, Ed & I join in Michael & Susan's note. What an amazing week!! Thank you for making it so terrific! Wishing you fair winds! -Debbie & Ed Thanks for a wonderful week and taking us to some spots that were new to us in spite of several previous BVI trips. The food and hospitality have been amazing -Steve & Mimi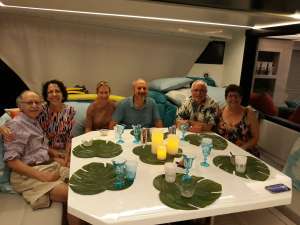 New Years 2019/2020
Thanks for a fantastic week of fun. The sailing, scuba, snorkeling, drinks and just plain relaxing were absolutely wonderful. Your attention to every detail in ensuring our comfort was truly appreciated from chilling the wine to bringing in the dinghy to greet us from the bars and nightlife of the islands! We hope to all return to the BVI soon, hopefully reuniting us again some day! Warm regards, Andre, Trish, Rachel, Lily & Ryan
Thanksgiving 2019
Thea & Jamie - Wanted to express how amazing the trip was. First, the boat - Moon Blossom is beautiful and unbelievably comfortable. Everyone had their own space and the fly bridge is nothing short of awesome. Second, the islands - the anchorages, scenery, and activities were exactly what we were looking for. Last, but certainly not least, the Crew - you guys are great. No matter the situation you guys nailed it. Every anchorage was just right, every meal was spot on, you engaged but provided space, the little details were awesome and the Thanksgiving meal was memorable. Everything you did was classy and well thought out. Not only will we be back but we'd be happy to share our great experience with anyone who asks. -Todd, Maria, Will, Emma
November 2019
Simply pit - AMAZING!! OUTSTANDING!! Our week's journey passed too fast, packed with so much exploration but not without relaxation. We ate like Kings & Queens and were spoiled rotten. Thea - our Thanksgiving dinner was FABULOUS - your sweet thoughtfulness to research and gather all of the traditional food to make your home our home away from home for Thanksgiving. Moon Blossom & you are BOTH a TREASURE!! Our first charter will certainly not be our last. THANK YOU FROM OUR HEARTS!! Maria & Todd PS Please look us up if you are ever in Boston!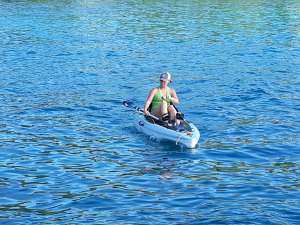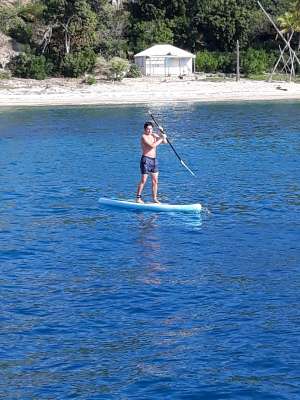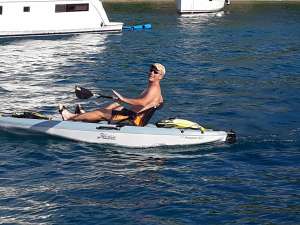 November 2019
Thea & Jamie, Thank you, thank you, thank you! This trip was absolutely amazing and incredible. Thank you all for the laughs and guidance in every activity, the AMAZING food, and just the best friendship we have formed! I loved every second of this dream tip and am so sad to be leaving Moony (aka Moon Blossom). Thank you times a million! Emma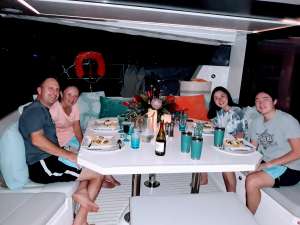 May 2019
Thea & Jamie, Thanks for a truly outstanding Virgin Island vacation. It truly exceeded all of our expectations. The food, the conversation, attention to all the little details, the scenery, the weather and your kind consideration were outstanding. We appreciated all you did for us. Peace, Erin & Ken St. Louis MO What an awesome 'birthday' week! Thank you for a wonderful relaxing BVI vacation - couldn't have had a better crew (you guys!), the boat, the food - ooh la la! The island stops, the snorkeling...we'll miss it all. Keep smiling & sailing. Stacey & Bob St. Louis MO
April 2019
Thea & Jamie, Thanks for a wonderful trip to start our retirement. Greatly appreciate all the special touches to our trip - great food, great drinks and one beautiful place after another. It will be hard to pick a favorite from all we visited. We had a great 2 weeks thanks to all of your extra efforts. THANKS! Marilyn & Nelson Houston, TX
March 2019
Name: Bill Yacht: BLOSSOM Blossom with Jamie and Thea Young Charter Dates: 2019-03-25 12:00 to 2019-03-31 12:00 Area Cruised: Virgin Islands Overall Rating: 5 5 being the highest 0 being the lowest We hope your charter lived up to your expectations. We would love to know some of your impressions about your yachting vacation. Please answer the following questions and add any comments you may have. 1. Was the crew friendly and accommodating? They were superb !! 2. Was the yacht comfortable and clean? Tip top shape 3. Was the yacht well ventilated? Yes 4. Was the food good and well presented? Yes- superb 5. Did you like the area you sailed? Yes 6. Additional comments on your charter? Jaime and Thea were absolutely wonderful. They made us truly feel that the Blossom was our home away from home. Would highly recommend this yacht and crew to anyone interested in a BVI charter. 7. It is our pleasure to keep you informed of relevant specials / updates for your next charter. When do you plan to charter next? Am interested in a charter next February or March near Granada. Can you provide info as to available yachts. If the "new" Blossom is going to be available in Grenada area I would certainly want to be with Jaime and Thea again.
March 2019
Dear Thea & Jamie, What a wonderful experience. You made a trip I was dreading a bit into the trip of a lifetime!! As soon as I saw Thea's pink hair I knew all would be well. Scotty joins me in thanking you for a fabulous week at sea. You both are awesome! We must keep in touch! Much love, Ruthie & Scotty
March 2019
Dear Thea & Jamie, What an absolutly blissful week! We have never been so pampered and relaxed. The two of you made blossom feel like home. Thea, you made a wonderful chef and Jamie is an expert sailor and the two of you are an amazing host and hostess. We shall miss the two of you and the BVI. We shall remember you both fondly. Thanks, Jean & Bill
January 2019
What a wonderful way to open up the new year! Here in the BVI on the beautiful Blossom Cat, with the most awesome Captain and his wonderful wife who treated Jeff and I as gold. The food was very nice and tasty as well and never over cooked! Presentation equally as well. Just want to thank them both for a job well done, it will be an experience that I will always remember and that is saying a lot because I don't remember much. I believe Jeff was very impressed as well because he told me so. We wish them all the best of luck with future charters and hope all their guests as as pleased as we were. No doubt about that. Many more good years to you, we can tell you love what you do! Hugs & stay safe! Jeff & Adele
January 2019
Dear Thea and Jamie, Thank you for such a wonderful trip! Thank you for the food, laughter, and much more. You truly made this boat feel like home. You made our experience of the BVI one to remember; especially with your efforts of always going above and beyond. We'd also like to thank your for making your home feel like ours! Lots of love!! Jamie & Thea, We wanted to thank both of your for a spectacular & brilliant week! Thanks for everything & looking forward to the next trip! Hope to see you all soon! Betsy, Kelly, Alex, Sarah & Emily
November 2018
Dear Thea & Jamie, Thank you so much for a most delightful trip! Right from the moment we stepped on board we felt at home. Every aspect of the experience made it a dream - the food, the fun, the secluded beaches, the starry nights! Even the "Great Northern Caribbean Orange Spotted Towel!" Or the casually floating away little cushion! Or the casually floating away little cushion! We really enjoyed every little thing this boat had. You two are the ultimate dynamic duo! We loved getting to know you and hearing your stories. Thank you for showing us the best the BVI has to offer, and for all the new experiences (waterskiing for starters)! Not to forger all the healthy morning smoothies & yoga!! Thank you for a wonderful time on board blossom! It became our home, you were both wonderful. Hope we see you again! All the best, Nikhil, Mandria, Rohan, Rishabah
Hospitality and Warmth
Dear Jamie & Thea, Thank you for sharing your beautiful home with us. I am very grateful for your hospitality and warmth. I enjoyed your presence very much and I will be incorporating some of your words into my life, especially cheeky monkey! Fate thee well for the next leg of your journey! -Sara
Thoroughly Enjoyable!
Dear Captain Jamie and Thea, Thank you so very much for a thoroughly enjoyable time from our point of origin to our point of departure. Everything exceeded our expectations. Captain Jamie's patience in explaining navigation and endless runs to shuttle us was greatly appreciated. Thea's cooking and kindness was the best. You both love what you do, and it was so obvious to both of us. Love, Roy and Erin
Unforgettable!
You two made this experience unforgettable. It's been a dream come true. Your personality, attitude, patience and genuine love shines and any guest will be most fortunate to have you two as crew and friends. Come see us in Nashville anytime, you're welcome at our home. Happy Sailing, Brad and Tracey
Late March 2018
Dear Jamie and Thea, Where do we begin? Such a wonderful trip! Thank you so much for showing us around the BVI. We can't wait to return. Thank you so much for welcoming us into your home and treating us as if we were family. You two make such a wonderful team. Please keep in touch with us and would love to see you guys when you arrive in Florida. Love, Matt, Shannon, Gavin, and Madison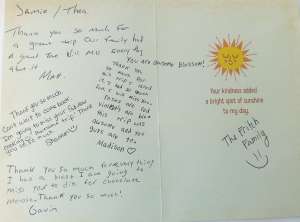 Generous hospitality...
Dear Jamie and Thea, We can't thank you enough for your kind and generous hospitality. The trip exceeded all expectations and created memories that will last a lifetime. The opportunity to spend New Years eve at the Bitter End was made even more special with your son Grant and his Fiance Tara. We felt like honorary members of your clan and ringing in 2016 could not have been better! Your attention to every detail made our every hope for this trip a reality. It is great to see a couple as happy together as the two of you. Your enthusiasm and passion is truly infectious. Alright, enough of this sentimental stuff...Lets raise a glass of Rum and celebrate great times + great new friends. Love, Bobby, Mellissa, Mike & Kelley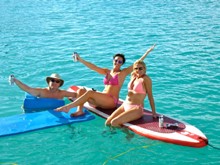 Amazing!
Jaime and Thea, What an adventure we have had together. Beautiful bays and coves, perfect overnight locations, crazy strong winds, rain clouds keeping Jaime on his feet, THE BATHS, seeing most of the best spots the BVI has to offer. Thea's and my crazy steep drive over Tortola to the Road Town clinic, coughing & more coughing, Jaime putting on the Chefs hat, beautiful sunny days & clear blue water. Thea you have wrecked my husband for my future cooking. I will aspire to follow in your amazing food foot steps. Both of your big hearts, kind nature & "welcome aboard to your boat" attitude made our week with you amazing!! Adriane & Michael
Wonderful week
Jamie and Thea, Thank you both for such a wonderful week. The food was absolutely delicious every night (as were the drinks...) and you took us to some wonderful places that suited us perfectly. Thank you also for being so kind to the kids (and chatting with them while we slept) You were wonderful hosts and made us feel very welcome and incredibly well looked after! The Sacks family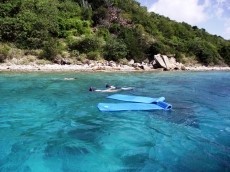 Perfect vacation...
Our vacation was perfect from start to finish. The hospitality incredible, the food wonderful and the destinations just beautiful. Thea & Jamie were gracious hosts and WOW can Thea cook. Jamie knew exactly where to take us for the best diving and scenery. We highly recommend J&T for the very best vacation. Stacey and Larry
We needed this...
Simply put, this is the vacation we desperately needed. After a year of nonstop work and stress, this was what we needed most. Thanks for seeing to our very need and desires throughout the trip. Your expertise and suggestions on mooring sites helped us to navigate beyond the over crowded beaches and bays of the high season. The meals were fantastic and desert was a perpetual "yes" when we didn't think we could eat anymore. The boat is our favorite so far because of the large suites and overall wonderful layout. Our highest complements to the crews and we look forward to seeing you in the future. Best wishes and thank you for everything. Jeremy and Emily Dear Jamie and Thea, We want to thank you both for the wonderful opportunity to spend our vacation with both of you. We have sailed in the BVI many times since 1980. You were both accommodating, helpful, friendly, kind and generous with your time and talents. The food was delicious and presented in such a lovely way. Your knowledge of the islands was unsurpassed. Thank you for keeping is SAFE. Love, Bill and Robin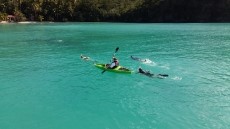 Best birthday!
We came for Janis's birthday on the 32rd...and what a week this has been. Jaime and Thea...you have been like real friends, welcoming and courteous. This was our first experience on a sail boat and will be remembered for ever. We saw the best of the Virgin Islands-very beautiful beaches, The food was excellent and the company exquisite. We certainly licked out and feel very privileged to have met you and spent the week. Your boat is immaculate. The service was so attentive...indeed a privilege and a great experience. Best of luck with all your future charters. We would love to do this again. Janis and Guy
Absolutely fabulous!
"Absolutely fabulous!" "We sailed with my wife and 2 daughters, 9 and 8. We all loved Jamie and Thea and highly recommend them for any charter. " "From the moment we met Jamie and Thea it was if we had known them for years. They are the consummate hosts and meet your every need before you even know you have one! This is the best boat with the best hosts in the BVI. We will be back!" "What a wonderful experience this was! Jamie and Thea were an absolute joy to be around. They had a wonderful sense of humor and great knowledge of the BVIs. We loved spending NYE with them. I can't wait to book our next adventure!" "It was our friends first time chartering and in the BVI so it was great fun to be with them and share. Thea and Jamie were exceptional hosts! Clean and relaxing environment, wonderful sized staterooms and baths, Thea's food was wonderful and she did a great job catering to one of our folks who is a "little bit picky", Jamie and Thea both showed us the ropes on chartering - teaching us along the way. Couldn't have asked for a better boat or crew! "
Therapeutic and wonderful...
Dear Thea and Jamie, Thank you for an amazing week of food, snorkeling, and exploring the beautiful islands. You have made us feel completely at home and relaxed. It has been therapeutic and wonderful family time. We are blessed to have met both of you and look forward to sailing with you again in the future. All the best to you- Doug, Sharon, Joseph, and Lilli
Amazing week...
Jamie and Thea, Just wanted to say thank you for the amazing week we spent on the boat. It was our first time sailing, but definitely not our last. The boys had a blast and don't even want to go home. Thank you for the amazing food and Elan's birthday party. Hope to see you again on our next charter! -Akiva, Ora, Elan, and Eliam
Incredible
Dear Jamie and Thea, We can't thank you enough for the great vacation. Your knowledge of the islands and kindness with putting up with 3 crazy teenage boys is everything we could have hoped for. The food and drinks were incredible and your attention to us was something we aren't used to! Wishing you many happy sunsets in the future. I had a fabulous time! Thank you for teaching me everything. -Marshall This was probably the most relaxing trip I've ever taken. Thank you for your generosity. -Lucas Great trip! Jamie and Thea are the parents I never had! -Helene
Outstanding week!
What an outstanding week you've given us here in the BVI. The sights we've had the pleasure of seeing thanks to y'alls suggestions were nothing short of spectacular! We can't even describe how wonderfully tasty all the meals and snacks were! (yes, diet starts tomorrow). Your friendship and laughter added so much to the week. Thank you both so much for everything. Remember, y'all are always welcome in Texas! And Coco, the island boy may try to keep you. His tank can float a boat. All the best, Steve, Cindy, Lacey, Kyle, and Coco
Trip of a lifetime!!
Thank you so much for the trip of a lifetime! We enjoyed your amazing stories! The adventures you took us on were so fabulous! If you ever travel to Denver, please reach out to us! Chad and Jen
May 2017
Dear Jamie and Thea, What an amazing week of sun, snorkeling, adventure and delicious meals. I feel like we have not only had an incredible vacation, but made great new friends. If you ever make it to Colorado, make sure to allow us to return some hospitality. Joe and Callie
Truly a joy!
Truly a joy!! Most amazing food & kindest people. I felt like I was with family. So safe, so beautiful. Everything was there before we could ask - you can't get that from a website description. It's fate that we found you both! We will be back (fingers closed). Bless you both and until next time:) Erin, Patty + Wayne
No words...
Jamie & Thea, There are no words to describe how amazing both of you are! We are truly blessed to have met you on this amazing trip. You are both so very generous and full of life. Thank you for everything this week Thea - you went out of your way for me to make sure you prepared food I could eat. Thank you! Jamie - you were always right there to help with anything we needed THANK YOU! The love you have for each other is amazing and I hope Chris and I can mirror your marriage! We truly felt right at home. The life you are living here in the BVI is so amazing and we hope to be here soon! We would love to bring our family back to meet you! Can't wait to see you both again. With love, Chris & Mandy
Wonderful memories...
Jamie & Thea, Debbie and I had a fantastic time seeing the V.I's for the first time, thanks to both of you. The pace was calm and casual, the hospitality 5 star and cuisine top rate. We are taking back a slew of wonderful memories and hope to return again perhaps with some family and friends. Safe travels, Dave & Debbie
Reviews
Jamie & Thea, Debbie and I had a fantastic time seeing the V.I's for the first time, thanks to both of you. The pace was calm and casual, the hospitality 5 star and cuisine top rate. We are taking back a slew of wonderful memories and hope to return again perhaps with some family and friends. Safe travels, Dave & Debbie