Charter Yacht NAE KAE Guest Reviews
November 2022
NAE KAE Maiden Voyage: Absolutely best boat, best place, best crew! Doyle and Maya took my family for a cruise of the BVI's and what a wonderful trip we had. Capt. Doyle demonstrated sound knowledge of the BVI waters and special spots to hang out. Also, safety was a constant component of all we did. The boat is brand new; we were the maiden cruise. She is well designed for taking a family or friends on this type of trek on the water. It has plenty of space, nice toys for the kids and adults. As for Maya she is an outstanding chef. The food she prepared was very tasty made from natural ingredients, making it fantastic. Pretty much everything she prepared was from scratch like homemade hamburger buns and homemade Pasta. We trolled lures off boat while underway and brought two beautiful Mahi Mahi's aboard which were delicious. She also made unique cocktails, but if she offers to play cards with you be slightly cautious (lol)! We learned that Capt. Doyle is an accomplished musician, so we got a few songs played and sang for us one evening, it was very magical. He is outstanding! Overall, our family had a wonderful time and we would definitely do it again.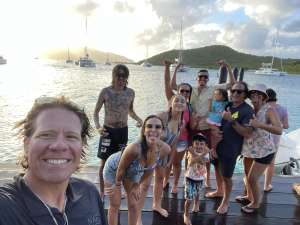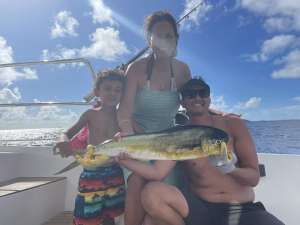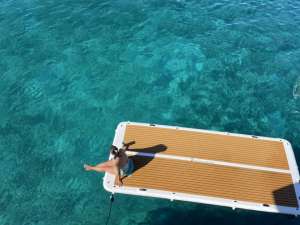 November 2022
Doyle/Maya I can't thank you enough for the fantastic cruise you provided for my family. Your attention to detail was outstanding. Maya, your meal prep was like nothing I've ever had. Doyle, youre soft but constant awareness of safety was warmly welcomed. You are the best and we hope to cruise with you again in the future!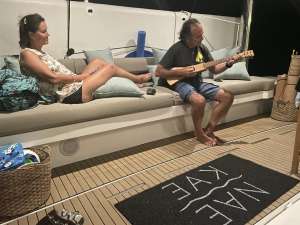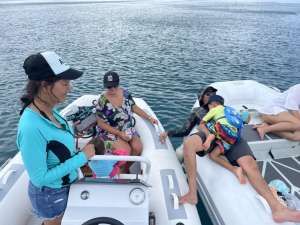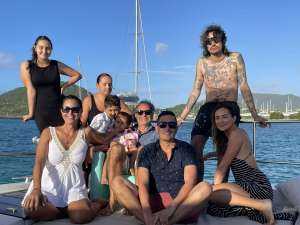 November 2022
Our Nae Kae adventures with Captain Doyle and Chef Maya were amazing. Everything was thoroughly thought through. The boat felt so relaxing and at home. Every meal we had was amazing. The water toys, beaches, islands and fishing were perfect for my family. We had everything we needed and never felt like we needed to leave the boat. Every aspect of the trip was perfect and we wouldn't change a thing. Thank you Doyle and Maya for everything!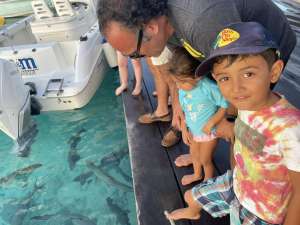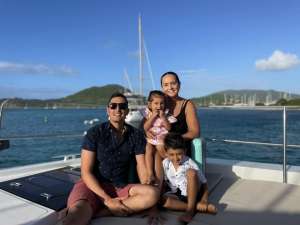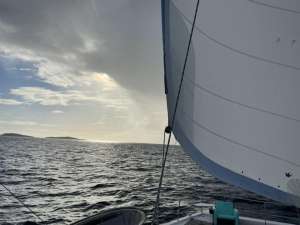 November 2022
This was a lot of fun! The crew made everything even better! 10 out of 10! Maya's food was better than any other food I've had and it was all homemade and healthy
November 2022
Thank you so much for a fun trip! Captain Doyle and Chef Maya were amazing. The food was to DIE for! The activities, games, toys, and atmosphere were spectacular and something I'll never forget. I will forever be grateful that this was our crew. You are both wonderful people and I will cherish our time together. I hope we get to meet again. Cheers to you.
Previous Boat
Tim and Maya, Thank you both for such a wonderful trip this week- seriously was a dream come true! We loved every day (minus Andrew's hangover day :) lol) Highlights: -swimming with sea turtles -Lime Out rain shower -cornhole/ "Bags" competition -Rummy 500 tournaments -Amazing food + drinks!!!! We will never forget this week! Please call if you are eve in the NJ/NY area! Love y'all!! The Bruens
Previous Boat
Dear Tim and Maya, This week aboard Oceanfront Property was truly a trip of a lifetime and you both exceeded our highest expectations! Tim's captaining skills took us to glorious destinations and memorable experiences. Every destination was different with its own beauty and magic. We will forever remember the amazing snorkeling under the pier in Saint Croix and cocktails overlooking the crystal blue St. John waters. Your cocktails were out of this world Tim, thank you! And, the food… you are such a talented and amazing chef, Maya! Every meal was delicious, beautifully presented, and a work of art. You have certainly encouraged us to "up" our cooking game-your mastery of the use of herbs and seasoning is unsurpassed. Thank you both for all the time and attention you gave to ensure that our trip was a magical, relaxing, adventurous, and unforgettable. We struck gold when we booked this trip with you as our crew… wow, just wow! We hope you find your way to Maryland and the Chesapeake Bay~ If so, please let us know. We would love to take you on a boat ride, cook for you, and enjoy listening to Tim and Ralph playing guitars and crooning the night away! With much fondness and gratitude, The Leasure Family
Previous Boat
June 2022 Our trip was one of the BEST vacations we have ever taken with our friends. It was a unique and unforgettable experience, filled with great memories. Captain Tim and Chef Maya went above and beyond, and everything was complete perfection. Tim was not only a great Captain, but he was also funny, entertaining, AND a fantastic bartender whipping up Painkillers, refreshing Mojitos, and sinfully delicious Bushwackers. And as for Chef Maya, at the end of the trip, we wanted to take her home with us! Every meal was creative, beautifully presented, bursting with flavor, and incredibly healthy. In fact, she opened our eyes to how food can be both healthy and scrumptious. and has inspired us to improve our culinary skills at home! It was truly an amazing experience with friends that exceeded our expectations. Ours wasn't an easy trip as we were tandem sailing with another group of friends on different boat for 7 nights, and both crews had to coordinate daily. The crew made the trip exceptional – they were super friendly, accommodating, highly attentive, professional, and made us feel very welcome. They took us to amazing snorkeling/diving spots, beautiful coves/beaches, organized a surprise live concert on our boat (which was delightfully interrupted by a dolphin that graced us with its presence and allowed us to swim with it!!). We not only enjoyed Tim & Maya's service, but their company as well! Had a blast playing drinking games:) And Tim even belted out a few tunes on his guitar for us on the last night. The Oceanfront Property was a luxurious place from which to just stare into various blue colors of the US Virgin Islands. And we can't wait to do it again!" Raj & Brad
Previous Boat
Captain Tim and Chef Maya, thank you for an incredible trip that we all will never forget. From Maya's meals to Tim's captain skills – we enjoyed every moment. Many fun days and nights were had on this boat (some we may not fully remember). Truly, I can say this for all of us when I say we don't want to leave! You two are incredible humans. Please keep in touch and we will see you again. Aargh! The Campbell Family.
Previous Boat
Tim and Maya, Our heartfelt thank you for an amazing, relaxing vacation with you on Oceanfront Property. You both made our week so much fun! The places we visited, the fishing and the snorkeling, the sails and amazing meals were beyond our expectations. You both work so well together!! Thank you for the board and card games, the music and drinks of the day. We will all definitely be back and look forward to sailing with you again! A week for the memory books!
Previous Boat
Our trip with Oceanfront property has been so amazing! Absolutely "AMAZEBALLS"! The food was incredible. Tim and Maya are the best people you will ever meet. Maya's cooking 10/10 always. Tim's bus driving skills 6/10, could be better. Just kidding. We love you guys so much! Oh also did you know we swam with turtles and went on the most magical beach is filled with hermit crabs. But watch out for the sea urchins!! Also make sure to ask Timmy and Maya for the full moon party pack..sorry waning gibbous moon party pack I mean!
Previous Boat
Thank you Tim and Maya for a wonderful vacation. Maya created delicious and creative meals and snacks every day. The service was fabulous. Tim took us on an adventurous sale. They had great recommendations for beautiful settings every day. The beds were so comfy and we loved being rocked to sleep at night. Thanks for teaching us how to play Codenames-we have to get that one at home. We loved her ocean front property vacation! Gordon and Aileen
Previous Boat
Capt. Tim and Maya, Thank you for providing us with a wonderful week on Oceanfront Property as we toured the Virgin Islands. We really appreciate all the hard work that you provided "behind the scenes" to give us a seemingly stress-free week. The meals were wonderful – so fun for us toe enjoy sharing a meal together. Some favorites – avocado toast, fruit platter, shashuka for breakfast, lobster bisque and crab cakes for lunch, homemade pasta with scallops, and freshly caught mahi mahi – yum! Not to mention the incredible Key lime pie and crème brulee. Thank you for teaching us some new games to enjoy with our family. So fun! It has been a pleasure spending the week with you. Thank you, Tim, for accommodating our requests to spend some time with our cousin on the other boat. We also appreciate all the cool stops we made during our week – Christmas Cove, Caneel Bay, Pizza Pi, Lime out... We had a fabulous time! With fondness and appreciation, Magie and Dick Beers.
Previous Boat
Maya and Tim, Thank you for an incredible vacation aboard Oceanfront Property. Everything from the food, sailing, accommodations – exceeded our expectations! Highlights for us included – Maya catching the mahi mahi on Day 1, swimming with turtles in Maho Bay, Lime Out, spotting 4 squid in Caneel Bay, drinking and dancing to the disco ball and fun music, and generally reading, sleeping, and relaxing our way though each day! Thank you for showing us a wonderful time, keeping track of us all, organizing with our cruiser boat, feeding us incredible meals and giving us memories for a lifetime. Until next time..
Previous Boat
Thanks Tim and Maya for an amazing time. This was my first time in a charter and I can't have imagined a better experience! Thanks!
Previous Boat
Tim and Maya This has truly been a spectacular week, all thanks to the two of you. From the incredible meals, drinks to you hospitality – showing us the best of the islands, to the fun game nights – you two are part of the family! We knew this week was going to be great but you two made it amazing in every way Thank you both from the bottom of our hearts. This isn't goodbye but see you later! March 2022 Capt Tim and Maya Thank you so much for the amazing week of sailing, dining, and fun! It was truly a memorable experience that ill never forget. The hospitality, meals, and drinks were all exceptional. The knowledge of the islands and showing us around were top notch. I enjoyed this trip immensely because of you two! Hope to see you all again! March 2022 Tim and Maya, I just want to thank you both for an amazing trip from start to finish. All the recommendations for each day were spot on. From codenames to poker, we enjoyed hanging out with you as well! I hope to see you both someday! February 2022 Our first time to the USVI was fabulous thanks to Captain Tim and Chef Maya plus the Oceanfront Property which had a superb layout. Tim and Maya made us feel welcome from day one and put together an itinerary that took us to all three islands. A big adventure combined with incredible and tasty food, impeccable service, lots of spectacular scenery, and some wonderful friendships! Thank you Tim and Maya! Exclamation! February 2022 Our trip on Oceanfront Property was nothing short of FABULOUS! Captain Timmy and Chef Maya left nothing out—wonderful snorkeling spots, outrageous sailing, exquisite meals, hilarious evenings of game-playing—every detail planned or spontaneous was considered and so appreciated. We will never forget this week and look forward to more trips with these two at the helm! February 2022 Ditto to all the adjectives above that describes a week that exceeded our expectations. 5+ stars for sailing, snorkeling, hiking, and playing— Even more accolades for our crew of calm, competent captain Tim and the worlds #1 chef Maya. So much fun!!! February 2022 Tim and Maya, you two were/are amazing. I had no idea what to expect on a trip like this, but this is more fun than anything I could've imagined. Maya, your creative cuisine that catered to all of our diet and your sense of humor were two of my most favorite things. Tim, your navigating and musical skills are most of mirable and beautiful. Thank you for sharing all of your many gifts with us, for being yourself, for allowing us to be ourselves, and for joining our makeshift family. We love you and feel blessed to have spent this time together, with you, in paradise. February 2022 Tim and Maya the week was as amazing and special as you both are human beings. It didn't take long to feel like family and we genuinely enjoyed our time connecting and wandering about the boat, the amazing food and all your knowledge of the islands. Tim-your amazingly talented at the guitar, lassoing a dock cleat, chopping an onion and swimming like your dinnghy depends on it. Thank you for taking such great care of us. Maya- you are a beautiful human with amazing cooking skills. I was doubtful that all the meals on the boat would be as plant-forward as my diet. You surprised and delighted us from the first meal to the last snack. It's been so fun and we look forward to connecting again. Peace and love, January 2022 It's hard to imagine seven days and nights without a shred of disappointment but this is exactly what this trip has been: utter bliss and happiness and fun and adventure. Life with Tim and Maya aboard Oceanfront Property has exceeded my every expectation! It has been super fun getting to know them/you and we will miss you both not just because of the awesome environment you provided for us/ spectacular food, the perfect drinks at the perfect time, the best activities etc., but because you're both such easy-going, interesting, and fun people. Each day had been better than the last-how is that possible? ! Loved it all! Here's our trip went: downpours we came aboard (so funny!), lunch and drinks and snacks on the beach, food, food, food, hikes and snorkels, band on a boat while watching from a raft-WHAT? Sailing ❤️, turtles, ruins, donkeys, drinks, drinks, drinks, games, games, dice (Perdudo), Codenames, Farkle, catching and eating fresh caught fish and volleyball, yahoo!! We also had so much fun making pasta and it's you!! And our special dinner at 1864. A lifetime of great memories. Tim made everything happen for us! Every day he planned was exactly what we wanted/needed. Maya was so creative and professional with her cuisine and presentation. We are so impressed with our crew!! Thank you!! We're so grateful you took-us-on last minute everything worked out exactly as it should have! OMG. Miss you both already. Please keep in touch reach out if you're ever in VT! It's cold but also beautiful. You guys can cook if you visit :) I'll go to the market for you. Cheers and gratitude! Love, love, love January 2022 Captain Tim & Chef Maya! Wow! What a spectacular trip! I can't believe how much everything exceeded our expectations. You are both so accommodating and so incredibly kind! The itinerary you planned was perfect! There is not one thing we would change. Such a great way to see the USVI. Now lets discuss the food! Every meal was truly out of this world. We have never eaten amazing meals 7 days in a row! Thank you for all the thought, time and consideration you put into makign this a once in a lifetime trip! We are appreciative! Getting to know you both was fun! You are wonderful people. Thanks too for the fun game night! :) You're talented and gifted in what you guys do. Thank you for a special week! Thank you so much for the past couple days. They have been very fun. I love all the pictures I have. You both have been so fun to be with. Thank you so much for everything you have done. November 2021 Clayton and Maya, I echo Julie's words above but want to add a few more of my own. This is my 5th charter and hands down the BEST all because of you guys! I was so surprised to learn this was your first charter as a team as you were the perfect pair. Clayton's boating and mechanical skills were complimented by Maya's fantastic culinary skills. Both made their work seem effortless. We hope to see you again. Beth (aka Mimi) November 2021 Captain Rob and Chef Maya, Thank you for an amazing trip. The two of you were a great fit for our group. Delicious food, great service, new activities, and spots to see AND jumping right in with our sense of humor and jokes. Also, you were both cool under pressure when we needed you to be. We would do it again tomorrow. Thank you. November 2021 Rob and Maya- Thanks for making my 50th Birthday celebration so special. It was the small touches that did not go unnoticed. From the special attention to our dietary requests to the Olympic dinghy flings, it was the details that made the trip extraordinary. We can't thank you enough. Captain Rob's primary concern was clearly out safety and comfort, honestly saved my life. Thanks Rob for the piggy back ride to the ambulance. I'm sure you'll never have to do that again. Your effortless professionalism made a terrifying situation bearable. Maya jumped into every situation like a veteran. We were all surprised to find out it was her first trip. And the food was OUTSTANDING- thanks so much for the attention to detail. Little touches like the ginger tea at bedtime made the week exceptional. It I had to sum it up, I'd say it felt like you were on vacation with us this week, not for us- that's the best!! We would travel with y'all anytime!! Ben Teague USVI Boat Float 2021 November 2021 Clayton and Maya, Thank you for an incredible trip! You made every day so fun, comfortable, and delicious. Our boys could not have had a better experience- your itinerary created so many opportunities for them to try new things and for our family to create unforgettable memories. Clayton is so easy going but knows his stuff- completely unflappable! And Maya- the FOOD!!! You are a wizard. We are going home heavier and without regrets. Thanks for curating every snack and meal with such passion and care, even getting the boys to try new things. Thanks for your every day attention to detail and tidiness- both of you. We'd love to travel with you all again anytime and loved getting to know you. Wonderful hosts and people!! -Jay, Julie, Beth, Henry and Edwin St. John November, 2021
Reviews
Tim and Maya This has truly been a spectacular week, all thanks to the two of you. From the incredible meals, drinks to you hospitality – showing us the best of the islands, to the fun game nights – you two are part of the family! We knew this week was going to be great but you two made it amazing in every way Thank you both from the bottom of our hearts. This isn't goodbye but see you later! March 2022 Capt Tim and Maya Thank you so much for the amazing week of sailing, dining, and fun! It was truly a memorable experience that ill never forget. The hospitality, meals, and drinks were all exceptional. The knowledge of the islands and showing us around were top notch. I enjoyed this trip immensely because of you two! Hope to see you all again! March 2022 Tim and Maya, I just want to thank you both for an amazing trip from start to finish. All the recommendations for each day were spot on. From codenames to poker, we enjoyed hanging out with you as well! I hope to see you both someday! February 2022 Our first time to the USVI was fabulous thanks to Captain Tim and Chef Maya plus the Oceanfront Property which had a superb layout. Tim and Maya made us feel welcome from day one and put together an itinerary that took us to all three islands. A big adventure combined with incredible and tasty food, impeccable service, lots of spectacular scenery, and some wonderful friendships! Thank you Tim and Maya! Exclamation! February 2022 Our trip on Oceanfront Property was nothing short of FABULOUS! Captain Timmy and Chef Maya left nothing out—wonderful snorkeling spots, outrageous sailing, exquisite meals, hilarious evenings of game-playing—every detail planned or spontaneous was considered and so appreciated. We will never forget this week and look forward to more trips with these two at the helm! February 2022 Ditto to all the adjectives above that describes a week that exceeded our expectations. 5+ stars for sailing, snorkeling, hiking, and playing— Even more accolades for our crew of calm, competent captain Tim and the worlds #1 chef Maya. So much fun!!! February 2022 Tim and Maya, you two were/are amazing. I had no idea what to expect on a trip like this, but this is more fun than anything I could've imagined. Maya, your creative cuisine that catered to all of our diet and your sense of humor were two of my most favorite things. Tim, your navigating and musical skills are most of mirable and beautiful. Thank you for sharing all of your many gifts with us, for being yourself, for allowing us to be ourselves, and for joining our makeshift family. We love you and feel blessed to have spent this time together, with you, in paradise. February 2022 Tim and Maya the week was as amazing and special as you both are human beings. It didn't take long to feel like family and we genuinely enjoyed our time connecting and wandering about the boat, the amazing food and all your knowledge of the islands. Tim-your amazingly talented at the guitar, lassoing a dock cleat, chopping an onion and swimming like your dinnghy depends on it. Thank you for taking such great care of us. Maya- you are a beautiful human with amazing cooking skills. I was doubtful that all the meals on the boat would be as plant-forward as my diet. You surprised and delighted us from the first meal to the last snack. It's been so fun and we look forward to connecting again. Peace and love, January 2022 It's hard to imagine seven days and nights without a shred of disappointment but this is exactly what this trip has been: utter bliss and happiness and fun and adventure. Life with Tim and Maya aboard Oceanfront Property has exceeded my every expectation! It has been super fun getting to know them/you and we will miss you both not just because of the awesome environment you provided for us/ spectacular food, the perfect drinks at the perfect time, the best activities etc., but because you're both such easy-going, interesting, and fun people. Each day had been better than the last-how is that possible? ! Loved it all! Here's our trip went: downpours we came aboard (so funny!), lunch and drinks and snacks on the beach, food, food, food, hikes and snorkels, band on a boat while watching from a raft-WHAT? Sailing ❤️, turtles, ruins, donkeys, drinks, drinks, drinks, games, games, dice (Perdudo), Codenames, Farkle, catching and eating fresh caught fish and volleyball, yahoo!! We also had so much fun making pasta and it's you!! And our special dinner at 1864. A lifetime of great memories. Tim made everything happen for us! Every day he planned was exactly what we wanted/needed. Maya was so creative and professional with her cuisine and presentation. We are so impressed with our crew!! Thank you!! We're so grateful you took-us-on last minute everything worked out exactly as it should have! OMG. Miss you both already. Please keep in touch reach out if you're ever in VT! It's cold but also beautiful. You guys can cook if you visit :) I'll go to the market for you. Cheers and gratitude! Love, love, love January 2022 Captain Tim & Chef Maya! Wow! What a spectacular trip! I can't believe how much everything exceeded our expectations. You are both so accommodating and so incredibly kind! The itinerary you planned was perfect! There is not one thing we would change. Such a great way to see the USVI. Now lets discuss the food! Every meal was truly out of this world. We have never eaten amazing meals 7 days in a row! Thank you for all the thought, time and consideration you put into makign this a once in a lifetime trip! We are appreciative! Getting to know you both was fun! You are wonderful people. Thanks too for the fun game night! :) You're talented and gifted in what you guys do. Thank you for a special week! Thank you so much for the past couple days. They have been very fun. I love all the pictures I have. You both have been so fun to be with. Thank you so much for everything you have done. November 2021 Clayton and Maya, I echo Julie's words above but want to add a few more of my own. This is my 5th charter and hands down the BEST all because of you guys! I was so surprised to learn this was your first charter as a team as you were the perfect pair. Clayton's boating and mechanical skills were complimented by Maya's fantastic culinary skills. Both made their work seem effortless. We hope to see you again. Beth (aka Mimi) November 2021 Captain Rob and Chef Maya, Thank you for an amazing trip. The two of you were a great fit for our group. Delicious food, great service, new activities, and spots to see AND jumping right in with our sense of humor and jokes. Also, you were both cool under pressure when we needed you to be. We would do it again tomorrow. Thank you. November 2021 Rob and Maya- Thanks for making my 50th Birthday celebration so special. It was the small touches that did not go unnoticed. From the special attention to our dietary requests to the Olympic dinghy flings, it was the details that made the trip extraordinary. We can't thank you enough. Captain Rob's primary concern was clearly out safety and comfort, honestly saved my life. Thanks Rob for the piggy back ride to the ambulance. I'm sure you'll never have to do that again. Your effortless professionalism made a terrifying situation bearable. Maya jumped into every situation like a veteran. We were all surprised to find out it was her first trip. And the food was OUTSTANDING- thanks so much for the attention to detail. Little touches like the ginger tea at bedtime made the week exceptional. It I had to sum it up, I'd say it felt like you were on vacation with us this week, not for us- that's the best!! We would travel with y'all anytime!! Ben Teague USVI Boat Float 2021 November 2021 Clayton and Maya, Thank you for an incredible trip! You made every day so fun, comfortable, and delicious. Our boys could not have had a better experience- your itinerary created so many opportunities for them to try new things and for our family to create unforgettable memories. Clayton is so easy going but knows his stuff- completely unflappable! And Maya- the FOOD!!! You are a wizard. We are going home heavier and without regrets. Thanks for curating every snack and meal with such passion and care, even getting the boys to try new things. Thanks for your every day attention to detail and tidiness- both of you. We'd love to travel with you all again anytime and loved getting to know you. Wonderful hosts and people!! -Jay, Julie, Beth, Henry and Edwin St. John November, 2021