Charter Yacht NEMO Guest Reviews
Mid November, 2022, guests aboard NEMO wrote:
Luli and Santiago, Thank you so much for the excellent service and being such a wonderful people! We are so fortunate to have picked the right boat and more importantly the best people to lead us around the BVI! We all wish you the VERY BEST and we hope to see you both again in our travels! Sincerely, Jimmy, Deanna, John, Trish, Travis and Ashlee
Mid July, 2022, guests in the BVI aboard NEMO wrote on their final evening aboard:
As I am experiencing my last sunset an the Nemo. I am overcame with a feeling of true happiness. Thank you both for being such gracious hosts on this paradise. We can't Thank you enough and wish the best for whatever your adventure brings. Hope to see you in BVI again.
June, 2022, guests aboard catamaran NEMO wrote:
Santi & Luli Words are not enough to thank you for the wonderful week you gave us. You are so loving, helpful, hardworking, funny and polite. You really make a difference! Everything was perfect!! Delicious food, spectacular itinerary, the right timing, the recommendations! EVERYTHING INCREDIBLE!!! Thank you! Osvaldo, Grace, Javier, Silvana, Patri and Dani.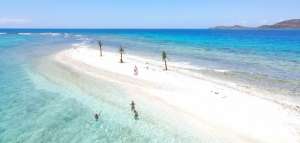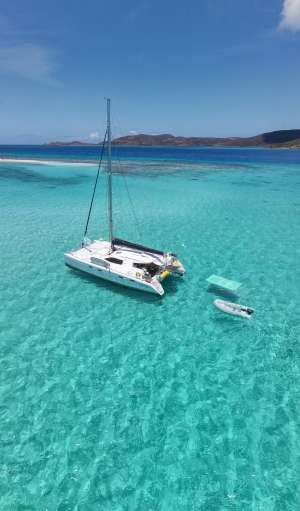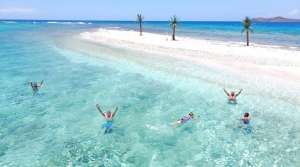 Early June, 2022 guests in the BVI aboard NEMO wrote:
Santi and Luli What an amazing week! Thank you so much for taking such great care of us, touring us around BVI, and of course feeding us amazing food! These are memories that will last forever. It was our first time sailing and living on a boat and I have a feeling it won't be the last!! Thank you again! The Chileks
Early May, 2022, guests aboard catamaran NEMO in the BVI wrote:
Santi and Luli. It has really been a pleasure to share this wonderful week with you! Everything top notch! Luli, a spectacular chef, dedicated to pleasing this little "particular" group. Santi, thank you for your patience!! paradises that you recommended to us that will remain forever in our retina!. Thank you very much guys, you are a first class team! Soon we will be back!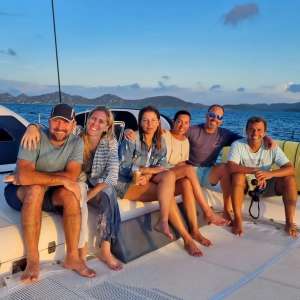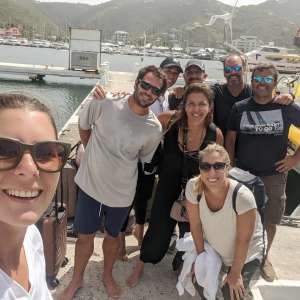 Late April Charterers on NEMO wrote
Santi and Luli Thank you for an enjoyable week in BVI. Hopefully we should you the best place to anchor in Anegada. We had a great weather. Thank you for sharing the helm and your explanation.
A mid March all boys charter in the BVI aboard NEMO
Luli and Santi Thank you for the incredible moment you made us live. Excellent places and hospitality. A perpetual memory for all of us, it was a great selection that our trip of 40 be in Nemo. Love from "the good eating band"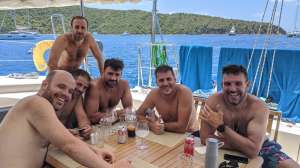 Late February guests aboard NEMO in the Leeward Islands wrote:
So sorry for the long delay in our feedback. We both dropped straight back into work life, and haven't come up for air much in recent weeks! Our trip was simply amazing! Santiago and Lucia were amazing hosts; polite, accommodating, helpful. They were very knowledgeable about their vessel, the area, and everything we could possibly have wanted to know or do. They let us be together, alone, as a family for the most part, but also were sure to check in with us whenever they thought we may need something. Lucia especially always seemed to anticipate our schedule, with food materializing at just the right time when we were waking up, or when people were getting hungry for lunch or pre-dinner snacks. In short, they were terrific! The food and drink were great. They were always well stocked with plenty of food or drink options, and we were never left wanting for anything! Lucia's cooking was great. She made simple, healthy, tasty dishes that we all loved. Every time we sat down for a meal, we were excited to see what she would deliver. Also, she did a great job of accommodating our vegetarian daughter, which I know always adds an extra wrinkle for the chef. The food was well prepared, fresh, tasty, and always available! Dinner was a special time for us each night. Lucia would start with a small appetizer, and we would gather to talk, share our feelings on the day, and play games as a family. Santi and Luli would be checking in, keeping drinks in front of us, setting a cozy scene on the back of the boat where we would watch the sun drop below the horizon, and welcome the evening as a family with games and a wonderful meal. I think dinnertime was our favorite part of each day. Oh, and the beds were shockingly comfortable! I'm sure the gentle rocking of the boat, which was very stable, by the way, helped us all sleep soundly through the night, but we all remarked on how much we liked the mattresses! Santi always involved us in putting together the plan for the day or days ahead. We would discuss what he had in mind, and occasionally made slight adjustments so we could anchor in a calmer harbor, or spend more time in a particularly beautiful spot. They knew the islands very well, and we trusted their input as to where we should go to see what we wanted to see, and do what we wanted to do. Our favorite parts of the trip were the times we spent anchored off of Pinel Island (St. Maarten) and Ile Fourshue (St. Barth's). Both spots were gorgeous and calm, lots of snorkeling, and both with islands we could paddle to so we could hike and explore. They were just breathtaking places in the world, and both were so uncrowded that we felt like we had it all to ourselves. In fact, the day we spent at Fourshue was almost entirely alone, and when we hiked the island there was no one else there with us. It was a beautiful place to be, and that much the better to be on our own private boat! We especially loved the water, snorkeling at every anchorage, sea turtles and rays everywhere! Gustavia was a great little town to visit to come ashore for an afternoon, and both islands were just gorgeous, but we really loved the privacy and solitude of being on the Nemo as a family. Honestly, we don't have a lot of critical feedback about the experience. We were sad to leave the boat; loved the beds, the cabins, the food, and the beautiful locales that Sanit and Luli shared with us. We have never been so relaxed following a vacation, and are already making plans to get back on the Nemo as soon as we can make it happen! Thank you so much for helping us to make this experience happen. It was a memory our family will hold onto forever!
Mid February, 2022, NEMO guests in Sint Maarten wrote:
Santiago and Lucía, What an incredible week! Thank you so much for all of your attention, care, and for showing us so much beauty islands. We have felt like queens thanks to your hospitality and are so grateful to have become friends with the two of you. The food, drinks, and sailing were phenomenal and such a treat! Thank you for making this an adventure that we will hold clear in our hearts. We will be back for VIP sailing lessons soon! Alex, Susan, Dionne, Stephanie, Lauren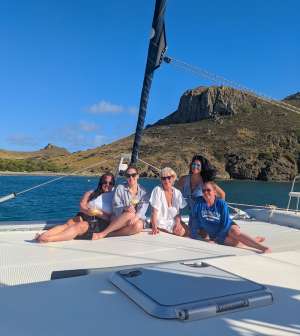 Late January 22 guests aboard NEMO wrote:
To our new friends Santi + Luli Thank you for giving us an unforgettable honeymoon that we will remember forever ❤️ Nemo is an amazing boat but you two really made it special and coul not have done any more for us! We will miss our evening cocktail hour, Santi's amazing Pina Coladas, Luli's cosmos and rum punches ❤️. Luli your cooking was estupendo! So delicious, we really enjoyed all of our meals but particular to the Argentinian Milanesas, chocolate mousse and tenderloin, woww!! Thank you Santi for the drone shots and for letting us drive the boat for a while. If you ever need a co-captain just give us a call. Thank you for taking us to the different places and introducing us to Barbuda-paradise on earth! I hope one day we can do it all again. Safe travels Charlotte + Nick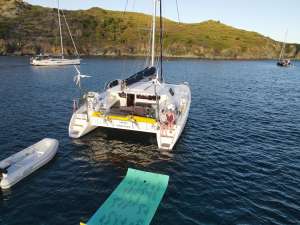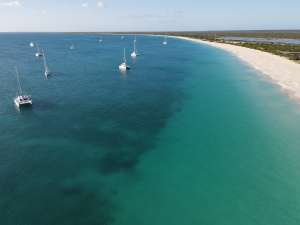 Guests aboard catamaran NEMO for 3 weeks in November and December, 2021 said:
Dear Santiago and Lucia We wanted to take time.... Time to see the sunset, time to snorkel, time to read, time to sail and time to.... sleep!!! And we had it all!!! A lot!! Thanks again for this 3 wanderfulls weeks full of everything we dreamed of, excellent food, excellent drinks and above all, the fantastic spots we discovered with both of you. We loved everything. We will keep sailing, thanks to you and as Lao Tzu says in one your quotes: happiness doesn't come with the end of the path... Happiness is the path. Thank you Micheal and Brigitte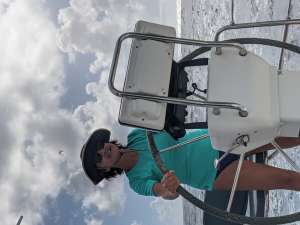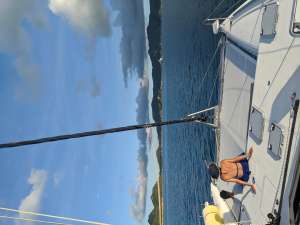 Early August guests aboard catamaran NEMO, a Mum & daughter, wrote of their Sint Maarten charter...
Dear Santi & Lucia, Our sincere thanks and appreciation for everything you both did to create an unforgettable charter for Isla and I during an unpredictable time. Santi kept us safe and toured us around all these special places, and Luli, your meals were SO delicious and outstanding!! Isla and I will spend many days and nights reminiscing about our trip to St. Barths, Île Fourshue and St. Martin and Ilet Pinel and your amazing dinners and desserts. We'll always appreciate the small little things you did for our charter to be special ❤️❤️ Including "a piece of the moon!!"🌜✨ Our very best, Adeline & Isla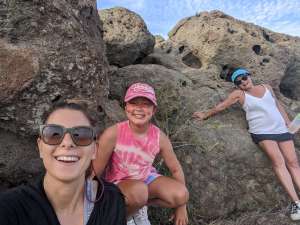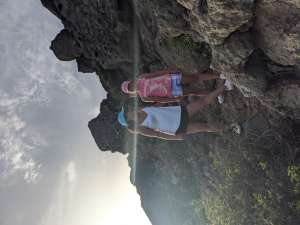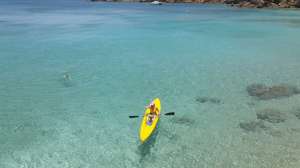 Late July guests aboard catamaran NEMO on Sint Maarten wrote:
Santi and Luli Thank you so much for the much needed relaxation and vacation. From the sun, sailing, cocktails and food, everything was wonderful. I (we) are so grateful to be able to laugh and have wonderful memories. Your coves, sunsets, and sea turtles are purely heaven. Even after a week aboard, it still is too short. Best from Texas!! Denise, Cody, Eric, Sam and Griffin
Mid-July, '21, guests aboard catamaran NEMO in the Sint Maarten area said:
Santi and Luli Thank you for the wonderful week in the Caribbean Sea. We didn't know what to expect for the week, but it was one of our family's greatest and most memorable experiences. Our children had a fantastic time learning about sailing, the islands, life on a catamaran. You were wonderful with them and they will always remember you. All of the meals are really good. I loved to drive the boat. It was great to experience all of the beaches with you and will cherish this time together getting to know you. If you are ever near Chicago, reach out. Love Chuck, Alicia, Clara, Avery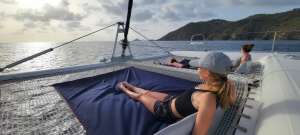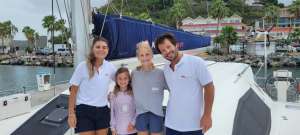 Early July, '21, guests aboard catamaran NEMO in the Sint Maarten area wrote:
Thank you for an amazing vacation! We loved each destination they were each a little private paradise. We enjoyed the water toys, especially the cabana and the kayak. We enjoyed your awesome sailing, delicious food and wonderful friendship!! Enjoy your time and the seas. I hope you create great memories! We will always remember this vacation! Thank you!! Love The Hills And they also wrote: We just had an amazing sailing vacation with Santiago and Luli on the catamaran Nemo. We went a day early to stay at Grand Case in St Martin. We did not want to be late for our trip. The next day, we met Santiago at the Marina to begin our adventure. We went to Anse Marcel for lunch and then sailed to St Barts before Tropical storm, Elsa arrived with Santiago confidently at the helm. The weather cleared swiftly. Santiago surprised us with a car rental for the day in St Barts. We explored the beautiful island and stopped for lunch at a quiet hotel on the beach. The views were spectacular! We anchored at the most amazing places! They were quiet with lots of things to do. You could hike to a lookout, snorkel, float, paddleboard, or kayak. We felt like we were in paradise. We anchored at Colombier at St. Bart's and Ile Fourchue. When Santiago got out all the water toys, our boat looked like the best place to be in the anchorage. We would try out each one and go back around again. We also anchored at Ile Tintamarre, in St. Martin as well as Pinel Island. This is a lovely small island that we hiked on, roamed around, and stayed for drinks at the restaurant that was open all before people arrived. It was lovely. You can only get there by boat. The ferries were not running that day, so it was not as crowded as usual. We kayaked into Friar's Bay beach; a lovely spot to swim or snorkel. Each place was more lovely than the last. The food was amazing; we loved Luli's cooking but make sure you save room for her desserts. Every day when we returned to our room, everything was cleaned, and we were greeted with inspirational quotes left on our bed. Santi and Luli were exceptional as our captain and cook. Santi took some amazing drone footage to remember our trip. Everything was just perfect! It is a trip we will treasure forever! hank you to our new friends, Santi & Luli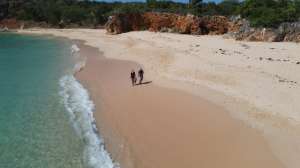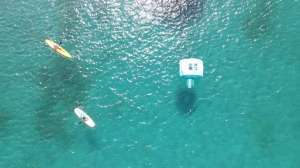 Guests aboard catamaran NEMO in the Sint Maarten area in late June, 2021, wrote:
Luli, Santi, We had a delightful vacation with you two! You made this smooth sailing and so much fun. Luli excellent chef and now you make French toast 😁. Love + best wishes! Jay + Stephanie Hola Luli & Santi, Thank you for making this a wonderful sailing holiday. We are so appreciative of your work and are the perfect sailing host. Luli, you are magic in the galley. Santi, thanks four sharing the helm. We loves the journey. Gracias Lynn & Jamie Luli & Santi Thank you so much for welcoming us to your home on the sea. We enjoyed every minute with you and loved getting to know you. We will miss you friends! Love, Garret and Tammy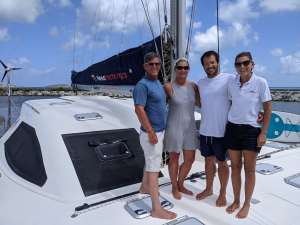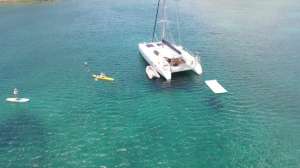 Mid-May, 2021 guests in the Sint Maarten area aboard catamaran NEMO wrote:
Luli, Santi, thank you for a very wonderful week aboard Nemo. Stacy, Kimmie and myself enjoyed every moment. We are all so exited for your new life on the water and away from the office. We enjoyed getting to know you both and learning about your home country. We hope to be back soon for another charter with you both. Love The Dobbins Brian Stacy Kimmie
Dec 2020
Guys, we've had a perfect few days in your company. We enjoyed tasty meals, talks under the moon, some of us also learned to appreciate sailing and enjoy the wind, in short, a repeatable and recommendable experiment. On the other hand, your warmth made us feel that we were among friends and it was all much easier. Thank you very much for everything and we wish you the best. Paloma, Rosario, Ramiro and Dante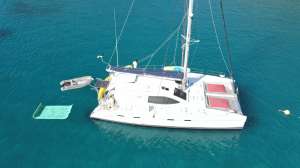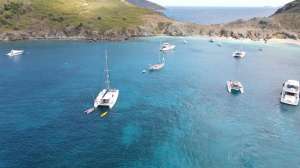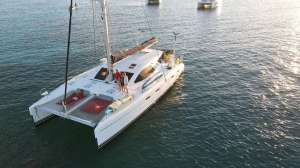 Broker provided feedback: January 2021 - Saint Martin/St Barts charter
Name: Joseph Destination: Leeward Islands How did you enjoy your cruising vacation? Crew was wonderful. Loved St Barts. How were your meals? Excellent, fresh and followed preferences How would you describe your Captain & Crew? Could not have been better. Highly recommend. Was it easy to get to your yachts destination? Yes How do you feel now after your vacation? Could have stayed another week! How did you find the pace and the itinerary of your vacation? Great, want to go back.
Dec 2020
Luli and Santi It was such a pleasure to spend the end of 2020 and the New Year's celebration of 2021. We shared the seas and the moon and delightful meals on your wonderful boat with your delightful company. We learned to sail in the winds and rain and explore the Islands with your guidance and curiosity. We wish you a magical year sailing, great company, and many stories to remember the year of 2021. Please tell us when you two are in the States and we will tell you when we are back to the Caribbean. Friends forever! Joe and Terry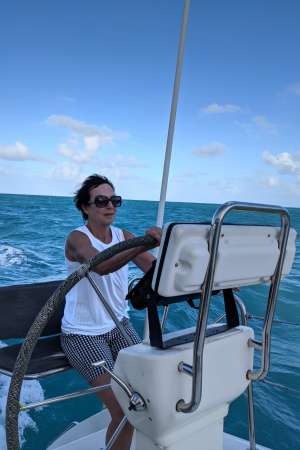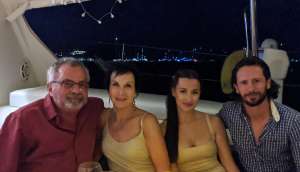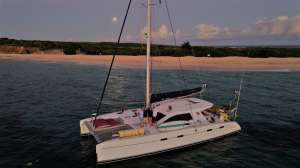 Reviews
Luli and Santi It was such a pleasure to spend the end of 2020 and the New Year's celebration of 2021. We shared the seas and the moon and delightful meals on your wonderful boat with your delightful company. We learned to sail in the winds and rain and explore the Islands with your guidance and curiosity. We wish you a magical year sailing, great company, and many stories to remember the year of 2021. Please tell us when you two are in the States and we will tell you when we are back to the Caribbean. Friends forever! Joe and Terry