Charter Yacht NeuroSeas Guest Reviews
An Amazing Sail - Oct 2022
We had an amazing sail through the Grenadines. It was everything I hoped for and the crew were superb.
Amanda and Zander - Reviews March 2022 - On Charter together before joining NeuroSeas
Zander and Amanda provided outstanding sailing and customer service. Both were very knowledgeable about the islands, marine life and everything ocean. We were fortunate to see whales, turtles and bottlenose and spinner dolphins. Amanda led us on an amazing snorkeling adventure where we saw so many types of fish, sea urchins and turtles. Thank you for a great trip!
Zander and Amanda Reviews February 2022 - On charter before joining NeuroSeas
Zander and Amanda were simply amazing. Zander is a great captain and very knowledgeable and friendly. Amanda's experience with ocean life and great attitude is infectious. They both went the extra mile to ensure we had a blast. One of the best trips of our lives! Zander and Amanda were a fantastic crew and very friendly. They took great care of us! We were educated about the whales and got some great pictures. We thought the overcast and windy weather would inhibit our plans but it turned out great. Amanda showed us all kinds of underwater life and we were up close and personal with the turtles. The lunches and breakfasts were good too!
Amanda and Zander - Reviews Jan 2022 - On Charter together before joining NeuroSeas
We had the time of our lives! Zander and Amanda were absolutely incredible and made our day perfect! The snorkeling was wonderful and the food delicious
Thank you for a Great Time - Feb 2022
We had the most wonderful time on Neuroseas last week . David and Lisa are a brilliant team together creating a lovely relaxing atmosphere on board. . Her chef skills are michelin starred standard with superb dishes put in front of us everyday . Many thanks and see you again Stephen
A Lifetime of Memories - January 2022
Thank you for an amazing voyage. Lisa is the best exploding kitten player and cook. David is the best Captain ever. I had a blast. Thank you for a lifetime of memories. We wish you all the best and please look us up in Orlando. Also Thank you for feeding my babies for 10 days. David and Lisa, thank you so much for such an amazing trip. It was so much fun to travel through the Grenadines with you guys on NeuroSeas. We enjoyed all the journeys and adventures we went on land too. The both of you are so skilled at what you do and have incredible skills that all-rounded the trips success. We hope your new year is filled with lots of joy.
A Dream Come Through - Dec 2021
The idea of this trip has been a dream of ours for a while - a real bucket list trip. Our expectations for the trip were high and we worried we could be disappointed because dreams don´t always translate to reality well. But we didn´t need to worry - you gave us a trip, a vacation, a memory that will last a lifetime and that met all our expectations. We thank you! What a way to recover from a difficult year or two ... This experience was worth the wait. You are both amazing people. You are both amazing people. You are a great team and you are each so skilled at so many things. We sincerely hope we can stay in each others lives. We are hoping to set sail with you again and will really look forward to planning that trip & experience with you. You are both so well quipped to do anything you set your sights on doing. We wish you success in everything you chose to do, and we hope you always chose to dance when you are standing beside the ocean. (Lisa, you will explain this reference to David). Thank you for everything & for giving us a piece of peaceful heaven for a week. Karen
The Best Sailing trip -Nov 2021
Danke! We had the most beautiful sail on the NeuroSeas with David and Lisa. From St. Vincent - Bequia - Tobago Cays - Sailine Bay to PSV! The most fun family adventure. Highlights: Post flight swim in St Vincent. Sunset at Tobago Cays, Swimming with Turtles and everything we ate that Lisa cooked. Many Many Thanks with gratitude. The Markley´s
An Amazing Holiday - Nov 2021
You guys are the best Captain and Chef we have ever had! I wish you much success. No rush. Enjoy the Ride. What an amazing holiday! So relaxing and well cared for. You guys rock! Thank you. Thank you again. Your attention to us was amazing. We have come to thoroughly enjoy David asking us ''may I offer you a drink''. Lisas food and preparations and presentation was 5 star! Such a comfortable boat! This has been a cruise we will always remember. New friends, good food, sun and sea, blue sky, laughter, yoga, snorkelling and diving. Thank you
Thank you - July 2021
It was such a pleasure being onboard NeuroSeas for a week. Laughing, talking, sharing stories...This trip was much needed and I feel I have been ''awakened''. The ocean has always called to me and this trip has been amazing. Lisa is a chef extraordinare! The two crew work together so well and are just meant for each other. We hope to see you all again!
BEST Vacation Ever! July 2021
This was by far the BEST vacation I have ever been on. I really do not have words to express how great it was. This was mainly due to your team- David and Lisa. As someone who has a very intense and stressful job... and I make a lot of decisions and take care of people. I have always dreamed of a vacation where there were ZERO decisions to be made and I was taken care of. IT HAPPENED. David and Lisa were amazing hosts and I will consider them lifelong friends. The trip was safe, beautiful, well planned, well provisioned, and just plain fun. I want to plan another trip back!!! The highlights: Lisa's cooking: It is 5 star. Nothing less. She is beyond resourceful and was able to provide us local fare. David's calm demeanor and ability to make recommendations. His ties to the local places was amazing! He was also a good leader. He made recommendations and plans that he knew we would enjoy. He learned our preferences, as did Lisa, fast. Their social skills and hospitality is something I have never experienced at this level. The boat was beautiful and a perfect amount of space for us The Grenadines are one of the most beautiful places on this Earth. I will come back! The COVID barriers -- taken care of by all of you. We were not getting our test results back and David made some calls to the doctor and you and BAM.... the results were there. That is GREAT service. Cheers!
What an amazing, once in a lifetime adventure! June 2021
We could not have asked for better host - kind, full of information, fun, and curated the perfect itinerary. The food was spectacular and we will never forget our own private concert. We will be forever grateful for this experience.
We had a Great Time! February 2021
1. Crew Friendliness: Extremely friendly 2. Crew Knowledge: Captain knew the routes, the best places to harbor, and brought us to some terrific locations. 3. Quality of Service: Excellent 4. The Professionalism of Crew: They were terrific, but not so professional that they were unable to fit in and be fun 5. Value of the Cost + Expenses Charter: I didn't pay, so not sure! 6. On-Board Cuisine: 4 star - actually, probably 5 star. Amazing food! 7. Destination / Location: Delightful! And a picnic on a small deserted beach one day that was breathtaking 8. Quality & Variety of Water-Sports & Equipment: Good enough. 9. Overall Satisfaction: VERY SATISFIED! We had a great time!
Could there have been a more perfect Sail?
We have had a terrific time with our own accomplished captain David and our creative chef Lisa! hospitality was the word of each day and we sailed, sang, snorkelled and enjoyed conversation. When can we do it again?! Thank you for providing us with such a great boat and an exceptional crew! The bar has been raised for our next sail!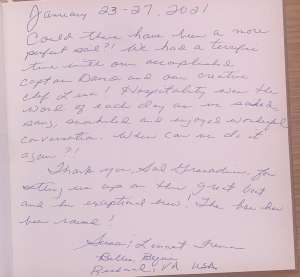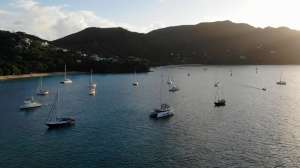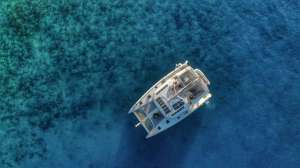 Owner's Trip and Friends
Thank you!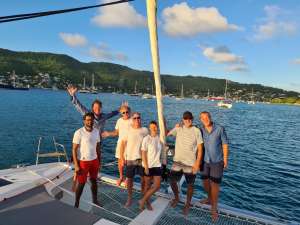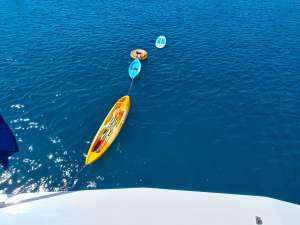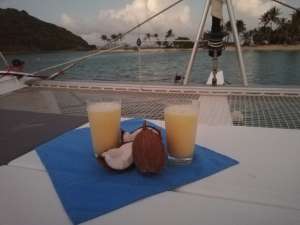 The best service we have ever received
I am writing this email to give my absolutely highest recommendation to Captain David and Cook Lisa. We had the pleasure of sailing with them on S/V Lagoon in the Grenadines March 7 – 14, 2020. Our last charter was on a crewed Oyster 56, and we felt this most recent trip with David and Lisa was the best service we have ever received. Captain David was extremely knowledgeable, handling technical issues that would have turned us into port while we were under sail, allowing us to continue our vacation without any hiccups. He also offered nightly knot tying courses much to the delight of my husband and children! We had been the Grenadines previously and David showed us several new spots we hadn't been to that really completed the vacation. Cook Lisa handled the wide variety of dietary needs and requests expertly. We sailed with one friend who is dairy-free and two children ages 5 and 7. Many of our meals required several different options and all of us raved about everything we ate. Lisa also kept the boat incredibly tidy, as a mom of two, I felt like I was truly on vacation. Thank you (Review from previous catamaran Lagoon 45 - Grenadines)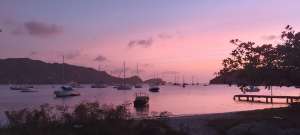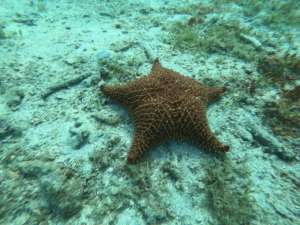 Review of our sorely missed Captain David!
From my family's first meeting with our captain, it was evident to me that his professionalism, skill and the manner with which he effortlessly, yet adeptly and even humorously ensured the expanded knowledge and seamless working in sync as a crew and as the family we are were enhanced by David's care and sincere concern and enjoyment of being pet of the family during one of many exciting games of UNO! David is one of those rarest of treasures to experience whom endears and elicits such complete trust that he holds those in his care above his own well being and it's known simply by being in his presence for a short time and without a word said it's obvious the man's sincerity and generous humanity flash like a neon sign above his head yet his humble and selfless nature belies that flashiness with showing so clearly the natural humanity and care of this man for his job and for his great responsibility. Not for one moment did I fail to remember David to be a good and kind gentleman and when necessary, a diplomatic but decisive and respectful leadership that we all respected and worked to ensure the safety of those in this world I love most. David made sure of their safety and therefore I was endlessly thankful yet also knowledgeably at ease. I thank you and I not only enjoyed and leaned from a consummate professional seaman but I feel I've also made a friend and will return regularly due to his care while in his custody. He protected my children as his own I'm certain he'd feel too but such extravagant character traits are admirable and made our trip so much more relaxed and fulfilling. I would recommend his services as captain without reservation. (Review sent to broker from previous catamaran - Lagoon 45 - Grenadines)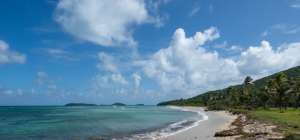 A huge thank you
A huge thank you for creating such tasty, delicious meals for us last week . A highlight of the day for the girls was the forthcoming meal! We really enjoyed the balance and variations of your menus with fresh herbs, healthy juices etc which is not easy with restricted shopping. We really liked the fact that where possible you used foods that were local to the country also. Fresh and fewer air miles ! We were so pleased you and David also joined us for meals with your lovely smile, humour and chat . Fondest wishes (Review from previous catamaran - Lagoon 45, Grenadines)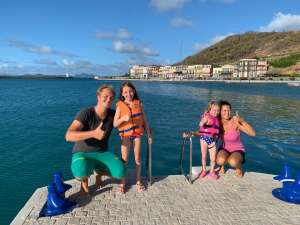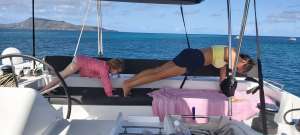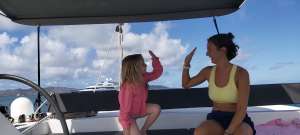 The best possible recommendation!
Thank you. We stayed on board totally four days with Lisa in the Grenadines. She was our hostess, made all meals and served us drinks before we even knew we wanted. Lisa contributed a lot in order to make our trip around the Grenadines an memorable one! She is very friendly and made the trip to an excellent journey. She has a natural way showing hospitality which made our holiday fantastic. The food she prepared was also excellent and she knew very well how to cook tasteful food for us. She has not asked for a recommendation, but we all are so satisfied that we wanted to do it anyway– we would like to give her our crew the best possible recommendation! (Review from previous catamaran - Lagoon 45 - Grenadines)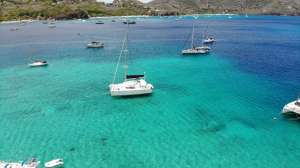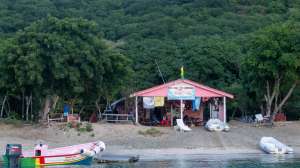 Reviews
Thank you. We stayed on board totally four days with Lisa in the Grenadines. She was our hostess, made all meals and served us drinks before we even knew we wanted. Lisa contributed a lot in order to make our trip around the Grenadines an memorable one! She is very friendly and made the trip to an excellent journey. She has a natural way showing hospitality which made our holiday fantastic. The food she prepared was also excellent and she knew very well how to cook tasteful food for us. She has not asked for a recommendation, but we all are so satisfied that we wanted to do it anyway– we would like to give her our crew the best possible recommendation! (Review from previous catamaran - Lagoon 45 - Grenadines)