Charter Yacht OCEAN VIBES Guest Reviews
April 2023 - Previous Yacht
Thank you so much for an amazing week letting us the discover the beauty of the Virgin Islands. With super knowledgeable Captain an at the helm and amazingly talented Chef Elise in the galley, so much fun was had above and below water for the little helpers in the kitchen and discovering gorgeous islands. A huge thank you from the Batistas!
April 2023
What an amazing adventure to celebrate some of our 60th birthdays and a wonderful friendship! We will never forget all of the fun we had with Captain Dan and Elise! The food was some of the best we've ever had and so delicious everyday! We truly enjoyed playing "Three" at night, snorkeling, sailing. All the stops at islands like Bitter End, Soggy Dollar, Foxy's – too many to mention, all of them! It was truly a trip of a lifetime and we truly appreciate everything!
April 2023
Elise..your culinary skills are unsurpassed and your precious personality is infectious. We will always love you for being wonderful to this crazy group! Dan...BVI BBBB2023 dash with a group of life-long best friends saying yes to a fulfilling life-long dream. And it was an epic success thanks to you. For the perfect combination of fun and responsible professionalism! Needless to say, we will never forget you...and can't wait to see you again next year! Here's to lying, cheating, stealing and drinking. If you're going to lie, lie for a friend...If you're going to steal, steal a heart...if you're going to cheat, cheat death..and if you're going to drink, DRINK TO EXCESS! Thank you!
April 2023
What an amazing way to spend my 50th birthday! Dan and Elise made this week a dream come true. This trip was on all of our bucket lists and it is an experience we will never forget. Dan, we loved your stories, the adventures you took us on, the games at night, and even our trips on the tender. You love your job and it shows. Elise, the food was amazing! Every meal was better than the one before. You are so talented and so kind. We can't thank you enough for making this a trip we will never forget. We will be back!
July 2023
Thank you, thank you, thank you for the trip of a lifetime! You have made this trip so much more incredible than we could have ever imagined! You three are the dream team, from the phenomenal cocktails and service, to the dream-worthy food and awe-inspiring excursions! We will cherish the beautiful photos and memories for the rest of our lives. We hope our paths cross again! If you ever find yourselves in Nashville, please reach our and visit! With love, the DeJong Family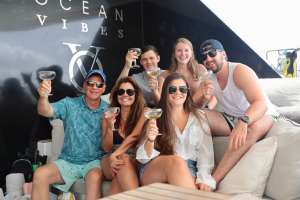 May 2023
Trip of a lifetime! Our week will be unforgettable. Captain and crew are what made it for us. Checks one of our bucket list items for sure. Until we meet again, safe travels. Cliff and Debbie Jackson, Georgia Peaches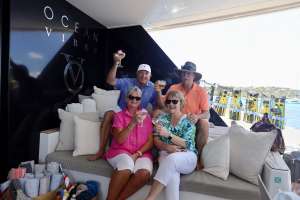 May 2023
This has been the most awesome trip! Thank you for being the most wonderful crew family and for the many wonderful memories, start to finish, we will always cherish our time in the many memories we carry with us. David and Denis Landis Jefferson, GA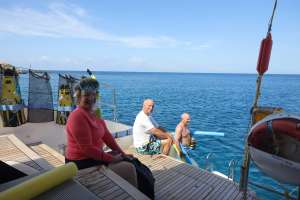 Ocean Vibes
The crew of Ocean Vibes were absolutely amazing. To me, having the right crew is an important part of having a good vacation. Captain Sergio, Chef Neen and Chief Stew Brittney were absolutely amazing. They are the best crew sailing the high seas since Captain Jack Sparrow! What an amazing way to tour the BVI's! Can't wait to do it again.
February 2023
Dear Britnie, Neen, & Sergio. Thank you so much for the most amazing week on Ocean Vibes. You have made this trip an unforgettable event in our lives. Thank you Sergio for your safe boating that took us all around these amazing bays. We are especially grateful for the great dives. And Britnie and Neen as mentioned your creative souls have given us so much all week long. We have loved the food, the creative displays and wonderful photos that we will now bring home to remind us of this wonderful week. Thank you and hope to see you all again.
February 2023
Dear Neen, Britnie, and Sergio. Thank you for an absolute spectacular week in your company! The boat is fantastic, and the islands wonderful – but you made it all stand out in a very special way. We felt safe, incredibly (!) well fed, serviced and spoiled by all 3 of you. You are a wonderful team, and we would love if our paths crossed again. All the very best!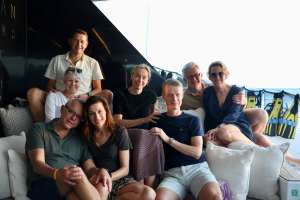 February 2023
Thank you for this extraordinary experience of living upon the sea! This was the perfect way to celebrate my 1st 60 years! To sail with captain Sergio, to be luxuriated with Britnie's care, to indulge in Neen's alchemical mysteries. Thank you in a double rainbow style and see you again! Cheryl and Bob
February 2023
Let me start by thanking you all for the most spectacular week! From the cocktails and tablescapes to the incredible tasting dishes and views from the boat, we couldn't have asked for a better crew or a more perfect vacation. This was a once in a lifetime trip and your pre-planning of every detail allowed us to relax at a whole new level. Thank you again for your constant hospitality and for welcoming us into your floating home. This will be a core memory for years to come. Hope to see you again soon! Andrea & Tyler.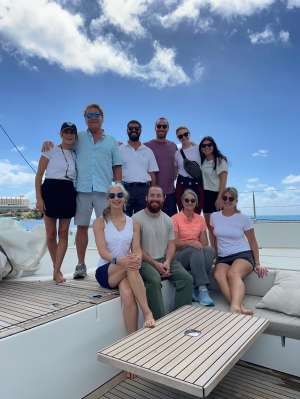 January 2023
Britnie, Sergio, & Neen, We feel so lucky to have rung in the new year with y'all! We were spoiled beyond belief! Thank you for taking such good care of us, being so attentive to details & making us feel welcomed all week long. You upbeat, helpful attitudes have floored us. We were so grateful! We loved getting to know y'all. I hope to be back soon! The Sheehans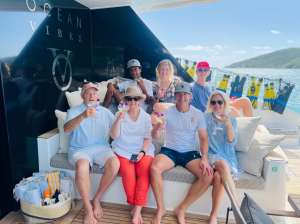 December 2022
What an amazing week! We have never been so spoiled. Neen and Brit, the food and drinks were incredible. We have never experienced such a wonderful variety of dishes and drinks to compliment. Sergio, thank you for keeping us safe and picking out a beautiful set of islands to visit. Our entire family will never forget this trip. Thank you so much for making it memorable.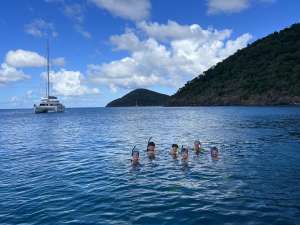 November 2022
We've never been so well cared for or fed in all of our travels. Sergio, Neen & Britnie elevated a mind blowing boat & a place of divinity. This has been an experience we may spend a lifetime trying to match. All of our love, Steve & Linda Skrla.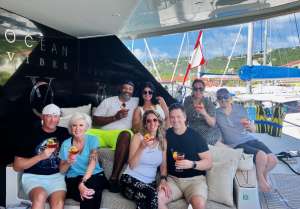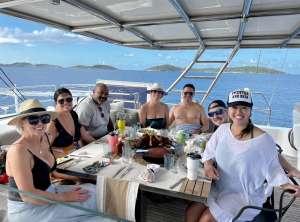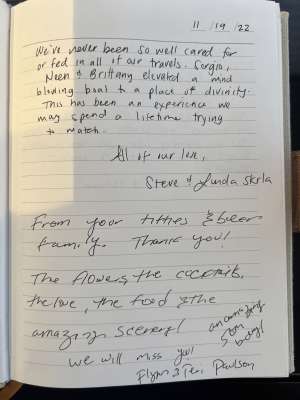 July 2022
Best vacay ever!! The boat, the crew, the view, the food...absolutely incredible...truly an awesome experience and a trip of a lifetime, can't wait to do it again! <3 The TN Birthday Crew, John & Elesha Reid.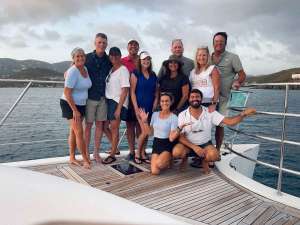 July 2022
Wow! What an amazing trip. Every detail was wonderful. We enjoyed all the food and the way we were served! It was one of our best trips! Such a dream! The captain and our crews were fabulous!
May 2022
What a magical week!! Hard to know where to even begin. The crew of the Valhalla created the perfect environment for my proposal to fiancé! Sergio picked out the prefect beach for us at sunset. Britnie captured the moment, both candid and staged, with beautiful photographs, and Chef Neen cooked up a feast of crab. We will never forget the experience : The crew of Valhalla feels like family. Thank you! Thank you! Thank you!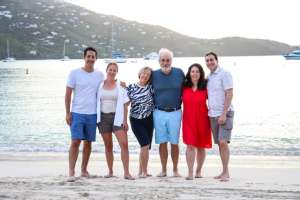 March 2022
Best trip ever!! We want to adopt the crew and take them home with us! Everything was amazing! Love Robyn and Justin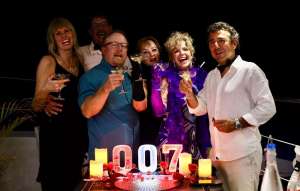 March 2022
Sergio, Neen, and Brit You made our trip even more incredible than we could have dreamed. Your hospitality is top both! Your friends, Joe and Kristie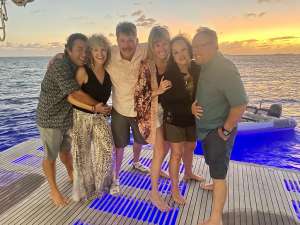 March 2022
To the Valhalla crew – thank you for the trip of a lifetime! Everything was above and beyond. Loved our theme nights – so much fun! I wish you all the best life has to offer! Lisa and Shawn
February 2022
Wow! Thank you! Absolutely amazing! Muchisimas gracias! Thank you for creating such an amazing vacation for our family! Each of you are spectacular at your trade and together you are the best trio on the seas! So relaxed, authentic, creative, fun, warm and kind all the time. We feel so lucky to have spent 5 days aboard the Valhalla and leave with relaxed, happy memories, and a few more lbs. Thanks to Neens' incredible culinary skills. We wish each of you all the best and hope our paths cross again!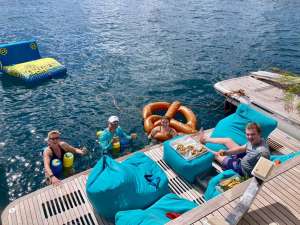 January 2022
Sergio, Neen, Britnie: Thank you! This is a beautiful place and a beautiful boat. But mostly, we'll remember your hospitality and care. The food and service were simply out-of-this world! We're so glad to welcome you as new members of our wolfpack! Thank you again and God bless you! P.S. A special thank you for our memorable vow renews on the beach. We'll never forget those moments. You really helped us make that special!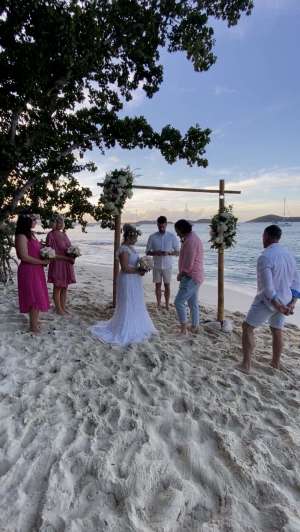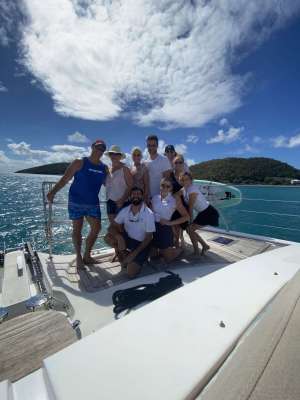 January 2022
To our new friends, At a time in our lives when everything is a constant challenge – this escape was a breath of fresh air! Beautiful views, food, friends, and memories: Thank you for making this a highlight of 2022!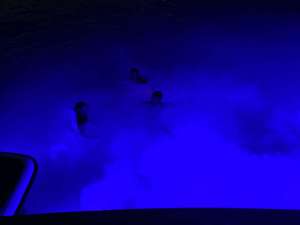 Reviews
To our new friends, At a time in our lives when everything is a constant challenge – this escape was a breath of fresh air! Beautiful views, food, friends, and memories: Thank you for making this a highlight of 2022!