Charter Yacht PORT TO VINO Guest Reviews
Williams Charter
6 February 2021 Well, we had to scramble and do the whole trip in the USVI instead of the BVI, but you guys made it all worthwhile. I am still in awe of how you made all those gourmet meals in a tiny kitchen on a boat… Goals!! Loved all the drinks and the snorkeling was the best - even the darn jellyfish sting was OK. Thanks for everything, Jenna and Derek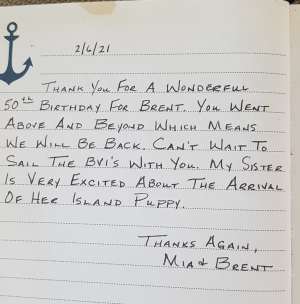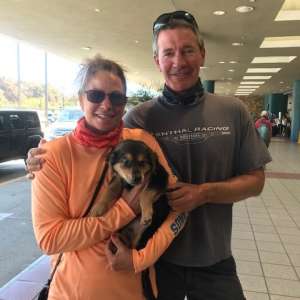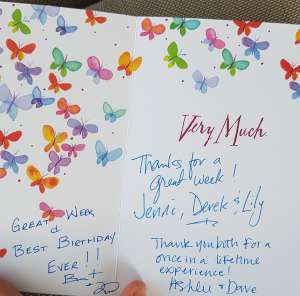 March 2019
Overall Rating: 5 5 being the highest 0 being the lowest We hope your charter lived up to your expectations. We would love to know some of your impressions about your yachting vacation. Please answer the following questions and add any comments you may have. 1. Was the crew friendly and accommodating? Our crew was awesome! 2. Was the yacht comfortable and clean? Yes. Our yacht exceeded our expectations. 3. Was the yacht well ventilated? Yes. air conditioned in inside and warm breezes outside. 4. Was the food good and well presented? Yes! Our food was so good. It was like eating a a great restaurant every day. 5. Did you like the area you sailed? We really enjoyed seeing the greater BVI. Wouldn't change a thing.
March 2019 Charter
Jeff and Caitlin were great! Very professional and lots of fun. They interacted with our group perfectly. The boat is amazing and perfectly maintained. Food was awesome and made from scratch daily. We had several restaurant owners on board. All were impressed with Caitlin's abilities in the galley. Rick W.
Best Vacation Ever
Our charter was one of the best vacations we have ever done. The personal touches by the crew made it a great event. Their marine knowledge, especially, made a big difference whilst snorkeling - every session was very unique. Caitlin is a great chef and put special touches on each meal. Jeff is an extremely competent Captain,very focused on safety, but he also made some fun drinks! We can't wait to charter again with Captain Jeff and Caitlin! ~The Unsers
Caitlin and Jeff are real Pros...
Ann and I just got back ...Jeff and Caitlin are head and shoulders superior to any crew that we have ever had. Caitlin has a remarkable ability to create complex and subtle flavors which add several layers of depth to her meals. Every happy hour Jeff served us a different cocktail creation, all of which were perfectly light and refreshing, and none of which I (a semi-professional drinker) have ever tasted (the setting...at anchor lounging on the new bolsters under the new fore deck shades...certainly doesn't hurt the taste of the cocktails!) . Caitlin and Jeff could draw a map of the details of every dive spot from memory and Caitlin has a deep fund of knowledge about of sea life and fish behavior. Every morning Caitlin had made the beds, cleaned the bathrooms and done some sort of magic folding the towels into animal shapes...before we had finished breakfast...we called her the housekeeping Ninja. All that on top of having delightful personalities! Caitlin and Jeff are real pros. ~Steve and Ann
Perfect For Family Charters
The two of you are a treasure! Thank you so much for keeping us safe (a bit of a challenge with a 3 & 5 year old pair) and taking all of us on a tremendous adventure. But most of all, thank you for the warmth and caring and the amazing attention to gave to our children. They are going to miss you, as shall my wife and I. All the best - we hope this is "see you later" and not "goodbye"- P, T, E, & P. Los Angeles, CA
Comments from previous Yacht for Jeff and Caitlin
Following up on our trip ... Jeff and Caitlin were exactly as described. Very personable with both the adults and kids. Provided amazing food, and a really delightful atmosphere to sail in and enjoy the BVI. The trip completely lived up to our high expectations. Thanks again, Zach
Praise for Jeff and Caitlin
Jeff and Caitlin attended to our every need. They were the perfect hosts. They made us feel comfortable and safe and were so much fun to hang out with. We just loved them and would highly recommend the crew to anyone looking for the vacation of a lifetime.
Late February , 2018, guests
What a privilege to spend a week on Port to Vino! We are grateful she weathered Irma and glad to participate in #oneBVI. The trip was among the food experiences beyond words! There is no better place to experience the BVI. With gratitude, Kay and John
Reviews
What a privilege to spend a week on Port to Vino! We are grateful she weathered Irma and glad to participate in #oneBVI. The trip was among the food experiences beyond words! There is no better place to experience the BVI. With gratitude, Kay and John