Charter Yacht SCUBA DOO Guest Reviews
April 2021 USVI Charter
Kris & Aneta!! Thank you so much for a wonderful trip. Your attention to details exceeded our expectations. Thank you for making it sooo special. Best of wishes for your future and keep on rocking "Great Adventures" you guys!! Not enough adjectives to describe the AMAZING food! 5 Stars!! (Maybe even a Michelin!) With Love, Cynthia & Tracy - This was pretty amazing! There are no words to describe this adventure, I guess a "Great Adventure!" Haha Thank you for everything and making this adventure so fabulous for our birthday people. I even though it was my birthday too!!! Wonderful food and ninjas in the making bed section. Thanks for all! Loved it all, can't even say the best part as it was all good! - Aniki & Blake 😊
March 2021 USVI Charter
Kris & Aneta, This has been one of the best trips of my life!! Everything that you've done for us has exceeded my expectations! I feel that we have gained friends on this trip. We will definitely stay in touch and hops to see you soon! xx Emad xx Kris & Aneta, This is truly one of our favorite vacations! We love being on a boat (where Tom truly smiles ear to ear the whole time!) The food has been over the top – now back to eating cheerios at home. We will keep in touch and please let us know if you are ever in the Boston area so that we can try to reciprocate. Xoxo Donna Kris & Aneta, Thank you for such an amazing week! This was one of the best trips I've ever had. We'll be thinking about these meals (and desserts) long after we get home! We'll keep in touch on Instagram and hope to join you on another adventure before too long! – Colin Kris & Aneta. What a trip. We all had a wonderful time with a new adventure every day. Food was wonderful! Back to the snow and daily routine back home. Maybe we will find you on another great adventure – hope so. – Tom And great birthday!
February 2021 USVI Charter
Kris and Aneta, This has been the trip of a lifetime! Thank you for giving us and our boys such amazing memories! This truly was a great adventure! Kris & Aneta, you both are wonderful and we truly appreciate you guiding us through this experience, your hospitality & delicious cooking! - David, Nooshin, Jordan & Grayson My favorite part of the trip was swimming. – Jordan (8) My favorite part of the trip was sailing. – Grayson (6)
February 2021 USVI Charter
Kris and Aneta What can we say that hasn't been said already? It was pure perfection from start to finish. You gave us an adventure of a lifetime. Thank you again, Fair Winds and Following Seas! – Dana, Mike & Dave Unforgettable 40th Birthday. Not since the water birth of my kids have I had such joy. Not even a spider man marathon could top this. You've helped us find the new adventure of scuba, which we hope to continue safely by practicing the DON'T, THINK! method. We hope your adventure continues with all "YES's" and few "no's" and may your darts always find the bullseye. Your "WHO-DEY" Crew – Dana, Dave & Mike
January 2021 USVI Charter
Aneta & Kris, We are so appreciative of all the effort you guys put into making our trip simply superlative. The food/cocktails/captainry and most of all camaraderie were all wonderful. We will always remember this trip as just THE BEST. – Eric - Kris & Aneta, Thank you for making my first catamaran trip so amazing! The food and the service were absolutely amazing! I loved hearing all your amazing stories. Keep up the amazing work and have so much fun while doing it! – Allie - Kris & Aneta, Words cannot describe how amazing this trip was. Hearing all of your amazing stories was so interesting. You both are such a great duo. This has been some of the best food I have had – filled with unique combinations and even better taste! Diving was spectacular and thank you for getting me out of my fear of the ocean. There is no doubt in my mind you will continue to kill this forever. Let's go BOYS (cowboys), Lions (probably never) and Stafford. From your craziest football fan and much love. Jacob - Kris & Aneta, Aneta & Kris, What a remarkable journey!!! Your culinary skills are out surpassed & thank you for making everything whole grain and healthy. Your sail/navigation/Captain & first mate skills were fantastic and we enjoyed every ride. Kris, what an amazing divemaster. We felt very safe with you & lived your guidance throughout our tour of the sea and its creatures. Thanks for the exciting football games, although I realize these were not under your control. Thanks for advice and friendship. Please look us up when you are in NYC and we can have a mixology party!!! With much gratitude, Renee
January USVI Charter
Aneta & Kris, Thanks for the dolphins, dives & delicious food! You created a wonderful week for all of us with the perfect balance of activity & rest. A perfect way to kick 2022! – Colleen - Great trip for the entire family. Great opportunity to connect and enjoy time together. Everything was better than expected. The dive experience with the kids was phenomenal. Thank you for everything & best of luck in all your adventures! - Chuck - This was the best trip, the drinks were amazing. Thank you Kris for taking us diving, it was an absolute blast. I'm not much of a writer so I'm going to keep it short. This trip was amazing and I hope to be back soon. – Christian - Aneta & Kris, I want to thank you guys fot making my first trip like this so memorable!! The adventures you brought us on will be hard to forget, this trip was amazing from the food to the diving! Thank you 😊 – Maguire
New Year's Eve 2022 USVI Charter
Kris and Aneta, WOW! What a way to bring in the New Year! We couldn't have asked for a better way to escape our 9-5's. From the rum drinks to snorkeling with dolphins, this is a boat trip we will never forget. Thank you Kris & Aneta for everything! Cheers, Lisa, Ken, Paige, Elinor, Sam & Zach P.S. Thanks for dealing with the Karaoke/deafening singing!
Christmas 2021 USVI Charter
Kris and Aneta This has been one of the best experiences of my life & Kris and Aneta were a huge part of that! Thank you guys so much for your time and effort, your amazing cooking, good company, wonderful companionship and for showing us so many exciting and wonderful adventures. We will never forget you guys! Xoxo Krista, Yates & Alyx - Dear Aneta & Kris, Thank you for a wonderful week! You are both an amazing crew and delightful people. Thanks for everything you did to make our stay easy, comfortable and insanely well fed. You make it all seem completely effortless. Thanks especially for being such great company to all of us – and Linh in particular. Please stay in touch! – Sarah - Dear Aneta & Kris, Thank you for bringing my family and I on a magical vacation! In a short time we all learned to care about you guys a lot. You guys are so easygoing and considerate, and it felt like you were part of the family. Thank you for helping me overcome my fear of fish, all the adventures you took us on, and the most amazing food I had in my life. A special thanks to you Aneta for watching over me whole we snorkeled together, I had a lot of fun! I will miss you guys a lot! With all my love, Linh
December 2021 USVI Charter
Kris & Aneta. Thank you so much for the amazing trip! This has been a dream vacation for over 20 years. We so enjoyed the food and great hospitality! You are both amazing chef's and spoiled us completely! Fair winds & following seas, Hank & Christy - The crew was great! This is usually what can make or break a charter. Both Kris and Aneta were very attentive, great cooks, and professional about their roles. They really upped the game compared to my previous charter experience. Kris also dives which was a big plus.We all had a wonderful time on this cruise. Great food and memories. Albert
July 2022 USVI Charter
Cammi and Charlie, I dreamt about taking this trip for 30 years. Thank you for delivering an experience that exceeded all of those dreams and expectations. Your patience care and intuition make you both exceptional hosts and exceptional humans. I look forward to following you on your future adventures wherever they take you. Infinite Thanks Avella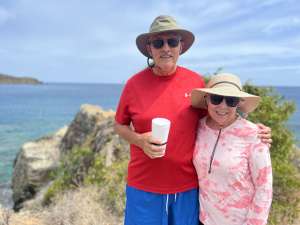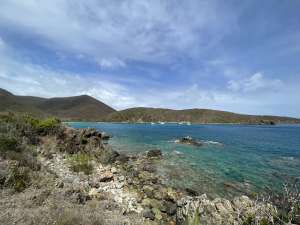 July 2022 USVI Charter
Cammi and Charlie, Thank you, Thank you, thank you! Our week with you on Scuba Doo exceeded all our expectations and created so many family memories! The snorkeling, sailing, Food, and hiking were all amazing. We hope to come back and hope our paths will cross with the two of you again! :) Thank you -Katie Cammi and Charlie, Thank you so much for a phenomenal week! We had an amazing time. Seriously the best cooking I have ever had. Before this trip I would not have said I was a bona fide ocean explorer, but Charlie's snorkeling passion was infectious, and now I would call myself a snorkeling super fan. You guys are the best! Wishing you the best in your adventures and eventual dog ownership. -Savannah Cammi and Charlie, They say that the most valuable asset you can acquire is not tangible things but lifelong memories. As you can see from the above, you have given our family just that. Memories that will last a lifetime. For that we thank you so much-it was an amazing week!!! -Your explorers
June 2022 USVI Charter
We had the most amazing time on Scuba Doo. Thank you Charlie for the great snorkeling and smooth sailing. Cammi you did an outstanding job of providing us with the most delicious meals. You both did so much we really appreciated it. We all loved our week aboard Scuba Doo! Thanks for making this a memorable experience. Love, The Greers
June 2022 USVI Charter
Cammi and Charlie, First of all, "Thank you" will never be able to describe how grateful our entire group is for this pas week. With that being said... THANK YOU!! Cammi, Your work ethic and desire to make everything perfect is incredible. Every meal was incredible-delicious, beautiful, filling, awesome! The running joke is that we were never hungry on this trip. We probably ate less this week than we normally do and that was because every meal was perfect. You were also patient, flexible, and understanding with us. Thank you!! Charlie, You are the man! You taught us more about boats, sailing, snorkeling, diving, and reef/sea creatures than we could ever learn in a lifetime. We also asked more questions than we could in a lifetime and you answered every one. I'm still not sure when you were bullshitting us... so I'm going to go with the fact that you just know way to much. thank you for putting up with our shenanigans. Thank you!!
May 2022 USVI Charter
Thank you guys for such an incredible week! You ll are the best. I can't express how much fun this trip has been. Cammi and Charlie are "Rockstars!" C an C now how to entertain a group of 8. This experience has been one I will remember forever. Thank you, Scuba Doo Crew!! -Patrick and Alicia Charlie and Cammi Thank you for an amazing week! Enjoyed the food, sites, and spending quality time on the boat. We will miss y'all! Love Ruthee Charlie, Cammi and the Scuba Doo are the bomb! Thank you for an amazing trip! -Cameron An amazing experience, enjoyed all the sites, conversation, and much laughter!! Hope our paths meet again. -Jeni Thank you Charlie and Cammi for the incredible service provided, truly made the trip as fun and relaxing as possible. Make sure to go to Louisiana soon! Geaux Tigers -James Great experience, Crew was the best!! Thanks so much for your hard work. -Sam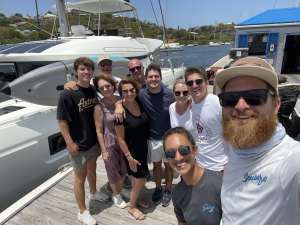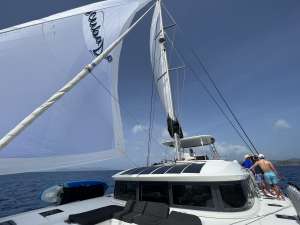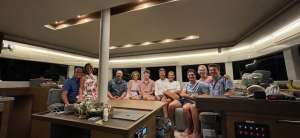 April 2022 USVI Charter
Charlie and Cammi, Thank you both for an amazing week! You are a fantastic team and made the week pass by in a blink. It is incredible how a trip can be so fully relaxing and so action packed. We loved every bit-snorkeling swimming, hiking, lobstering, fishing, playing on the water toys, and of course the sailing. Your shared joy of sailing was a pleasure to watch. And then, of course, was Cammi's cooking. We loved every single thing you put on the table. Perhaps best of all was getting to know you guys a little bit. We loved Charlie's quiet confidence and stoicism. You are a true professional and all around cool guy. And Cammi you have such a warm and engaging personality with the most infectious and joyous laugh. We loved hearing about your unique background and life experience. Our trip had been delayed 2 years due to covid but alas you made it worth the wait. We are so thankful for an amazing week on the boat with you. -Brian and Kristin Charlie and Cammi, Thank you both for a wonderful trip! IT far exceeded our expectations. The food was incredible... the snorkeling, sailing, and hiking were so much fun. The experiences this week would not have been the same caliber with both of you. Your generous spirits and hard work made it all look easy. Thankful for sharing a piece of your world with us. Until we see you again Alaine and Michael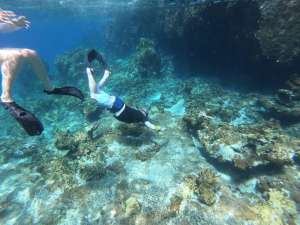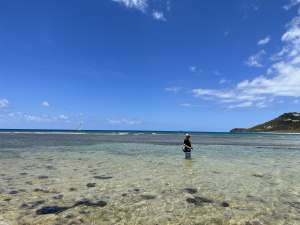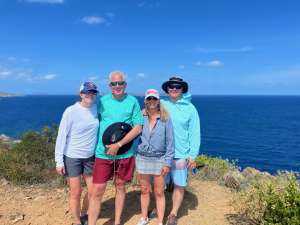 April 2022 USVI Charter
An epic experience. So fine. Mad litty some might say — Michael Cook 2022 :)" An ABSOLUTELY AMAZING time. So fab. — William 2022 :) :) Thank you for such a fun week! Loved all the snorkeling adventures and the amazing food! Loved every second of it! — Morgan Such a great week! An amazing experience that included really cool sights and wonderful food! I particularly enjoyed Turtle Town, the floating pizza shop, and the beach day. Thank you so much Cammi and Charlie for making this week so fab! Thanks again, — Anna 2022 We had such a fabulous time aboard the Scuba Doo with our amazing hosts, Charlie and Cammi!!! Thank you for all the wonderful meals and guided trips. It was family magic for us all! The lobsta catch was EPIC and so delicious. It has been an amazing week on land and under the sea. We are so grateful for all you did to make our spring break one we will never for get. — Brian and Kelly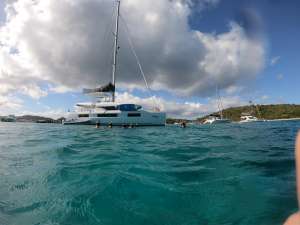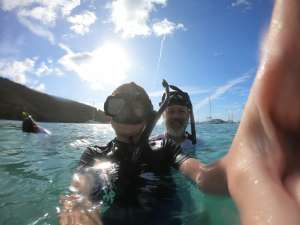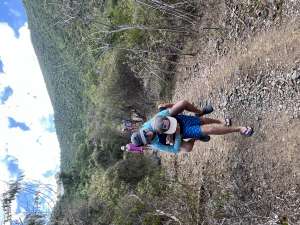 April 2022 USVI Charter
Cammi and Charlie, A++ in every category. Certainly exceeded expectations. You both have great capacity so your options are limited only by your imagination. Good luck in the future. Hope to do this again. -Mike and Colleen Cammi and Charlie, Thank you for giving us such an amazing week here in the VI. We had so much fun learning about the water and getting to enjoy it with you. We are appreciative of all that you do here. Thanks again for everything-hope to see you soon! -Kaley and Riley P.s. I appreciate the wonderful birthday celebrations Cammi and Charlie, Words can't show our sincere gratitude for the many ways you went above and beyond to make our family vacation an amazing experience. You took great care to learn about each one of us, and then put effort into meeting and exceeding our expectations. From the delicious food, beautiful scenery and expert sailing, to the live music concert on our last full day, you both helped make this a memorable trip that we will always remember. We hope and pray for your continued safe travels and blessings for a fortune-filled future. All our best -Kevin and Mary P.S. Hope our paths cross again!!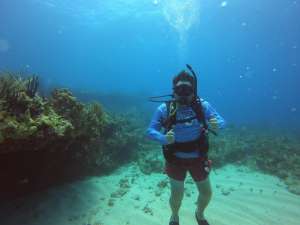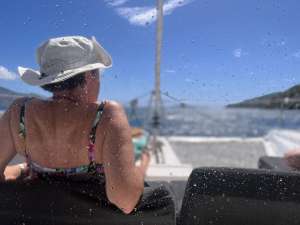 March 2022 USVI Charter
Thank you, Thank you, Thank you! You are such wonderful hosts. The trip was perfect, totally relaxing! We lover the VI, we love Scuba Doo and we love you. -Grandma and Grandpa What a wonderful time! I enjoyed the relaxing atmosphere, great snorkeling, laughter and amazing food. I was truly able to let go. Cammi and Charlie are masters of food and entertainment. -Sarah Amazing Trip! Second time even better than the first. Evie's first dive trip (Great job Charlie she loved diving with you). Cammi-Thank you for making everything so easy and comfortable. Food was outstanding! (Who needs France?) Can't wait for trip #3! Look us up for a surf ride -Dave, Carli & Evie Colorado Springs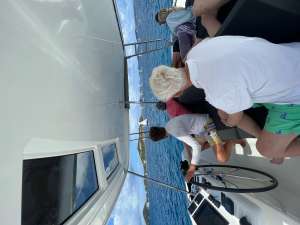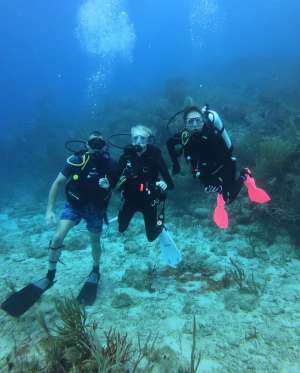 March 2022 USVI Charter
Dear Miss Cammi and Captain Charlie I had an amazing time with you guys. The food was amazing, and scuba diving was awesome. Hangin out with everybody made me feel peaceful. Miss Cammi, You made me feel like a younger sister. I had so much time to be you mini chef, and I had so much fun. I loved my hair after you braided it, and going to the beach and learning how to do one handed cartwheels was a big thing on my to do list. I will tell you when I could do it. Captain Charlie, I loved seeing you play with Sho. The look on his face, showed you knew your pokémon. Next up Sho champion. With all Love Kaili (11) and Sho (5)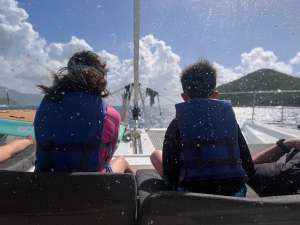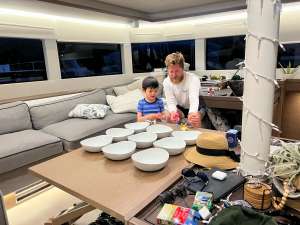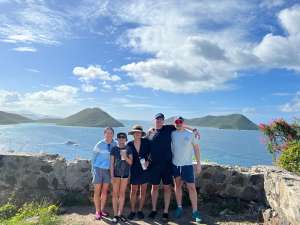 February 2022 USVI Charter
Cammi and Charlie, What an amazing experience this has been. Cammi has to be the most cook. We hate that our journey has to come to an end. We hope to be back on the water in the future. Trip of a lifetime. the food was so amazing. Cammi- you are very talented. I hope the owners of the boat understand how lucky they are to have you to take care of it. Best of luck to you both for a great life together. -Joe and Teena Cammi and Charlie, Such a wonderful trip! You made it extra special. Thank you, thank you! Food was amazing and you are both awesome! Good luck in your next adventure. -Jo and Dave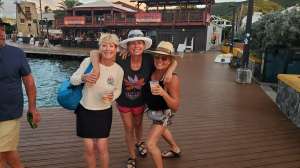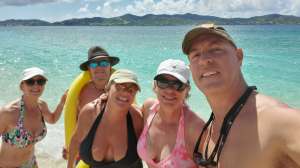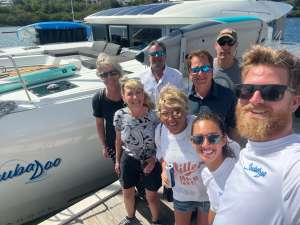 February 2022 USVI Charter
Dear Cammi and Charlie, How can we begin to say thank you for the millions of little things you did to make out vacation truly memorable! Cammi, I am Italian and my love language is food and service. I see your beautiful heart in all the you do everyday. You are like a ninja, making beds (or remaking beds as I always tried, but failed miserably for a week to make our bed) while we weren't looking. Your food was made with love every single day. Thank you for sharing all your talents and your kind and beautiful heart with us. Charlie, Thank you for being game for pretty much anything at anytime. You are gentle and fearless. You showed us so many things and were always up for the game. This was a week full of rest, relaxation, and also adventure. I just didn't know it was possible to put all of that into a single trip. Thank you both for taking care of us with so much love and care. We will share stones of this week with our grandchildren. You firmly imprinted in our memories and we are forever grateful for the experience. -With love and gratitude Kate Cammi and Charlie, You exceeded our expectations the moment we stepped on the boat. Thank you for the greatest vacation I have ever taken! Thank you for listening to our 10,000 questions! Best of luck in all future journeys. Cheers Paul Cammi and Charlie, When we set out on out island adventure I knew we would be treated to a relaxing sail in a beautiful setting. What I could not have known is that we would be treated to spectacular cuisine, lovingly prepared at each and every breakfast, lunch, and dinner and snack break. I could not have known we would be treated to a captain who would also serve as our patient, creative, and knowledgable guide to the islands who would whisk us to the hidden gems, such as the ideal snorkeling and diving spots, that would make our trip truly special. Spending a week with your senses of humor, attention to detail, adventurous spirit, and steady hands truly took our vacation to a different level. Thank you for a trip of a lifetime and best of luck to you both. Cheers, Johnathon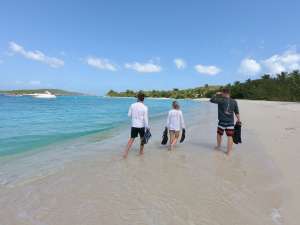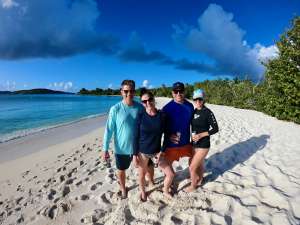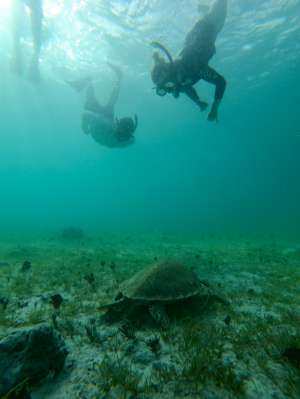 February 2022 USVI Charter
Cammi and Charlie, Thank you for a memorable week of delicious food, fantastic service, and company! We enjoyed every minute, and it was in no small part due to your attention to detail! You two are the absolute best. Good luck in the rest of your season! We're jealous of your future guests. All the best Drew, Spencer, and Sheldon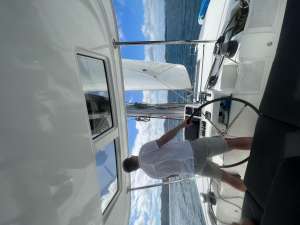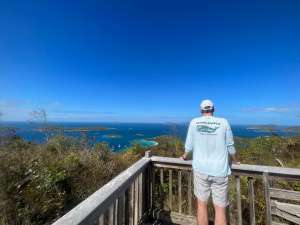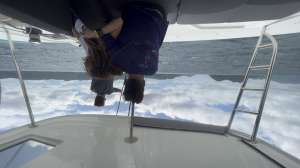 January 2022 USVI Charter
Cammi and Charlie, Such a fun trip... Thank you for an amazing 5 days and coordinating our changing travel arrangements. We are so grateful for this experience! You amazed us everyday with your knowledge of the area, excursions and culinary delights. Can't wait to d this again. Best of luck to you both in all you do. -Tim and Lisa Cammi and Charlie We can't remember a time in recent years where everything was taken care of for us-hard to do, but very relaxing-just what we needed! Your food was amazing-especially the sea bass, avocado toast with poached eggs, and those blueberry scones :). If you ever find yourself tired of this beautiful Caribbean weather and scenery, you have a baking job at the Spot on Main! Charlie thanks for making snorkeling enjoyable and our dinghy rides fun! -Erica and Jenny
USVI Jan 2022 Charter
Dear Cammi and Charlie, To say we had a an amazing time doesn't do you both justice! Everything was perfect. Attribute to you both showering us with kindness, incredible hospitality, and a ready smile. wishing you both Smooth Sailing present and future. -Brad and Rosana Dear Cammi and Charlie, Thank you for the most amazing trip around the USVI. I had such a fun time scuba diving with Charlie and hiking with Cammi. I appreciate all of the smiles and laughs. Wishing you both the best -Jaelyn
New Years 2021 Charter USVI
Charlie and Cammi, What a fantastic week! Thank you for everything. We sailed around Saint John and a couple of coves on Saint Thomas. We started the week pretty timid about the water and ended with lots of growth. Ava and Ian went snorkeling at every stop seeing a nurse shark, reef shark, sting rays, a squid, and lots of fish. The nights where the underwater lights were allowed lit up large tarpin and smaller fish. Megans Bay and Christmas Cove were our favorites. Megans because of the beautiful yachts and night lights and Christmas Cove for the snorkeling and pizza boat. Charlie's knowledge of all things sailing and Cammi's amazing cooking were definite highlights making for a fun, relaxing vacation. Thank you for everything you both made our family vacay unforgettable! -The Palmers
Christmas USVI Charter 2021
Chef Cammi and Cptn Charlie, "The trip of a lifetime." You made everything so special-the food was amazing, the places we visited were so special. You knew the history which made it so interesting. This time spent with my children and grandchildren is something I will cherish always. God bless you! -Judy Cammi and Charlie, Thanks so much for all you did for our family this week. This is the best trip I have ever taken and it wouldn't have been half of that without you all. You are the best at what you do. Thanks again for the best week. C and C, This has been a perfect week! Thank you for your hospitality. Food and sailing were amazing. Top Notch! I can honestly say this is the most relaxed, serene, and tranquil vacation I have ever had. Connecting with the sea and the beauty it has to offer will stay with me forever. I wish I could bottle up the calm and peace. I will definitely be back to these waters someday. Hopefully sooner than later! Safe sailing to both of you:) Love Jenny Cammi and Charlie, So grateful for the amazing week in the sunshine. So thankful for this last family trip together. I wish you safe travels and hope you get back to Rhode Island soon. Love Kim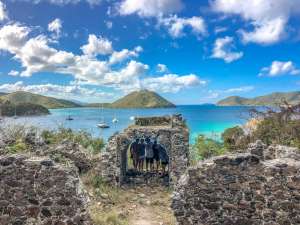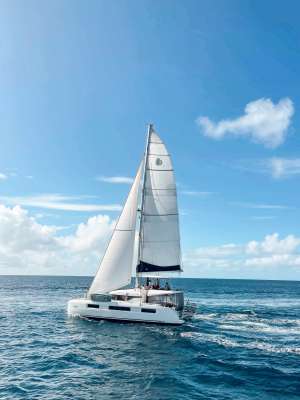 December 2021 USVI charter
Cammi and Charlie, Amazing experience. Thank you so much for making this such an enjoyable vacay. Weather was great. Food was outstanding. We certainly will book to do this again most likely with the kids. Classic response to my question about the Don Julio- Yea Boy! Charlie, thanks for navigating this vessel and guiding this vessel and guiding us on the snorkeling. Merry Christmas and Happy New Year. -Rob and Melissa Charlie and Cammi, Thank you so much for an amazing trip! The diving was good, snorkeling was great, and the food and drinks were amazing. This is definitely a trip we will repeat largely due to how great you two were. Thanks again for an amazing and relaxing trip that will not be easily forgotten. -Michael and Laura Cammi and Charlie, This has been an amazing week. Every meal was amazing. Favorites were the scallops and sea bass. We also enjoyed the afternoon cocktails, especially the strawberry-rasberry-basil frozen concoction. Thank y'all for leading us to the best snorkel spots and hikes. The two of y'all worked so well together to provide the best experience for us as guests. Your work ethics and personalities are top notch. Best of luck for all your future ventures. Thank you so much! -Leslie and David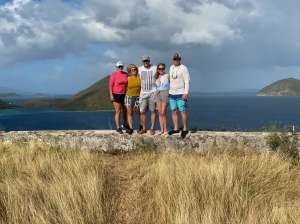 December USVI 2021 Charter
Cammi and Charlie We had a memorable and wonderful 30th Anniversary! You both are the most attentive and thoughtful hosts. The food and activities and leisure all took place effortlessly for us and we know it's all due to your skills and hardwork. We wish you all the best as you will succeed in whatever you do for sure. We hope to cross paths again some day! Fair winds and following seas, as they say. All the best with warmness Mike and Katy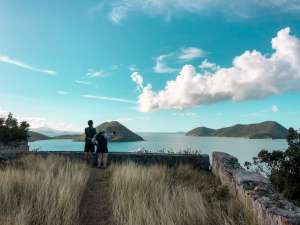 November 2021 USVI Charter
Charlie and Cammi, We can not express what a wonderful time we had on the Scuba Doo! Cammi greeting us with prosecco and shirley temples as we boarded the boat. I can't explain how delish every meal was. We had such a wonderful snorkeling and scuba adventures with Capt. Charlie. Both of you were so knowledgable of all our mooring and anchoring spots! You guys have been amazing to us and our children! This vacation is definitely one of our favorites that we will never forget! Love, Anthony, Julianna, Christian, Brianne, Angelina, and Anthony
November 2021 USVI Charter
Cammie and Charlie, We had such an amazing week on Scuba Doo. Your talents in cooking, your knowledge of the ocean and the islands, and you amazing hospitality made it a truly memorable vacation for Steve and I and our group. I can't wait to sail again with you one day. All the best in life to you and Charlie. Love Nikki and Steve
November 2021 USVI Charter
Cammi and Charlie- The beauty and confort of Scuba Doo is only exceeded by the two of you. This trip has exceeded our expectations. Thank you for a huge part of our weekend helping me navigate the proposal. Food on board was sensational. Really "5" star all weekend! -Dan and Sue xo
July 2021 USVI Charter
Captain Charlie and Cammi - What a great week it's been on Scuba Doo! Thank you for going above and beyond to make this a special week for us, especially the kids. We've made so many special memories that will always make me smile. The rocky trip to St Croix, swimming with the turtles, the beach day at Scott's beach, the tarpon at night, the day at Buck Island - too many fun days to pick a favorite. And the food was a huge hit - you definitely spoiled us. Thanks again for making this family vacation one we will never forget! Michelle Great times!!! Can't begin to pick my favorite day - they were all so awesome. I'll always remember the beautiful sights, incredible breeze, taking the helm on the sail back from St Croix, the music, kids laughing gnips, superpowers and great meals to name few. The kids had an experience that will last their lifetime. Hopefully this was the first of many more like it! Thanks for helping us pull off the surprise and great reveal!! Remember to cherish the journey, experiences and memories that come from them! Jason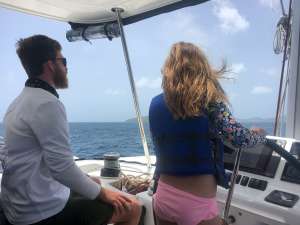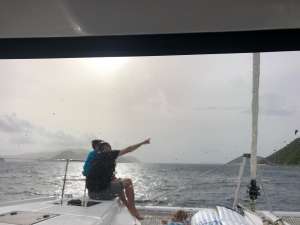 June 2021 USVI Charter
Charlie and Cammi, From the moment we boarded our family shared memories and laughs together snorkeling, night swimming, scuba, hiking and much more. We were hosted and treated be you in a way that make this a first class experience - from the cuisine to the mountain rescue mission during the storms at Caneel Bay. These memories will last a lifetime. You made it truly special. Thank You, Joel This is my favorite vacation! Relaxing and adventure rolled into one - our family meals were priceless. The time spent with our children during the trip will be remembered forever. Thank you! Kayla Excellent trip!! Charlie and Cammi are the best. Inspired me to involve myself in boating more. Steve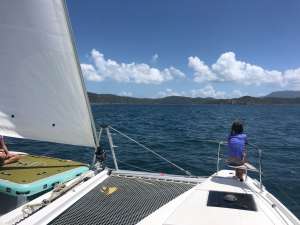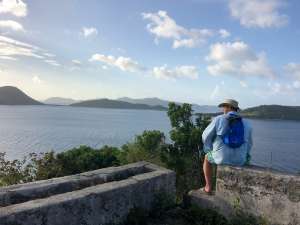 June 2021 USVI Charter
Cammi and Charlie, Thank you for your guidance and expertise throughout this trip, it truly pushed this trip from great to excellent. The presentation and quality of the food really stood out and will be misses dearly at home! This has been such an amazing week! Judy Thank you for cooking, cleaning and taking care of us. The trip was amazing, but it couldn't have happen without you guys. Appreciate all the effort put into ensure a good time. Nick Thanks for the awesome time her win the USVI! This had to be the best vacation I've ever had and a lot of it couldn't be possible without Charlie or Cammi. Thanks again! Jake Admiral Cammi and Captain Charlie were just great. Charlie didn't sink us and Cammi's dishes were inventive, healthily and delicious! All the best to you! Ron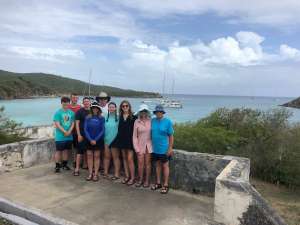 April 2021 USVI Charter
You too are absolutely awesome in every way. Meals were amazing! Smiles and laughter abundant. Thanks for everything. All the Best, Michael The subbing was so unexpected and fun! I really appreciate you making homemade biscoff cookies! Conrad Thank you Cammi and Charlie for making this trip everything we hoped for and more! We needed this trip to escape a very long covid winter in New England. So many fun snorkel and scuba stops. Loved the afternoon walks. Cheers, Jane Thank you for everything you did! I had no idea about the history of the sugar industry here, and loved the walk that we did to visit them. The diving and food were amazing. It was the perfect escape from a New England winter. All the best, Helen
March 2021 USVI Charter
SPRINK BREAK!! The Scuba Doo and its crew Captain Charlie and trust mate and excellent chef Cammi, made for a top notch vacation! We circumnavigated St John ~ Hiking, snorkeling, swimming, kayaking, reading, snoozing, paddle boarding and drinking and eating while we were spoiled by Cammie and Charlie. Highlights included snorkeling with turtles, swam with a nurse shark, hiking to the sugar mills and to the top of the mountain overlooking Caneel Bay....and the grand finale of a day on the beach at Caneel. Our family and our friends spent much needed quality time together, which is truly the best gift of all. We hope to return again aboard the Scuba Doo! And we will be back to St John, one of our favorite places on earth. THANK YOU Charlie and Cammi!!! Come visit us in Charleston! Jen, Ted, Emmett and Sammy
February 2021 USVI Charter
Charlie and Cammi, Thank you for all of your hard work and incredible hospitality aboard Scuba Doo this week. You made our first charter experience unforgettable. We are especially grateful for your part in helping to set up our (successful :)) engagement proposal. Blessing and safe passages to you both! -Chuck and Lyrette Cammis and Charlie, Thank you so much for a wonderful week in the USVI! You are a great couple and your warmth and love for each other spread to all of us. The food was exceptional, the sailing divine! Best wishes to you in your future plans and we hope we cross paths with you again. Steve and Cindy Charlie and Cammi, Thank you for such an amazing week. You are both so very gracious and made each of us feel special. Rob And Tawni C&C, Awesome week! Thanks for everything. You both exceeded expiations at every turn. Really enjoyed meeting both of you and the week was outstanding. Food was amazing sailing and stops were incredible. You're a great team and we appreciate the care you took to make our trip memorable. Steve and Krystal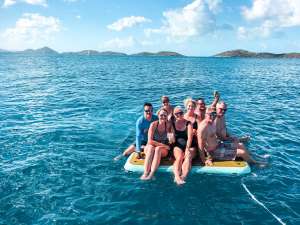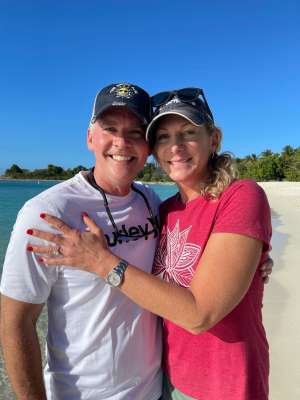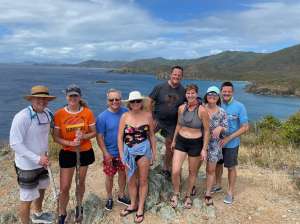 December 2020 USVI Charter
Charlie and Cammi, We can never thank ya'll enough for a truly amazing first charter experience. We feel blessed with the opportunity to get to know you, if even for a short time. You both have a love for God's beautiful world and we enjoyed you sharing your knowledge with us. Blessings and many thanks! -Andy & Julie Charlie and Cammi, I don't really know where to start or what to say other than THANK YOU a million time over for the absolute best week we've ever had. From the amazing food to the "slight tug" getting us out of our comfort zone (some of us anyway lol ) You both are the best! We can't wait to do this again. Till we meet again XOXO Jason & Crystal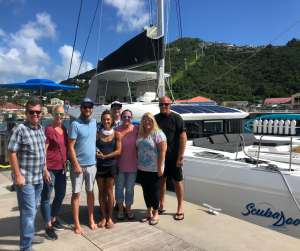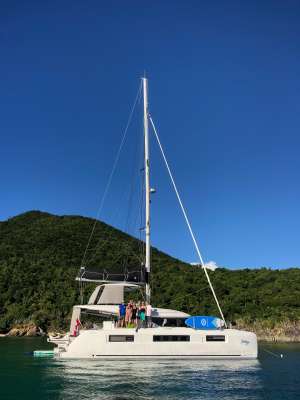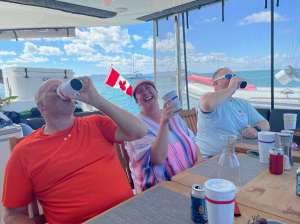 July 2020 USVI Charter
We had a wonderful week - you two are our all time favorite hosts after 14 charters! Cathy & Jim Loved all of the activities Cammi and Charlie joined us for. Jungle hill climb, Jurassic park, great dives. Snorkeling was amazing and so much fun to have you two with us to point out all of the highlights. Loved all of the sailing and learning while doing it. Also, thank you for giving extra attention to Evie. 12 year olds can sometimes be left out, but you gave her many fun challenges and I know she felt privileged to have both of you treat her as a friend. Lots of new memories that I know we will all remember well for the rest of our lives. You two make a great crew. Thank you for everything. Dave Cammi and Charlie, We can't thank you enough for a wonderful week. You've been so gracious and kind and the food has been wonderful! You both have the right temperament for this challenging job. I hope we'll see you again! The G. Family.
July 2020 USVI Charter
Dear Cammi and Charlie, Thank you both so much for making this trip exceed all of our expectations. We feel so "taken care of" you both make an amazing team. We wish you the very best! Paul Dear Cammi and Charlie, Thank you so much for all you have done. I don't think any other charter could top this one. The food was sooo good and the snorkel spots were so cool to see. You two are doing an amazing job. Keep up the good work. Thomas Dear Cammi and Charlie, Hope you have a great end to your season. We wish you safe travels and success in all that you choose to do. You make a great team. Thanks! The B. Family Dear Cammi and Charlie, Thank you both so, so much for an awesome week! Honestly the most fun I'ver ever had and it truly made this summer great. I have no words to describe the things I saw and the food we had :) Might have to hike a few more mountains to work it off. THANK YOU! Katie Charlie and Cammi, Thank you so much for such a wonderful week. Everything was just superb! I enjoyed every minute of every day on board from the snorkeling and diving to the hikes and beach exploration and of course the delicious food and drinks. This is a week and vacation we will always look back on with such great memories and have the two of you to thank for that. Jen
March 2020
All of the food was AMAZING! Especially the pastry dishes. The crew was professional and courteous and always there to help. ___ I love the big yellow duck :) The shrimp and the salmon were me fave! - but truly all of the food was great. Must see list - the baths and soggy dollar. Thanks for an amazing experience. ___ Cammie and Charlie were excellent hosts! They never sit down in tending to their guests, I don't see how they do it. Food was amazing!
February 2020
Sweetest Cammi and Charlie, Thank you so very much for an incredible Great Adventure! Bob and I have had a vacation of a lifetime these past 8 days. You all have been "over the top" hosts, thinking of everything and exceeding our expectations. The sailing, snorkel tours, and the meals - truly exceptional! We will always carry these great memories and you both in our hearts! With Much Love, Robyn and Bob -AKA Bobin Cammi and Charlie, Thank you for the most spectacular week! You two anticipated every need and made sure our vacation was truly a Great Adventure! We enjoyed every moment...the delicious food the fabulous sailing, the adventurous snorkeling and yes, even losing at 5 Crowns. We are grateful for your kind hospitality and will miss Cammi's gracious smile! Wishing you every blessing- Jerry and robert P.S. We hope to see you again. P.P.S Tell your parents that we think you've found your calling!
February 2020
All four of us are so so appreciative that the charter company and the boat owner were so flexible about changing the date because of illness. We realize that this was a choice, and we are eternally grateful. We particular loved the diving from the boat, and Charlie is a great dive master and made diving so easy. He also sensitively helped one of us who was recovering from surgery get back in the swim of things, and made sure she was comfortably part of all activities. Cammi is an amazing cook, serving healthy and delicious food at every meal. We need that curried chicken recipe! Cammi and Charlie are the perfect hosts for this kind of trip - expert sailors, so we always felt in good hands, so accommodating to our wishes each day, funny, kind and delightful. We just can't say enough about what a great trip this was due to Cammi and Charlie. They define excellence in charter service. Ruth
February 2020
Dear Cammi and Charlie, Thank you so much for everything! This is our third charter and the best. The boat was perfect, the weather was perfect, the food was unbelievable and we loved your choices of locations. Charlie and Cammi - you are a wonderful team we always felt safe, interested, relaxed and happy. After a bad year of operations, illness and pain I feel, finally, fully recovered thanks to both of you. Your thoughtfulness, kindness and help will always be remembered. Thanks also to the owner and charter comply for allowing us to delay the trip for a year. You are both great people and a fantastic crew. Can't wait for our next trip with you! Ruth Cammi and Charlie, This was such a wonderful week - you guys are amazing - we explored so many (new) beautiful areas - Cammi made us such delicious meals - you both created such comfortable, clean environment for us to relax and enjoy our surroundings. You are wonderful hosts making me feel safe, very well fed, happy and eager for more. You also are both so knowledgeable about the waters, the sea life and I loved spending time with both of you. Thank you so much - Vicky Also - Charlie thank you for your patience and your instruction with us a diver and making us comfortable and success on my two dives. Vicky says it well! Great planning and improvisation plus wonderful people, plus reading us so well. Thanks for a great trip. Tom
February 2020
Cammi and Charlie, Thank you! Thank you for the awesome week, the great meals, great drink and all os the exploring. It was a pleasure spending the week with you xoxo Jack This was truly life changing experience! Thank you Cammi and Charlie. Cammi you are an unbelievable cook and anticipates your clients every need. Charlie you are safe and creative captain whose small choices made all the difference in the trip. Thank you both and you know you always have family in SC. Love Nancy
December 2019 USVI Charter
This was the perfect vacation. When we booked, we just randomly selected Great Adventure, how lucky were we??? Charlie and Cammi were the best crew we could have asked for!! They treated us like royalty. We felt so lucky each day. Diving with Charlie was exciting, but at the same time so peaceful. He has a calming way about him and we felt safe with him. Each site he took us to was different, but equally beautiful. The food, well what can I say, Cammi was a great cook. Each meal was beautifully presented and delicious. She also finished them off with a yummy dessert. I'm still wondering how she did it all on our boat. I wish I could let you know which one was better than the other but all the food was wonderful! Both Cammi and Charlie were so knowledgeable about, our surroundings and environments, sailing, diving, they were so informative. Cammi and Charlie we really can't thank you enough. You are so kind and well caring. We will definitely do this again because of your wonderful hospitality. If you move to a bigger boat we will follow! We will have to visit you in Newport! Charlie thanks for entertaining Twin, that's a job in itself. Thank you Thank you Thank you. We hate to leave. Love, The Surrettes Ipswich, MA
Reviews
This was the perfect vacation. When we booked, we just randomly selected Great Adventure, how lucky were we??? Charlie and Cammi were the best crew we could have asked for!! They treated us like royalty. We felt so lucky each day. Diving with Charlie was exciting, but at the same time so peaceful. He has a calming way about him and we felt safe with him. Each site he took us to was different, but equally beautiful. The food, well what can I say, Cammi was a great cook. Each meal was beautifully presented and delicious. She also finished them off with a yummy dessert. I'm still wondering how she did it all on our boat. I wish I could let you know which one was better than the other but all the food was wonderful! Both Cammi and Charlie were so knowledgeable about, our surroundings and environments, sailing, diving, they were so informative. Cammi and Charlie we really can't thank you enough. You are so kind and well caring. We will definitely do this again because of your wonderful hospitality. If you move to a bigger boat we will follow! We will have to visit you in Newport! Charlie thanks for entertaining Twin, that's a job in itself. Thank you Thank you Thank you. We hate to leave. Love, The Surrettes Ipswich, MA