Charter Yacht ODYSSEA Guest Reviews
June 2021 BVI charter
Broker Feedback to the Captain- Sorry for the delayed reply in getting feedback from the B's who left ODYSSEA on the 3rd… But, I was finally able to chat with them over the phone last night, so I am relaying this… They had an excellent time with you and Gi on board. They were very impressed with your knowledge and experience. They knew you had their best interest at heart all the time and you are super caring! Butch loved hanging out with you, which gave Mrs. some time to herself! She loved it! She also mentioned how impressed they were with being in a small space all together, yet you both knew how to give them their space, and when to join in. It was never an issue.. The boat was very nice too. They mentioned the unfortunate weather they had, but you guys made it great. (I think she mentioned board games or dominoes or something) Whatever, they enjoyed spending that time with you. Regarding Gi, OMG! She went off talking about her cooking and presentations. She also sent me photos in a text. Gi not only did an excellent job with cooking but the presentation was beautiful with every meal. She mentioned that "not only did she do such an excellent job, but it was effortlessly on her end. I never saw her really with a messed up galley in the middle of cooking. She never really saw her in the galley making a mess, it was always very clean and organized as if she really wasn't cooking." (I hope I am relaying this right) "We joked about how I, or Amparo, cook a meal and everyone knows with the banging of pots/pans/dishes etc. and the kitchen would be a mess. Gi had NONE of that! She was like a magician in the galley and you never knew she could produce such great meals every day with no stress and cleanliness. Her galley was always perfect even in the middle of cooking!" She also mentioned they would go to their room and were shocked to see the room always cleaned and perfect. She was shocked because she never saw either one of you going down to their rooms ever. Again, like a magician! They would love to come back with you and ODYSSEA in the future, for sure…
28 April 2021
Thank you Dylan & G! What an AMAZING week! Dylan &n G, If you ever get sick of the sea, call me, we'd love to have you join us on the 'other' Cape! Flounder Hacketts, Nicki and John!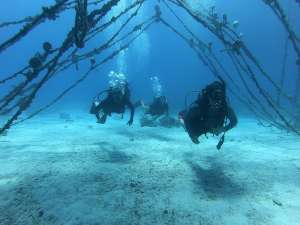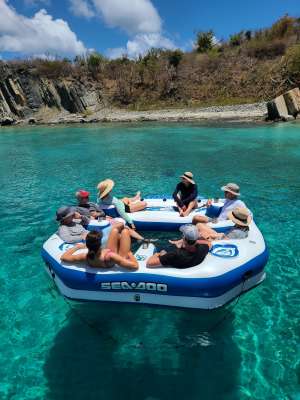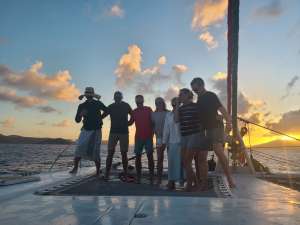 28 April 2021
Dylan + G, Thank you for an amazing week! It was the best way to break free of Covid and celebrate a 50th birthday for Rich. We so appreciate you hospitality, delicious food and the wonderful way you took care of all the details big + small for us. We created so many memories and deepened the bonds of friendship over snorkelling, hiking and super moon gazing. We'll be back! With sincere gratitude, The Flounders (Jim, Kirstin, John, Niki) + The Wahoo's (Justin, Amy, Rich, Julie)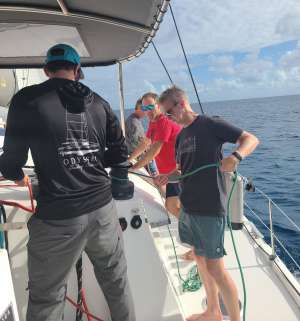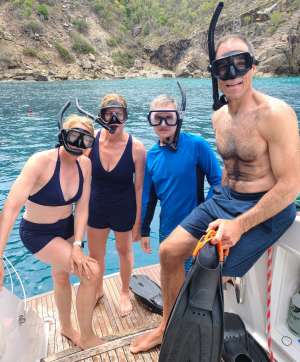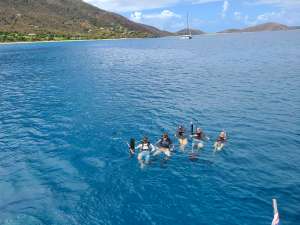 14 -21 March 2020 (COVID -week
We didn't just survive, we thrived! What an amazing week – from activities to amazing cuisine to delish drinks – we loved it all! Thank you Dillion and G for giving us such an incredible week! ***** rating and we wish we could stay! Greg and Jen Ruggles One of the best spring breaks yet! Thank you for the awesome meals and amazing experiences. Had such a great time. Hope you remember we're better at tubing than the boys false  - Gracen & Avery, Reilly & Kohler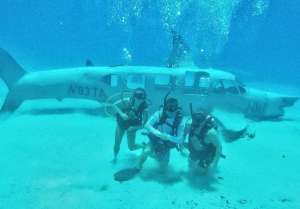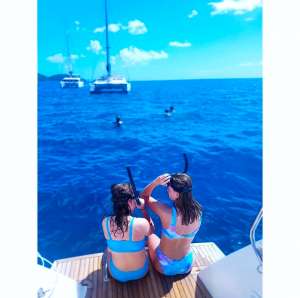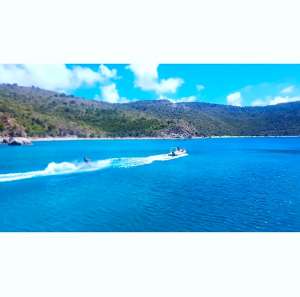 09 March 2020
After years of bareboat chartering; Dylan & Gi have converted us! Knowing the anchorages, snorkelling spots and finest dining (right on board!) has made us understand chartering done right. Thank you for giving us a fabulous week. Dylan and Gi – you rock!! Come visit us in New England when it is warm! Absolutely fabulous week in paradise – a little piece of heaven – thank you so much!! Gi and Dylan Thanks so much for the extraordinary week on board Slivochka, Gi, your 100 megawatt smile and warm hospitality set the tone for the week: and your meals – all outstanding. Dylan your excellent seamanship and encyclopaedic knowledge of the BVI, its anchorages, snorkelling spots provided us with a fantastic vacation: smooth seas and fair winds for you. Thanks so much. Dylan and Gi, As first time sailors, the experience was far beyond any expectations we had – in every aspect of the trip, Fabulous! Cathy and Mike Corbett, Myron and Cathy Zimmerman, John and Fawn, Nancy and Pete Brown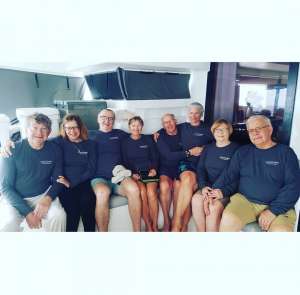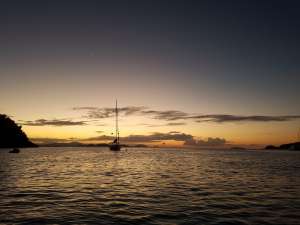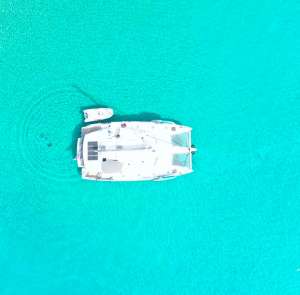 23 February 2020
Dylan & Gi, Thank you for a wonderful week of adventure. If we could Gi home with us to cook for us we would. All our meals were wonderful, breakfast, lunch & dinner! Dylan was a great captain & cool as a cucumber when the dingy stopped running and we had to row back to the boat. He was a great participant in the What Do You Meme game! Dylan was very flexible with our itinerary and had great suggestions. We tried to get them to let us stay on as part of the crew but unfortunately that would have required them to cancel the rest of their charters! We would definitely book another charter on Slivochka with Dylan & Gi. Greg, Susan, Kyle, Allison, Katie and Chad Hackenbracht, Paul Pettitt, Erin Roy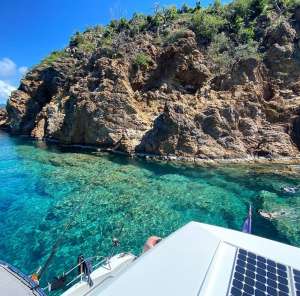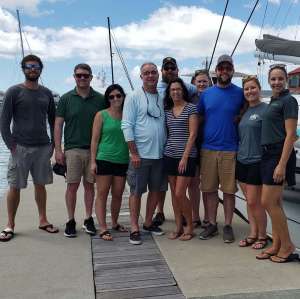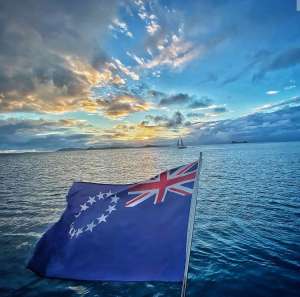 15-21 February 2020
Dylan & Gi (smiley) Thank you for an ALL-AMAZING trip. It exceeded our expectations. We appreciated your professionalism and easy going personalities. The two year wait from our original plan was worth it and we will be back soon. We thoroughly enjoyed the meals and cocktails. There were new stories everyday that we can add to our memories. And we have two new friends. Fair winds & following seas. - Dance party - Right, left, center (more pepper) - Willy T's - Johnny Sausage Worldwide - Tequila Sunrise - Swimming with tarpon - Lobster dinner (gotta get the large!) - Pterodactyl dragon Pat and Barbara Galgano Greg and Audra Beane Shawn and Claudine McNult John and Tammy Pappas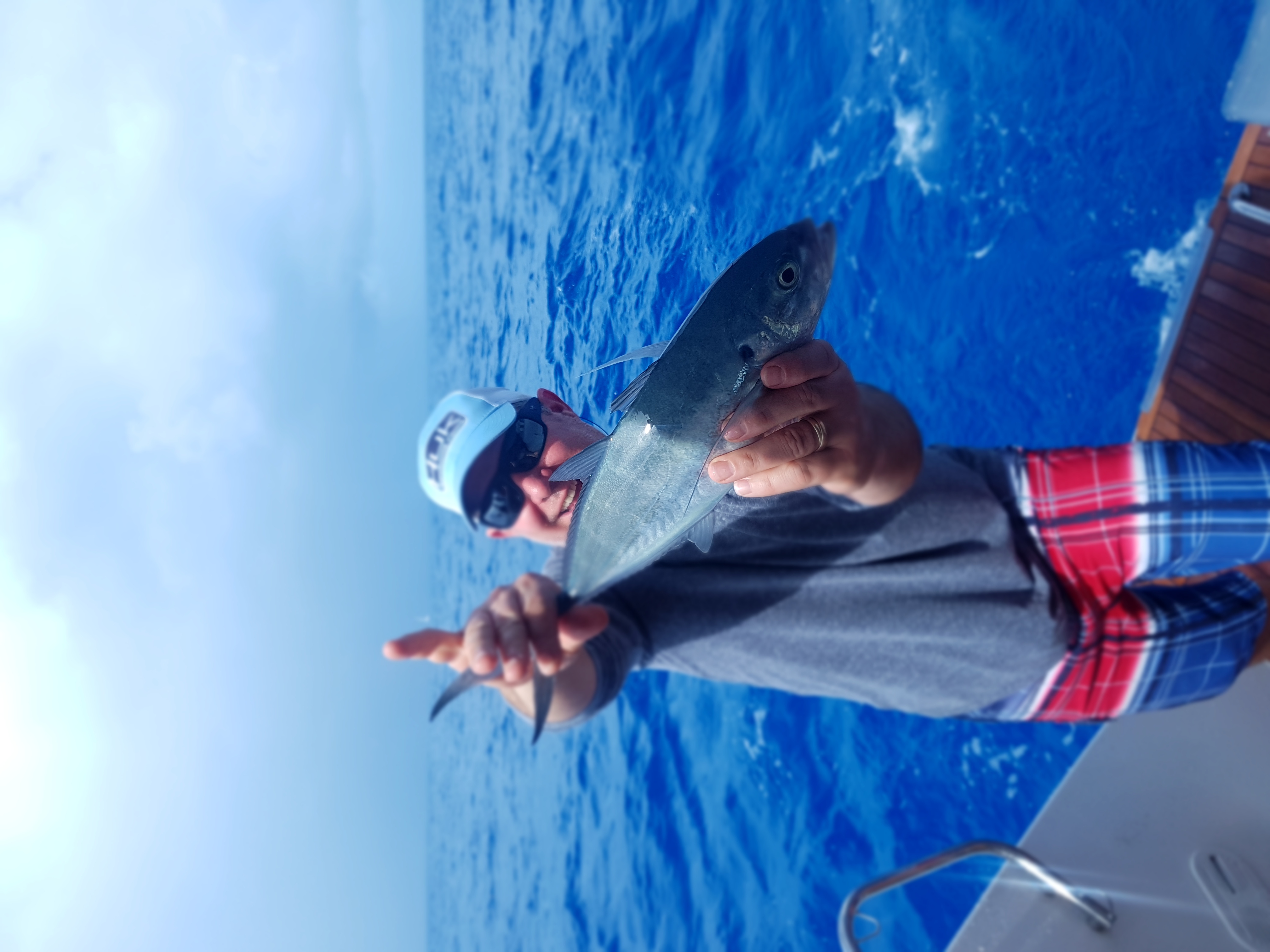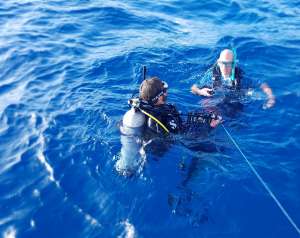 30 January 2020
Dylan & Gi – this boat trip was unforgettable!! Top class – five stars. Everyone had a great time and could not have asked for better weather. You both are so thoughtfull & meticulous – literally thinking of everything. The drinks, food, and service were absolutely amazing. Thank you for everything. We will cherish these memories The Sprouls Dylan & Gi Thank you for this amazing trip I hope we get to go again. Thank you Gi for all the delicious food and hair styles. Thank you Dyan & Gi – Vivian Sproul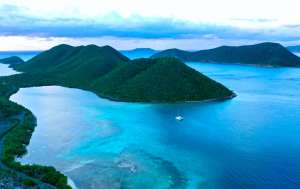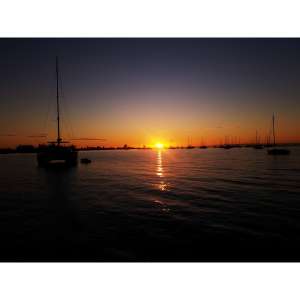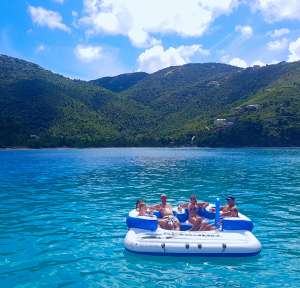 5 January 2020
Dylan & Gi, What a great trip. We enjoyed every minute. The food was wonderful. I think the girls had 6 of the-best meals they've ever had. Can't wait to do this again soon with you guys. Hope we weren't too much trouble. Keep in touch. Steve & Judy Vermillion Thank you so much for such an amazing experience, we could not have asked for a better crew! Gi, your cooking was INCREDIBLE. It's going to be so hard to go back to eating our subpar meals. We had an absolute blast staying up and playing endless amounts of card games, especially spoons. Willy T's is a night we loved the most – the memories may be fuzzy, but unfortunately the videos and bruises aren't. Dylan, thank you for being a great leader when it came to snorkelling and ass tattoos  Thank you Gi for introducing us to the Caipirinha, we will spend countless hours trying to recreate the recipe since you can't share (along with the soy fillet sauce). It's hard to pick a favorite island they were all our favorite – from dune buggies at Anegada to the caves at Norman. We will never forget this trip and we will absolutely be back soon. We cannot thank you guys enough for going above and beyond. Steve, Judy, Cat, Walker and Addie Vermillion, Amanda Erskine, Wade Cox and Jordan Esopa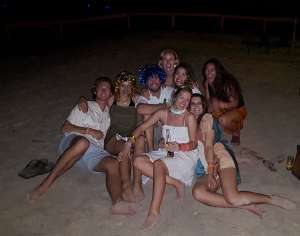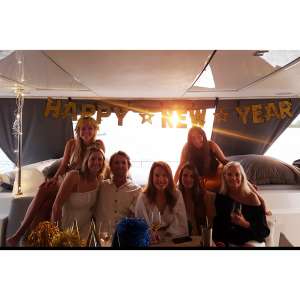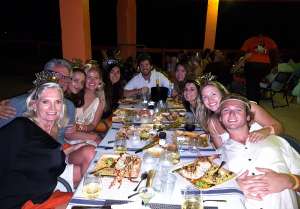 27 December 2019
Dylan and Gi Simply Amazing! Having done this trip 10 years ago with our family as well, we thought we knew what to expect/ The two of you made this trip truly exceed all expectations. From knowledge of the world, the excellent food, exceptional service, patience, nothing too much to ask for, making sure we slept in the smoothest and most beautiful bays…I could go on and on. Thank you both for treating our family to a trip of a lifetime with special memories! We have already recommended to several friends! Warmest personal regards, Your favorite Texans! Ron, Rhona and Rachel Konig, Tracy and Kyle Bateman, Ali Berkman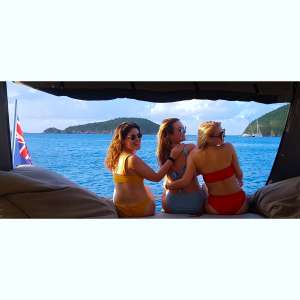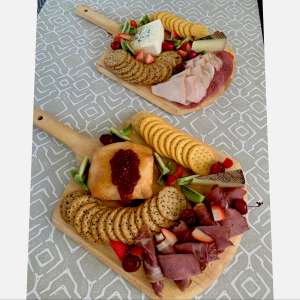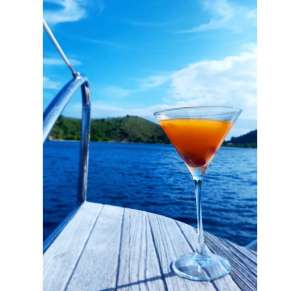 15 December 2019
Dylan & Gi, Thank you so much for the amazing trip. Many memories were made on this most amazing boat, with amazing foor & great friends. So glad we all crossed paths. Looking to seeing your alls continued adventures. You all are the best. God Bless, Dennis & Lisa Stephens Dylan & Gi, What an amazing week. I must confess that memories of a charter 10 years ago really made me think that experience could never be matched. Wow, was I wrong. Not only did you all match it, you exceeded my expectations. If I could bottle up and market you all I think we could make millions! The smiles, the service the excellent food and your willingness to do whatever was asked made for an amazing trip. Dylan's wise chores and very judicious guidance on where to go and what to do was always right on target. Both of you have such a friendly personality we fell in love with you both instantly. We plan on shouting your highest praises and recommending you & the Slivochka to anyone that will listen. Gi thanks for taking one for the team with Christopher! That's one experience we won't forget and will become part of our "vacation" stories. God Bless you both with rich lives and success in all you do. With much appreciation and thanks Matt & Lisa Bowman I can't thank you enough for the incredible week I (personally had), as well as our whole group. It's hard to think back and pick a favorite but if I was forced, simply sailing!! And of course having the atmosphere to reconnect with new and old friends. The both of out did yourselves. Dave & I are in the process of figuring out another time w/another group so we will see you in the future!!! Sincerely, Stacy Florence Thanks to the cocktail board outside. I don't remember much, but apparently, according to Stacy's Facebook posts, I've had a blast! Just kidding. I remember everything, every delicious meal, especially! You two are amazing people. Made for hospitality, for sure, but overall you are genuinely wonderful spirits. You've given me a lifetime of adventure, laughter, and memories in this short little week. (And Dylan, I still can't believe you caught my hat!) Thank you!! Nicki Shorr-Maxson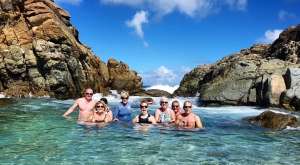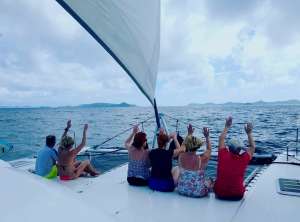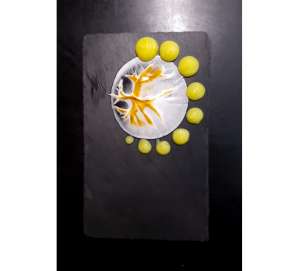 7 December 2019
14 December 2019 Dylan & Gi – Absolutely the BEST EVER !!! We enjoyed the sites, your expertise& the culinary delights each day. Thank you for an excellent 1st experiences on a catamaran as well as BVI. Steve & Wynne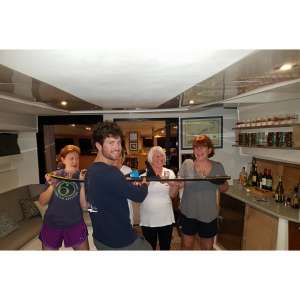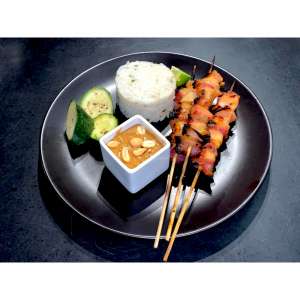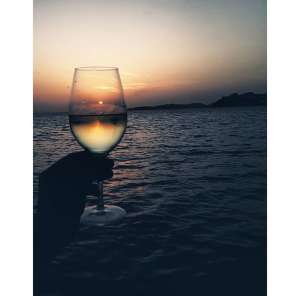 29 November 2019
Dylan & Gi – Thank you for making the first voyage for our kiddos such a success! Jack & I have dreamed of introducing them to such a vacation, you're patience, attention to all of the details, and special touches made it a perfect trip. Magdalene (9 years old) will forever remember the snorkelling, getting to touch a jelly fish, diving down to touch a rock, seeing a grand sea turtle, & of course her special friend "Rob" the conch  Capt. Dylan, your patience & guidance helped make all of these things possible. Jaxie (8 years old) loved sitting on the nets with the wind blowing on her face, snorkelling, tubing & of course the early morning chats with you both. Maverick (4 years) will always remember the swims in the "open seas", his first tubing experience, searching for shells, and he will likely keep dreaming of Gi's sweets for years to come! Truly, a wonderful, fabulous journey with you both. The pirate thanksgiving lunch was a terrific treat. Until next time, Amanda & Jack Ryan, Magdalene, Jaxie & Maverick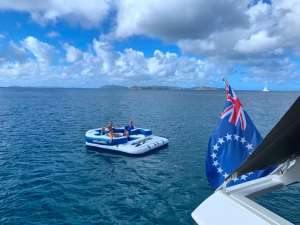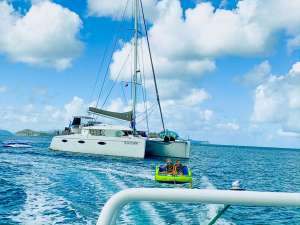 4 – 10 November 2019
Dylan and Gi, "Captain Dylan, aka Trever, Phillipe, Cooper, Carter, Hunter, Austin – and dear Gi!! You both have been the absolute best and made this trip one of our all time. Thank you for your patience with us! For the AMAZING delicious food we were spoiled with and your wonderful sweet personalities – best ever. We will remember you both and this very special trip forever! And we hope to see you again on our next trip here. With so much love & gratitude! – Kelli Haakenson, Heather & Eric" "Love you too! Hope you find your dad's – Kevin Haakenson" "I want to live in that to déjà vu!" "Thank you! Amazing trip! Xoxo – Kautia & Barry" Card: "We love you both – Kevin & Kelli" Card: "Thank you Dylan & Gi, just the best!!! Thank you! – Kautia & Barry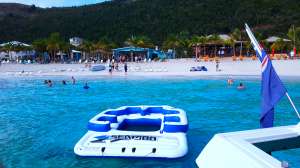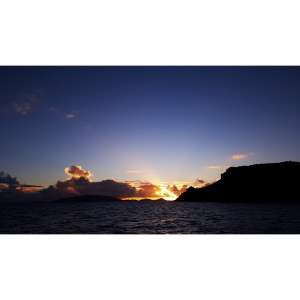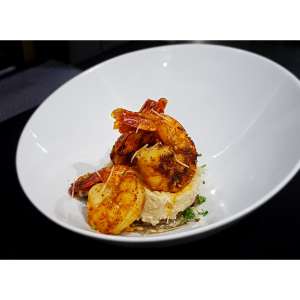 Virgin Islands Charter June 12, 2019 Charter
We had an amazing time! The boat was very well appointed and perfectly accommodated our group. Dylan and Isabella were incredible. They were knowledgeable, interesting, professional and just fun to be around. Bella is an amazing chef and all of her food was delicious. We were all baffled by how she cooked such gourmet meals in such a small space. Dylan did an excellent job leading our dives and providing a fun and safe environment for all. This really is an incredible vacation for anyone. It is so relaxing, rejuvenating and a genuine break for day to day life. The meals were so delicious that one of the kids wanted to propose to Bella! The food was perfect. Bella did an amazing job working around the needs of someone with a nut allergy and a pescatarian. The meals were interested and beautifully presented. She was very mindful of our preference sheet. The yacht was beautiful. It was clean, well-maintained and well appointed. The provided toiletries were high end and very much appreciated. Everyone loved the Sun Bum sunscreen and it was soo nice not to bring all that along. The cabins were comfortable and the AC was great. We loved sitting on the upper deck on our sails. It would have been a bit nicer if there was a little more shade up there but it was not a issues. It was nicely situated next to the captain and it provided a nice opportunity to talk with Dylan and Bella while crossing. There were plenty of other shaded options on the boat. We loved the coffee machine, snacks and fruit that were always out and available. It was also super helpful to have the "lost & found" basket and the sunglasses basket. Great idea! The games and books were also a nice touch. Our diving was a highlight for our family. We did two dives that were very fun. Dylan and Bella worked seamlessly to get the equipment out, get us oriented and prepared for the dive. Dylan did a great job reviewing skills (especially for our kids), the dive plan and signals before were dove. We loved both the Indians Dive and the octopus wreck dive. The pace was a perfect balance of relaxing and active. We loved swimming, snorkeling, diving, reading, paddle boarding, playing games & hanging out. The cruising gave us the perfect amount of downtime between all the fun.
March 2019
After Charter Survey What was your first impression of the yacht? = Immaculate Was advertised equipment onboard and in good condition? - Yes Did the skipper/hostess make you feel welcome and comfortable onboard? - Yes Did you feel free to choose activities? - Absolutely Please provide specific comments regarding your skipper and hostess. - They were both wonderful! We planned out where we would go, dive etc. with Dylan. Isabella was an amazing cook! She took us snorkeling and made sure we were all together. This was our 3rd time doing this and our best trip by far. Were the meals and beverages as you expected? - Yes, even better! The food and wine were amazing. They waited on us and took care of our boys when they were hungry in between meals. If you made any special requests were they met? - Yes. Was this your first visit to the BVI? - No, 3rd by boat Would you recommend this yacht for a charter vacation? - Absolutely
21 March 2019
Dylan and Bella, We had a fantastic 5 day excursion with y'all. Your food was amazing and your fellowship and professionalism was second to none! We really appreciate your flexibility so we could meet up with our friends. We look forward to booking our next excursion with you, our friends and your sister boat. Thank you! Siobhan, Hans, Connor, Liam and Andrew Peterson
January 2019
Dylan & Bella - Thank you so much for the most amazing trip we have ever been on. Bella your food was delicious. You both really made our trip so special. We can't thank you enough!!! Lots of love, The Moon & Sproul
21 November 2018
Dylan & Bella - You both are amazing people! We loved our time with you both & hope to visit you both again soon! Please enjoy your holiday & time on the water! Love - Bobby & Allison
20 - 28 July 2018
Thank you so much for the most wonderful family vacation EVER. We love to travel and its not easy with our large family and variety of age groups! We appreciate so much your patience in teaching us how to ski and fixing snorkels and reeling in fishing lines. . . etc, etc. You made an especially big impression on our side. You have a new buddy for life. :) We also appreciate your help in arranging to meet up with our friend. It was great for us to see her! You took us to many beautiful places and you didn't murder us and drop our bodies at sea. So thanks for that. Isabella, you are a delight as is your cooking. Best painkillers around. We will spread the word. Thank you for being so sweet and gracious in the face of our chaos and mess. We would love to eat your delicious food daily. Much luck to you in your future! We will miss you! The Spiats Family
23 - 30 June 2018
Dylan and Bella, (Dylan & Bella BEST EVER) Thank you, thank you, thank you, for a most wonderful vacation. Dylan's teaching abilities for waterspouts. Bella's cooking awesome!!! Dylan's, I mean Dr. Dylan for removing spines from Ryan's foot. Bella and all her wonderful drinks. Spending Dylan's 30th at Willie T's (ski shots)!!! Everyday was new adventure. D.J. Dave got the party rolling at the wonky dog! (shake that shit) full moon party Trellis Bay O. Fishing :) Scooters :) See you guys in Jersey. Feastfamily, Wolff family Thanks again best trip,
6 - 12 June 2018
Dylan & Bella - So difficult to put into words exactly how FABULOUS the last few days have been! Captain man-Baby...you helped us have the time of our lives while keeping MOST of us from harming ourselves :) And Bella...you filled our bellies with the EXQUISITE cuisine and delicious cocktails. But more importantly, you filled our hearts with warm memories we will take with us and cherish forever. Thank you both so much for going ABOVE and BEYOND to make this best girls' trip we've taken yet! TX Happy Sails Kirstin, Erin, Kara, Jenny, Julie - The Texas Zeta Girls
Dominique Charter: 28th April - 6th May 2018
"We just returned from an amazing week long private charter in the BVIs on the Slivochka with Dylan as our captain and Isabella as our first mate/chef. It was one of my favorite vacations ever and first ever chartered yacht experience. Captain Dylan worked with us in the planning stages to find out exactly what our interests were and charted the perfect itinerary for our week. He found the most awesome places to show us the amazing beauty of the BVIs. He gave us options throughout the trip and accommodated everything our group wanted to see and do. He guided us on snorkel and hike excursions and was a wonderful host. Isabella was equally knowledgeable and also made suggestions along the way of things to see and do. She also joined us snorkeling, but happens to be a trained dive master. She was the most gracious host, and made our week extremely comfortable. However, her gourmet cuisine was something we looked forward to each day. Her skills as a chef allowed us to dine as if we were at a 5 Star restaurant. She also consulted with us before the trip about our food preferences, and her menu for the week exceeded our expectations. I frankly don't know how she was able to prepare what she did on board because each meal was simply amazing. She does so much behind the scenes that I don't know when she slept. Together, they are the perfect team and made our week at sea the most memorable and outstanding vacation, that I will be booking our next charter with them. Thank you Captain Dylan and Bella for all that you did for us. We loved getting to know you and being on board Slivochka. "
February 2018
We are three reasonably well traveled couples who just finished a most extraordinary and delightful vacation, sailing with Slivochka through the British Virgin Islands. This week long cruise on the yacht Slivochka far exceeded our expectations making it one of our best vacations ever. The three most important factors in chartering a full-service yacht are the crew, the boat, and the itinerary. Beginning with the crew, they were outstanding. Prior to our arrival they had telephoned to discuss our plans. Upon arrival they warmly welcomed us on board Slivochka with cocktails and snacks. They were both so friendly and hospitable that by the end of our cruise they were a part of our family. Dylan was an extremely competent and knowledgeable captain, always finding sheltered anchorages for us to swim and snorkel. He also made all the arrangements for any shore excursions that we enjoyed. For anything that we wanted we simply had to ask Dylan. The meals were exquisite. She is a fantastic cook and each day's offerings included fresh produce and salads, deliciously prepared grilled fish or meat and even some imaginatively created themed dinners. A special memory was when they joined us on Anegada for a lobster dinner in an outdoor restaurant under the full moon. They were such accommodating and congenial traveling companions who took such excellent care of us that we were sad to bid them farewell. The second consideration was the yacht Slivochka. This is a 59-foot sailing catamaran with extremely comfortable lodging for the guests. Each air-conditioned guest cabin included a walk around queen-size bed, and in-suite head and very adequate storage space. The main deck area was spacious with indoor and outdoor dining areas, and there was a comfortable reclining area next to the bridge. On board were kayaks, paddle boards, snorkeling equipment and fishing gear for our use. The yacht was spotless and very well maintained. We had planned the itinerary with Dylan. This included stops at Norman Island, Virgin Gorda, Anegada, Jost Van Dyke and back to St. Thomas. In addition, we had many side excursions for snorkeling and exploring the beautiful British Virgin Islands. We have charted several boats in the past in the Virgin Islands but they all pale in comparison to sailing on Slivochka. We give them our highest recommendations and hope they will be our crew for any future excursions.
25 Feb - 3 March 2018
Dear Keri and Dylan, Our little piece of heaven in The BVI and you two made it possible! We're afraid that all other vacations will pale in comparison to this fantastic week. It was the perfect storm - luxury boat, 5 star cuisine, gorgeous weather, great friends and your wonderful care and consideration. you both made the trip - you rock - you're awesome. we wish you much success and happiness and good fortune in all of your future endeavours. Much love, and thank you both so very much - Cathy + Mike Corbett Thank you, thank you, thank you! You both went above & beyond, you exceeded our expectations! Thank you for making my St. David's Day memorable. Always welcomes in our "neck of the wods" Cilla + Bill Lannan Amazing, amazing amazing! Thank you so much for holiday of a lifetime. No one can say my name like Dylan! Tedie & Helen xx Dear Keri + Dylan, Thank you for the most amazing vacation ever! You two are such wonderful hosts. You think of everything and make it all seem effortless. Keri, the meals were just incredible. The ribs, sliders, risotto, beautiful salads - they were all delicious. The creme brûlée was particularly memorable. :) We loved our snorkel excursions and the hidden coves you all knew about. The kids loved waterskiing with Dylan too. Tyler will never forget catching his first shark either! :) Please look us up when you find yourselves wanting to check out the states. Mary Collins and Tyler-anne
17 - 24 February 2018
Dylan + Keri You have both been instrumental in giving us a fabulous vacation! You've gone above and beyond to make our time on Slivochka especially memorable. Keri's food was world class delicious, Keri-you seemed to anticipate our every need even before we knew it ourselves. Such as offering hot chocolate after coming back, a bit chilly, after snorkeling. And bringing up blankets at night to the group on the sky bridge because we may become chilly. Dylan-you kept us safe in the wind and the rainstorms. You were so patient with those who had less snorkeling experience and led us on the great snorkeling paddle board caravan with your strong & capable swimming prowess. You miraculously saved Paul's hearing aids, coming to their rescue with the crevice of the rocks at "The Indians" snorkeling location. We cannot imagine a more gracious and capable crew, and we have been blessed. Thank you for fond memories that will last a lifetime! P.S. sorry about sinking the floating island... Fondly - Paula & Gary Gillette Richard + Winnie Ricker Eileen & Tom B Donna Hargett
Dylan and Keri
This has, by far been the most incredible trip for our family that I could have imagined. Dylan and Keri had all 16 of our guests at every meal which was important to us, thank you for setting up a 8 guest bare boat for the others to sleep in. We have grown to love you! Thank you for taking such wonderful care of our large family. Dylan the children loved you. Spending our evenings sharing dinners together and just relaxing watching the fish or looking at the stars was exactly what we had hoped for. We will all go home with memories. The Adamsons.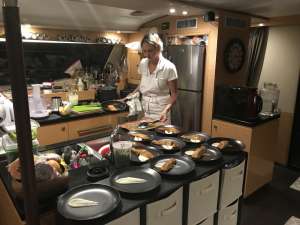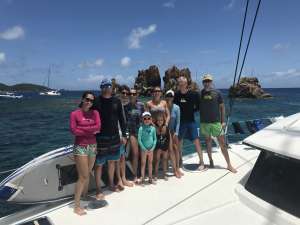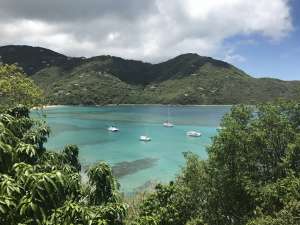 DYLAN & KERI
Dylan and Keri, We had planned to do this unusual vacation for 5-7 years and we selected the best crew and catamaran, our children loved you guys. You shared so many of your stories about your lives and interacted with us all of the time. It was great to have you do this and make us feel so at home! We felt that you are an extended part of our family. We were comfortable and at home all the time! Dylan your great sense of humor – you challenged the kids and I to competitions, nice – it wasn't a job it was something that you liked to do. You are very talented at what you do. You shared with us various tasks and gave us all mini lessons on sailing! Each and every meal was far superior to what we have imagined it to be, can we take Keri home with us? Please keep in touch. Dennis and Wendy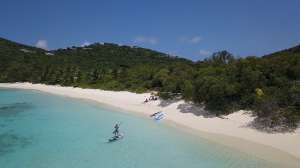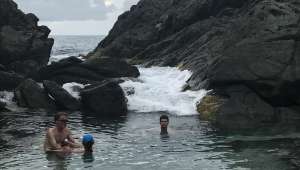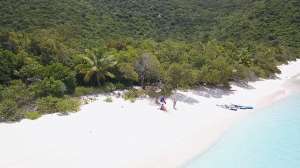 14 - 25 July 2017
Dylan + Keri, Thank you so much for having me and my family on board. This vacation was a blast and easily one of the best I have had. I loved the food, sights and the overall atmosphere. Hopefully I will be back to the Caribbean soon. + Thank you so much for having for having us on the boat. I had an awesome time. I really loved the food and all the places we went. Thank you for making my vacation amazing Jarod and Gillian Yost Dylan + Keri Eileen & I want to thank you both for your sincere dedication to our needs and happyness while on the trip. We believe we have met new friends in our life. May your love between you guys be long and fulfilling through the rest of your lives together and follow your dreams... Jeff & Eileen Yost
17 - 24 June 2017
Dear Dylan & Keri, I cannot begin to express the gratitude we all have for making what would have been a fun tour into and extraordinary one for our entire family - ages 4 to 76! You have catered to our every need, helped plan activities for the day, ferried us wherever we wanted to go, played games with us and fed us wonderful meals that were beautifully presented. Thank you for so much!!! It was a tour beyond anything we had hoped for! Tx for my "martinis"! Donna, Mare and family Dylan and Keri - You are amazing, thank you for making our wonderful trip! Keri you made fabulous meals, and Dylan thank you for taking us everywhere we wanted to go and spending hours doing water sports with us. You two make a great team and you made our trip everything we dreamed of and more. Thank you so much! *Keri, thank you so much for the strawberry and mango dackerys and for playing Empire with us - so much fun!! Ellen Adams First real vacation in 15 years where I could leave work @ home - delightful!! A most wonderful great time - thanks to Keri + Dylan - dynamic duo to be sure - you will both be missed! Katie Adams Dear Dylan & Keri, thank you so much for being so kind and amazing! Dylan, you were a great captain and you fixed and tried to fix toilets, water problems, ac problems& maybe more. Keri, your food was amazing! I know most of us want you to comme home with us. Thank you for making our beds and playing Empire with us (both of you). With many thanks, Annabel
4 - 11 June 2017
Keri and Dylan - The scenery was gorgeous. The boat exceeded all expectations. The food was overflowing and over the top! The snorkelling incredible... the sailing relaxing... scuba@ the Rhona amazing... but best of all, you both made the trip absolutely the best and most fantastic vacation ever. We thank you for all you have done and worked and slaved to make us feel like we were truly on vacation!! Deani & Dan Terwdy BEST VACATION EVER! You guys are the best. Brad & Jen Fantastic time!! Dolphins, eagle rays, eels & the most amazing captain + chef Matt & Eilene
24 Feb 2019
Dylan, Bella Thank you for amazing vacations! We enjoyed every minutes: Snorkeling, wake, knee bord, paddle, kayak, etc... Food was also delicious :) :) :) Big Thank you, Wirth Family
Reviews
Dylan, Bella Thank you for amazing vacations! We enjoyed every minutes: Snorkeling, wake, knee bord, paddle, kayak, etc... Food was also delicious :) :) :) Big Thank you, Wirth Family