Charter Yacht SOUTHERN COMFORT Guest Reviews
July 2023 BVI Charter
Dear Danica and Captain Ish, Thank you for rescuing us when our original charter fell through. I'm sooooooo glad we got to meet you!!! You magically took 2 days' notice that we were coming. but made it seem flawless and effortless! Thank you Danica for all the wonderful food and thank you Ish for so many great dives and for putting up with my broken foot! We will never forget y'all and we will cherish this vacation forever!!! <3 Ps. Try shrimp and grits :) Love Laura, Anna, Julia and Todd Wichita KS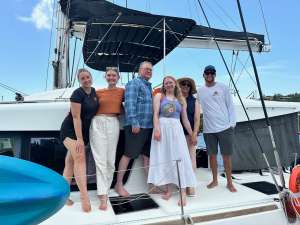 June 2023 BVI Charter
Thank you so much for an absolutely amazing week on board Southern Comfort. We have been wanting to visit the BVI's for such a long time and couldn't imagine a better vacation! How do you manage to entertain ages 13 - 83 and create a perfect family vacation is simply amazing. Danica – we can't decide which meal was the best as they were all beautiful and delicious. Thank you also for the extra special touches for the 83rd birthday meal and Father's Day brunch. Ish – every day was full of beautiful places, fun sales and incredible snorkeling and water sports. You knew just the right spots. We will remember this week and the two of you always! Best wishes to you both and we hope you come visit us in Texas! With gratitude The Stoerr Family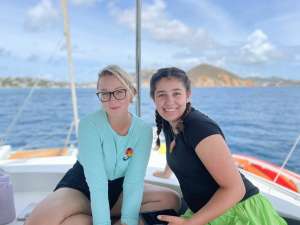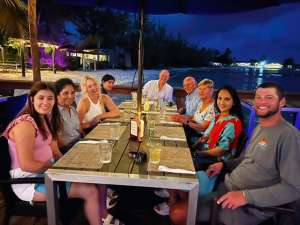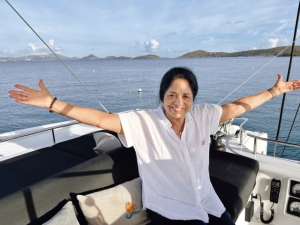 June 2023 BVI Charter
Ish and Danica- thank you for a truly incredible week. From finding the best secluded spots, the prettiest snorkeling and diving, to the hours spent under sail- your attention to detail made every day a perfect one. Ish your patience, kindness, skill and resourcefulness make you a fantastic captain. Danica, your joyful personality, bright attitude and fun stories are such a delight, not to mention your beautiful food! Thank you for everything- Marianne, Scott, Rich, Anna, Lilly, Wick, Melinda and Johnny. I have only two words to say about our week aboard the Southern Comfort…."pure perfection"! Many Thanks for taking such good care of our family.Happy Sailing" Melinda. Dear Danica and Ish, Thank you so much for making my birthday special. I loved how beautiful you made the boat with your decorations and the delicious food and super fun birthday cake. You both worked your butts off for us, keeping us safe, meeting our demands, but it seemed effortless and joyful. Thank you for all your hard work. Please relax and take care of yourselves during your time off- you deserve it! All the best! Anna (Portland, OR)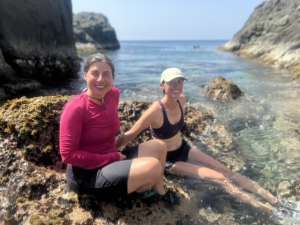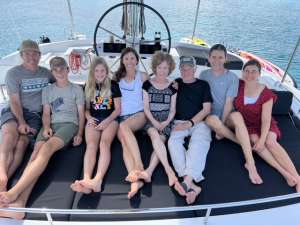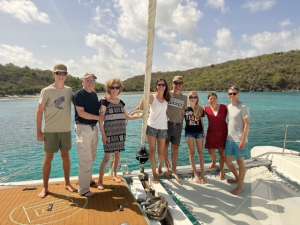 April 2023 BVI Charter
We had an absolutely amazing time aboard SoCo. The boat itself is magnificent - all of the comforts of a 5 star hotel on the water in a new locale every night! But the real stars of our trip were the crew, Danica and Ish. They are both so versatile in their talents, from top notch service to entertaining our boys (ages 12 and 14), they did it all. Danica has a special talent for creating the perfect meal plan from a few questions and a short phone conversation. She couldn't have been more spot on with her choices. Everything was creative, exciting, amazingly delicious, and it was so varied. And Captain Ish was equally talented in his own right - adept sailor, wonderful dive master and instructor, and a world renowned lobster fisherman! Our days were relaxing and fun filled, with lazy mornings at our overnight mooring or anchorage, exciting afternoon adventures in and on the water, and beautiful sunset nights. Could not have asked for a better trip. The Messerly's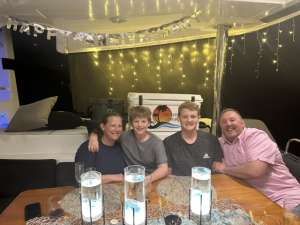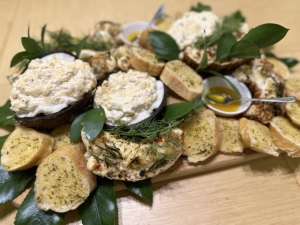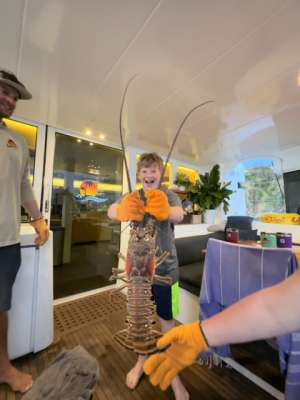 March 2023 BVI Charter
Danica and Ish- You both provided top notch service and excellent food! We felt like we were really taken care of! I especially appreciated my sunset glasses of wine delivers to me. I hope you loved us as much as we loved you! Keep that travel bug in you! Renee, Bill, Franklin, Bryan and Kristine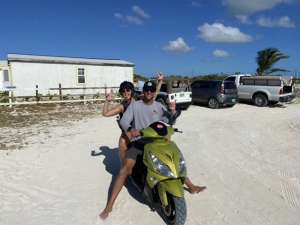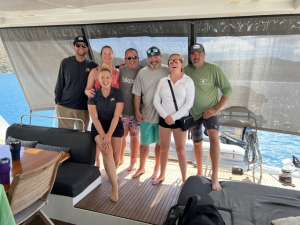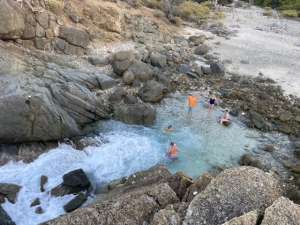 March 2023 BVI Charter
! Dani and Ish ROCK! Very professional, attentive and fun! I'm sure it's hard dealing with assholes like us for a week but they did it with a smile. Spoke with Dani prior to the trip and everything we requested was granted! They made our trip!!! We'll be back next year if you'll have us. Beautiful boat, ports, and people! Thank you for an epic trip! Kim and Rich Fantastic <3 Dani & Ish- a great team. Wonderful service, amazing food, friendly and fun! Laughs-a-plenty- wheeler walker jr.- our new favourite. A$$ & titties- oh my- <3 ish ish baby <3 Dance party- sing along- conversations- great company- beautiful fish- water clean and clear- white sand. Amazingly beautiful adventure- we cannot thank you both enough for our awesome vacation. Sailing in sporty weather- dinners by candlelight- not one complaint- oh wait- I want more days! <3 Keep in touch- we will be back <3 xoxo S&M It was a trip if a lifetime! You both really did an amazing job!!!! Great food beautifully shown, which is my thing "presentation" Ish was very attentive and very conscientious of all of us! I loved our company too, so easy to get along with. Thank you both so very much!!! It was incredible <3 xo would request you both again! -Gary and Barbara Awesome week! Ish and Danica are the BEST :) (Ditto what our friends said) -Steve and Jackie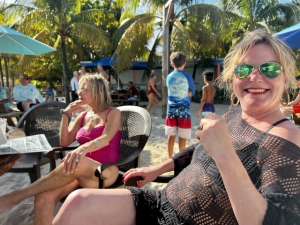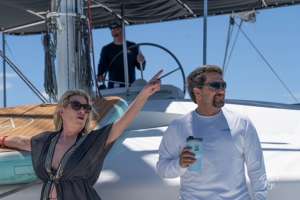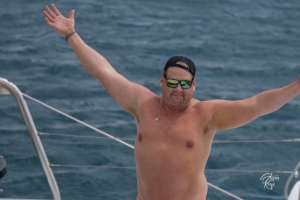 March 2023 BVI Charter
Danica & Ish: thank you for a lovely trip around the Virgin Islands! You both gave us memories of our first time here- and encouraged us to return! Best I. All your future endeavours! Laura and Arturo Prado Danica & Ish- what a fun adventure! Such a pleasure to have you both as our guides for the week! The food was amazing and all of the extra touches! Live your best life! Paige & Russ <3 Danica & Ish- An amazing, relaxing, inspiring week for us, thanks to you both and all your skills and talents that kept us well fed, nourished, taken care of, and entertained! We will remember all of the little touches and thoughtful gestures. Cheers to an awesome season for you both! Well follow along online! Thank you again! Jen and Kendrick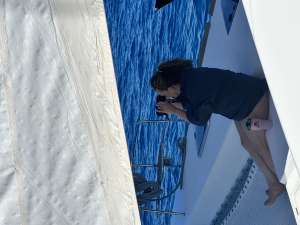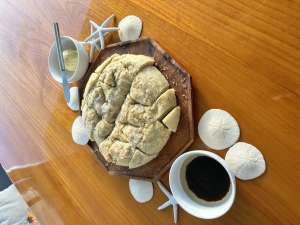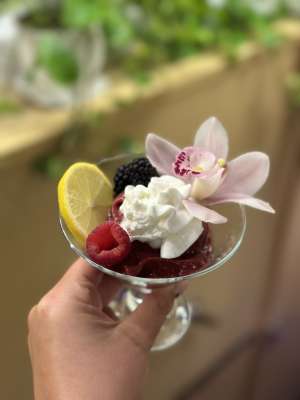 February 2023 BVI Charter
Ish and Danica- Thank you so much for an incredible trip! It's been our favorite trip ever and that is no understatement. The experience wouldn't have been complete without you both. From the cooking, to the diving, to the wonderful company and conversation! It's really a shame that we must leave, but hopefully our paths cross again! Thanks especially for sparking so much interest in marine life for Maya and Aaron. That will last forever. The Karlovich-Marinoff- Spindell-Du Zoo
January 2023 BVI Charter
Danica + Ish Simply amazing! This is the final morning of our week-long celebration of joy with friends that now have become family. I have absolutely enjoyed every minute, every meal, and every laugh with everyone aboard. The gift baskets, the bonfire, the private concert, the night time star gazing, the ukulele, mini quiches, air frauds, naps, steves late night dinghy trips, talking with ish, danica the photographer of the stars and so many more memories. Yindra and I are so grateful for our time together and our time with you. Thank you to our new found YPO Iowa friends for an amazing life experience. Peace, love, and happiness for eternity! Yindra and Alex Dubuque Iowa Danica and Ish- We were not sure what to expect on our first charter experience. We knew the views and beaches would be amazing- but what would "the boat" be like? Sun, sand, and sea made us book the trip, but the two of you are what will bring us back. It truly felt like we were traveling with family members- but ones who could prepare (and plan), plate and present beautiful meals and who paid so much attention to details; that salmon that was grilled extra well just for me and a stuffed animal that was always in his place. Oh- and who could dance! You two are what will make us bring our family to Southern Comfort! We hope to follow your travels and life journeys. Blessings, Jeff and Lisa Dubuque Iowa USA Danica and Ish What a wonderful week we had at Southern Comfort!! Spending time with you, getting to know your life, your story, what moves your heart, was a privilege. Thank you for sharing moments, smiles, meals and conversations. We appreciate your dedication into making this trip unforgettable! Hopefully the universe will do its magic and we will cross paths again. We wish you a wonderful season, lots of fun and success in all you do! With love, Ellie and Drew Danica and Ish Thank you for an awesome adventure in the beautiful virgin islands! The hospitality, friendship, food, drinks (and more drinks) sun and fun were completely unbelievable! Please come to lake okobojiIowa anytime! Cheers, Julie and Steve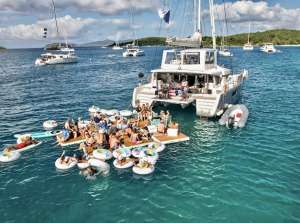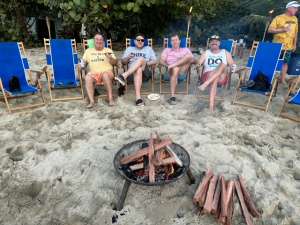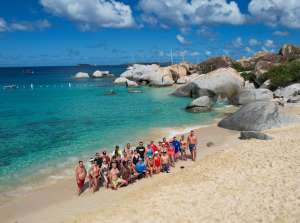 NYE 2022 BVI Charter
Thank you so much! - Dash Thanks for amazing food and an overall great experience! -Harper Thank you for making our time so special- Jillian Thank you for a delightful, relaxing, and restorative week. It's so rare for the six of us to spend time together without school/ work/ life getting in the way- this was very special and we thank you for your efforts to make that happen. Bill, Swarthmore Pt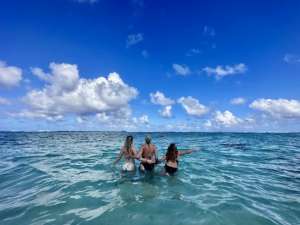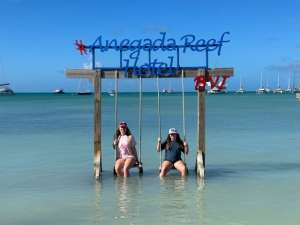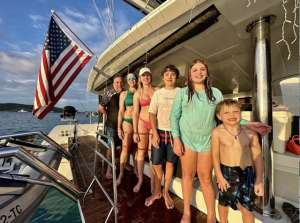 Christmas 2022 BVI Charter
Danica and Ish- what an amazing first chartering experience for our family! Danica- we have never eaten better for a week. Every meal was amazing!! Your plating skills and working in that little kitchen is so impressive. Ish- you work non-stop!! Booby rock is one of my all time favorite dive spots and we finally got to go to the Rhone!! Ish- your bartending skills are amazing- everyone enjoyed all of your concoctions!! You both made us feel so spoiled all week long! Loved snorkeling in the am! And spending Christmas with you both! Wishing you a great season. The Brentjen Family Tricia, Renier, Jan, Topher, and Taylor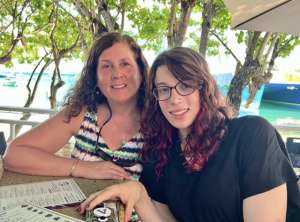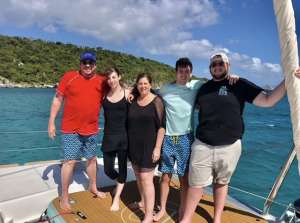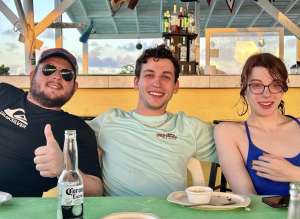 Thanksgiving 2022 BVI Charter
Our group was affectionately known as the Turkey Week Tandem 2022 (it included friends/family on the Scuba Doo and we toured around the BVIs as a tandem team). On Southern Comfort, Ish and Danica got stuck with us, the Jensen-Blackwoods and Violas. 4 adults and 4 kids (or 8 kids, depending on your definition of "adults"). And let me just say, IT WAS A BLAST. Ish and Danica are, quite simply, both amazing. Ish is a first class captain - smart, skilled, patient and funny. We loved him. Danica (Dani) is an incredibly skilled chef, and she is also kind, sweet, thoughtful and accommodating. She is fantastic and the kids adored her. We lucked out! Ish left no stone unturned and navigated us to the best spots to hit (whether it's to snorkel, dive, dance or shop). We hit Willy T's (yes, we all jumped and Ish filmed it from below!), The Baths, Salt Island, Saba Rock, Bitter End Yacht Club, Soggy Dollar, Sandy Cay, secret coves and special places - the list goes on. He clearly knows the BVIs very well and that made a big, noticeable difference, especially when/if you want to modify itineraries mid-trip! He also patiently and carefully orchestrated first-time dives for the adults and kids. So special. And Dani! She kept us VERY well fed with amazing meals and was so accommodating to our picky group (and especially sweet to the youngest of our group - a 10 year old chatterbox that woke up early with her daily). A couple of us are gluten free, some don't eat any fish, and she didn't disappoint. Breakfasts and desserts (key lime pie!) are a particular highlight (her plating skills are on point), along with delicious salads and yummy dinners. But the showstopping culinary feat was the traditional, full course, delicious THANKSGIVING meal she pulled off. Simply perfect. So I guess you can say it was a good trip. If you're a guest and reading this, congratulations. You won! And to Ish and Dani - thank you so so so much. We will be back. Much love, Jensen-Blackwoods and Violas
July 2022 USVI Charter
Thanks Julia and Ish for taking such great care of us. We loved our time on the Southern Comfort - the food, the water, the peacefulness! Happy sailing, Kerri, Steve, Julia, Lauren, and Gharrett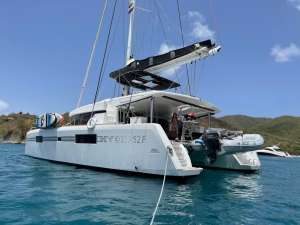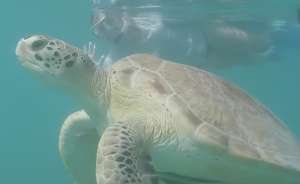 June 2022 USVI Charter
Our 23rd annual "dirty thirty" trip was the best one yet! We want to apologize for all the inappropriate conversations you walked into! :) Snorkel trips were amazing! We loved meeting Tommy and Tony the sea turtles, Darcy and Dudley the dolphins, and Russ the seagull! The crystal mimosas and daily wine flights were a nice touch, too! The food was ok (JUST KIDDING). The meals were amazing!!! Julia, your cinematography skills were above average - thanks for taking so many pictures! Next time, please provide dry ice or smoke machine for the space capsule (psshhhhhhh…)! In closing, we would like to apologize to all future guests that will never live up to the standard of being "THE BEST GUESTS EVER!!!" We will be back! :) Respectfully, the Dirty Thirty (Michelle, Chester, Maija, Jenn, Kirsten, Tracey, Amy, Kate)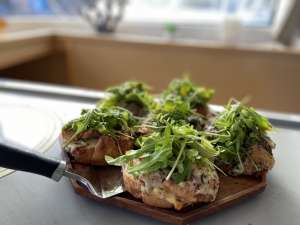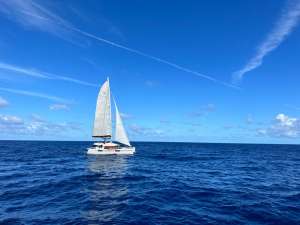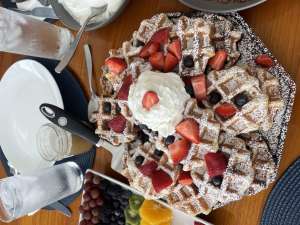 June 2022 Charter
Julia and Ish, Planning this special family vacation for us was months in the making and our expectations were far exceeded in every way possible! There was so much attention to every detail during our 7 day voyage from start to finish while making us all feel relaxed and at ease. Every meal that Julia prepared was a culinary masterpiece, on par with any 5 star restaurant and Ish's knowledge of the boat and water made our busy itinerary seem effortless! We truly enjoyed our hikes, snorkeling, scuba diving (including introducing Brooke and Kristen to diving), fishing, paddle boarding, swimming, lunch at Limeout, and Ish & Julia sitting in on our family "game night"! We truly enjoyed getting to know you both. You are such special and remarkable people. We thank and appreciate you marking our family vacation unforgettable! Joe, Debbie, Brooke, Julia, Kristen, and Molly Julia and Ish, It is so crazy that a week ago you were strangers and now I am so lucky to call you both our friends! This week has truly been a blast for us and memories we will cherish for years to come. Julia, you did more thank just cook - you made every meal and experience. Both of your attentions to detail as well as your positive, relaxed attitudes made this trip unforgettable. Ish, you took 2 terrified 21/22 year olds and turned us into pro divers! This was a week full of laughs, turtles, squid, caves, tarpon, sailing, and sea butterflies. But the thing that made this boat special wasn't the views or the activities - it was the 2 of you. You were warm, welcoming, and hilarious as soon as we stepped on the boat, and it was clear immediately that this wasn't a trip for 6 of us - it was all 8 of us getting to have the best time together! Thank you both for letting me drive the dinghy/ask a million questions/eat my own chicken meals. Your hospitality is like no other, you make a wonderful team and you made SoCo feel like home! We'll miss you both Blessings, Kristen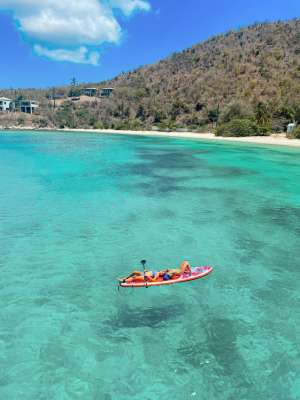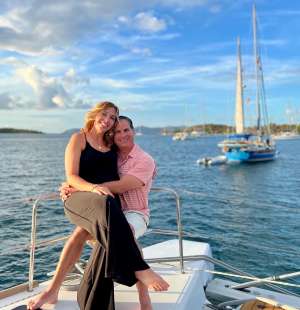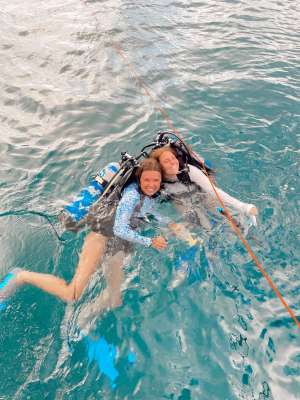 May 2022 USVI Charter
What an amazing trip. Wonderful food, wonderful crew! Love, love, love it! - Wayne & Cindy Trip of a lifetime! Wonderful crew and good times had by all! - Addison, Emily & Jackson Simply the best! Thank you guys so very much for such an amazing time. You both are the best crew ever and we certainly wouldn't have enjoyed ourselves without you! - Kristen, Dusty & Ryland"
May 2022 USVI Charter
Dear Ish & Julia, We came aboard Southern Comfort day 1 armed with tons of background research and very high expectations. We knew a lot about our upcoming adventure, but what we didn't know is that not only would our expectations be met but they would be blown away!!! The hospitality and boat knowledge that Julia and Ish displayed were beyond impressive. From the first delicious dinner to the last scrumptious breakfast, Julia's cooking was well planned, gorgeously plated, plentiful and incredibly tasty. We were only bummed that we ate one lunch off the boat, because it could not compare to Julia's! The water activities were also well planned and phenomenal. Ish made everything easy and accessible ... the snorkeling, dives, kayak and paddleboards were a blast! And we even got to water ski! But what stood out most of all was Julia and Ish's passion for what they do. Everything done with a smile and a kind word, always making us feel confident and pampered. And so many little details that seem easy but we know took a lot of effort. We appreciated every single one! We enjoyed literally every single moment, and we walk away with 2 new friends, many amazing photos and memories we will carry with us forever! With much gratitude, Anne and Jeff Chris and Jason Dawn and Pete Laura and Chris
April 2022 USVI Charter
Hogs on a boat ... it all started with Leonard's bucket list 15-20 years ago. Even with COVID complications removing BVI, the USVI did not disappoint. Four husbands who all went to high school, one wife who also did, and three wives who joined the fun, all explored the fun times together. Ish and Julia became part of our family as they cared for us and shared their lives with us. We loved the amazing food served three times per day and many of us had lots of "firsts" of foods. Yummy!! Snorkeling, cruising "on the Boat", exploring beaches ... we loved it all. Time after dinner to relax and reminisce, play the Newlywed Game, go to Prom, etc. led to lots of memories and laughter. Again, Ish and Julia were amazing! We are adopting them. Their parents must be so proud! Go Hogs! Leonard & Denise Mark & Carla Bill & Sandy Vanessa & Dennis
April 2022 USVI Charter
Best trip ever!!! Boat was fabulous. Crew was wonderful. Food was outstanding. We look forward to coming back soon. We would really like to point out that Julia and Ish were so kind and helpful, catering to all our requests. Could not imagine going on another boat trip without checking what boat they are crewing so we can be onboard. Once again, thank you for everything! Nataly and Victor Good times and great vibes! We started the trip with 8 friends and left with 10. Julia's cooking is fantastic! Ish led the underwater excursions and hit the happy hour button. For all who come after us, sit back, enjoy the scenic ride, and have a wonderful time like we enjoyed. With love and smooth sailing, Sheldon and Nancy
March 2022 USVI Charter
This trip was a special time for our family to spend time together before schedules get complicated with college. On Southern Comfort you are never "not on vacation"; no waiting in lines for dinner reservations, dive or snorkel excursions. We were on our own schedule. Julia and Ish made it all happen with ease. We dined daily in gourmet food and there sure was plenty of it!! Ish's easy going, calming vibe made our daily activities relaxed ... especially with diving! We thank Julia and Ish for sharing their talent of hospitality and love. It made it so special for us. This is truly a vacation our family will never forget!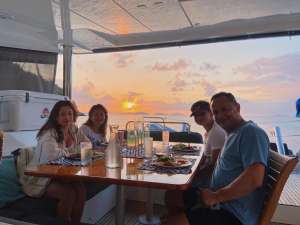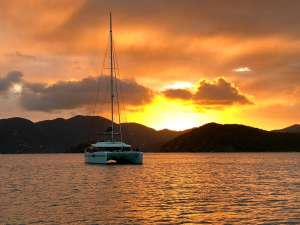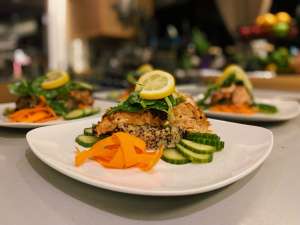 March 2022 USVI Charter
"After my birthday sailing trip with three other couples was canceled one week into COVID, rescheduled three times, re-directed from BVI to USVI, and had a crew change, I was not sure what our sailing trip would be like. Those concerns quickly disappeared upon arrival to Southern Comfort. We were warmly greeted with Julia's smile and Ish's calm demeanor which instantly relaxed us all. The pair worked tirelessly the entire trip - incredible, delicious gourmet meals every day (tailored to address food allergies), selective, beautiful coves to swim, kayak, paddle board, dive, anchor, sail in the turquoise waters were just what we asked and hoped for … every, I mean, every attention to detail was considered. I have never seen two people work as hard as Julia and Ish and yet did so with ease and smiles. They truly care about ensuring you have a wonderful trip and are passionate about what they do. I could not have asked for a better birthday or a vacation. Anyone who is able to have Julia and Ish as their crew would be lucky to have them. The trip was worth waiting for and one I will always remember in a large part to Julia and Ish's unbelievable hospitality. From the bottom of my heart, thank you Julia and Ish!! We all miss you already." - Jillian
March 2022 USVI Charter
Wow!! What a trip! Julia and Ish outdid themselves. Our trip went way too fast. Julia's cooking and culinary artistry was truly amazing! Every meal was superb and even better than the restaurant! Their hosting skills were top notch. Ish was a very capable, responsible, and most competent captain! They were both so fun and friendly! They will be missed and are truly an asset to their profession and we wish them both well :) Southern Comfort is a gorgeous vessel! Fondly, the Jenny Weber Group, from Weldon Spring St Louis, MO"
February 2022 USVI Charter
What incredible hosts you are - best vacation ever - so relaxing with the most delicious meals. Julia's cooking and meals are an inspiration each day. Couldn't ask for a better and more patient dive instructor than Ish. Julia and Ish are so sweet and thoughtful. I wish I could do this every year. Many, many thanks -The Vanni Family
February 2022 USVI Charter
Ish & Julia, Thank you! Food and service was top notch - a 5 star hotel on the water. More importantly though was your genuine friendship and graciousness. Your endless work ethic and making sure every need is met always is only overmatched by your loving, genuine personal touch. We had a wonderful time but we are sad to leave such special new friends! Come to Colorado - you are home. Dive Master Ish, thank you!!! Some of the best diving ever! We will never forget! Really perfect diving! - Chad & Kara Many years ago I made a 'bucket list', and on the top was always a Caribbean Charter with my best friends. Never in my dreams did I expect to have literally the time of my life. Julia and Ish are warm and kind, talented and work tirelessly to make sure we had the very best experiences. We laughed, we cried, sang and danced. It is so hard to leave, but we hope to be back some day. Thank you from the bottom of our hearts for such a special trip. Much love, Jennifer & Louis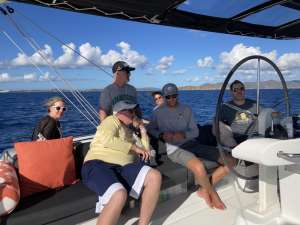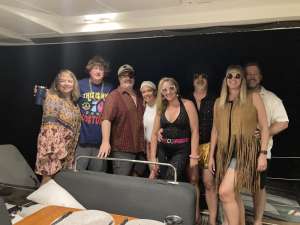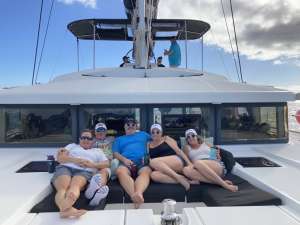 January 2022 USVI Charter
"Julia & Ish, I'm not much of a writer, but I'll try anyway. This has been such a wonderful week. I'm a bit heartbroken that it's ending and that this is the last day we will ever spend on this boat. The ocean has become our "happy place", but just how happy a place that truly is depends entirely on who we spend the days with. Chris & I have truly cherished getting to know you two. Your kindness and joyful attitude have made this a very special week indeed. I could go on about the wonderful food and the SCUBA and the weather. But the truth is that our favorite part was the two of you. We wish you a lifetime of happiness, favorable winds, and good sailing. I hope our paths cross again someday! Love, Laurie & Chris"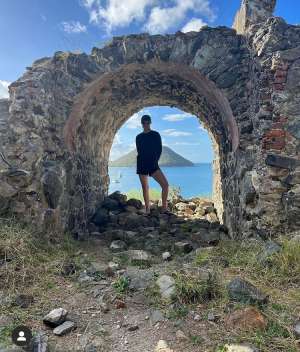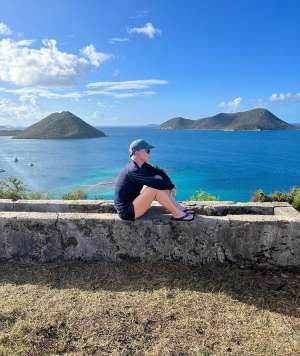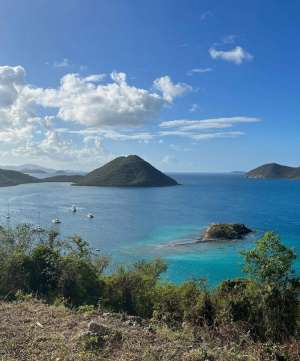 Christmas Charter 2021 USVI
he Maner Family of five enjoyed 7 wonderful days aboard Southern Comfort with Julia and Ish as our crew. From the start Julia and Ish were friendly and professional. We found the boat comfortable and clean. We enjoyed AMAZING healthy meals made by Julia. She was extra careful with our daughter's tree nut allergy. Her attention to detail was very much appreciated. Ish is a great captain and bartender and was always offering a different cocktail to compliment Julia's appetizers. Ish also saved the day by going to a pharmacy for medication for one daughter while we were at dinner in Cruz Bay. So kind of him. Overall, the family rates this trip a 10 and we would do it again in a heartbeat. We loved the whole experience! Julia and Ish are the best! ❤️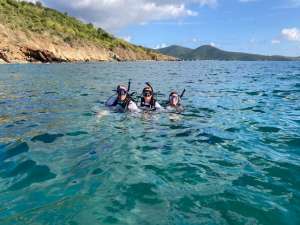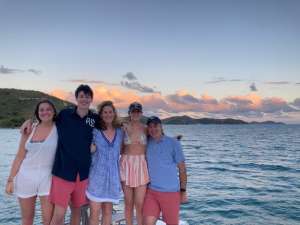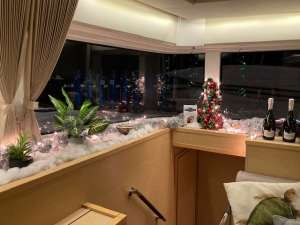 December 2021 USVI charter
The whole family considered this to be a once in a lifetime kind of vacation and I have to say that it was one of the fastest seven day vacations that I have ever experienced. Julia and Ish and the Southern Comfort catamaran did not disappoint. They made us feel comfortable from our first planning conversation to our first step onto the Southern Comfort and each and every day until it was time to sadly say goodbye. The food - holy moly can Julia cook! We ate three delicious (and kind of healthy!) meals a day and each and everyone of them was outstanding. What a surprise it was to get that kind of cooking out and about the USVIs! The sailing - Ish is a terrific captain and made us feel safe and sound on both the SoCo and it's dingie! Ish was also very patient with our questions and responded very deliberately yet in ways that were easy to understand. We really felt that Julia and Ish were a great combination and complimented one another very well. We would give them 5 out of 5 stars and highly recommend them to future vacationers.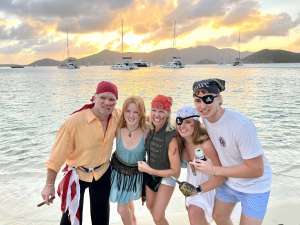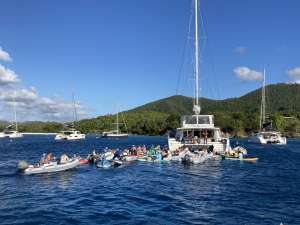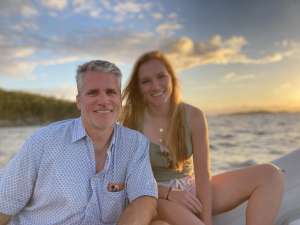 November 2021 USVI Charter
Dear Julia, Thank you so much for a spectacular time! Although I arrived home to a full house and Thanksgiving preparations, how could we not miss the warm Caribbean and pampering we received on the Southern Comfort! From the time we arrived on the boat until the time we had to leave, you made our trip exceed any expectations that I conjured up in my mind. The catamaran was very well maintained and beautiful. A great vessel for respite from the daily grind. The sailing, snorkeling, hiking, diving and swimming were just the adventures that our group were looking for. You and Ish were great Captains, cruise directors, chefs and staff. We were all amazed at the spectacular service provided to 8 people by just the 2 of you. The food was so delicious and diverse. Quite a feat in a small kitchen! You are quite an amazing chef. I'm still waiting for the cookbook! Everything you served was fresh, flavorful and visually delightful! A foodie paradise, if you will. I would highly recommend this experience to everyone. You both made our first sailing experience an extraordinary adventure! Thank you for everything and please keep in touch. You are wonderful people who we really enjoy and admire. Take care and have a healthy happy holiday season. Fondly, Jean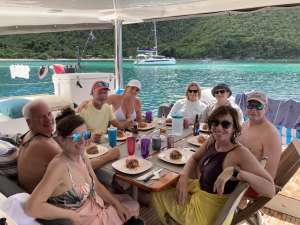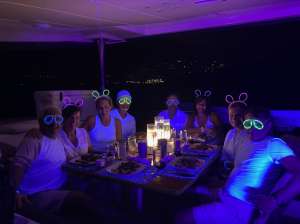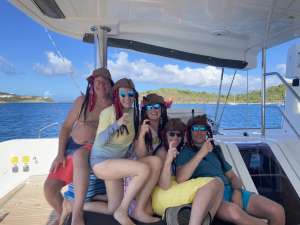 November 2021 Charter
Our crew of six were impressed with Ish and Julia on The Southern Comfort. They absolutely MADE the trip for us. The boat was immaculate and the attention to detail throughout the trip was amazing. Julia's meals were spectacular - they were fresh, healthy and delicious - and the presentation was beautiful. We felt like every meal came from a top tier restaurant. Ish's easy-going style made it seem like nothing was a problem - he put us at ease the entire trip - while we know he was in constant motion making sure that everything was perfect. And we LOVED how fun-spirited they were - always ready for a laugh - so fun and personable! The crew was fun - but also extremely professional and thorough. The Southern Comfort hosted six of us - and it always looked like we had just stepped on board. The itinerary was perfect and they listened to our requests and then put it in motion. I don't know how they did it. They set the bar for hospitality and service for any future vacations for us.
2021 USVI Charter
We hope our delay in sending this note to you does not diminish our gratitude or the joy we experienced for the seven days we sailed the Caribbean on Soterion with Ish and Julia. Every moment was magical as we enjoyed the special quality of your beautiful catamaran and the completely enjoyable company of your Captain, Ish, and First Mate and Chef, Julia. We couldn't have been more comfortable with such luxurious space and copious amenities. The perfect weather with strong winds, choppy waters, and abundant sunshine was an added benefit. And yet, it is Ish and Julia that made our experience most fun and memorable. In less than an hour, we knew that we were in experienced, capable hands and that getting to know our two hosts would be an absolute delight. As chef, Julia was 100% successful in meeting the challenge of our daughter, Julie's, unusual dietary restrictions. She presented one beautiful and delicious meal after another that the three of us thoroughly enjoyed. The meals seemed effortless despite the hours she spent in the galley, often with Ish at her side as sous chef or as clean-up assistant afterwards. The way they worked together as the sailing crew was even more impressive. They seemed to read each other's minds, and their nimbleness running from one part of the boat to the other was enviable. Their partnership as sailors and hosts was a joy to watch, and we're grateful to have been the beneficiaries of their skill, attentiveness to us, and utterly charming personalities. They also met the challenge of my fall and associated back pain with great concern and care, which made me feel safe and comfortable. We feel as if no words can do justice to their contribution to our absolutely perfect sailing experience, but we hope in some way this conveys our admiration of them and our gratitude for their efforts to care for us in every way possible. They each are very special individuals, and we are privileged to have had the opportunity to get to know them and spend time with them on your extraordinary sailing vessel. They definitely do the magnificent Soterion proud. Gratefully, Joan and Harry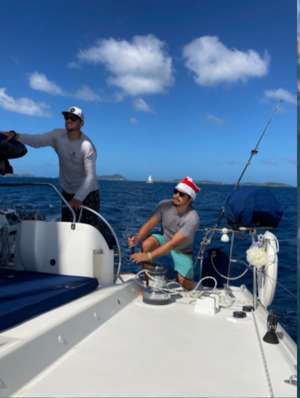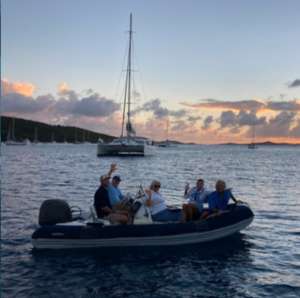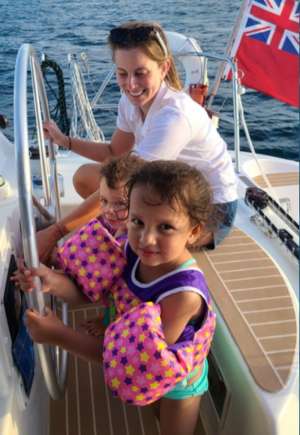 Reviews
We hope our delay in sending this note to you does not diminish our gratitude or the joy we experienced for the seven days we sailed the Caribbean on Soterion with Ish and Julia. Every moment was magical as we enjoyed the special quality of your beautiful catamaran and the completely enjoyable company of your Captain, Ish, and First Mate and Chef, Julia. We couldn't have been more comfortable with such luxurious space and copious amenities. The perfect weather with strong winds, choppy waters, and abundant sunshine was an added benefit. And yet, it is Ish and Julia that made our experience most fun and memorable. In less than an hour, we knew that we were in experienced, capable hands and that getting to know our two hosts would be an absolute delight. As chef, Julia was 100% successful in meeting the challenge of our daughter, Julie's, unusual dietary restrictions. She presented one beautiful and delicious meal after another that the three of us thoroughly enjoyed. The meals seemed effortless despite the hours she spent in the galley, often with Ish at her side as sous chef or as clean-up assistant afterwards. The way they worked together as the sailing crew was even more impressive. They seemed to read each other's minds, and their nimbleness running from one part of the boat to the other was enviable. Their partnership as sailors and hosts was a joy to watch, and we're grateful to have been the beneficiaries of their skill, attentiveness to us, and utterly charming personalities. They also met the challenge of my fall and associated back pain with great concern and care, which made me feel safe and comfortable. We feel as if no words can do justice to their contribution to our absolutely perfect sailing experience, but we hope in some way this conveys our admiration of them and our gratitude for their efforts to care for us in every way possible. They each are very special individuals, and we are privileged to have had the opportunity to get to know them and spend time with them on your extraordinary sailing vessel. They definitely do the magnificent Soterion proud. Gratefully, Joan and Harry