Charter Yacht VALHALLA Guest Reviews
May 2022
What a magical week!! Hard to know where to even begin. The crew of the Valhalla created the perfect environment for my proposal to fiancé! Sergio picked out the prefect beach for us at sunset. Britnie captured the moment, both candid and staged, with beautiful photographs, and Chef Neen cooked up a feast of crab. We will never forget the experience : The crew of Valhalla feels like family. Thank you! Thank you! Thank you!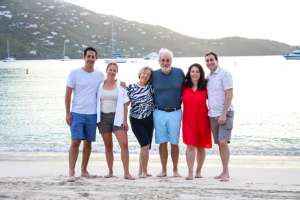 March 2022
Best trip ever!! We want to adopt the crew and take them home with us! Everything was amazing! Love Robyn and Justin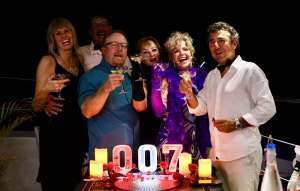 March 2022
Sergio, Neen, and Brit You made our trip even more incredible than we could have dreamed. Your hospitality is top notch! Your friends, Joe and Kristie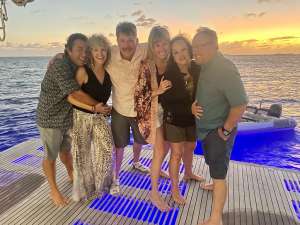 March 2022
To the Valhalla crew – thank you for the trip of a lifetime! Everything was above and beyond. Loved our theme nights – so much fun! I wish you all the best life has to offer! Lisa and Shawn
February 2022
Wow! Thank you! Absolutely amazing! Muchisimas gracias! Thank you for creating such an amazing vacation for our family! Each of you are spectacular at your trade and together you are the best trio on the seas! So relaxed, authentic, creative, fun, warm and kind all the time. We feel so lucky to have spent 5 days aboard the Valhalla and leave with relaxed, happy memories, and a few more lbs. Thanks to Neens' incredible culinary skills. We wish each of you all the best and hope our paths cross again!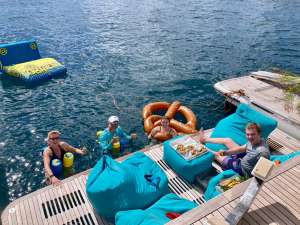 January 2022
Sergio, Neen, Britnie: Thank you! This is a beautiful place and a beautiful boat. But mostly, we'll remember your hospitality and care. The food and service were simply out-of-this world! We're so glad to welcome you as new members of our wolfpack! Thank you again and God bless you! P.S. A special thank you for our memorable vow renews on the beach. We'll never forget those moments. You really helped us make that special!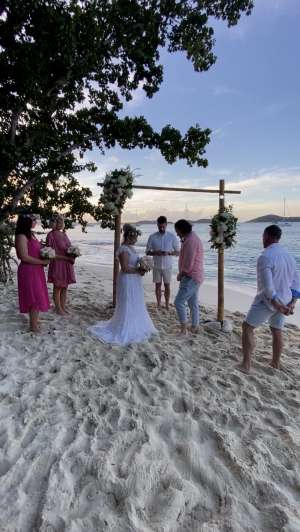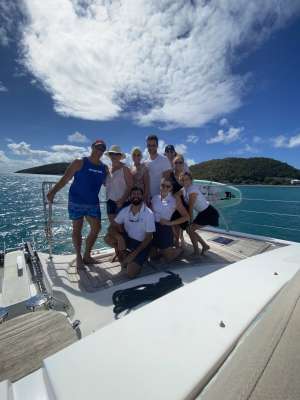 January 2022
To our new friends, At a time in our lives when everything is a constant challenge – this escape was a breath of fresh air! Beautiful views, food, friends, and memories: Thank you for making this a highlight of 2022!
July 2021 - broker provided survey
Name: Jason Yacht: WINTERS COMING with Sergio Gomez & Christina Reynolds Charter Dates: 07/18/2021 to 07/23/2021 Area Cruised: St. Thomas - USVI Overall Rating: 5/5 1. Was the crew friendly and accommodating? The crew was AMAZING! 2. Was the yacht comfortable and clean? Amazing 3. Was the yacht well ventilated? It was perfect 4. Was the food good and well presented? Best chef I have ever had cook for me/us! 5. Did you like the area you sailed? Fantastic! 6. Additional comments on your charter? Best vacation I have ever had. Truly had to make no decisions which is what a vacation should be!
May 2021 - Broker provided survey
Sergio & Neen, we came into this week with highest level of anticipation and you guys exceeded all of our expectations! Neen, the food was amazing! The only thing better than the pictures of your food, is eating it!! The food was fantastically executed and delicious. Sergio, our fearless captain, you delivered on every promise. Great diving, great snorkeling and turtles every day. Thanks for the great times, great memories and great friends ❤️⛵️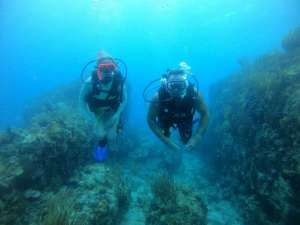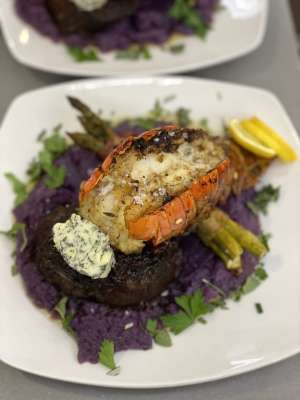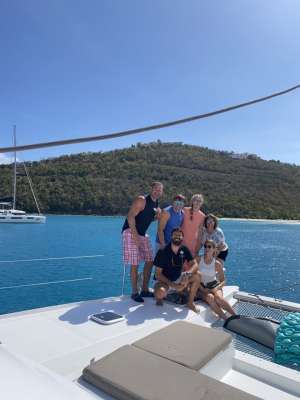 April 2021
"Sergio and Neen, this week has been amazing!! Thank you for a week filled of adventure, knowledge, humor and most importantly memories. Neen, your food is amazing and made every meal with love!! Captain, you have made our journey and island days unforgettable. Thank you both again and we will see you soon ❤️"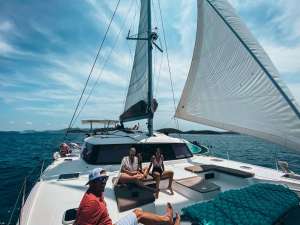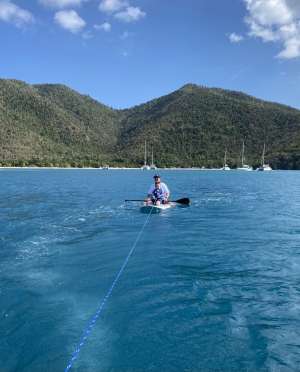 March 2021- From Lets Play Two
"Sergio and Neen, I can not think or hoped of a better way to start traveling again. This week with you exceeded so many expectations. Starting with the most delicious gourmet food we have ever had on a boat. The amazing diving with eels and sting rays and the contagious smiles brightening every day. A big thank you for your kindness and generosity. This was a much needed trip, so memorable. Big thanks!!"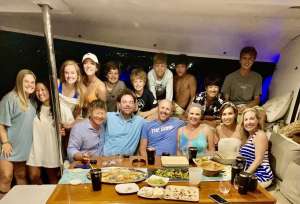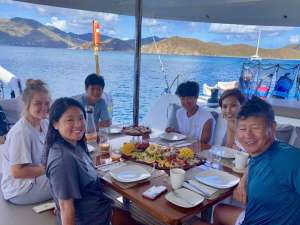 Feb 2021
"Dear Sergio & Neen, this trip was in the making for years. At times it seemed out of reach and then it came to be. Over the years this group has been through several highs and lows but this by far has been our highest moments together. Thank you for helping us have Thai once in a lifetime experience. You two were a great fit for our family. Life is short but so sweet. Thank you for helping us live it to the fullest. Xoxo"
Feb 2021
"Sergio and Neen, thank you for the memories you provided. I loved swimming with the turtles at Salt Pond Bay. I also enjoyed hiking some new trails. Thanks Neen for the food, you have an amazing talent. Blessings."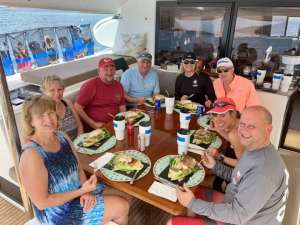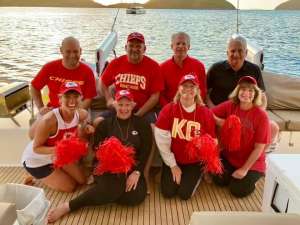 Dec 2020
Sergio and Neen, thank you so much for you hospitality!! You both have a gift and we certainly appreciate you sharing that gift with us. It was a great week of laughter, food, adventure, and shenanigans. We will have memories and recipes that will stay with us for a lifetime. This was our 3rd catamaran trip in the Virgin Islands and this one was absolutely the BEST!! Hope to see you both soon!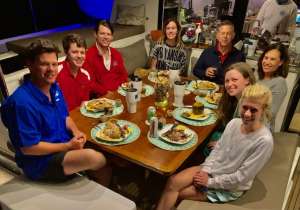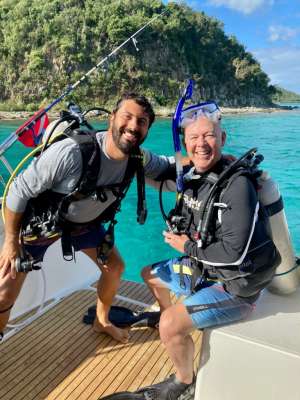 December 2020
Dear Sergio & Neen, This trip exceeded all of our expectations! The island hiking, snorkeling, sailing sunsets, cocktails and of course Neen's cuisine! You guys really made this trip for us with your knowledge, humor, confidence and above all kindness. We how to sail with you again soon.
Dec 2020
Sergio & Neen, Tricia's 50th Birthday trip has been incredible!! Thank you for taking care of us & feeding us with love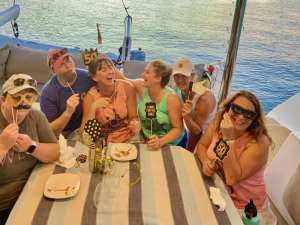 November 2020
Sergio and Neen, thank you for giving us the ultimate sailing experience! It was the definition of a perfect vacation. We will miss you both and we will miss the most delicious -around the world- meals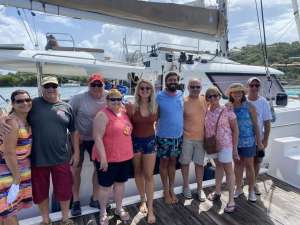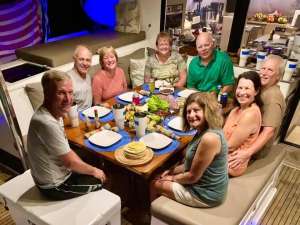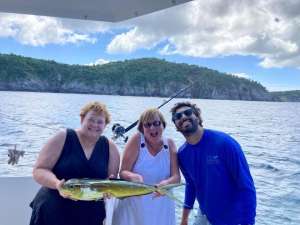 This week is going to be tough to beat!
This trip really is going to be tough to beat. Much love for the crew and the boat. A week to remember! This has been the trip of a lifetime. Thanks to everyone who made it possible! What a week! This vacation will forever be a dream come true! Thank you Thank you both for making this week one that we will all remember forever! We are grateful for the memories made! Until next time! Ruff seas and Gypseas. Thanks for one hell of a good time Thank you for helping us have the best week of our lives. You're awesome!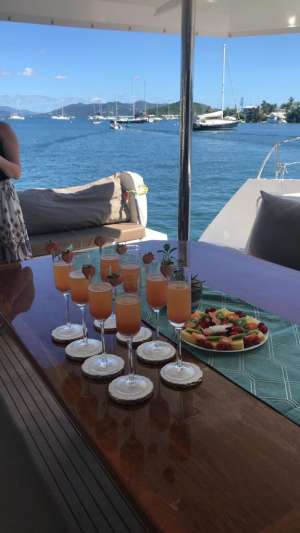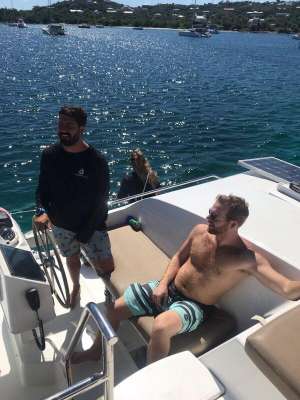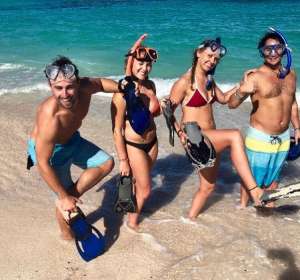 Such an Amazing and Beautiful Time!
Our Family had a great vacation! Sergio and Melissa were fantastic hosts and everything was perfect from the boat, the route, the food, the music and the company. Thanks for the true trip if a lifetime! Such an amazing and beautiful time!! Sergio and Melissa were so incredible and friendly and helpful. The food and the beaches were fantastic! Couldn't have asked for better people to spend out vacation with. They were so helpful and great! We stopped by so many fun places and made so many memories! Thank you guys for making this trip unforgettable.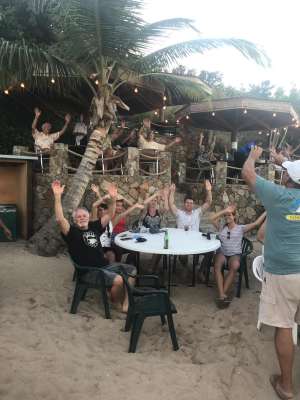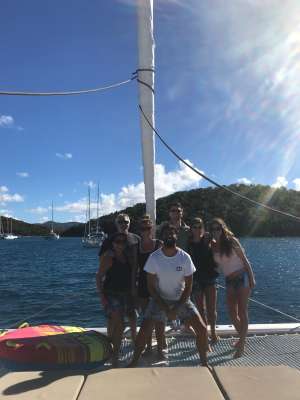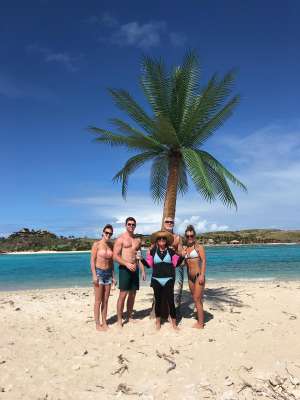 You are Family Now
This has been one of the best trips I have ever been on! Ever!!! From the beautiful beaches to the amazing food to the spectacular sunset, it was exactly what I needed. Thank you for making this trip great! Friends come and go, but family are always in your heart. You are family now! Thanks for showing me what "life" is really supposed to be. The constant smile on your faces, the delicious food, the places you took us that were so incredibly magical, are all what life is about. I hope to get to do this again in the future. Thanks a million.
Best Food We Have Ever Had!
Sergio and Neen, you two made our trip so special. We went to the most unique places and saw amazing wildlife and ate the BEST food we have ever had. ❤️ We wouldn't have been able to see the sights we saw without your knowledge of the various islands!! Thank you soooo much for a great tri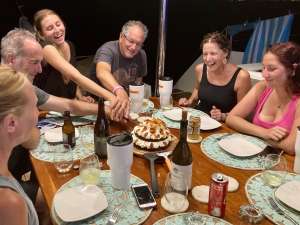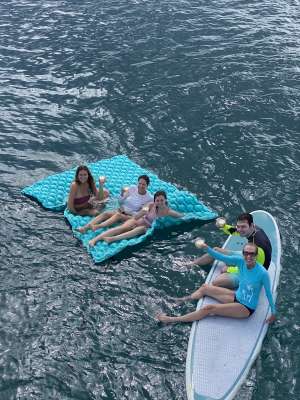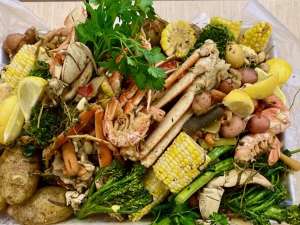 Reviews
Sergio and Neen, you two made our trip so special. We went to the most unique places and saw amazing wildlife and ate the BEST food we have ever had. ❤️ We wouldn't have been able to see the sights we saw without your knowledge of the various islands!! Thank you soooo much for a great tri